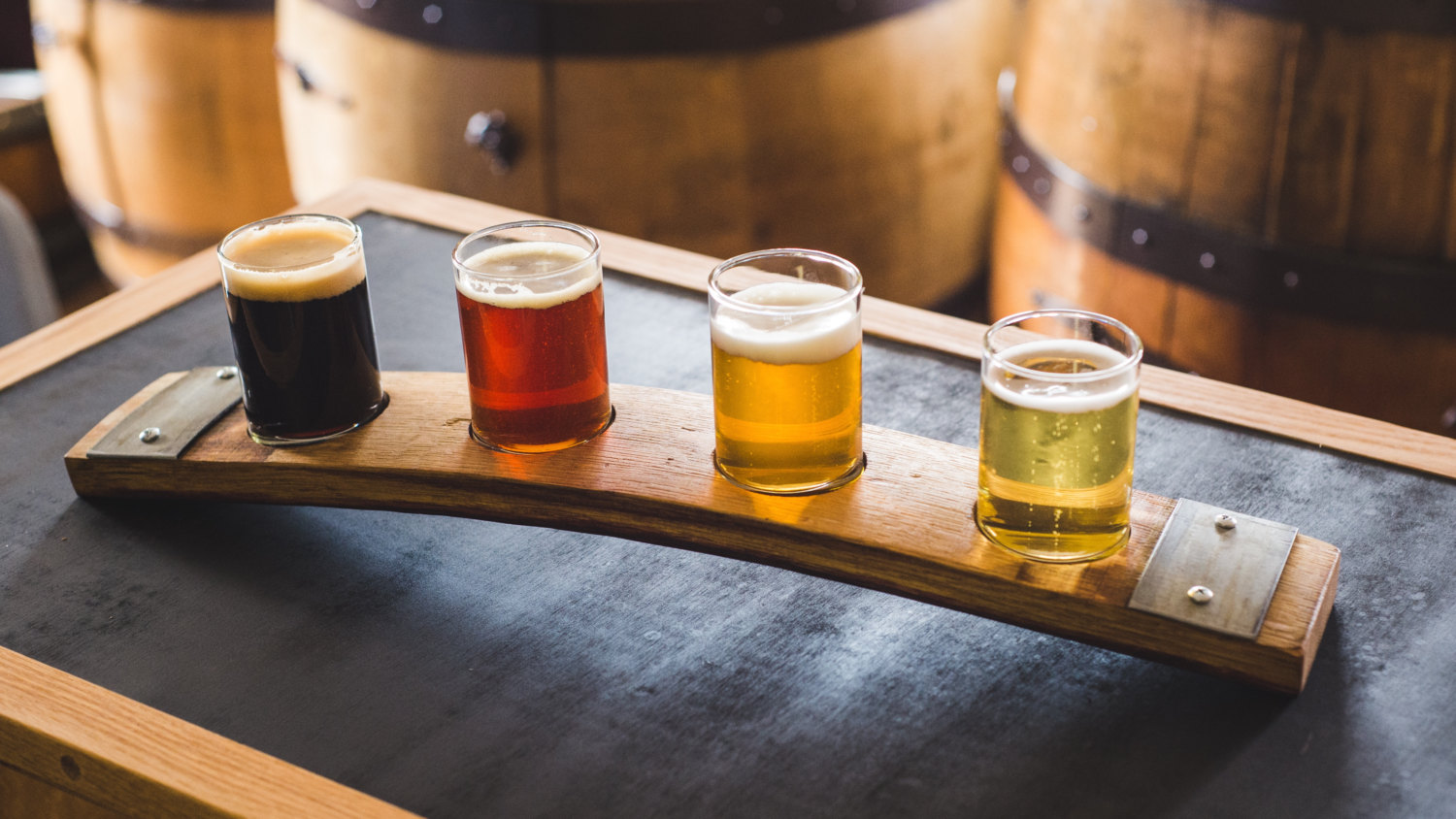 A great "case in point" moment happened recently. I was sitting in a Bennigan's waiting for my flight to board at DFW International Airport. As I perused the beer menu, I zeroed in on Lagunitas IPA (made in Chicago). But before I could say anything, the waiter asked if I was interested in something local — Dallas-based Lakewood's Till & Toil. I was impressed. Here I was, sitting in a chain restaurant. One would expect Bud or Miller Lite to be pedaled like (admittedly addictive) cookies at a Girl Scout drive. "OK," I said and took his sage advice. Then I overheard the same waiter take an order from the table next to me.
"I'd like a Bud Light," the customer said.
"Sorry, the only light beer we have is a Rahr Blonde," the waiter replied.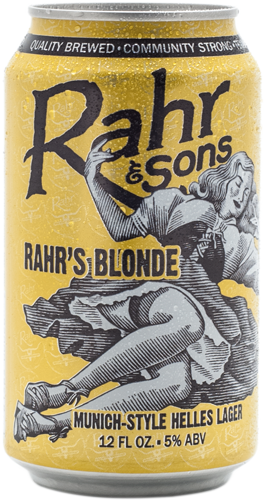 What? Oh, how the times have changed. Restaurants and bars across the country wouldn't be revamping their beer menus if customers weren't demanding it. My last blog post deciphered the myriad styles of beers. For the craft beer unwashed, I have a few pointers that will hopefully demystify the ever growing beer menus at restaurants and pubs.
As always, the first step is to relax. It's more about the journey than the destination. Most of Fort Worth's craft breweries, with the exception of Rahr & Sons, are less than four or five years old. The same goes for most North Texas breweries. The point is, most people, even the brewers, are new at this. That's part of the fun. The worst thing that can happen is that you order a beer that doesn't thrill you. Personally, I can't remember a time I tried a brew that was so bad I didn't drink it. And I usually try something new every time.
Use your words. It's a familiar slogan for moms wrestling to get their young children to articulate what they want, and it's good advice here. Don't try to be fancy. Here's an example:
"Um, I'd like something light that isn't too bitter. I definitely don't want one of those sour beers. The last time I was here I had a Rahr Blonde. Do you have anything like that?"
Already, you've eliminated 90 percent of the beer styles that you don't like. Mentioning something that you enjoyed got you even closer to meeting your "favorite new beer."

Become a brewery groupie. Most breweries rely on one or a small group of people to develop recipe ideas. So it's no surprise that each business develops a distinct flavor profile that permeates its entire lineup. Craft beer fanatics often refer to their favorite breweries that can "do no wrong," in their opinion. Martin House Brewing Company tends to make bold, experimental beers that are higher in alcohol content. So if you order something from Martin House, most of the time it's going to be an experience, to say the least. Wild Acre Brewing Company makes a lot of great session beers with less alcohol that are clean and easy to drink. The Collective Brewing Company likes to delve into sours and funkier brett-aged suds, in general. After you had a few beers from each local brewery, you'll probably find yourself leaning toward one or the other. So the next time you go to The Bearded Lady you can ask, "So, what do you have from [insert favorite brewery]?"
Lastly, when in doubt, get some advice from your waiter/waitress. And don't stop exploring.
Did this article whet your appetite for good beer? Well, let me plug a fun event Tanglewood Moms writer Sarah Angle and I are cooking up: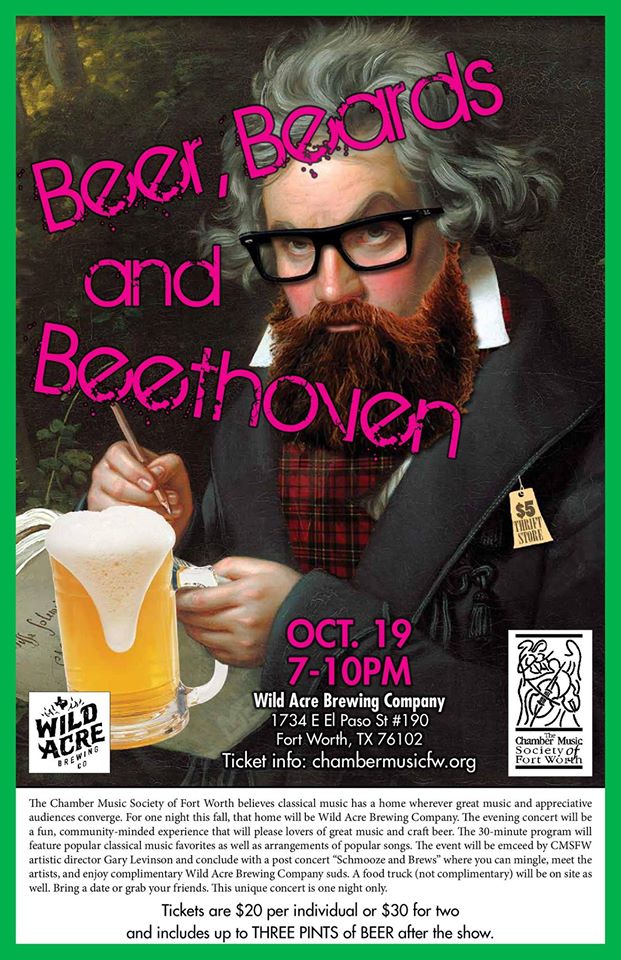 Beer, Beards, and Beethoven.
Fort Worth's venerable Chamber Music Society is getting into the craft beer movement. Wild Acre Brewing Company is the venue of choice for a not-to-be-missed music experience. From the Chamber Music Society:
The Chamber Music Society of Fort Worth believes classical music has a home wherever great music and appreciative audiences converge. For one night this fall, that home will be Wild Acre Brewing Company. The evening concert will be a fun, community-minded experience that will please lovers of great music and craft beer. The 30-minute program will feature popular classical music favorites as well as arrangements of popular songs. The event will be emceed by CMSFW artistic director Gary Levinson and conclude with a post concert "Schmooze and Brews" where you can mingle, meet the artists, and enjoy complimentary Wild Acre Brewing Company suds. A food truck (not complimentary) will be on site as well. Bring a date or grab your friends. This unique concert is one night only.
Tickets are $20 per individual or $30 for two and includes up to three pints of beer after the show. Guest artists will be announced soon. Reserve your spot on the event page.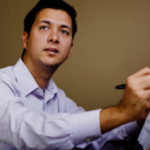 Edward Brown writes about music, arts and news for a variety of publications. He's an award-winning writer for the Fort Worth Weekly and blogger for Fort Worth Convention and Visitors Bureau. He has published articles in Musical Opinion (U.K.), Canadian Music Educators Journal, and Clavier Companion,among others. When Brown isn't writing about music, he's actively involved in the local music scene as an educator, performer, lecturer, and judge for student music competitions. His professional affiliations include the Chamber Music Society of Fort Worth, where he volunteers as education director, and the Fort Worth Academy of Fine Arts, where he serves on the board and artistic committee. Brown was born in Bowling Green, Ohio in 1982. He is a graduate of the University of North Texas and currently resides in Fort Worth. His favorite leisure time activities include local music concerts and perusing Fort Worth's growing gastropub scene.