Healthy Chocolate Almond Smoothie
My mom hates it every time I tell this story, because she thinks it makes her a bad mom. I can assure you, she is far from, and is the best mother I could ask for.
But she did force me to eat lima beans when I was little.
I can remember so distinctly sitting in our brown wooden chairs in our little dining room in our little house out in the country. We had a huge garden…the lima beans may have been homegrown for all I know. But I was NOT eating them. No way no how. I don't even remember if I ever did. But I sat at that table for what seemed like an eternity…was not allowed to leave until I ate them.
This is still now one of the only vegetables I can think of that I don't like. So many other things that I wouldn't eat when I was little (onions, sweet potatoes, cabbage, asparagus….gah) are some of my most favorite things now. Needless to say, I've gotten much better about trying new foods.
Almond butter is one of those things that has been on my radar for years but I just never felt the urge to try it. I thought peanut butter was just fine…totally sufficient…why try something new?
Well, I am just kicking myself. Almond butter has SUCH amazing flavor, and is an incredible addition to some of the healthy desserts I've been steering myself towards lately. It is less nutty, in my opinion, than peanut butter…I mean, everything you put peanut butter into tastes like peanuts. And I'm not always jonesing for that pronounced of a flavor in my dessert.
This smoothie is just chocolaty goodness. These good-for-you ingredients combine to make a milkshake-like dessert that is healthy! Almond butter has a lot of fat in it of course, but it's the good kind, and it's packed with protein. This could totally be breakfast as well…I just like having it as a sweet treat after dinner.
My husband is usually wary of the "healthy" concotions I attempt (cause we all know my best friends are butter and flour), but when he tried this he drank half of mine and then asked me for one of his own. Win!
Chocolate Almond Smoothie
Ingredients
1/2 frozen banana
1/2 c almond or coconut milk (My favorite is the Almond Breeze Almond Coconut Milk!)
3 Tbs almond butter
1/2 tsp cinnamon
1/2 tsp vanilla
1 tsp ground flax seed
1-2 tsp honey
1 Tbs unsweetened cocoa powder
3-4 ice cubes
Instructions
Place ingredients in blender in order listed, and blend until smooth and combined! Enjoy!
Recipe adapted from, and with thanks to Tara Stiles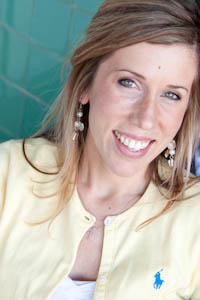 Bree is a mom, wife, daughter, sister, photographer, and Christ-follower. She grew up in the Texas Hill Country, and has called the DFW metroplex her home for almost 15 years now. She graduated with a degree in Photography and Education and has slowly worked her way through different facets of photography to finally arrive here. At a spot where she feels she is best able to use her heart and her eye to serve clients during some of the most meaningful times of their lives. Follow her adventures on her blog.