I traveled to NY last week on a business trip for my jewelry company. I flew in on Monday night and had a successful meeting on Tuesday morning (but more on that another time!) I ran around with family on Tuesday, but knew I wanted to spend the entire day Wednesday just getting lost in the city, or at least walking a large part of it. New York might be my favorite city in the world second to Fort Worth of course. It never fails, I always see or do something new each time I visit. This particular day did not disappoint, so if you plan to travel there in the next few months I encourage you to spend a day just like this.
I worked for a bit Wednesday morning, then jumped on a train from the Upper West Side down to 34th street so I could be close to the entrance to the High Line. The High Line is a nearly 2 mile long elevated park that was built on an old elevated train track with the most recent addition being the new Whitney Museum located at the end of the track. I hopped onto the track at 11th Avenue and 30th Street and found myself in heaven. I actually had never been on the High Line before and it felt like I was experiencing a side of the city I had never seen before. You can still see and smell and hear New York, but in this realm you are hovering right above it and enjoying the gorgeous landscape and modern architecture of the park. I probably heard at least a dozen languages being spoken as I traveled from 30th to Gansevoort Street and was able to sit for a bit to enjoy the magnificent scenery and people watching.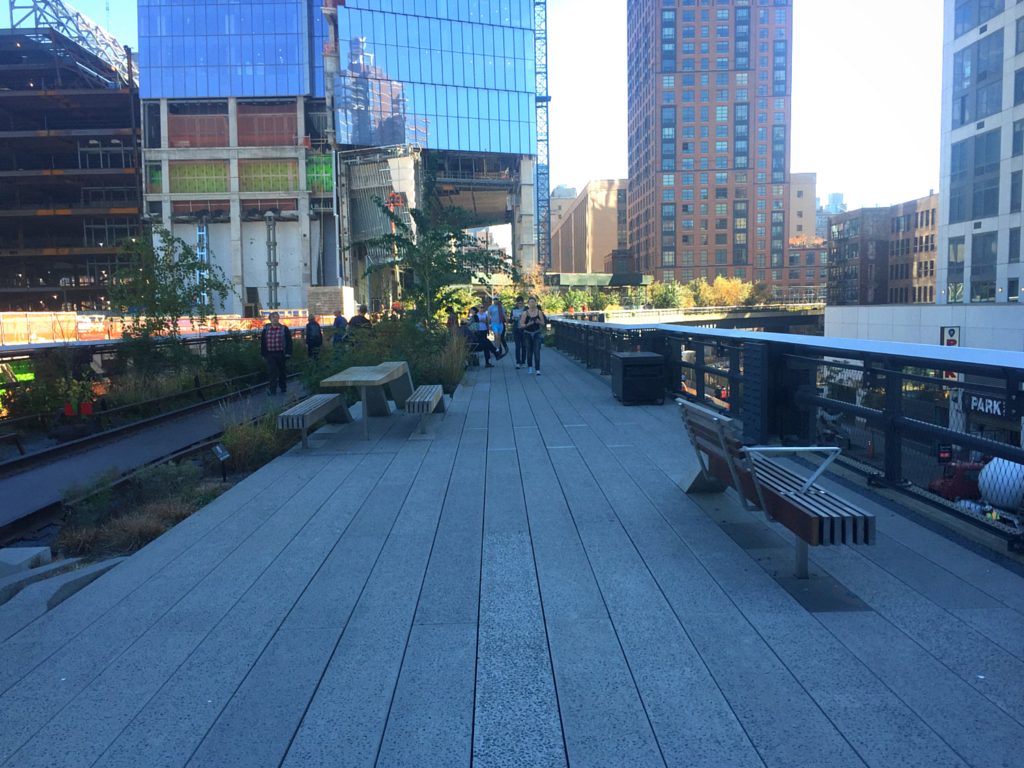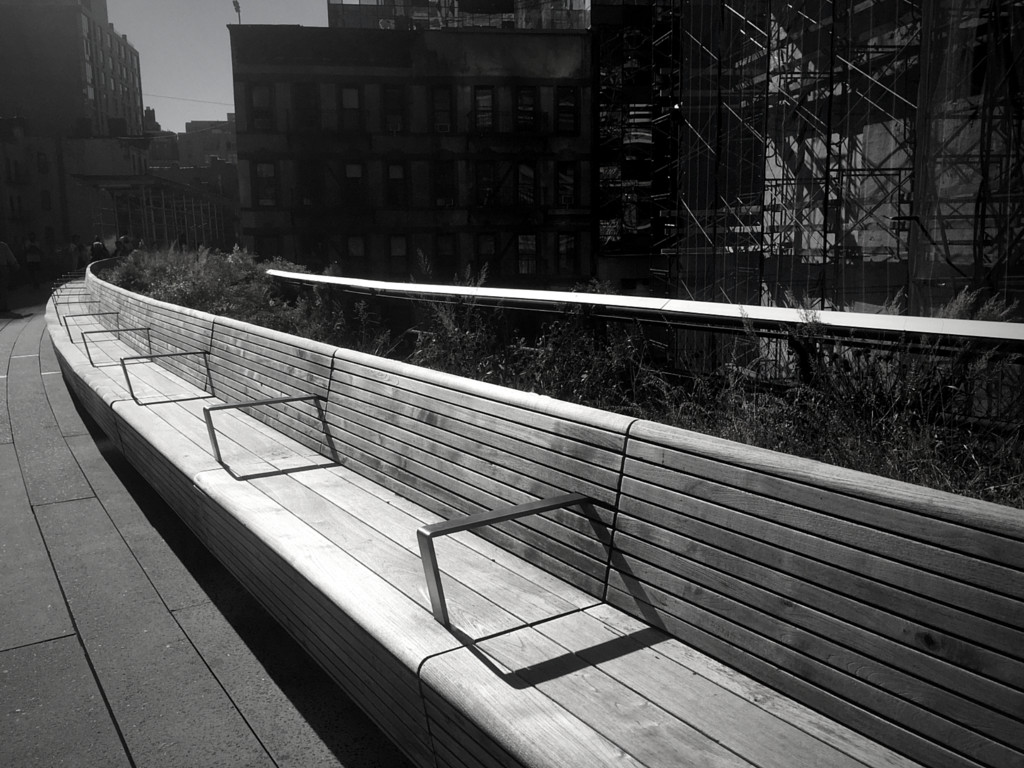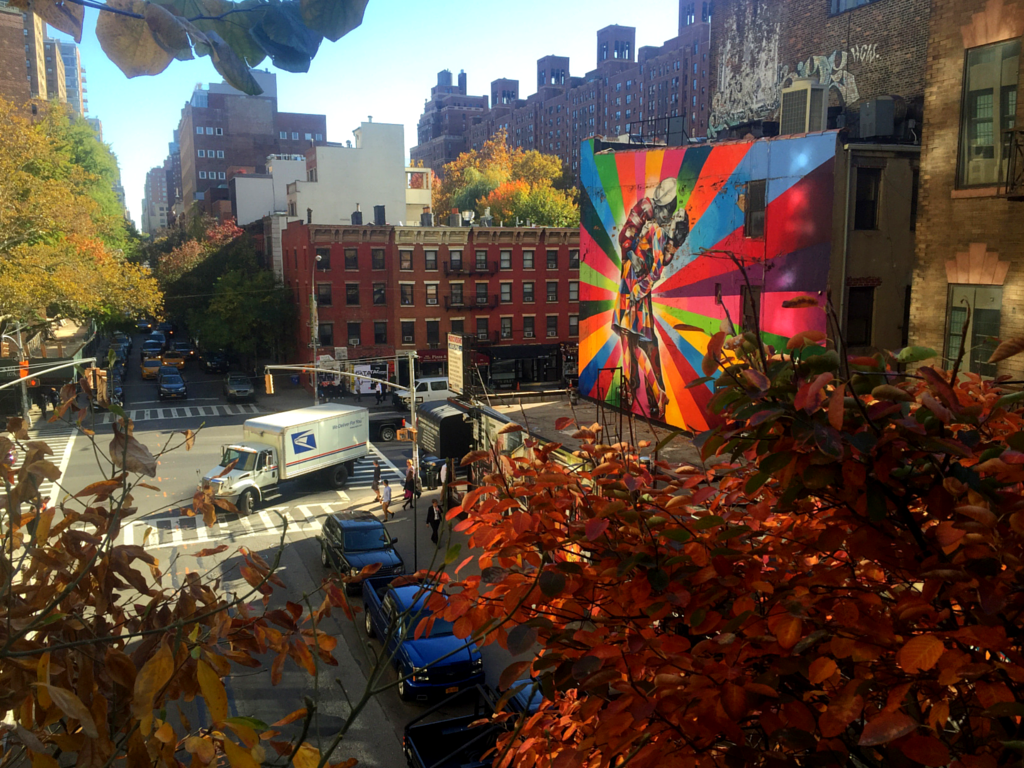 And then this happened: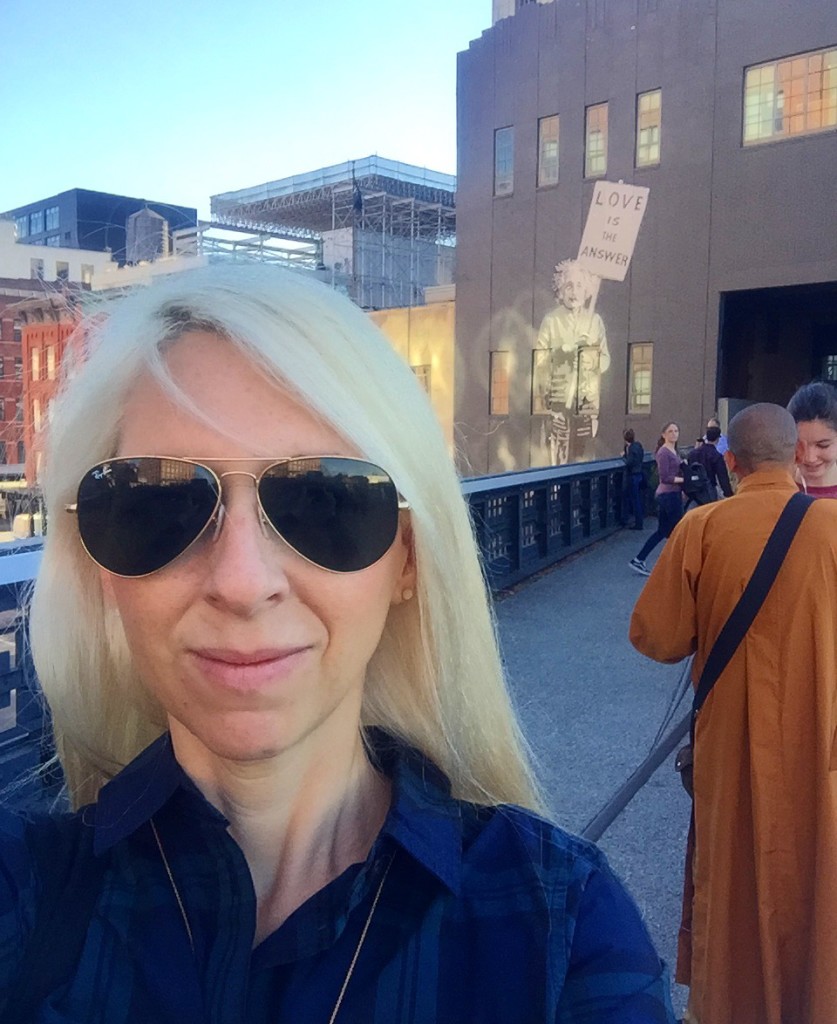 I first glanced at the wall art of Albert Einstein holding an ironic sign reading "Love is the answer", then noticed that a Buddhist monk was 6 feet away from me spreading his own messages of love. The whole scene was quite heartwarming and quintessential NYC. Please forgive the selfie, I tend to post them on Instagram for people to put a face with a feed. As you can tell with the half smile, I will never truly be comfortable taking a one, but it was a moment I had to capture.
I arrived at the Whitney (accidentally finding it during my search for a bathroom) and bypassed a long line by walking through the restaurant doors adjacent to the entrance. I hate lines and have been known to pay people at the front of a line to help me save 10 minutes of my life. I'm usually not a rule follower and abhor lengthy waits, this time however, was an accident. Success! I got in and opted for the audio guide and made my way up to the 5th floor for the Frank Stella exhibit.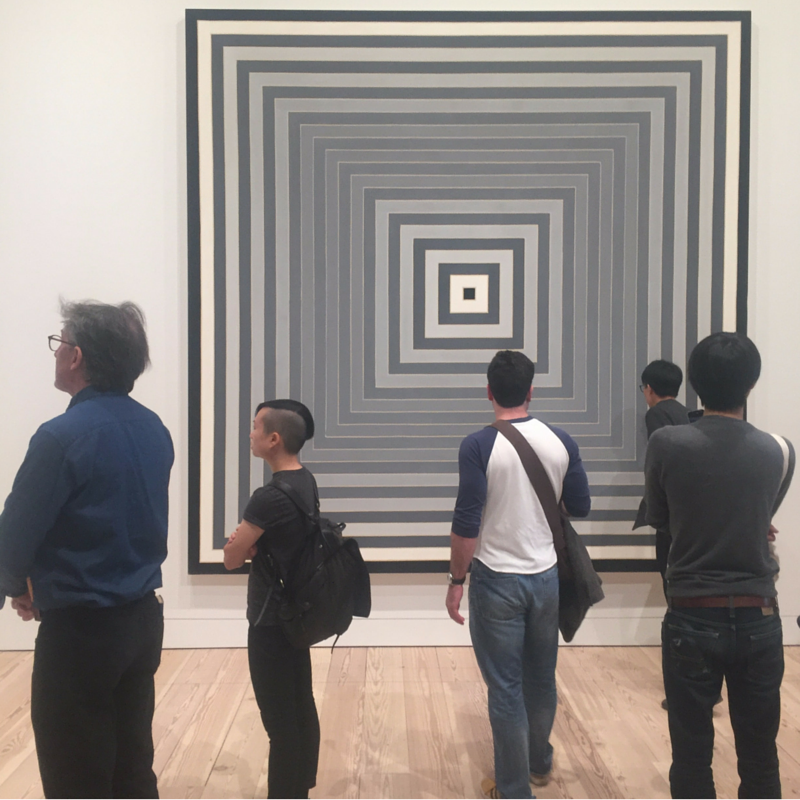 Taken from the Whitney's website:
"The Museum will present a career retrospective of Frank Stella (b. 1936), one of the most important living American artists. This survey will be the most comprehensive presentation of Stella's career to date, showcasing his prolific output from the mid-1950s to the present through approximately 120 works, including paintings, reliefs, maquettes, sculptures, and drawings. Co-organized by the Modern Art Museum of Fort Worth and the Whitney, this exhibition will feature Stella's best-known works alongside rarely seen examples drawn from collections around the world. Accompanied by a scholarly publication, the exhibition will fill the Whitney's entire fifth floor, an 18,000-square-foot gallery that is the Museum's largest space for temporary exhibitions.
Frank Stella: A Retrospective is organized by Michael Auping, Chief Curator, Modern Art Museum of Fort Worth, in association with Adam D. Weinberg, Alice Pratt Brown Director, Whitney Museum of American Art, New York, and with the assistance of Carrie Springer, Assistant Curator, Whitney Museum of American Art, New York."
Did you catch that? Do you see the tie-in to Fort Worth? One TanglewoodMoms Instagram followers alerted me that this exact exhibit will be coming to Fort Worth on April 17, 2016. Can someone get me into the opening because after viewing the exhibit at the Whitney, I've fallen madly in love with Stella's work.
I am not going to pretend I am some sort of art critic, but I have been to some amazing museums and have always had an appreciation for the arts. What I love about Frank Stella's work is that there is joy in it. You can tell he deviated from the conventional and found a way to express himself through non-traditional uses of media. You learn that he uses aluminum paint intended for industrial use, and that he basically said screw it when it came to creating art that is supposed to fit within the confines of a square frame. Amen Frank. Square frames are for squares.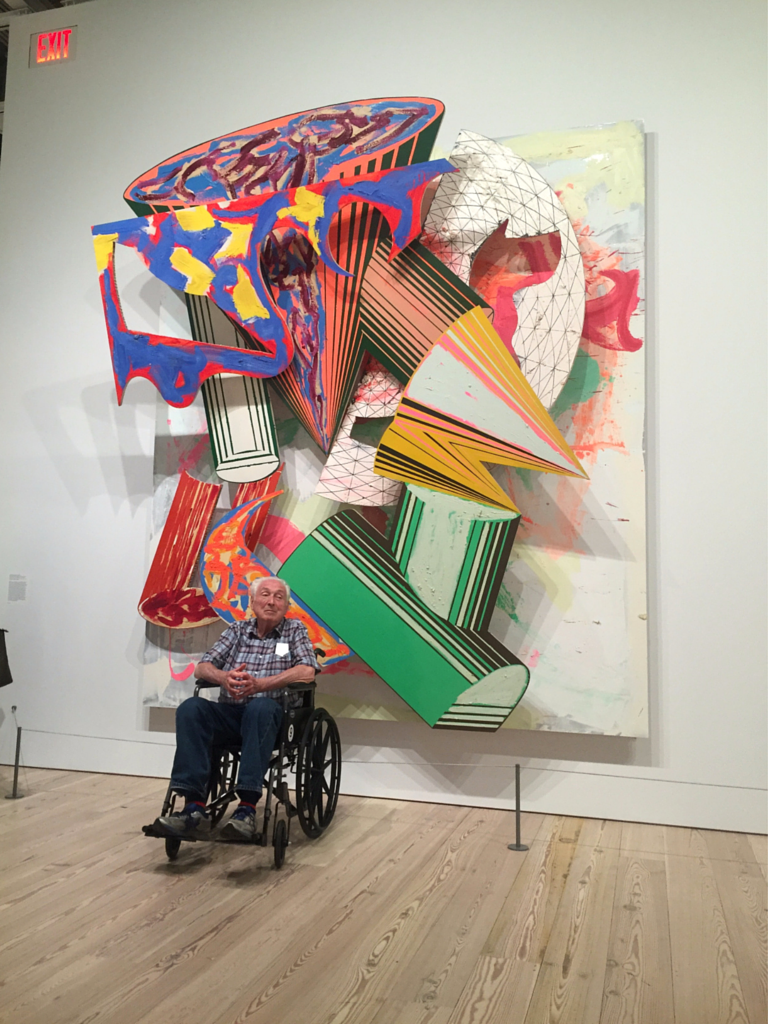 I came to the end of the exhibit and like a good book I didn't want it to end, so instead of lamenting the fact that it was over I spent a couple more hours viewing the permanent exhibit filled with artists such as Pollock, Cadmus, de Kooning, Hopper, O'Keeffe, and Basquiat which was equally as fulfilling.
Exercise. Check. Culture. Check. Next up, meet up with a new face. I planned to meet my friend's sister-in-law, Natalie Friedman, in Tribeca that afternoon to learn about her life, career, and new endeavor: her blog. I quickly did a map check and realized I was within walking distance to the coffee/tea bar we had planned to meet. Natalie suggested Kaffe 1668 on Greenwich Street, which was super cool, a bit dark, but you can tell they take pride in their craft which I can appreciate. Life is too short to drink bad coffee or tea. I spent hours interviewing Natalie which I will share on an upcoming blog. She truly exemplifies the mission I have set forth with my new company and can't wait to share her story so that it might inspire you too.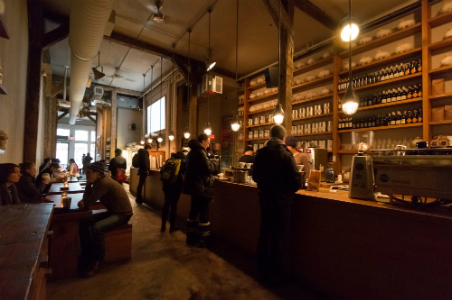 Can you tell from reading thus far that I have missed a crucial part of the day? Yes. Eating. I grabbed a quick bagel and coffee that morning and only refueled with green tea. It was time to EAT and I was approaching hangry status. I had also made plans to meet up with a friend from what he calls Facebook Space Camp. His business was also one of the ones selected for the inaugural Facebook SMB Council and he just opened his newest PYT Burger location in the Bowery. Tommy Updegrove, creator of PYT Burger, has been so fun to follow since I met him last year. He has been on the Today Show, created a viral post about a bad tip left by a Philadelphia Eagles football player, spoofed on The Simpsons, and most recently traveled to London for burger week.
Please notice that last item. You are reading it correctly, it's a $64 Basquiat burger. They use $30/lb wagyu beef and it's aptly named after the artist that lived in the area. According to this website, "the Basquiat Prime Beef Burger is $6,299,936 cheaper than a Basquiat that sold at Sotheby's in London."
PYT is a tiny joint with rad 80's and 90's decor, but definitely lives up to the hype of having some crazy, but tasty, burgers. If you swing by when you are in NY, tell Tommy you know me and give him a big Fort Worth hug.
Until next time! xo, Victoria