Recently, we were lucky enough to be invited by one of our very good friends (she's now our BFF) to stay at her family's place in Crested Butte, Colorado. We jumped at the chance, of course, and as our departure day drew near, we bought a few pieces of gear, packed our bags, and got really, really excited.
Growing up, Crested Butte was my family's favorite ski destination, but I hadn't been there since college, and I'd never been in the summer. This would be a first time Crested Butte trip for my husband and kids, so we were all counting down the days.
I won't bore you with our drive because if you have kids and you've been on a long road trip with them, you know exactly how it went. Actually, they were great little troopers and very well behaved, but I would just like to say thank goodness for in-car DVD players. We rolled into Crested Butte early in the evening, had dinner with our host's family, and crashed out in our very comfortable accommodations, ready to hit the mountains the next day.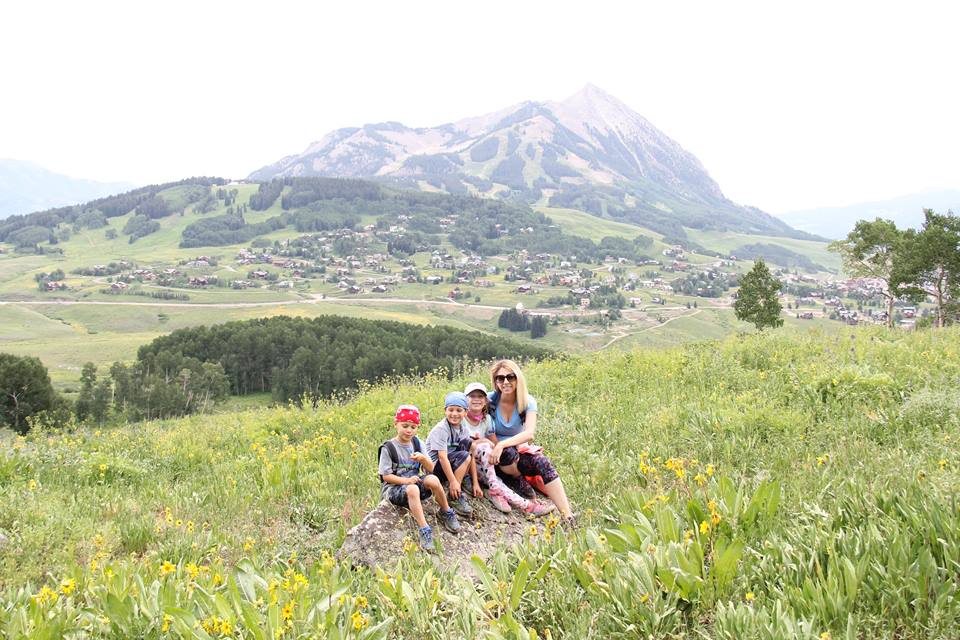 After a yummy homemade breakfast, we filled our hydration packs, loaded up a few snacks, and headed for Snodgrass Mountain. Just north of the ski area, Snodgrass slopes gently to the West and offers fantastic views of Mount Crested Butte. The hike itself isn't too tough with a few steeper areas and some flats. There are several routes you can take that range in distance from one to six miles. We opted for the longer route knowing we could turn back at any point if we needed to. Ultimately we made it about half-way before the little ones tired out and asked to head down. Not bad for a bunch of non-acclimated flatlanders like us! On our way down, we heard some jet engines and looked up to see the US Air Force Thunderbirds flying in formation right in front of Mount Crested Butte. It was a pretty amazing sight and quite a treat. We happened to be in just the right place at just the right time.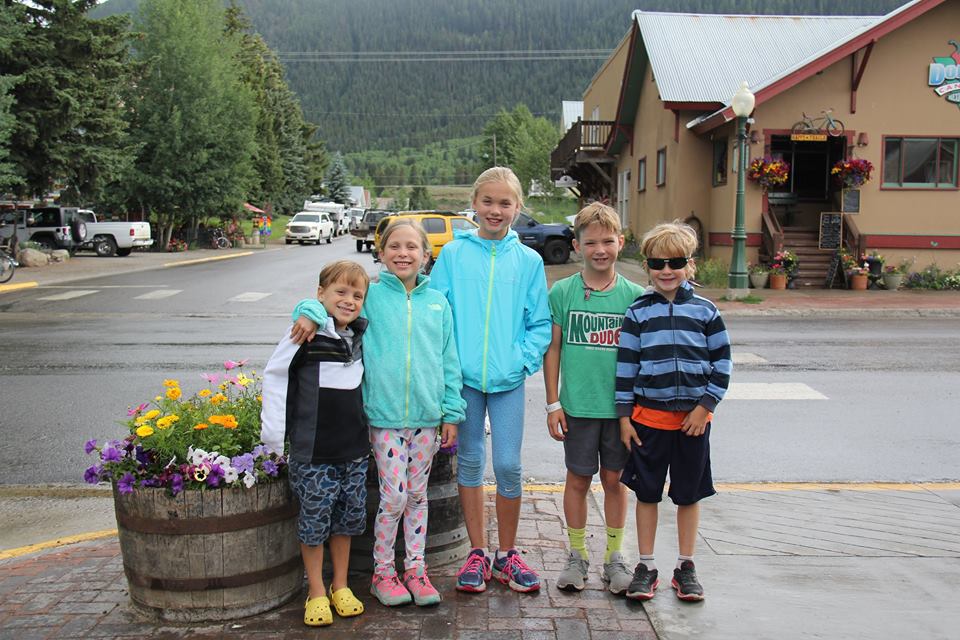 Afterwards, we headed into the very cute little town of Crested Butte to check out the shops and find some ice cream. We checked a couple ice cream shops but finally settled place called Third Bowl. Third Bowl was crowded with the line snaking out the door. However, we ran into a Fort Worth friend there who assured us the wait was worth it. She was right! Third Bowl has homemade ice cream and donuts that are amazing. They have some standard flavors like vanilla and chocolate that are anything but standard, but they also have some gourmet offerings like Rosemary Honey Pecan and Green Chile Chocolate that will knock your socks off. After our afternoon treat, we ran into some more Fort Worth friends and neighbors, and we chatted while the kids played around. It was fun to see folks we know, and it quickly became apparent that a lot of FW families like to beat the Texas heat in Crested Butte.
That night, we dined with our host and her family again and asked them about places to go the next day. They all agreed we should hike to Judd Falls. So the next morning we packed a picnic lunch and headed north out of Crested Butte. There's a little settlement with a research facility just up a dirt road from Crested Butte called Gothic, CO, that is is overlooked by a very impressive cathedral of a mountain aptly named Gothic Mountain.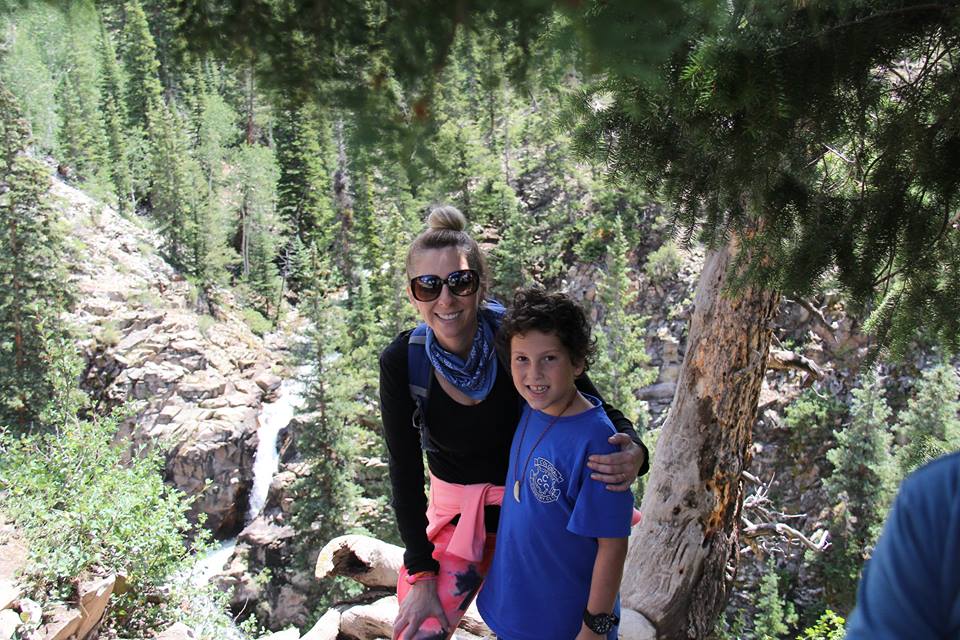 Just past the village of Gothic, you can park your car and follow the trail up to a magical little waterfall that cascades off the side of the mountain down into a sheer rock crevasse. Opposite the waterfall is a small natural platform with a bench that offers the perfect vantage point to look at the falls. Again the hike itself at about a mile each way wasn't too tough. The first part has some steep bits, but then it settles into a nice rolling up and down walk through aspen trees and over some red rock outcroppings. We took our time, stopping a lot to take pictures and sips from our hydration packs. I think pretty much anyone could do this hike and enjoy it. In fact, our five-year-old twins handled it very easily.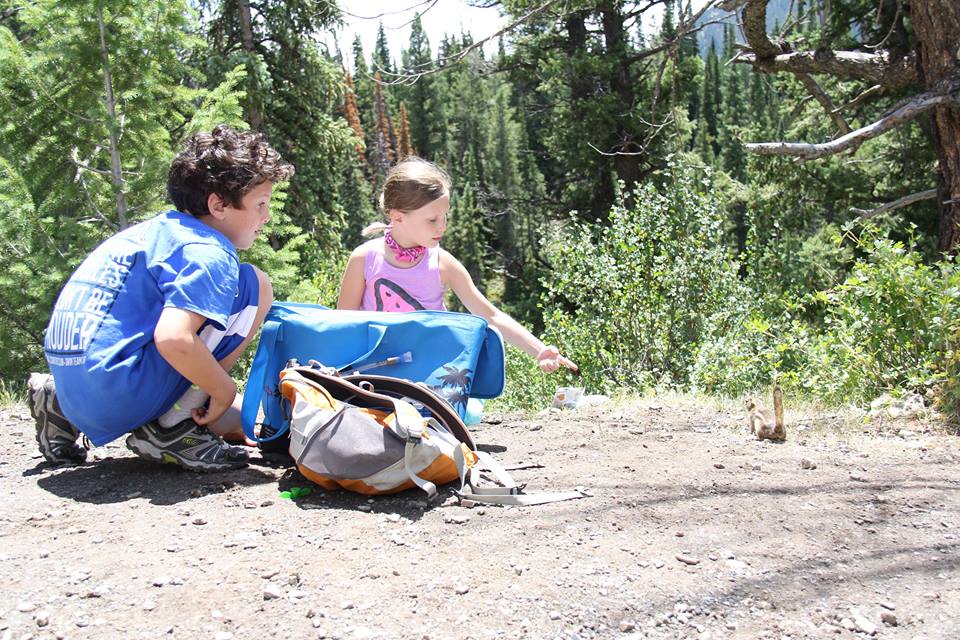 As we sat down near the falls to enjoy our lunch, we were joined by some very cheeky little chipmunks who were eyeing our provisions, and, despite telling the kids not too share, pretty soon our little furry friends were stuffing their cheeks with with carrots and potato chips. I think their favorite were the yogurt-covered raisins, though. I mean, how can you not share with a chipmunk? They're just too stinking cute.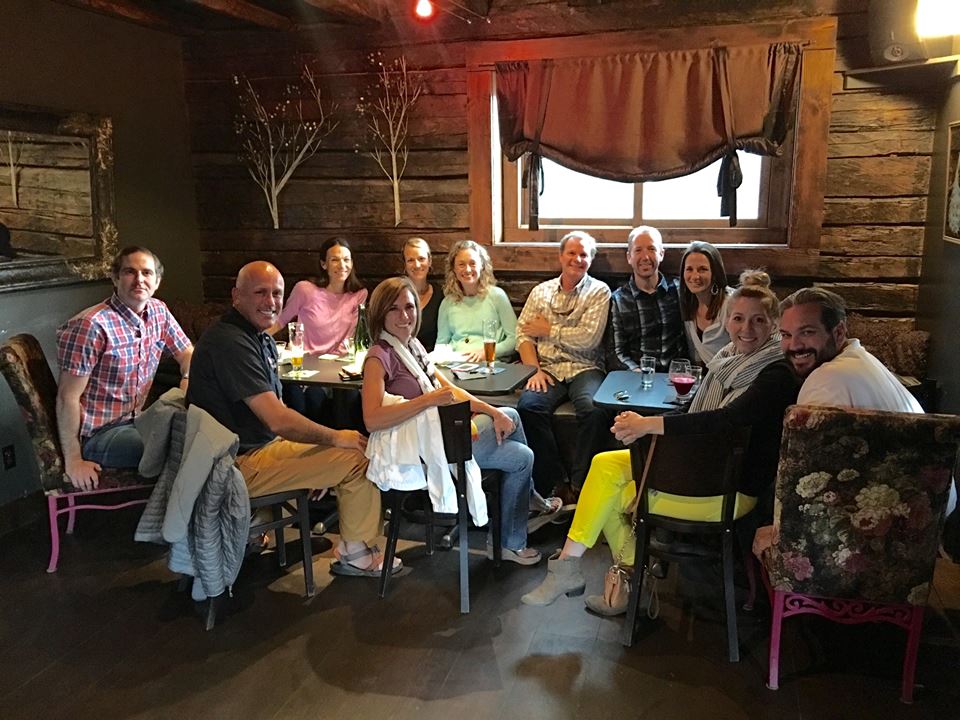 That evening, we had collectively arranged for a babysitter so all the parents could go out together. We headed home to rest for a bit and get cleaned up for Date Night. Our first stop was a great little craft-cocktail bar called The Dogwood Cocktail Cabin. Set in a rustic old cabin with exposed brick walls and wood floors, The Dogwood was inviting and comfortable. It's a totally laid-back, totally cool bar with a great vibe and really great cocktails. We had about a dozen people in our party, and as a group we had a couple of favorite drinks that we would all recommend. The first is The Beetnik which is made with vodka, beet juice, lemon and ginger. It's kind of the perfect drink. It's got alcohol, but it tastes yummy and at the same time feels really healthy. Our second drink recommendation is called the Thai One On, a fizzy drink made with rum, coconut, basil and lime and that tastes amazing. We love Thai food for all of those flavors, and this drink captures them perfectly. It's light and airy and very refreshing.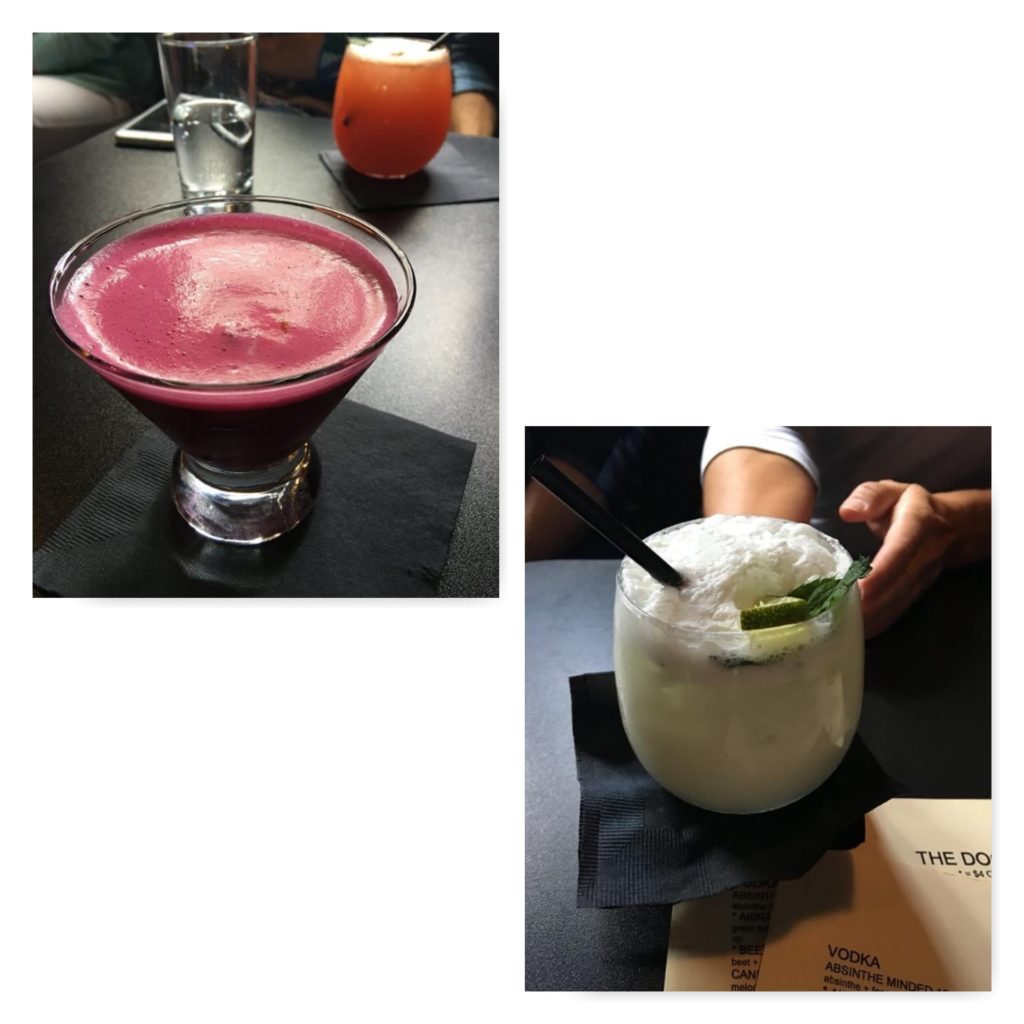 After drinks at The Dogwood, we walked over to a very hip Mexican place called Bonez. Bonez has more tequilas than I think I've ever seen in one place and a specialty margarita menu that's just as extensive. With so many great Mexican restaurants in Fort Worth, we are spoiled when it comes to South of the Border cuisine, but Bonez did not disappoint. My husband and I opted for beef fajitas, and they were very good, but for me, the highlight of dinner was the DIY Guacamole. Basically, they bring you several peeled and halved avocados in a massive stone molcajete that weighs about 15 pounds, and it's up to you to add in however much lime, cilantro, and other ingredients you want and mash it all up. I love avocados, and therefore I love guacamole, so not only was this a delicious starter, it was kind of fun too.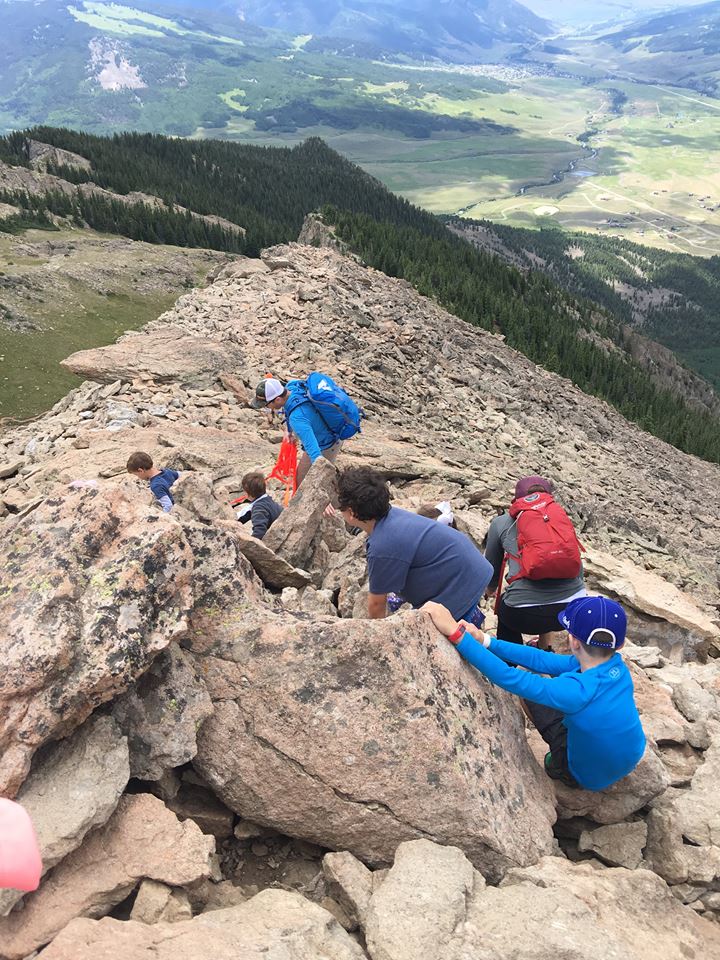 The next day promised to be very exciting as that's the day we planned to hike to the top of Mount Crested Butte. From below, Crested Butte is beautiful and intimidating. Even with riding the chairlift most of the way, it still seemed like it was going to be tough. The top third or so of the mountain is bare rock, sheer cliffs, and boulder fields. I was a little worried about my kids as we had heard that a few days before a woman had taken a wrong step and fallen to her death. That's pretty terrifying. However, our intrepid host assured us that her son has done it many times, but that we should respect the mountain, take our time, and be very careful. And that's what we did. All the way to the top!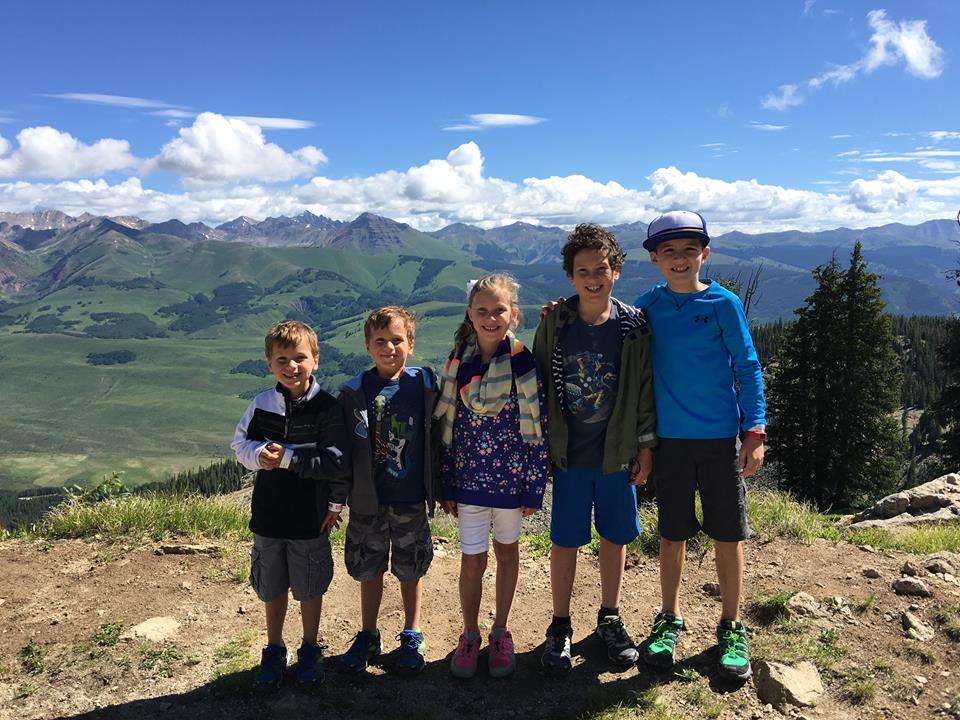 The first part of hike up from the chairlift terminus is variable in its difficulty, but for the most part was pretty easy. In many areas, there are logs placed like staircases, and it's never truly steep. However, when you begin the final leg, it becomes apparent that the pitch is about to become very steep and the ground treacherous. The last quarter mile or so is more like rock climbing than hiking. You have to use your hands and knees, and you have to watch every step you take. I was very proud of my children for listening to the instructions that we and the other adults with us gave them. They stayed close, and they were careful. The going was tough but not brutally so, and eventually we reached the summit and beheld the most fantastic view imaginable. When you are on the top of Mount Crested Butte, you are on top of the world, or so it seems, and you want to stay there forever and soak in the eternity of mountains and sky and clouds all around you. Unfortunately, it's a popular climb, so the summit started getting a little crowded, so we snapped a couple dozen photos and carefully made our way down.
There's something about a mountain cheeseburger that can't be beat. After a morning of hard skiing or hiking, it's just so, so good. So, we grabbed a table at the base of the mountain, ordered up some amazing burgers and a cold beer, and marveled at the mountain we'd just climbed. Then the kids were ready to go again. Crested Butte has a ton of fun activities at their Summer Adventure Park for kids and adults, so we went from one to the next while the kids had a blast. There's a rock climbing wall with varying degrees of difficulty, a huge air bag you can climb a tower and jump down on, some really fun bungee trampolines, and a mining sluice for kids to prospect for gems. By the time we had done it all, we were wiped out, so we opted for a night in and went to bed pretty early.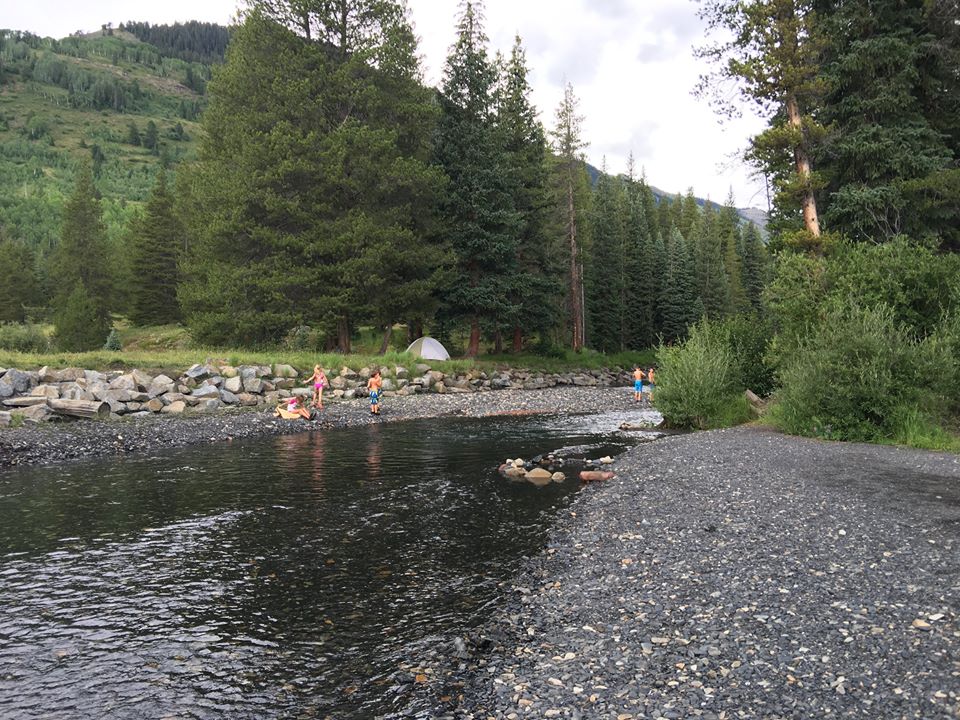 The next day my husband was scheduled to go fly-fishing with some of the other dads in our group on a few of the many streams and rivers that flow through the valley, so I made plans to got with some of the moms and kids to go play in the Slate River. There's a great shady spot to relax on the banks and access a shallow part of the fast flowing Slate. The kids had a lot of fun looking for rocks and splashing around, but the water is super cold (it is melted snow, after all!), and it didn't take long before they were ready to dry off and warm up. So, we headed over to a playground to have a picnic and play. It rained every afternoon we were in Crested Butte, but the refreshing summer monsoons usually pass pretty quickly, and the sun comes back out. On this day, however, the storms stacked up one behind the other and hammered the valley with lighting, thunder, rain, and hail.
We ended up spending most of the afternoon at the house reading, watching movies, and doing a puzzle. It was a nice lazy afternoon just listening to the thunder and watching the rain fall on the distant mountains, and it gave us a chance to really recharge our batteries. That night, we again dined with our friends who had ordered an obscene amount of some of the best pizza I've ever had anywhere. Secret Stash in the heart of the town of Crested Butte is, in a word, amazing. They offer all the standard pizza toppings you expect, but they have some pretty off the wall pizzas too. My favorites were the Notorious F.I.G. that has prosciutto, figs, and truffle oil, and the Woodward that has spinach, prosciutto, and fresh eggs over easy. YUM!
Our last day in Crested Butte was soon upon us, and we wanted to make the most of it. We had been told of a really nice hike that's not difficult but is beautiful. Its called the Brush Creek Trail, and it's just southeast of town. So we loaded up and drove out. When we hit the trail head, I could tell it was going to be great. The number of wildflowers was mind blowing, and the sky was filled with huge puffy white clouds. After about two or three hundred yards, though, we had a mutiny on our hands. My daughter, who is usually game for just about anything, said she didn't want to do it. We tried to get her to go on. We even told her she could pick a few flowers, which we usually forbid, but the poor thing was just tired. It had been a long week full of big hikes and late nights with friends, and she was out of gas. What she needed was another round of delicious ice cream at Third Bowl and nice long drive in the mountains.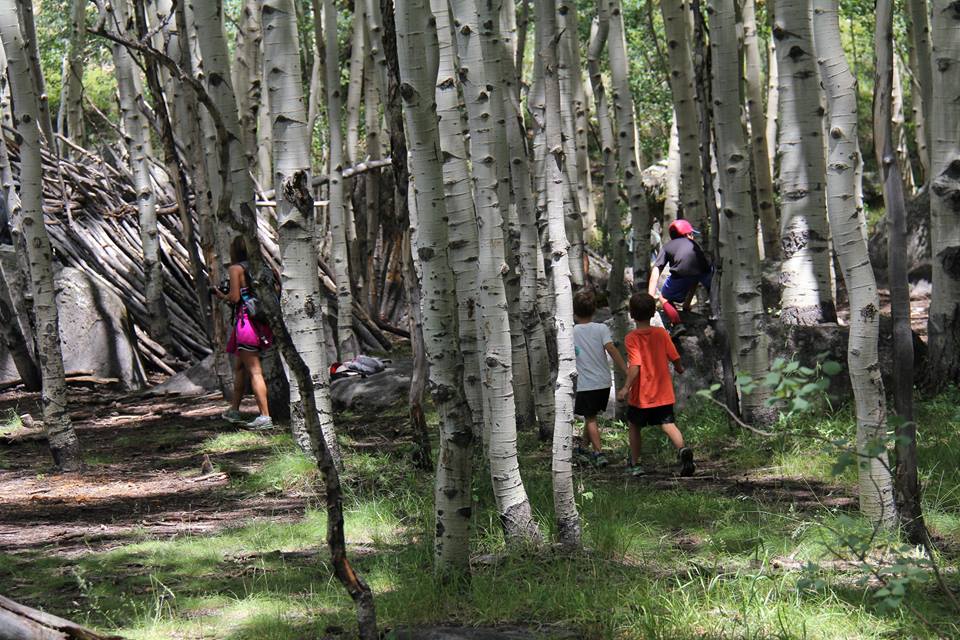 Before we could do that though, we had planned to meet with some friends for a picnic at what they call the Boy Scout Forts. This is a small clearing dotted with huge boulders in the middle of a gorgeous aspen grove where somebody, Boy Scouts supposedly, has built several primitive structures. We made the short trek in and spent about an hour climbing boulders and exploring the forest. Sadly, storm clouds started to threaten, so we walked out to our car and headed to town. We got some ice cream and then went in search for t-shirts for the kids. After that, we got online and searched for cool drives around Crested Butte. We decided on one called Kebler Pass based solely on the promising photos we found.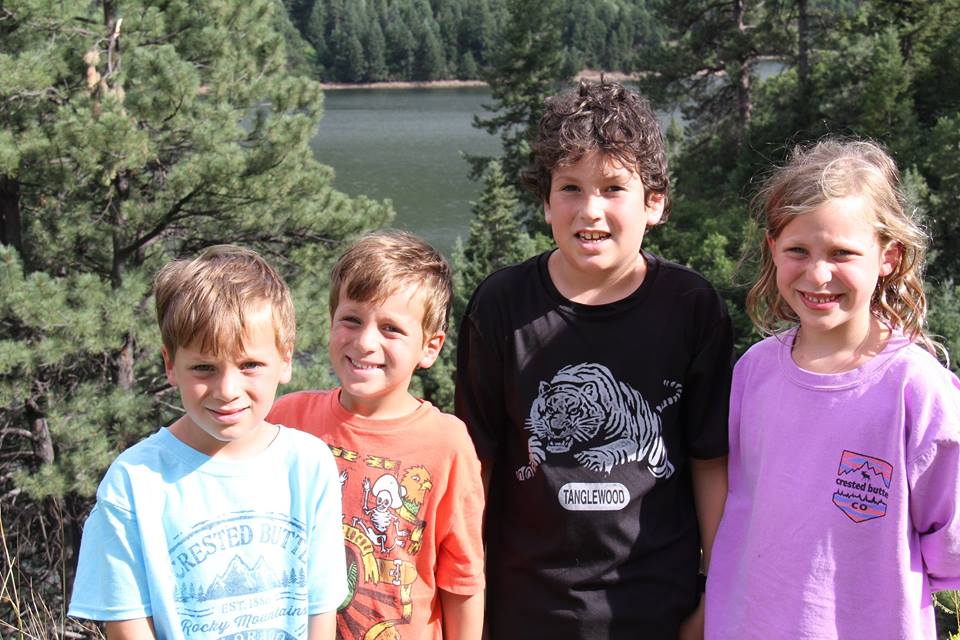 You reach Kebler Pass by driving west out of downtown Crested Butte, so the kids and I settled in while hubby drove. The road over Kebler Pass is mostly dirt and gravel with a few spots of asphalt thrown in, but the whole thing is very drivable. It was a bit longer than we expected, but it was worth every minute. The views of mountains and valleys are simply breathtaking, and I kept making my husband pull over so I could take pictures. There's one stretch of road that takes you through the the largest and most beautiful aspen tree grove I've ever seen. I love the way aspen leaves flutter in the wind and the way they turn the sunlight green below their canopy, so it was a joy to drive through them mile after mile. Hiking mountain trails is great fun and great exercise, but the car lets you cover a lot more ground in a shorter amount of time, so we all thoroughly enjoyed our last day's drive. There's just no other way we would have been able to see the incredible beauty that is Kebler Pass.
That night, we dined one last time with our group then went home, packed our bags, and resigned ourselves to our fate. Leaving Crested Butte was hard. Our time there felt so short. The memories we made though will be cherished forever, and we will definitely return!
xo, V