So much of what I have learned has come from understanding my own health and body and how I interact with my immediate surroundings. It's been about building up my strength and courage to be the best self I can be. Sometimes it's as simple as having enough self-confidence to walk into a business meeting and ask for what I need. My starting point on the continuum of self confidence that helps me yield personal or business victories is closer to the top when I feel good about my appearance. I hope I am not alone here. I can see many of you putting your best self forward when you are out there working out, rocking a new outfit for a party or fundraiser, and yes posting awesome selfies. I follow a ton of Instagram accounts and love seeing us all contributing to our amazing community in our own personal ways.
So here's the rub. When do we put aside all of our hopes, fears, needs, expectations, and worries about the rest of the world and consider our own #firstworldproblems? I still don't know the answer, but I am prepared to take a step in my own direction to address a very personal issue I have faced since I was 16. This was about the time my body pushed itself a bit too quickly and my chest grew to it's full size in what I remember being a week's time. In that short period of time I began to hate what I saw in the mirror. Because I was a young girl and didn't really know about any future options I might have I kept quiet about it. I think I was about 20 when I finally confided to my mother just how self conscious I was, that I thought my chest was too big and that I didn't love my shape. She supported my feelings and like the good mother she was she scheduled an appointment with a plastic surgeon. I was at TCU at the time, but went with her to a physician in Oklahoma City close to where she lived. I remember very clearly that the doctor said I would have a 50/50 chance of breast feeding after a breast reduction surgery. That's all it took. I remember thinking to myself, I have no idea what kind of mother I will be, but I might be the kind that wants to breastfeed. I thought it might be incredibly important to me one day and I could ruin that for my future self if I opt to have surgery just to look better now. I wish I could reach back in time and give my young self a HUGE hug because I was right. Nursing my 4 kids for the time that I did was incredibly important to me. It might not be for everyone, but it was for me. It was a special time, and I was always very happy when the time came to an end so I could get my body back. It's been close to 4 years since I stopped nursing and so now I feel it's time to readdress my own personal needs in wanting breast surgery. If you are a mom, over 40, or have been through rapid weight loss or gain you can probably relate to not having the same "girls" as before. Of course, I don't want to leave out women who have had breast cancer and have undergone a mastectomy and are in need of reconstruction.
Now for me the reduction part is not quite as important as the lift part is, but I know I can't achieve the look I want by working out more or finding a better bra. It's going to require the work of a professional. Namely a board certified plastic surgeon. This brings me to last week. I met with Dr. Jon Kurkjian, a board certified plastic surgeon that is relatively new to Fort Worth but who is earning a lot of respect from fellow plastic surgeons here. Dr. Kurkjian trained at the University of Texas Southwestern Medical Center, ranked #1 in plastic surgery nationwide. He also completed an additional year of aesthetic surgery fellowship under the guidance of world renowned NYC plastic surgeons. It is with this diverse training (Texas and NY "style" of plastic surgery) that he feels he has gained an appreciation for both and can suit a patients needs based on what they are wanting to accomplish from the surgery.
This is where I can put in my $.02. When I met with Dr. Kurkjian I explained the different points I wanted to address with cosmetic surgery. We spoke for close to 3 hours on 2 different visits to go over his practice and my potential surgery. What I can share is that he very much listened to exactly what I had to say and responded with suggestions based on the results I would like to see. I had taken screenshots of breasts online that matched the size and shape of what I liked and shared them with him to see if he could help me achieve those results. Let's just say these women were not 40-something, postpartum, post breastfeeding moms. They were 20 somethings with enhanced or naturally occurring in the wild picture perfect breasts. I am realistic and know I will never look like them, but it was more about the shape and size that I was so painfully trying to relay. He got it. Those women had close to a C cup and what someone somewhere has deemed the perfect upper pole and lower pole ratios of 45:55.
The coolest part of the visit was getting to see hypothetical results using his Vectra imaging machine. I was able to view what I might look like post surgery and also view what implants would do if I chose to select them. This is not an image of me, but rather a real person the 3D imaging system has pre-loaded but you can get the basic idea here.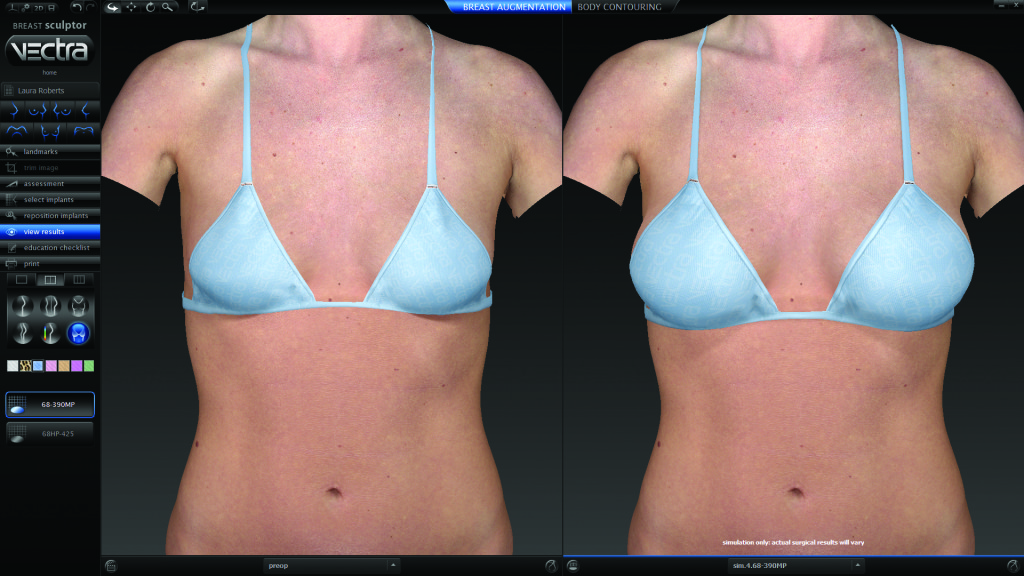 The woman in the picture was a candidate for implants, not exactly indicative of the procedures I would need, but you can see how your body might look. The way it works is that you stand in front of the machine with your top half undressed and arms slightly elevated at your sides like the following stock image.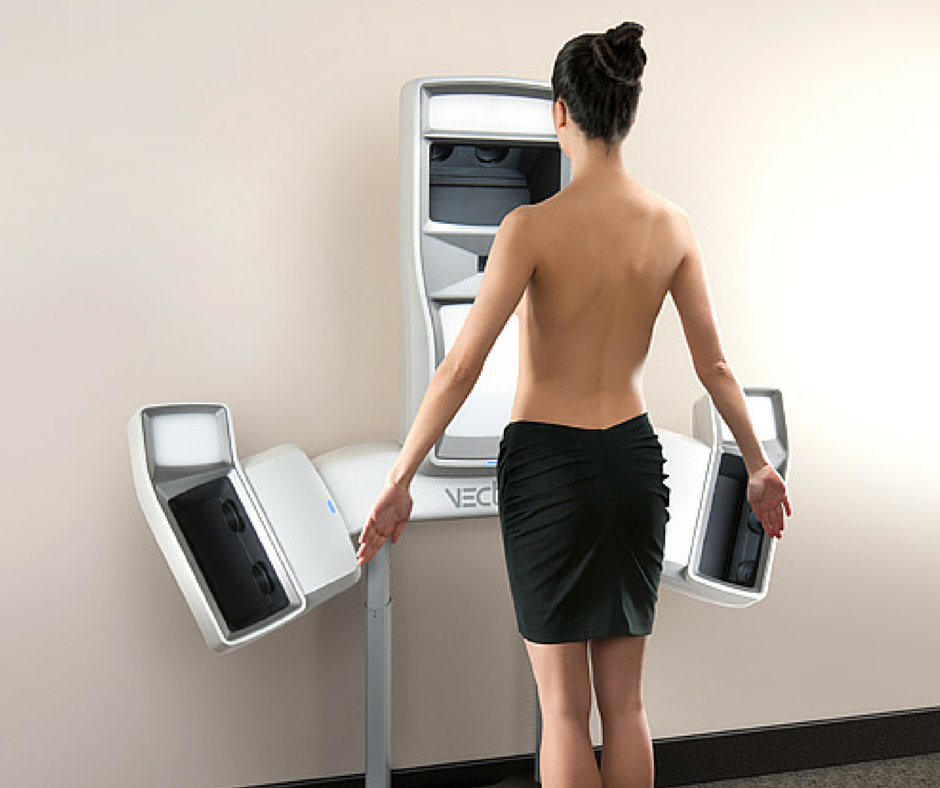 The machine has cameras and lights and snaps an image of your face, chest or abdomen. It then takes a moment to build out your likeness in a 3D image. Dr. Kurkjian then takes the time to adjust the image and allows you to watch the process by altering your features. A little nip a little tuck and BAM, there's the new you. Here's an image of my face without any alteration so you can see how amazingly it captures your likeness.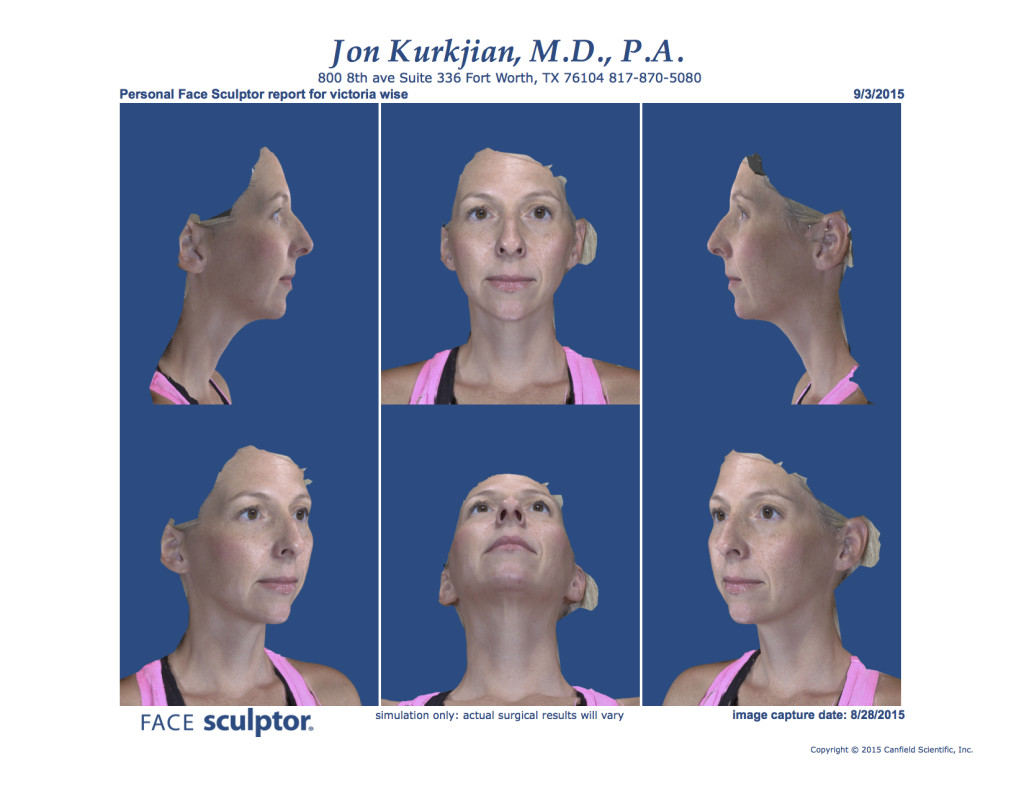 I actually loved getting to play around with my face and seeing different results. I know I have a weak chin and a nose on the large side, but what I realized about myself is that I've grown to accept those things and they are very uniquely me. I was able to rule out facial surgeries with the Vectra machine. I did get to see another module that showed areas of redness and sun damage I have caused myself over the last 30 or so years. I will be doing something about my skin, no question.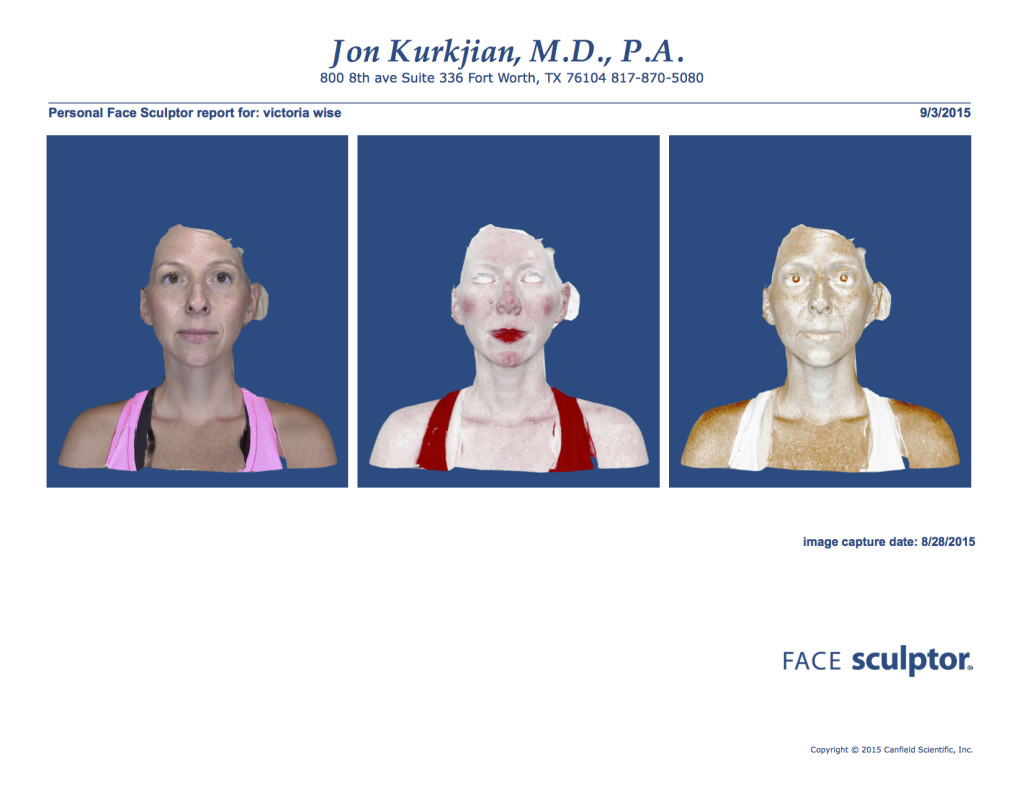 So now back to the big question at hand, when do you reconcile a #firstworldproblem like cosmetic breast or face surgery with everything you still want to do for the world around you? There is a lot to consider when deciding to take the plunge into cosmetic surgeries. 1. Selecting a plastic surgeon 2. Timing 3. Costs 4. Recovery Time 5. To enhance with implants or not 6. Type of implant and often many more.
What I do know is that there is a balance to everything. I've mentioned in previous blog posts that I spend a lot of time at work or with my children. I also try to help the world around me in my small way through charity partnerships with my businesses and volunteering. I am not sure if my wanting a breast surgery is the best thing I can do in the world right now, but I do know that it is very important to me to feel good about how I look, even when I might be the only one seeing me. It helps me go forth and to what's required of me as a mother and a citizen. We'll see what the next adventure is, but for now I am happy knowing there are qualified and skillful surgeons like Dr. Kurkjian that can make a very uncomfortable visit to the doctor relaxed and informative. He's offering a special incentive for Tanglewood Moms readers. If you'd like to receive a significant promotional savings for a surgery procedure from Jon Kurkjian, MD please comment below with "following" or a few words of encouragement for my own journey of personal fulfillment.
Here are some additional resources for you while you are considering cosmetic surgery.
To read stories and join a private community for those who have sought or are seeking cosmetic and plastic surgery, join Real Self here: https://www.realself.com/
For more on Dr. Jon Kurkjian, visit: https://www.jkplasticsurgery.com/
Questions to have in mind when picking your plastic surgeons. Please note this video is sponsored by Sientra which only sells their products to board certified plastic surgeons. Click HERE.
Please also see how YOU can help support the children of the Syrian refugee crisis, please visit: SAVE THE CHILDREN