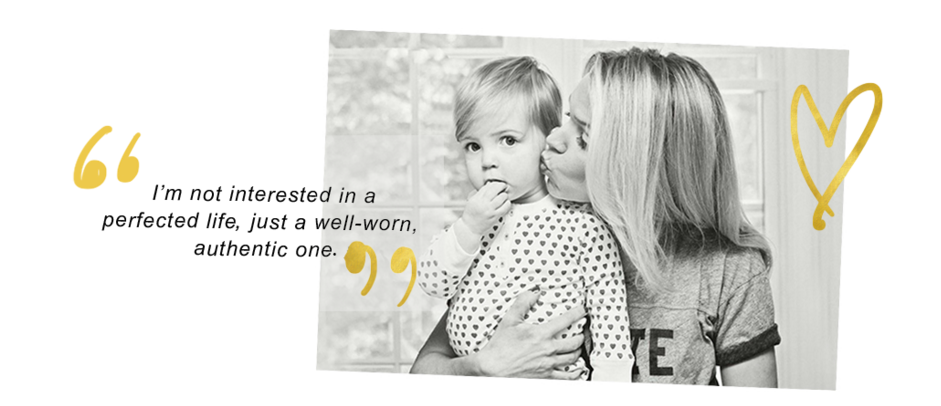 Remember my post last November when I visited NY? I squeezed in as much as I could in one day which is easy to do in a city of 8.4 million people. One of those lovely inhabitants is Natalie Friedman. She has roots in Fort Worth via her husband's family and I had learned about Natalie and her blog from her sister-in-law and my good friend, Kerri Thomas.
Natalie is a highly energetic mom of a precious little girl and lives TriBeCa with her husband Zach. She launched her very popular and successful blog Nat's Next Adventure in 2014 and just celebrated her one year anniversary of it. But it's not the blog that sets her apart. It's her hustle, it's her motto of "say YES, believe in yourself, and stay true to your word" that makes what she has done with her life and career so extraordinary.
We sat together at Kaffe 1668 on Greenwich Street to discuss then, now and a little bit about motherhood and balancing it all.
Natalie is from Philadelphia and after graduating from college made the big move to NYC in 2001. She had no job and shared a tiny apartment on the Upper West Side with 3 girls. She quickly found work at a magazine, Talk, acting as an assistant for Tina Brown, also the editor-in-chief for Harper's and Vanity Fair. It was her second week in NY, and second day on the job when two planes hit the twin towers of the World Trade Center and the world changed forever. It also meant that Natalie was out of work. She was 22 years old.
Many of Natalie's friends left the city. She chose to stay. She found work in the book publishing world but found it to be slow moving and not as inspiring as the fast paced magazine world with ever-changing celebrity and current event topics. She stayed with this company for two and a half years but quickly found herself in a quarter life crisis. Her answer? She quit her job. She dumped her boyfriend. Just like that.
She found out through whisper listings that Us Weekly was hiring. But it turned out it was for an intern placement. At this point she was 26 years old, was accustomed to a nice paycheck but swallowed her pride and accepted the job. She loved it. She showed up early and stayed late. Natalie would volunteer for everything that needed to happen. This job didn't feel like work to her, it was inspiring and I'm guessing she had a gut feeling that it would lead to something bigger. Her willingness to work hard left an impression. She decided to quit her paid internship and took a leap of faith to pursue a freelance writing career for Us Weekly. She covered events, interviewed celebrities, she would sleep-in in the mornings and would go out at night to cover movie premiers. Natalie told me that this type of work was tricky and challenging, there would always be last minute calls just like the one she received while hanging out on a roof deck one afternoon. It was for the Clinton Global Initiative. It also coincided when the power duo Angelina Jolie and Brad Pitt started dating. Her instincts told her she shouldn't say no to this assignment. She threw on heels and a dress and headed uptown. After quick talking her way into press credentials, she spotted Brad, only now with dark black hair. She mustered up the courage to ask for a private interview and promised to not ask any personal questions and stick to questions about the Clinton event. It was a 5 minute interview and then Brad asked her to grab a drink. (wow, um yes, Brad I think I will take that drink with you.)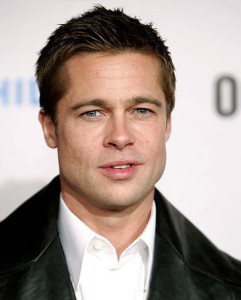 She describes the chat as an out-of-body experience. She had stuck to her word about no personal questions and he respected that, Brad never talked to Us Weekly. Natalie had made one of the biggest career moments in her life. She sent in the interview, was asked to talk to the editor-in-chief on Saturday, and on Monday was offered a full-time job. She spent the next seven years working for the magazine from intern all the way to News Editor. She then made the move to the LA office.
In LA, Natalie acted as books editor, a spokesperson for radio and television, she wrote headlines and recorded sound bites. She lead web segments and also managed a team of reporters. LA was even more challenging than the NY office, and not as glamorous.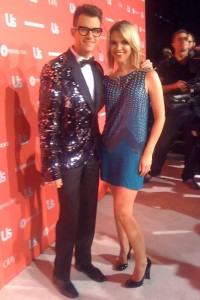 There was a mean girls club and the office was rife with politics. She felt she had to sacrifice her life to keep up as "you were only as good as your last story". Instead of falling prey to the office goings-on, she kept her blinders on and tried to be non-threatening to the others. She had already met her now husband Zach and together they were having their "west coast adventure". Natalie's mounting frustration led her to leaving her beloved job and talking time off. She had not taken time off in seven years. Her inbox dropped to zero and some days would wake up thrilled and others questioning if she had made the right choice.
Natalie was thrilled to take a 15 minute interview with Woody Fraser. He was set to start a show called "Home & Family" on the Hallmark channel. She had raced to the interview by her husband who then had to wait hours to pass while she pitched herself to be a part of the new production team. Despite the age gap between her and Woody the two hit it off right from the start. She loved the talk because she felt she had been heard. Instead of the research producer role she was interviewing her for, he instead offered a main producer job and of course, she accepted.
They taped in a real house in the Universal lot. She would work 14 hour days and describes producing the show as the best work experience of her life. She felt that people appreciated her. It was a two hour show and she was determined to get an Emmy nomination, so much so that she taped a picture of one on her office door. Prior to starting the job she found out she was pregnant, but didn't tell anyone. Instead she suffered morning sickness in silence and kept pushing herself to excel. Life had other plans for Zach and his new job offer took them back to NY. She continued consulting from NY so she could stay a part of the process. The show was nominated for an Emmy after all, she had hoped they would win, but she won in motherhood instead. Daughter Lilly was born and Natalie began writing for the Huffington Post and many other publications.

She found her "blogger" voice first on Tumblr, then segueing into her own blog Nat's Next Adventure a little over a year ago. She already has amassed a following of over 10,000 people on Instagram (it was 6K at the time of the interview) and has honed her skills by teaming up with other influencers and attending conferences that help bloggers make the most use out of the content they produce. She cites featuring pictures of yourself sporadically throughout the feed to put a face with the "voice" you are making there and to tell the real story.

Good luck Natalie on your continued adventures. I've loved following along and adore your story of making things happen by believing in yourself. You are an inspiration to us all.
xo,
Victoria