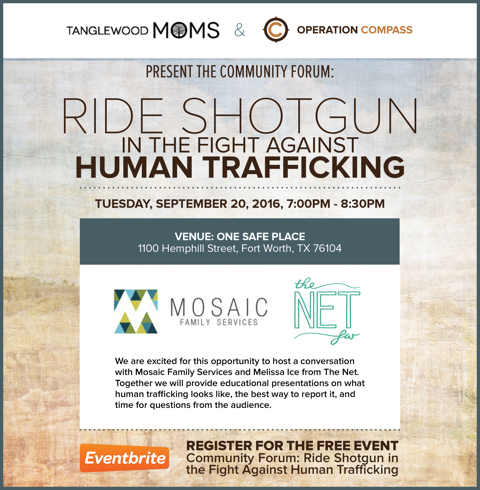 Please join us for a community forum event that focuses on Human Trafficking, Ride Shotgun in the Fight Against Human Trafficking. When posts on the topic of human trafficking started showing up in the Tanglewood Moms Facebook group, I wanted to create an opportunity for parents to ask questions regarding this topic. Information and education will help parents identify potential instances of human trafficking and will deter fear or anxiety on this topic. We are excited for this opportunity to host a conversation with Mosaic Family Services and Melissa Ice from The Net.
Together, we will provide an educational presentation on what human trafficking looks like and the best way to report it. This event will be held at One Safe Place on September 20, 2016 from 7pm to 8:30pm. Please RSVP at Eventbrite in order to attend. This will help us ensure we have resources for everyone!
As the founder of Operation Compass, a human trafficking non-profit organization that helps create technology to fight human trafficking, I have heard stories about victims of human trafficking on a regular basis. Some stories have stuck with me more than others, not because they are worse than others, but because they are compounded by the ages of the victim. One friend shared a story about a young girl—a girl so young that she was still in pigtails—whose parents sold her as a sex worker to help the family pay rent and bills. Human trafficking is real, and while it doesn't seem like it can happen in our own backyards, it does. In fact, Texas is second in the country for human trafficking cases. Victims come from all walks of life, regardless of economic status.
We hope you can join us to learn more about this topic and work together as a community to combat this growing epidemic.
Mosaic Family Services
Mosaic Family Services' mission is to support, educate, and empower the multicultural individuals and families of North Texas. We are dedicated to serving survivors of human rights abuses from around the world and within our community. We create access to opportunities for our clients, empowering them toward independence. We hope to equip future leaders with the skills to impact their own diverse communities for a stronger, more vibrant North Texas. We serve refugees and survivors of human trafficking and domestic violence. We provide free, multicultural legal services, counseling, comprehensive case management, advocacy, outreach, and an emergency and transitional shelter for women and children.
Melissa Ice, The Net
Melissa Ice received a degree in social work from Dallas Baptist University and has been serving alongside non-profit organizations locally and internationally in nine different countries over the last 12 years. She is currently the Founder and Executive Director of the local non-profit called The NET that works to restore dignity to people in poverty. Additionally, she has been trained in the area of trauma-informed care for victims of sexual assault and female offenders. She currently helps facilitate and rehabilitate women attempting to exit the sex industry through a specialty court called Rise, under Judge Brent Carr in Tarrant County. She is also a Co-Owner of a restaurant called BREWED on the Southside of Fort Worth and is happily married to her husband Jamey Ice and loves being mommy to Rosie Pearl her new baby girl.
Operation Compass
Operation Compass has created a mobile application that enables individuals to easily and anonymously report suspected instances of human trafficking — anytime, anywhere. The app sends these reports to our North Texas partners Mosaic Family Services and when appropriate, on to the Dallas Police Department. It is our goal to lead Operation Compass from a young 501(c)3 into a growing organization that plays an important role in the fight against human trafficking in North Texas – not duplicating services provided by other organizations, but working to identify and understand unmet needs and creating solutions to advance the fight against human trafficking. Our focus is to ensure our programs are created by conducting human centered research ensuring they are truly created for the population they are intended.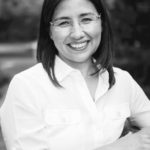 Lisa Mercer is the Founder and Executive Director of Operation Compass, a non-profit dedicated to helping victims of human trafficking find their way home. Her interests and research have been focused on using design research solutions as a way of developing and executing social innovations to affect change. She has been invited to speak at six national conferences and four international conferences based on the research she conducted that lead to the creation of Operation Compass and their ongoing programs. She received her Bachelor's Degree in Design from Purdue University, and after 13 years in the industry she went back to school to earn her Master's in Design Research from the University of North Texas.