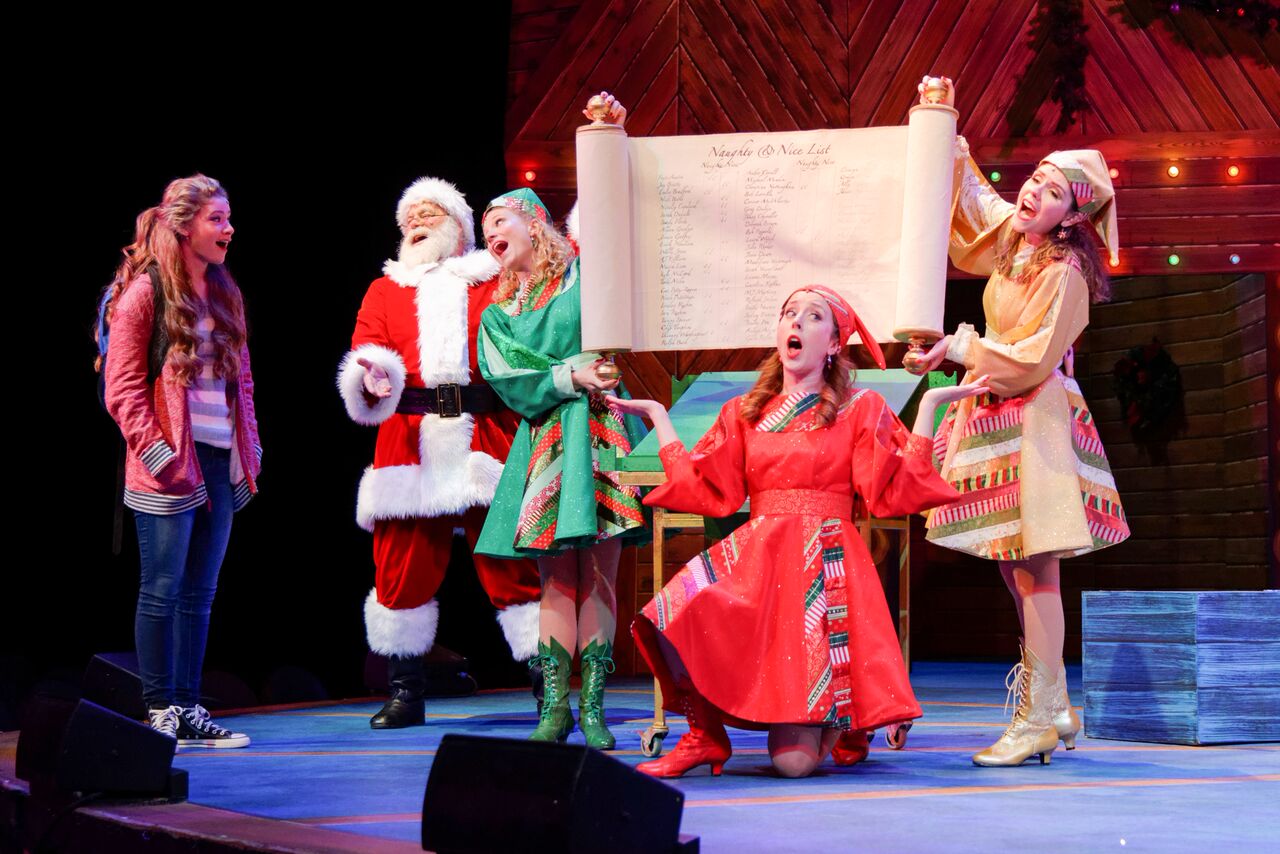 With my Santa-loving stepdaughter in tow, we set our sights on Casa Mañana last Friday to see Santa Claus: A New Musical. What's so new about this script? A lot. How do you explain alternative tales of Santa's life to little ones? Read until the end.
Act One opens with singing, dancing, and retiring. Yep, the big guy is hanging up his coat, and he's already chosen his replacement: a kind-hearted, sandal-and-sock-wearing web developer named Nick. He brings along his spunky, smart daughter, Beatrice, who acclimates to the holly-jolly havoc with appreciable ease. Dad and daughter are serenaded around Santa's workshop with all of Santa's little green elves and eight tiny reindeer—a dazzling ensemble of young children and a few recent high school graduates.
Three adult elf ladies—Tenchy, Punchy, and Chirpy—enthralled the little girls in the audience with their glittering skirts and high kicks. One not-so-nice elf by the name of Henchy has his heart set on being the next Santa Claus, so you can imagine the lies and deceit he leaves in his wake.
Pressing pause on the plot summary, it's worth noting that I felt a little out of my comfort zone at this play, but only because I've never reviewed children's theater before. For Fort Worth Weekly, I typically write theatre reviews of visiting Broadway musicals and raunchier blackbox plays performed by adults, for adults. Of course, I'll take the parent perspective in this review in a moment, but consider this snappy post-show Q&A with a kindergartener, E:
J: What surprised you the most?
E: When they called out the names of kids in the audience for the naughty-nice list! I wanted them to call my name.
J: Who gave the best overall performance? Or who was your absolute favorite actor?
E: Well, my favorites were the reindeers AND the elves! But the one I didn't like that much was the [elf] who was mean. He was so mean.
J: But he was so nice after the show when he autographed your [playbill].
E: Yeah, he was nice after the show.
J: What was your favorite part of the stage?
E: The window where you could see the snow coming down.
J: What was your least favorite part of the show?
E: When [the naughty elf] made trouble.
J: Would you recommend this play to other kindergartners?
E: Yeah! Does it tell a lesson?
J: Yes, it absolutely does. What do you think the lesson was?
E: Don't want what other people want, like what it says in the Ten Commandments. And I'm so happy I got 9 autographs!!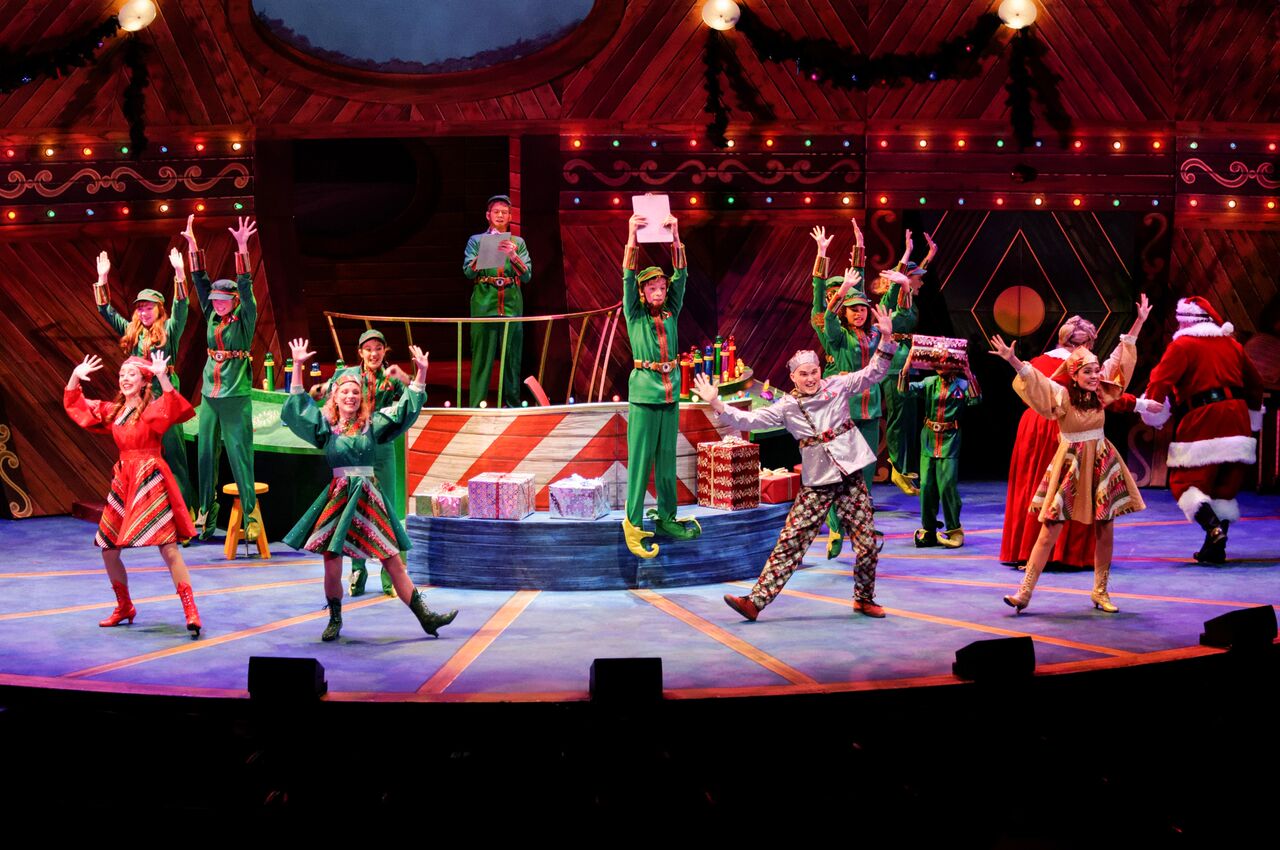 Parents, if you're burning out on Christmas music, then rest assured that this musical isn't trying to rehash old tunes. No, lyricist Luke Holloway offers new songs that sound different than anything playing on the radio right now. At times I wondered if we were listening to a rock opera or if Bowling for Soup had entered the building because there was an edginess to several numbers. This welcome surprise paired nicely with the hilarity of the older elves, a few of whom were a little angsty and always entertaining as they jammed to the chords of a metal guitar.
Oh, and I can't forget the naughty elf's nod to Dr. Evil from the Austin Powers. The allusion was lost on my stepdaughter but was well-received by the parents in the room.
All in all, this play, written and directed by Noah Putterman who serves as Casa Mañana's Director of Theatre for Youth, was a splendid take on yet another Santa story, and Putterman's young cast put on an impressive show. My stepdaughter is now inspired to be one of his reindeer in next year's performance, having asked to "be a reindeer next year" four times. She loved mulling around the front of house after the show to talk to the actors while they signed autographs.
Naturally, there were a lot of questions about which actors were actors and which actors were "real" elves living at the North Pole. A similar line of inquiry happened when I took her to see Santa last week at The Amon Carter. I could tell she was starstruck while she sat on Santa's lap, but when she listened to Mrs. Claus read Twas The Night Before Christmas, she noticed the thick Texas accent as she read. She wondered why that Mrs. Claus seemed so different from the one she saw last weekend at The Gaylord Texan Resort.
I told her that Mr. and Mrs. Claus can change how they look and how they speak sometimes, depending on where they are. My mother-in-law said there were different versions of Santa and the Mrs. because they can't be everywhere all the time. E looked confused.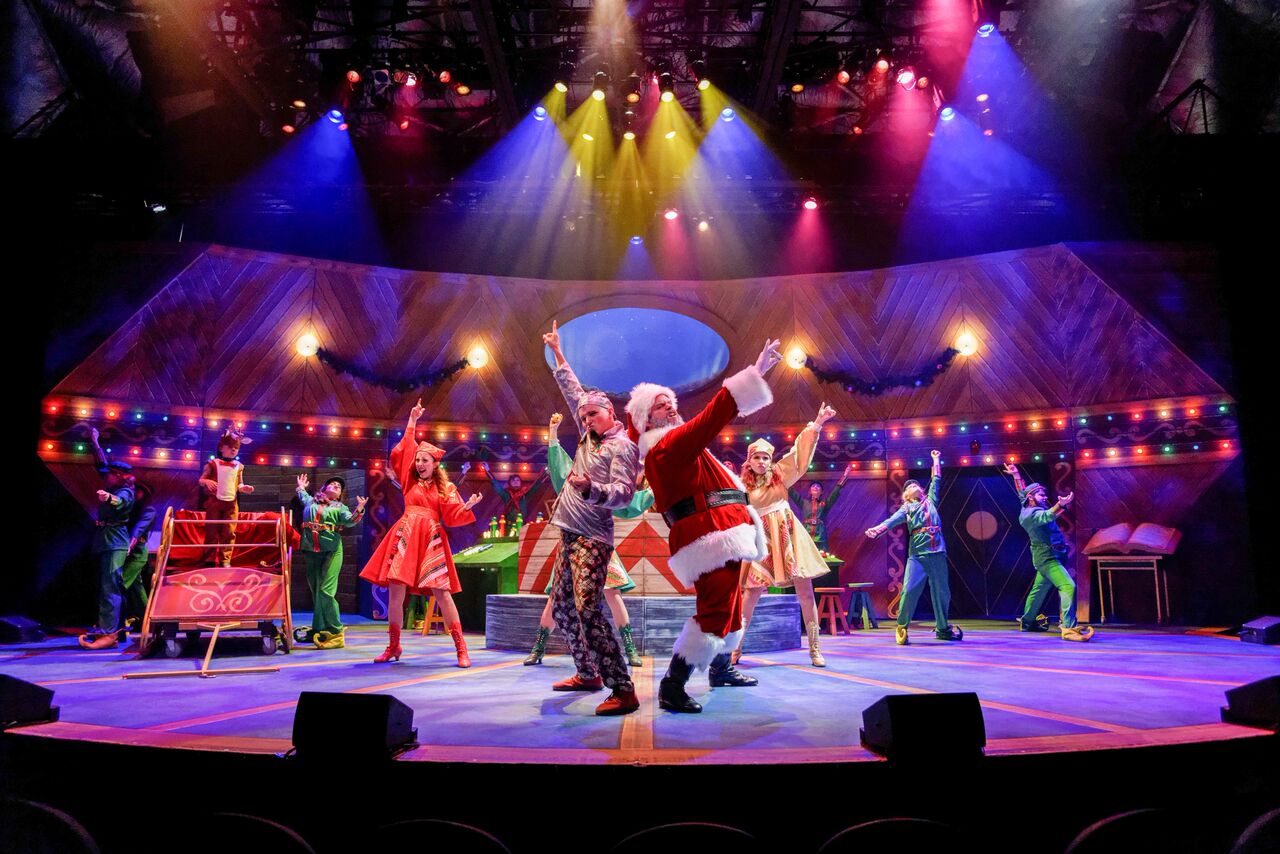 At Casa Mañana this weekend, I decided to tell her that there are many stories of Santa because he's kind of a mysterious guy. We like to think we know stories about his life, but a lot of times we're guessing because there are so many stories.
How do you explain alternative stories of Santa's life to your little ones? Tell us about what's worked for you, and feel free to share any tips!
Santa Claus: A New Musical runs at Casa Mañana through December 23. Click here for tickets!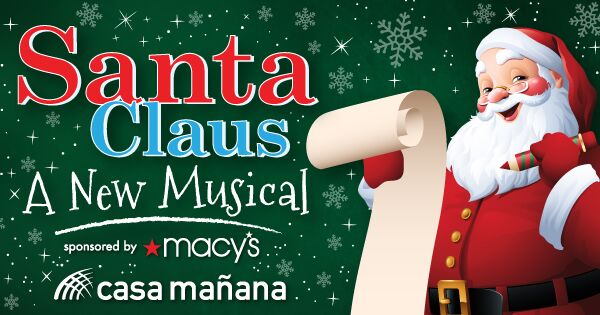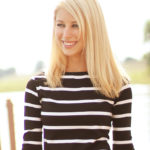 Jackie Hoermann-Elliott is the Assistant Director of TCU's New Media Writing Studio, where she teaches digital composing to Horned Frogs needing to create videos, infographics, blogs, and much more. She wrote for newspapers and magazines around the Midwest before settling down in the Lonestar state. Since she moved here in 2013, she's written for The Fort Worth Star-Telegram, Indulge, K Magazine, The Dallas Morning News, and GuideLive. Currently, she writes for those fun guys running The Fort Worth Weekly and the dynamic team of moms and dads at Tanglewood Moms.
When she's not writing, she's procrasti-cleaning to avoid her dissertation or reading up on new trends in health and psychology research. For fun, she cheers on her husband, Mansfield ISD football coach Buck Elliot, she studies yoga at Yogali off E. Lancaster, or practices poses with her amazing bonus daughter, "E."