Fifteen minutes before I walked down the aisle to marry my wonderful husband, my soon-to-be stepdaughter started bawling. Big, loud, tears fell down her face as she wailed.
My soon-to-be sister-in-law tried to assuage the situation by saying, "You have your bonus mommy right here!" Cue more wailing. Cue commiserating looks from my bridesmaids when my stepdaughter demanded her "real mommy."
In this colossally overwhelming moment, I couldn't have known what I know now: other stepmoms have gone through the exact same scenario.
Hi. My name is Jackie, and you can label me as a stepmom, a wannabe mom, or a "bonus mom." I prefer the latter because I believe my parental purpose is to make life easier for the six-year-old girl I know as "E." She is not my biological child, but she might be the only child I ever have.
And I love E because she reminds me a lot of myself. She's a talker, a perfectionist, a crafter, a budding runner, and my favorite person to "play" yoga with on Saturday afternoons. When I see her struggle with her parents' divorce, my heart breaks in ways I can't explain. I remember what it is like to long for a parent you only see every other weekend. I remember when I got a bonus dad, and much later a bonus mom, and both have changed my life for the better. For E's sake, I take my role as bonus mom seriously.
Most weekends with E go pretty smoothly, but I'd be lying if I said that every minute is buttery blissfulness with a kindergartner who's anything but confused by the fact that she has two more parents than most of her friends. Like any child, her moments of weakness usually come when she's tired, hungry, or when she gets a call from the other parent who's traveling somewhere new. I'm always on the other side of those conversations, just waiting for the phone to hang up and hoping discontentment doesn't boil over into my household.
But, hey, that's what I signed up for when I said "I do." The good, the bad, and the undeniably rich experience of parenting someone else's child is what I hope to explore with all the Tanglewood moms, bonus moms, dads, and bonus dads. We have so much to talk about, don't we? From nuptial-induced temper tantrums to the dreaded "Name Game" of what to be called by whom and in what situation, the list of topics is extensive.
Let me be very clear: I want to engage with YOU. I want to hear about your trials and triumphs. What worked well for your family? What challenged you for a long time? What advice would you give others?
Biological moms and dads, your experiences matter to me, too. If you're like me, you've often wondered what the other parent is thinking, but you don't want to broach that sticky conversation. Email me (j.hoermann@tcu.edu), tweet me (@jackiehoermann), message me on Facebook, or send a note via carrier pigeon. No naming names unless you want your name mentioned in future posts.
Yours in the pursuit of co-parenting paradise,
Jackie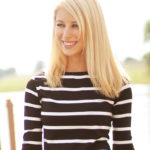 Jackie Hoermann-Elliott is the Assistant Director of TCU's New Media Writing Studio, where she teaches digital composing to Horned Frogs needing to create videos, infographics, blogs, and much more. She wrote for newspapers and magazines around the Midwest before settling down in the Lonestar state. Since she moved here in 2013, she's written for The Fort Worth Star-Telegram, Indulge, K Magazine, The Dallas Morning News, and GuideLive. Currently, she writes for those fun guys running The Fort Worth Weekly and the dynamic team of moms and dads at Tanglewood Moms.
When she's not writing, she's procrasti-cleaning to avoid her dissertation or reading up on new trends in health and psychology research. For fun, she cheers on her husband, Mansfield ISD football coach Buck Elliot, she studies yoga at Yogali off E. Lancaster, or practices poses with her amazing bonus daughter, "E."