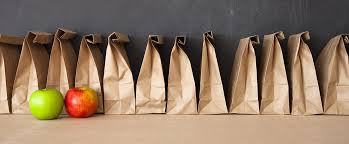 Oh boy. School is starting next week, and while I'm ready, I'm so not ready! It's hard to switch gears from summer lunches where I just put stuff on the counter and let the little darlings make what they want to planning out lunches for the week. The Girlchildren sometimes buy lunch at school, but let's face it, school lunches are rarely exciting. So here are 5 ideas for yummy lunch box lunches.
(Please note, these are not recipes. They are merely ideas. You can change them to fit the tastes and nutritional needs of your family! Also, please note that I'm NOT a person who feels the need, or indeed has the time to make Pinterest-perfect lunches for my children. I do not use cookie cutters and a paring knife to laboriously craft a tuna sandwich into a darling little kitty cat or transform a hardboiled egg into a penguin. They are lucky to get healthy food!)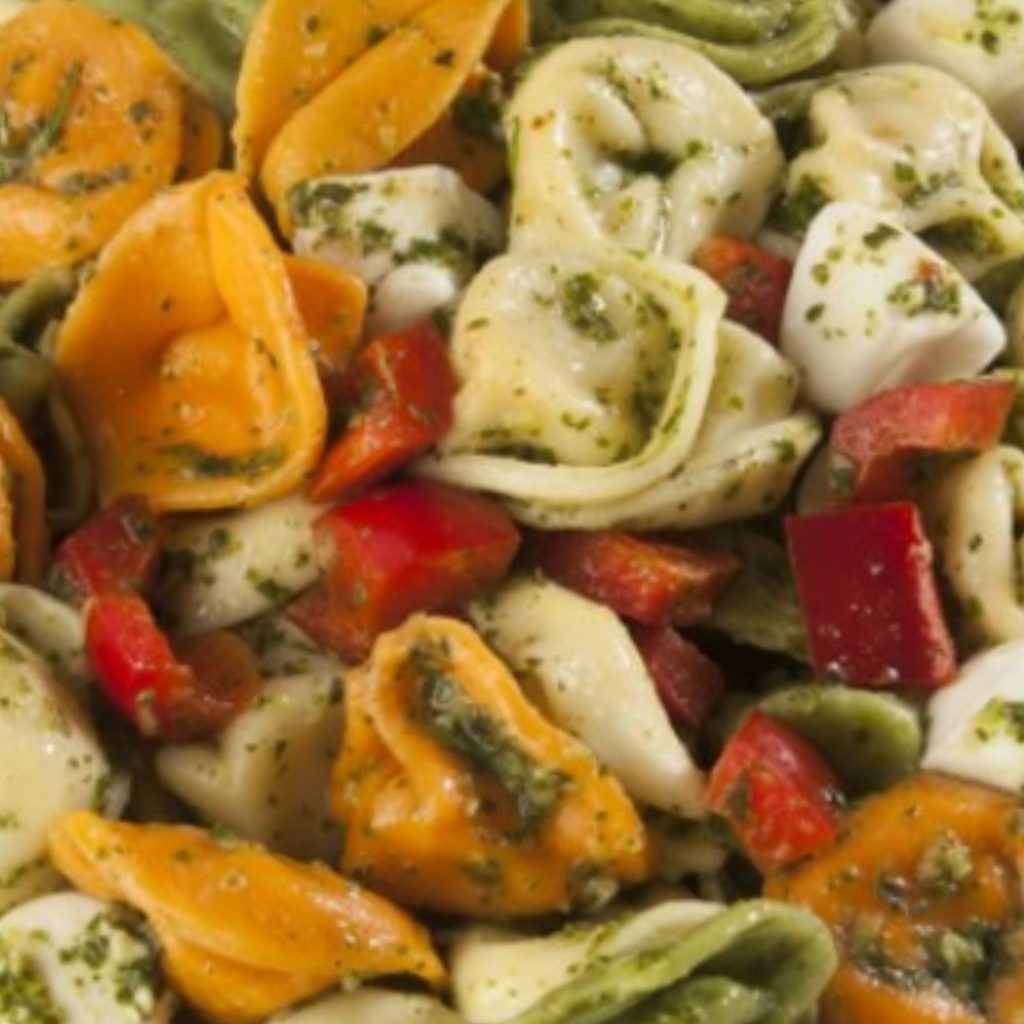 Tortellini with Pesto
The Girlchildren LOVE pesto. I make it in the summer and try to freeze some for the winter, but we always eat it long before the winter is over. Fortunately, they also like the pesto you can get in the grocery store! The best thing about this "recipe" is that you can add in whatever leftover vegetables you might have, and it lasts for several days in the fridge!
Ingredients
1 package fresh or frozen tortellini (or really any stuffed pasta, just get what your family likes!), cooked according to package directions, drained and rinsed in cool water
Pesto – you can use whatever kind you like (basil, bell pepper, sundried tomato…) and use enough to coat the pasta
Vegetables – leftover or raw, diced
Shaved Parmigiano-Reggiano, optional
Directions
Toss the cooked pasta, the pesto, and the diced vegetables in a bowl until mixed. Put into plastic bowls that you don't mind losing when the little darlings dump them in the trash can in their hurry to get out to the playground for recess.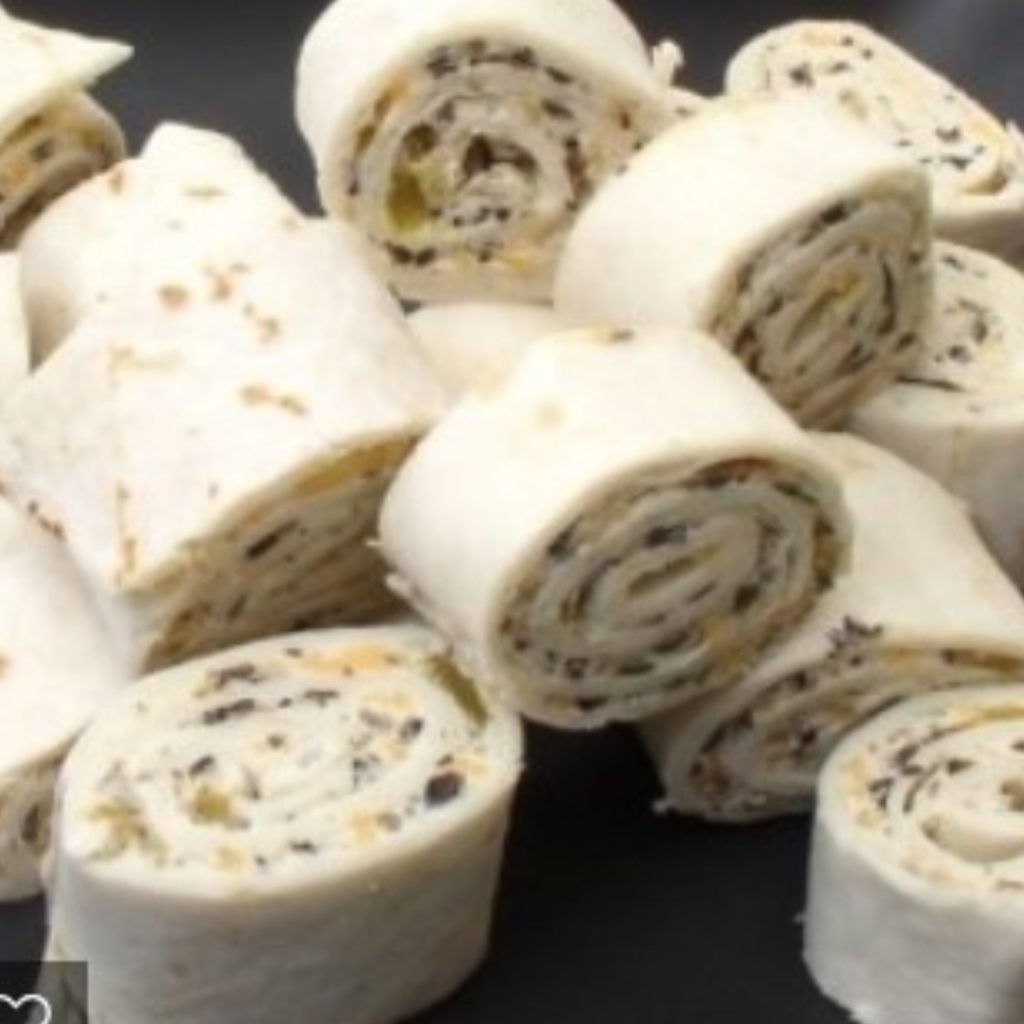 Tortilla Rollups
When I was the chef of a catering company, these were on almost every menu, and there's a good reason for it – they're yummy! You might not believe that children will eat these when you see the ingredient list, but I assure you, they will. However, if you don't like an ingredient, simply omit it or substitute something you think your children will eat!
Ingredients
2 packages cream cheese, softened (you can substitute Neuchatel or light cream cheese, but don't use the fat free stuff – it's full of sugar!)
½ of a small red onion, finely diced
1 small poblano pepper, finely diced
A handful of Kalamata olives, pitted and finely diced
A handful of cilantro, chopped
1 teaspoon chili powder
1 teaspoon ground cumin
¼ teaspoon cayenne, optional
1 package fajita sized flour tortillas
Directions
Combine all ingredients except the flour tortillas in a bowl until well-mixed. Lay a tortilla out on a flat surface and spread some of the cream cheese mixture over the whole tortilla. Roll the tortilla up and repeat with the remaining spread and tortillas. I make these up at the beginning of the week and keep them in the fridge. In the morning, I slice the tortilla into rounds and put those into a plastic container that I don't mind losing when my little darling dumps it into the trash can in her hurry to get out to the playground for recess.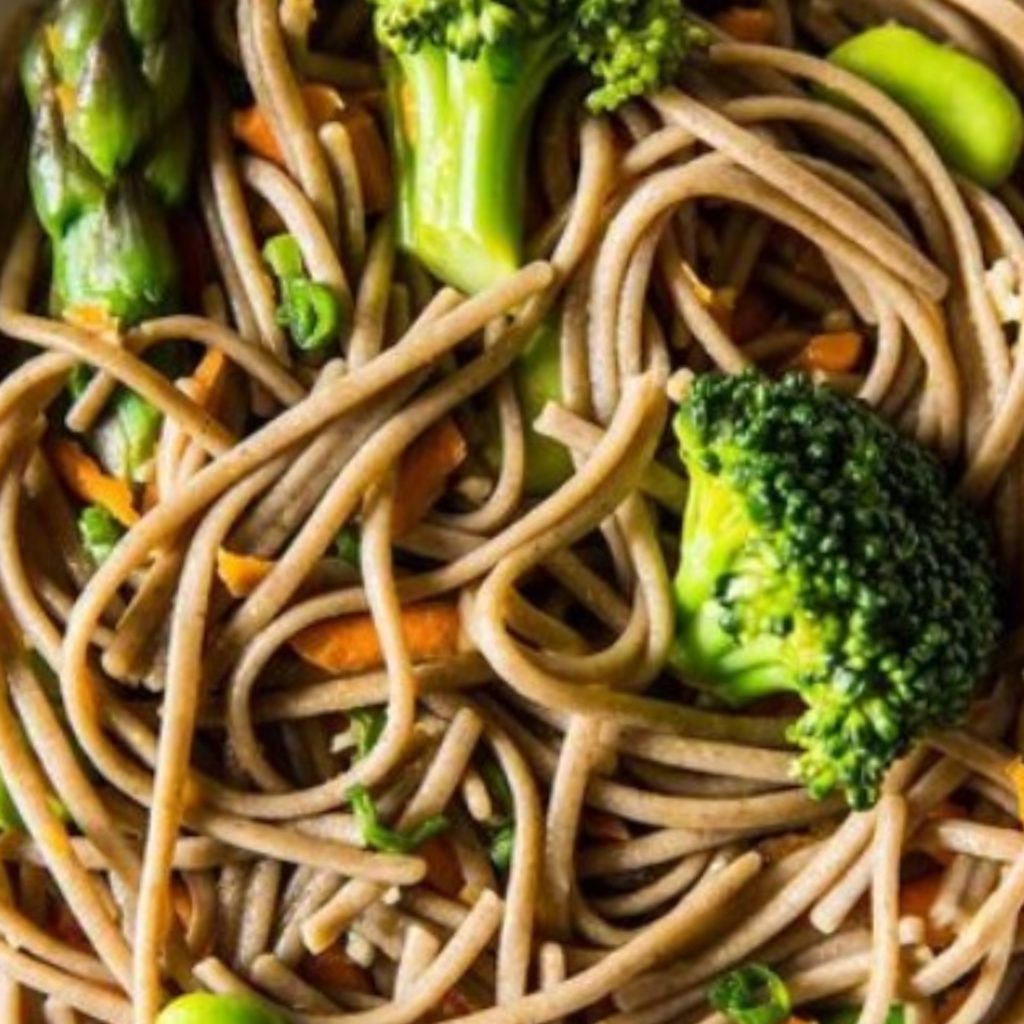 Cold Soba Noodle Salad
This can be made with any kind of noodle, really – soba, whole wheat, rice, or just regular spaghetti. The GIrlchildren have learned to like the nuttiness of the soba noodles, but they don't turn up their noses if I substitute another kind of noodle because I haven't gone to the grocery store!
Ingredients
1 package soba noodles, cooked according to package directions, drained and rinsed in cool water
Juice of 2 limes or 3 tablespoons unseasoned rice wine vinegar
2 tablespoons soy sauce or tamari (feel free to use the low sodium variety!)
1 teaspoon ground ginger or grated fresh ginger
½ teaspoon wasabi, optional
2 thinly sliced green onions
1 teaspoon honey
2 tablespoons toasted sesame oil
Vegetables – leftover or raw, diced (the Girlchildren's favorite combination is grated carrots, diced cucumber, edamame, sliced snow or sugar snap peas, blanched broccoli, and cilantro)
Directions
In a jar, combine the lime juice or rice wine vinegar, soy sauce or tamari, ginger, wasabi (if using), green onions, honey, and toasted sesame oil and shake well. Toss the cooked noodles and diced vegetables with enough dressing to coat.  Put the noodle salad into a plastic container that you don't mind losing when your little darlings dump them into the trash can in their hurry to get out to the playground for recess.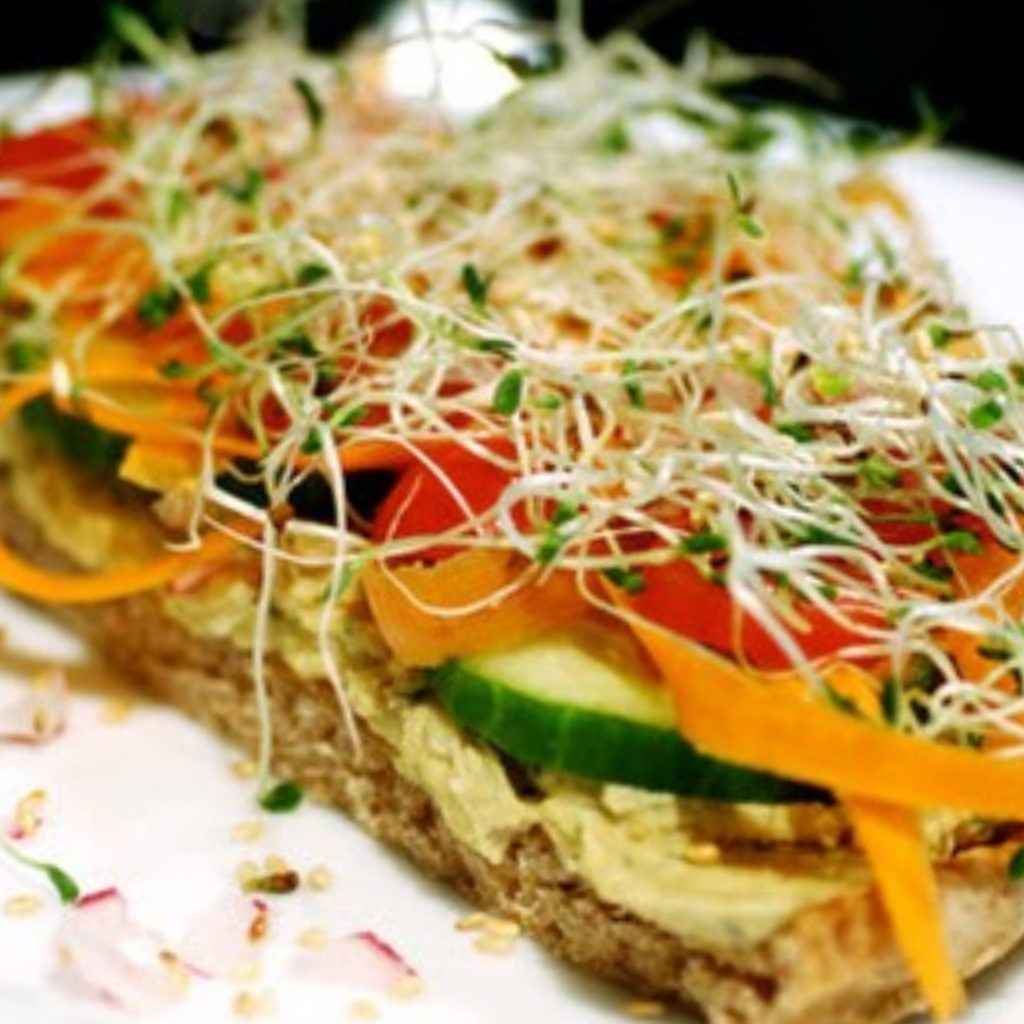 Hummus Pita Pockets
These are so easy! One half of a pita, stuffed with hummas and vegetables is a great, easy meal!
Ingredients
Pita – I use whole wheat pitas; the Girlchildren each get a half
Pre-made hummus, whatever flavor you like
Vegetables – grated carrots, thinly sliced cucumbers or zucchini, diced fresh or sun-dried tomatoes, thinly sliced sweet onions, snow peas, baby spinach leaves, broccoli/radish/alfalfa sprouts… the choices and combinations are almost endless!
Crumbled feta cheese or sliced fresh mozzarella, optional
Directions
This is so easy, I feel kind of silly writing directions! Slice the pita in half and gently open. Spread some hummus inside the pita. Layer in the vegetables and cheese, if using. I usually wrap these in parchment or wax paper instead of using some container that I would mind using when the little darlings dump them in the trash can in their hurry to get out to the playground for recess.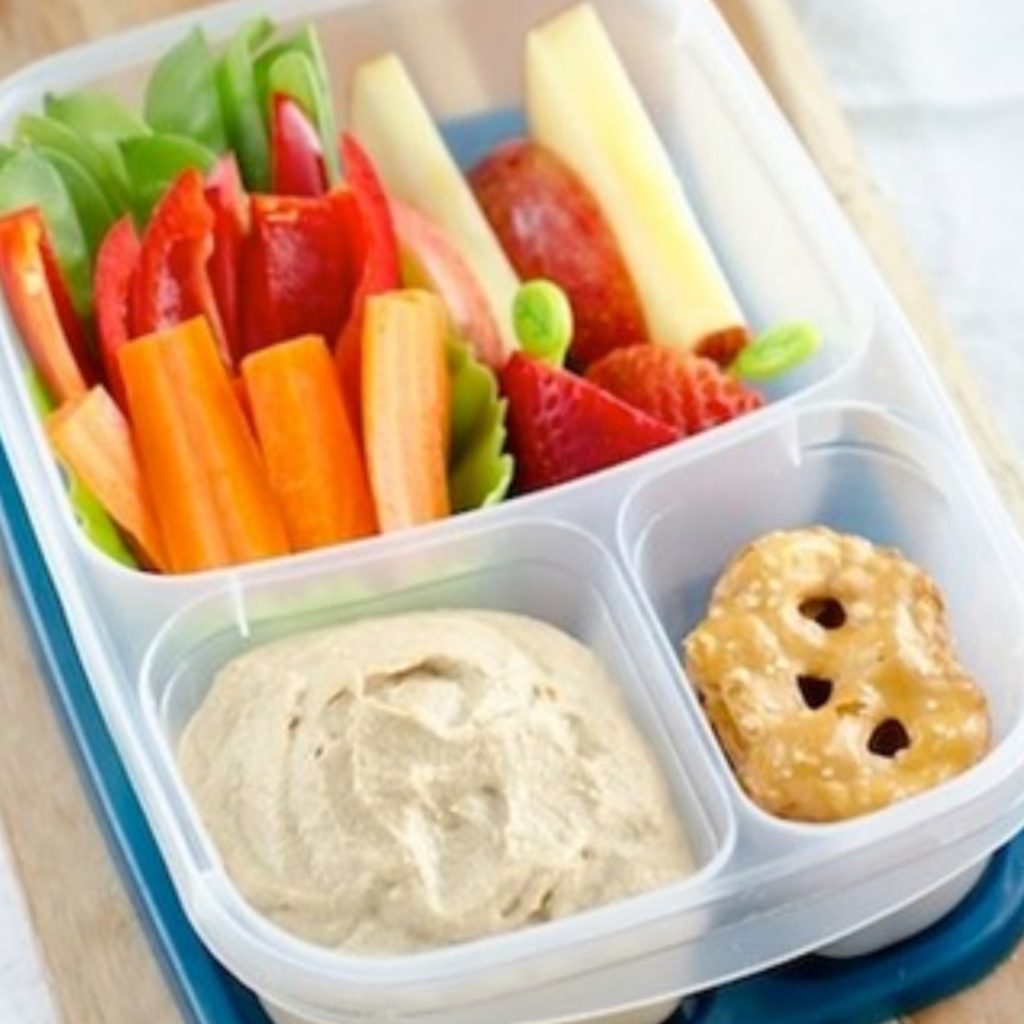 Dips and Stuff
There are times when I cannot handle even making a hummus pita pocket. I will admit that I buy the pre-made vegetable trays from the grocery store, and these are great for mornings that get away from me. I toss the ranch dressing and substitute something a little healthier.
Ingredients/Ideas
The Girlchildren love using either pre-made hummus or guacamole as dips, and now that these are available in individual packages, I am a happy mama! They also like pretzel chips or pita chips to dip. I do sometimes bestir myself to make this Greek yogurt dip (although now you can buy Greek yogurt dips in a variety of flavors!):
2 cups plain Greek yogurt – you can use whole milk, low fat, or fat free
2 to 3 tablespoons dried dill
A handful of fresh parsley, chopped
1 small shallot, thinly diced
A couple of dashes of hot sauce
Combine all the ingredients in a bowl and let sit for about 30 minutes for the flavors to combine. This, along with vegetables and pretzel or pita chips, makes a great lunch! Remember, use plastic containers that you don't mind using when your little darlings dump the into the trash can in their hurry to get out to the playground for recess!
I hope you enjoy these "recipes". Remember, you can change or substitute ingredients to you and your children's hearts content. May everyone's school year be as easy as these recipes!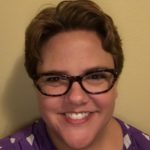 Lee Virden DuBose is a jack of all trades, master of none. She has been a bank teller, a chef and caterer (both in restaurants and in private service), a bookkeeper, a trainer, a legal assistant, and a writer. She is a proud graduate of the University of the South with a degree in Early European History. She planned to be a professor but realized in the nick of time that professors have homework, which she never did when she was a student, so what made her think that she would do it as a professor? While she has not used her degree in her, er, varied employment history, she is fabulous at cocktail parties. Most importantly, Lee is the proud single mother of two absolutely amazing girls, to whom she refers in social media as the Girlchildren.