Within five minutes of meeting Clifton Crofford, you will learn something and be inspired to make something. He speaks with candor, which often anticipates the next question. Speaking with a teacher's care, his love for what he does is nearly palpable as he weaves threads of commentary regarding some of our most ancient forms of art.
A master storyteller, his tangents of glass arts, homebrew, and his community unite in the form of the Pride of Southside Homebrew Invitational, aka POSHI, coming up Saturday, October 28th at SiNaCa School of Glass and Gallery. Brewing and the glass arts still function to some degree within the hierarchical strata dating back to their origins thousands of years ago, from the water boy to the apprentice until finally masters share techniques. And those masters take those lessons back to their students who eventually become masters.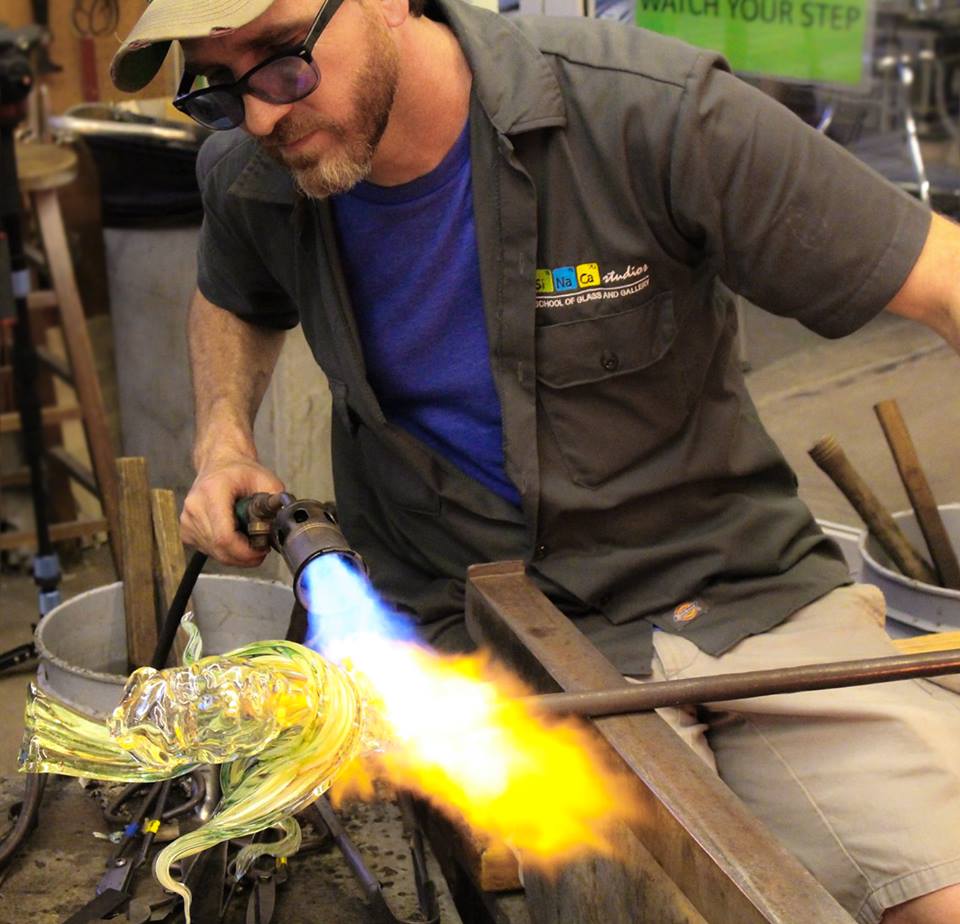 The name of the studio which Crofford founded, and, for whom he acts as the Executive Director, implies this lineage: the elements silica (Si), sodium (Na), and calcium (Ca) represent the original formula for soda-lime glass dating back over 5000 years. "It really ignites people's interest in science. The cultural anthropology involved is fascinating on its own. Glass gets taken for granted, it's one of those things that's part of every second of your life. And it's transformed humanity several times, most recently with fiber optics and interactive displays. All this information is moving through glass, and it connects us."
POSHI, now in its third year, embodies the collaborative spirit required of community building, whether those communities are developed around glass, beer, or urban planning. Partnering with South Main compatriots HopFusion, the event consists of two different homebrew contests: A BJCP-certified competition between 8 brewers, which will be judged prior to the event; and the home brewer's Best in Show, consisting of 12 competitors, on the day of the event. The Loop Artist Rehearsal Complex will provide live music, which will accompany live glassblowing demonstrations. To participate in voting, it costs $10 to become a member of the Order of the Unicorn; for $50, this includes a t-shirt and hand-blown beer glass. "They are all different, and you just pick one. Some look like faces and others like pumpkins. But there will also be pilsners and snifters as well." Local breweries will provide their wares, and all proceeds go back into the outstanding operations of SiNaCa Studios, which functions as a non-profit school and gallery.
Twenty years after chancing upon glass as a curious UTA architecture student in need of an art credit, Clifton Crofford continues developing not only his own skills but also those of a growing community of artists, craftsman, and enthusiasts in and around Fort Worth. By 2008, Crofford was selling his wares. "Eventually, folks were asking how they could get involved, whether we had classes or a brick and mortar place." After scouting various locations throughout 2010, that summer they finally discovered a derelict gas station from the 1920s 1st, 2011, and in the years since, they have hosted over twenty thousand people to do hands-on glass work, while more than fifty thousand have watched demonstrations or bought pieces from the gallery.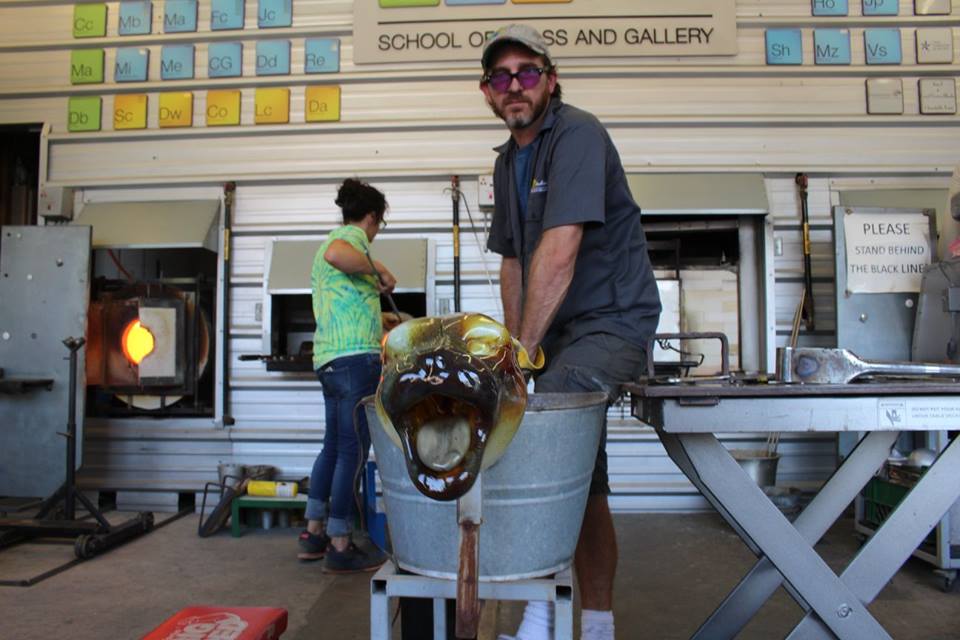 As a school, they offer open-enrollment curriculum for anybody and everybody. The three principle disciplines include Glassblowing Studio, Kiln Forming, and Flame, or torch work. As a public access studio, once you have the skills, you can rent time to use the equipment. The gallery hosts 50 artists in addition to their Visiting Artist series every quarter. As an artist, Clifton Crofford is a glassblower, and to hear him speak of the practice is a great joy. "It's the moth to the flame. Working with glass at 2100 degrees, it moves like honey, it's magical, and anything can happen. It demands absolute focus and discipline, but at the same time, it is very team oriented; it's all about a group of people working together."
From his first interaction fulfilling an art credit, his attention quickly turned towards glass. He took a job in the art department as they were planning a 3D Art Annex – for painting, ceramics, printmaking, jewelry, and glass. "I learned, on the fly, everything about building a glassblowing studio and all the equipment necessary. It was a great opportunity, and I have since built three." Building on opportunities is baked into Clifton Crofford's DNA and is central to the Studio's community outreach. He hopes to expand after school programs they have been offering to Tremble Tech students to schools throughout the district. In addition, they participate in Teach the Teachers, showing teachers with kilns and other equipment how to use them. Proudly, he adds, "There are now nine teachers currently teaching glass art in FWISD."
Other remarkable partnerships include One Safe Place, Catholic Charities, and Project Success, a program that shares SiNaCa Studios with homeless children from the Presbyterian Night Shelter. "We bring them in to have dinner and for this opportunity they wouldn't otherwise have. These kids are awesome. They are great students, who just happen not to have a home. There's a huge benefit to engaging people experientially." Above the furnaces, he indicates the Periodic Table of Support, demonstrating those who have been elemental to the mission of SiNaCa Glass Studio and Gallery. There are the Founding Artists, the Charter Members, and corporate and foundational support including Texas Commission on the Arts, Rhodes Charitable Trust, and Art Alliance for Contemporary Glass. But even with planning for another POSHI coming together, the culture of outreach remains an unending pursuit for Clifton Crofford. His next mission is to enhance the cultural landscape of Fort Worth by bringing glass arts to Fort Worth's fabulous museums.
To tickets to the Pride of Southside Homebrew Invitational, click here.
An Austin native, Lyle Brooks relocated to Fort Worth in order to immerse himself in the burgeoning music scene and the city's rich cultural history, which has allowed him to cover everything from Free Jazz to folk singers. He's collaborated as a ghostwriter on projects focusing on Health Optimization, Roman Lawyers, and an assortment of intriguing subjects requiring his research.