If you hung around the Stockyards last spring, you probably wondered, "What's the deal with this construction zone across the street from Billy Bob's?" I certainly did.
From that pile of pipes and dry wall came the pearly new Courtyard Hotel by Marriott that opened this month, and it's about time. I'll give you my thoughts on the hotel situation in the Stockyards in a moment, but first, here are fast facts on this new Fort Worth business:
4 floors.
124 rooms.
Starbucks Coffee bar near the lobby.
Coffee/ tea in-room.
Fitness center.
Outdoor pool.
Outdoor fire pit.
Lobby lounge seating.
Feather down pillows.
Pull-out sofa beds.
Microwaves and mini-fridges in every room.
Breakfast, dinner, and evening bar orders taken in the lounge.
Free high-speed internet in all rooms.
Check-in as early as 3:00 pm.
Check-out as late as 12:00 pm.
Express Check-In available.
Smoke-free hotel policy enforced.
Daily housekeeping services.
Complimentary cribs/ play-yard cribs available.
Rollaway beds available.
All rooms and entry ways are ADA compliant and accessible.
Let's pause to zoom into a few of those amenities.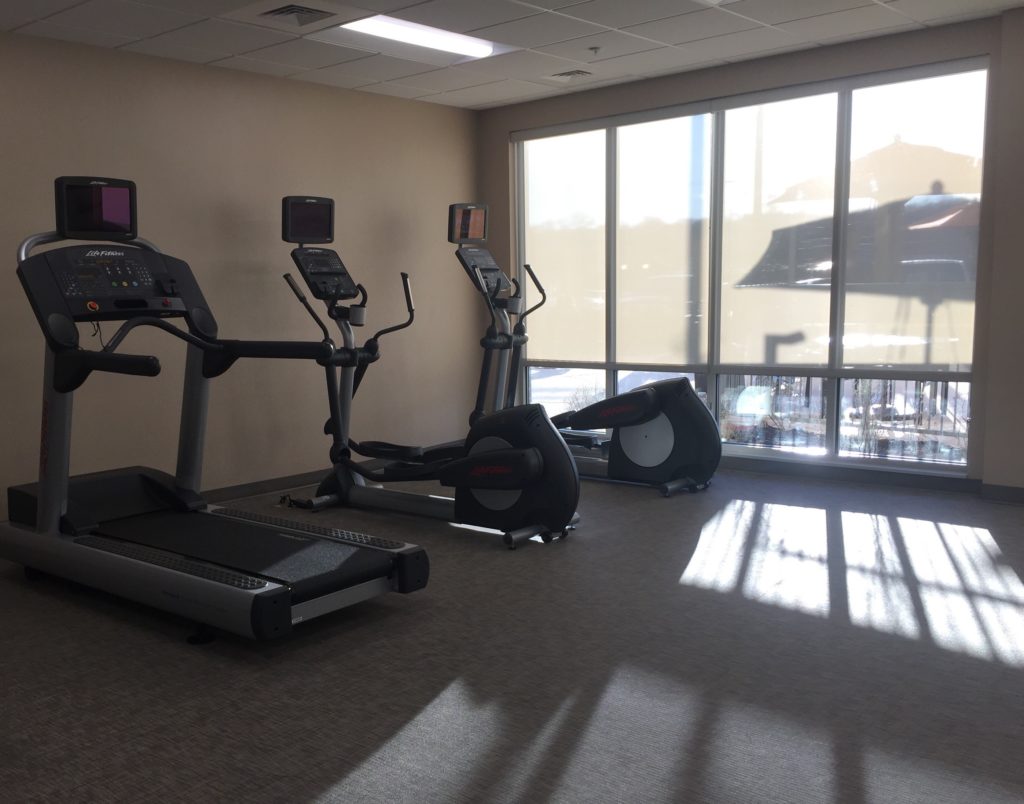 How many of us choose a hotel hoping that the fitness center pictured online has more than one cardio machine (that works)? I can raise a high hand to that issue. Seriously, too many hotels advertise fitness centers that are nearly devoid of functional exercise equipment. This Courtyard in the Stockyards has three big, high-tech treadmills, two brand new ellipticals, and plenty of heavy weights to maintain your strength-training regimen.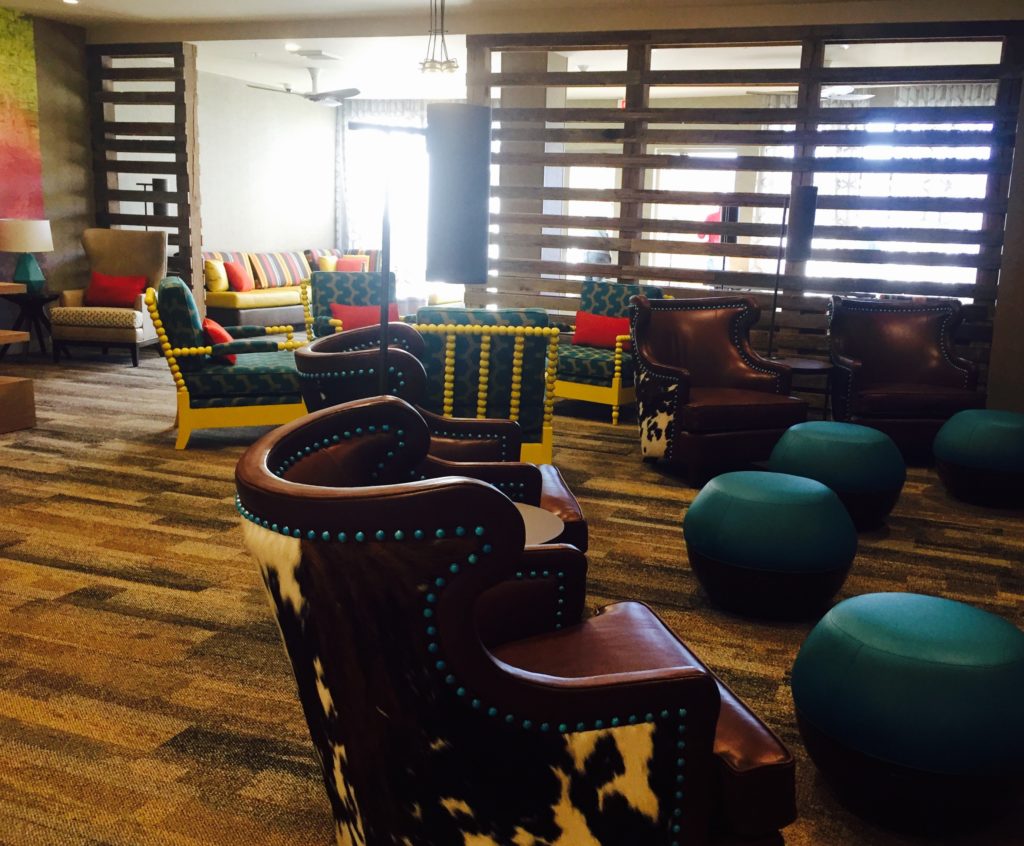 All those comforts of home had me feeling very relaxed, especially while I waited in the Cowtown-chic lounge space downstairs. Good interior design is a deal-breaker amenity, in my humble opinion. I loved the bright, boisterous colors and boutique-inspired patterns used downstairs. In every room, a Fort Worth-inspired mural brought a pop of color to the crisp white lines of the guest rooms, and the front porch rocking chairs made my experience even more relaxing.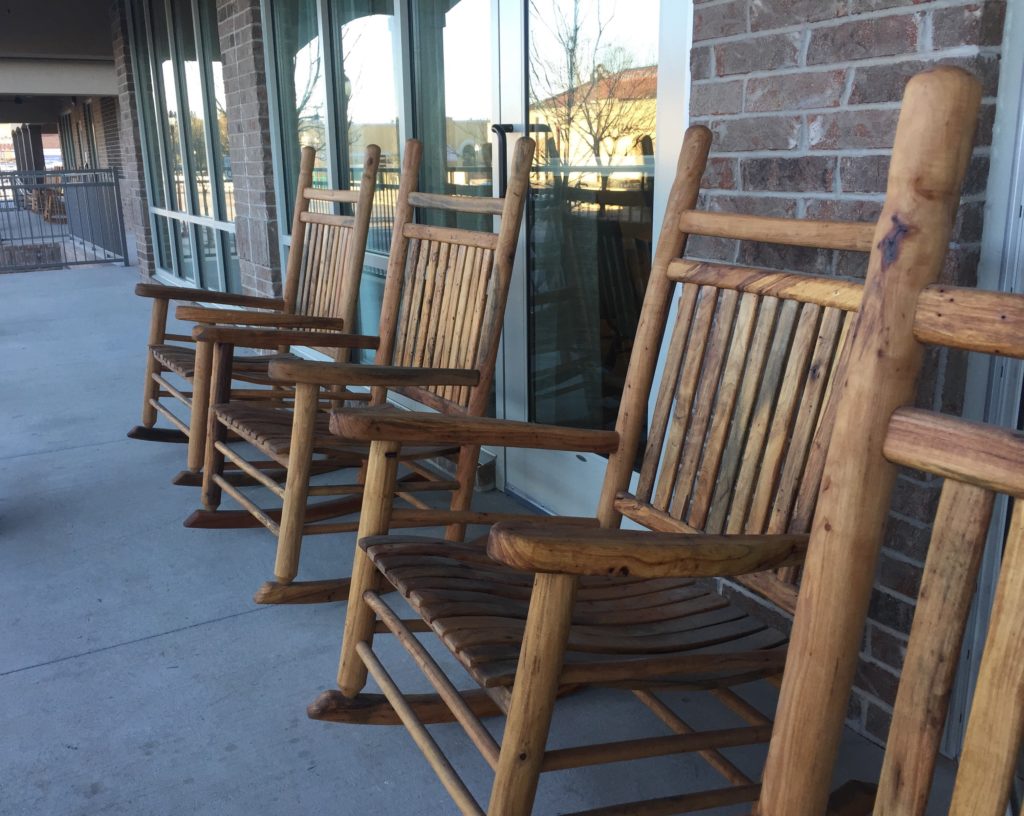 Hotel Slumber Parties
If you were like me growing up, parents who hosted birthday parties at hotels were the coolest. Order some pizza in or go out to eat, bring your bathing suit for pool time, and pack your favorite movies, magazines, the cutest pajamas you own, and all your talking points about boys. Flash forward 20 years and a couple hundred hotel stays later, the idea of a slumber party in a hotel is, well, amusing, but you can't deny that tweens jump at the chance to join a hotel slumber party.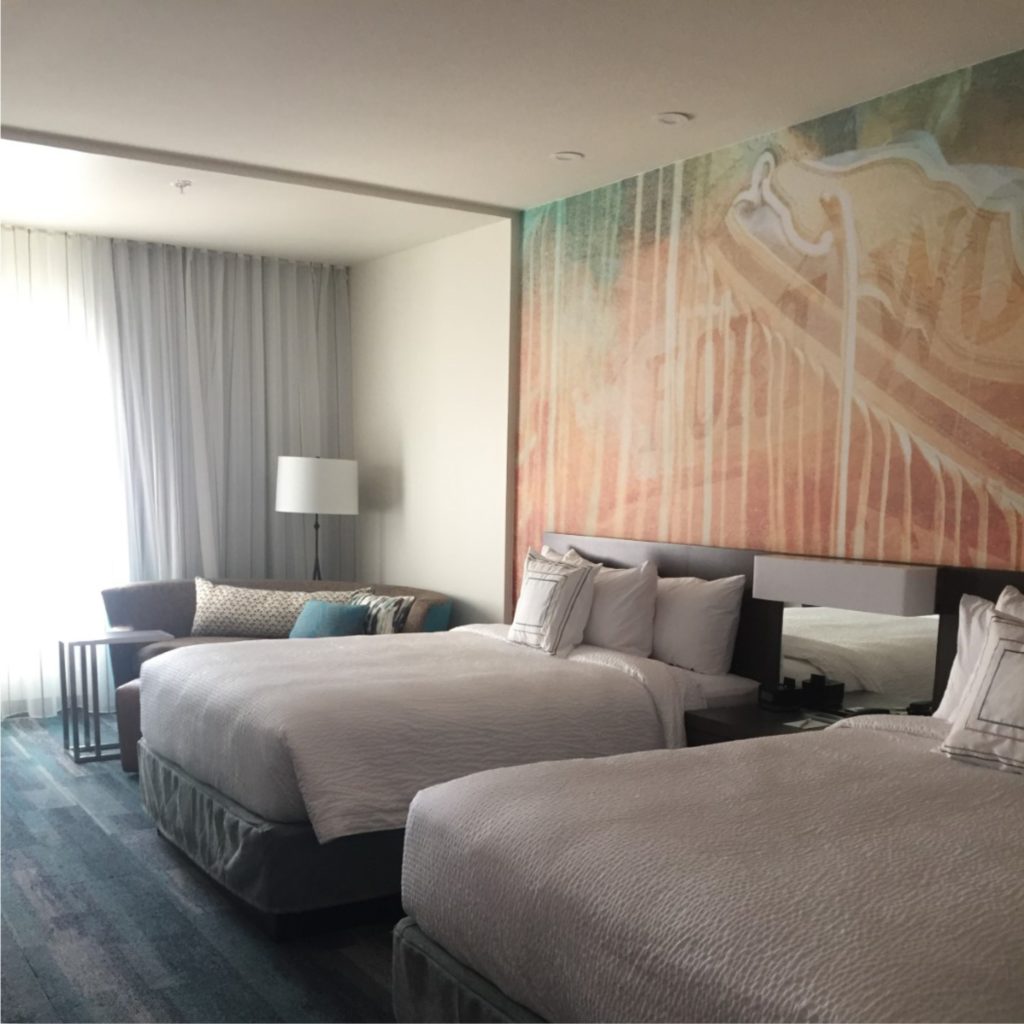 As an adult, there's one thing that excites me most about a hotel slumber party at this Courtyard property: slick and new amenities. You kids enjoy your adjoining room. I'll be next door breathing in fresh, barely used linens while thinking about not having to wash your slumber bedding later.
Out-of-Town Guests
Last May, I planned a wedding reception in the Stockyards. "What better way to entice my out-of-town guests than with a historic backdrop that doubles as nightlife scene?" I thought. Surely, there'd be an abundance of hotels in the Stockyards that I could contact for big blocks of hotel rooms at great rates. Wrong. So wrong.
I learned that for the longest time there has only been two hotels in the Stockyards: the classic Stockyards Hotel and the newer Hyatt Place, both off E. Exchange Ave. Two hotels? That's it? For such a busy tourist area, I was shocked. The lack of hotel competition made for higher room rates that some of my guests weren't willing to pay. Other, farther-out alternatives were located, but it would've been dandy if all my guests could have traipsed up to North Main to this Courtyard by Marriott hotel.
Work Comfortably
Up until this point, I've focused on the fun stuff, but you might be wondering if this new hotel hosts business meetings and conferences? Yes indeed, you can impress business colleagues by choosing to host them in this hotel, which boasts 1,300-square feet of event space that can be broken down into smaller conference rooms, of course.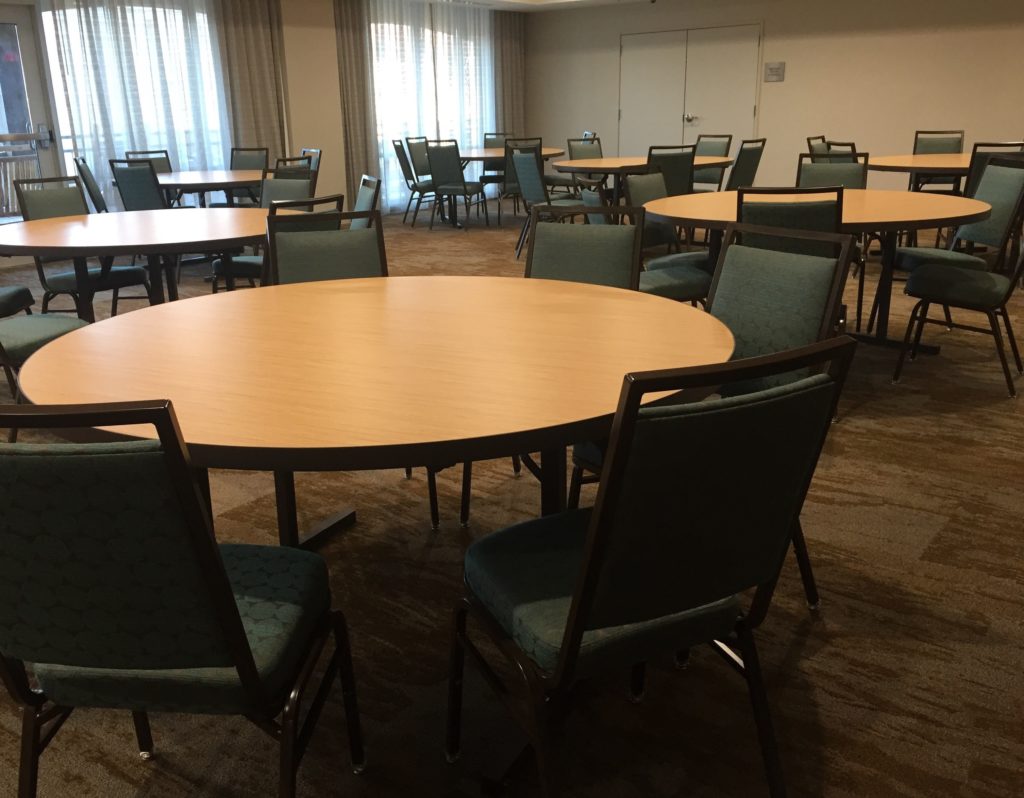 These newly designed spaces aren't going to smell stuffy, and you certainly won't find any stains on the rugs. Plenty of audio-visual equipment is available for presentations, and the office staff will work with you to meet your catering needs, having already established sponsorships with local favorites, such as Cooper's BBQ across the street.
Curious about visiting? Learn more by visiting the website or calling (817) 624-1112.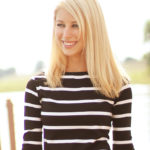 Jackie Hoermann-Elliott is the Assistant Director of TCU's New Media Writing Studio, where she teaches digital composing to Horned Frogs needing to create videos, infographics, blogs, and much more. She wrote for newspapers and magazines around the Midwest before settling down in the Lonestar state. Since she moved here in 2013, she's written for The Fort Worth Star-Telegram, Indulge, K Magazine, The Dallas Morning News, and GuideLive. Currently, she writes for those fun guys running The Fort Worth Weekly and the dynamic team of moms and dads at Tanglewood Moms.
When she's not writing, she's procrasti-cleaning to avoid her dissertation or reading up on new trends in health and psychology research. For fun, she cheers on her husband, Mansfield ISD football coach Buck Elliot, she studies yoga at Yogali off E. Lancaster, or practices poses with her amazing bonus daughter, "E."