We are all made of stories.
That sentiment could not be truer for me over the past couple of years. Struggling through a life story that I never would have chosen left me trying to remember who I really was. I have always been a creative person: an entrepreneur and a collaborator. I have had many opportunities to foster those skills through event planning, styling, fashion design, and wholesale manufacturing. I was confident in the gifts God gave me.
When life pulls the rug out from under you, the blessing is that you get a big set of blank pages to write your next chapter in your life's journey. Now more than ever, my heart beats fastest when I am engaged it those who are turning brokenness into beauty. Really, only God can do that, but the fact that he would use me in any capacity to participate in the restoration of people's stories definitely gets me to the place where I feel most like myself.
I traveled to Ethiopia several years back with a non-profit, the Adera Foundation, and was captured by the women they serve. The foundation does so many amazing things to impact families, and I got involved in a work programs where they make jewelry – some out of recycled TCU football programs and Kimbell Art paper – that we sell in the US. The money goes back to the women who use it to support their families. There is beauty in broken.
About a year ago, I met with the team at The Net here in Fort Worth with a desire to create a work program for the women they serve who have been exploited in the sex industry. We started a successful program, and the women are undergoing training and obtaining a work history while experiencing creativity and community, sometimes for the first time in their lives. There is so much beauty in broken.
When life pulled the rug out from under me, I started the journey of finding the beauty in my own broken story. After 20 years of marriage, I was faced with rebuilding my life and redefining myself while raising my children. There was always hope that God would redeem my marriage, and there is still grief that it didn't happen that way. But even though my circumstances were out of my control, God was in control. Now I am walking alongside other women who are in similar situations and being the mouthpiece for the broken stories of the women we serve in our partnership organizations through the store. The broken can be breathtakingly beautiful.
Not long ago, some friends purchased the building that will soon be the new 4 Eleven on South Main here in Fort Worth, I was invited to consult due to my event planning background. This lead to an invitation to be a partner in the venue. The 4 Eleven is the first mixed-use restaurant and retail space launching in this historic part of the city. The vision and heart of the 4 Eleven team is not only to restore this amazing building (it was destined to become a parking lot!) but to serve as a restoration inspiration for our city. A place where stories are celebrated. There is always beauty to be found in the broken.
Then there are these things called "leaps of faith." Which is exactly what I did. The brave stories I was witnessing and the beautiful products we were creating needed a home, a platform to connect our city to the causes. A place where others could be invited into the journey.
The result of this leap of faith is Winton and Waits, a "story-forward" design company opening in the 4 Eleven. Winton and Waits provides products, intentionally designed, that are sold to create an impact in our beloved city and across the globe. Every product is connected with and gives back to a cause.
We are a lifestyle brand that influences the consumer to choose to spend their purchasing power on goods that impact the life of someone else. You can purchase with purpose and significance without sacrificing style. We provide on-trend accessories, gifts, and home goods that will inspire and bring deeper meaning to your home, your wardrobe, and your gift-giving experiences.
For me, this new venture is the writing on the first page of my next chapter, and I would love for you to walk that journey with me. We all have a story, and we all have the ability to impact the story of someone else. Here is your chance to do just that…
We launched a Winton and Waits Kickstarter campaign and only have a few days left to get it funding. I would love for you to learn more. Please follow this link to learn more about us. Your backing dollars are different than a donation: you actually choose a reward for backing us! It's essentially a pre-sale of our products, and your funds will go back into our work programs to purchase supplies, to finish our retail location, and to finish the new e-commerce site.
On November 11th and 12th, you are invited to the 4 Eleven as we host Shop Small Fort Worth. Come experience what the Southside has to offer in this revitalized area between Magnolia Avenue and Downtown! And don't forget to follow us on Facebook and Instagram!
We all have a story. Our stories shape who we are and connect us on the deepest levels. How we choose to create beauty, to impact, to invest, to love, and to partner with those who are providing hope make our stories mean something. Out of our broken stories, we can find beauty together.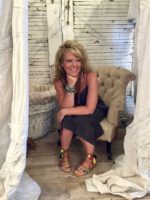 Jenna Lee graduated from TCU with a fashion merchandising/business degree. She has two children who also run their own businesses – her daughter, 18, has as succulent business, and her son, 15, has a pie-baking business! Jenna attends Christ Chapel Bible Church and loves to spend her free time traveling and experiencing the beauty in other cultures and landscapes.