This article originally appeared in the November/December issue of Madeworthy magazine.
Tucked unobtrusively in the northwest corner of Arkansas, Bentonville is, by all outward appearances, a fairly typical American city of 47,000 people. Except that it isn't. Like any city, Bentonville has all the characteristics one might expect to find: schools, churches, neighborhoods, families. However, it also has its unique characteristics that set it apart from other similarly-sized cities, namely, Walmart and Crystal Bridges Museum of American Art.
When I say Walmart, I don't mean a Walmart, or even a pair of Walmarts, or even a Super Walmart. I mean WALMART. Bentonville is the birthplace and home of Walmart, Inc., the world's largest company by revenue. One might expect to find the headquarters of the world's largest company in New York, Beijing, or Tokyo. But no. It's in Bentonville, Arkansas? While outside the norm, it's location is not a mystery, but rather a function of where Walmart was founded and where the Walton family's roots deepened as they grew their global empire.
What is surprising, however, and wonderfully so, is that Bentonville is also home to one of the finest art museums in the world. Crystal Bridges Museum of American Art is, simply put, singular, superlative, and fantastic. The permanent collection boasts many of the most significant works by American artists from the Colonial era to the present. Included in the collection are paintings, sculptures, drawings, photographs, and installations by artists such as Roy Lichtenstein, Georgia O'Keefe, Norman Rockwell, and Andy Warhol.
The building that houses this wonderful collection of art is itself art. Designed by renowned architect, Moshe Safdie, Crystal Bridges is architecturally significant and is beautiful, but it is more than that. Set atop a stream in a peaceful, wooded valley, the museum itself acts as dam and bridge. It's very existence creates a series of serene ponds that it also spans. The museum buildings, like something created and placed by a race of superior beings, create and fill voids in a spectacular dance with nature that verges on the sublime.
On the museum grounds there are other architecturally significant and interesting buildings including the Bachman-Wilson House, a Frank Lloyd Wright designed home that was disassembled and relocated from New Jersey, and a Buckminster Fuller-designed Fly's Eye Dome. Apart from these structures and the incredibly diverse and comprehensive permanent collection, Crystal Bridges serves as the temporary destination to some of the world's most sought-after travelling exhibitions and installations.
Currently on display is the visually stunning and aptly named Chihuly In the Forest featuring the works of American artist Dale Chihuly. Famed throughout the world for site specific-installations of his sense-defying glasswork and glass sculpture, Chihuly has almost single-handedly changed the way we view glass as an art medium. In the hills above Crystal Bridges and accessed by a paved and lighted trail through the Ozark forest, In the Forest is a breathtaking collection of Chihuly's marvelous works in a myriad mind-bending shapes and colors.
While Bentonville may not be a destination for many, a trip to experience Crystal Bridges is well worth the effort. If, however, you hail from Northwest Arkansas and are travelling that way for the holidays, Crystal Bridges should be on your itinerary. If you are fortunate enough to be heading that direction before or during Fall break, you will be happy to learn Chihuly's In the Forest has been extended to November 27th and seeing this exhibit before it ends should be a priority. Doing so will be a gift to yourself and your children.
Although it was rainy and grey, the day our family spent at Crystal Bridges this summer was one we won't soon forget. We had driven well out of our way and arrived at the museum at the same time as about a thousand other people right as the sky opened, and the rain came down in sheets. Dropping wife and kids at the door, thus getting separated, and then searching for a parking spot soon had me a little on the grumpy side. Once inside though I quickly cheered up. "This place is amazing", I thought.
With family reunited and rainstorm passing, we set out to explore the wonders within and without. Having been to museums of all kinds all around the world, my wife and I quickly realized we had come upon something magical. The art and the architecture on display all around us was truly moving. We had a delicious lunch that was affordable, tasty, and served by kid-friendly staff. The children engaged in a fun, Chihuly-inspired craft while I contemplated nature and building in one of the most inspiring and inspired settings I have ever seen.
So, how is it that Walmart and Crystal Bridges both share the hometown of little ol' Bentonville, Arkansas? As it turns out, it's not really that much of a surprise. Walmart's best known legacy is one of easy access to inexpensive items in large quantity, but Crystal Bridges Museum of American Art, the permanent collection of which is free to all visitors, is Walmart's true gift to the world. The Walton Family and Walmart, along with other generous donors, have given us all the invaluable gift or art. For that we should be very thankful.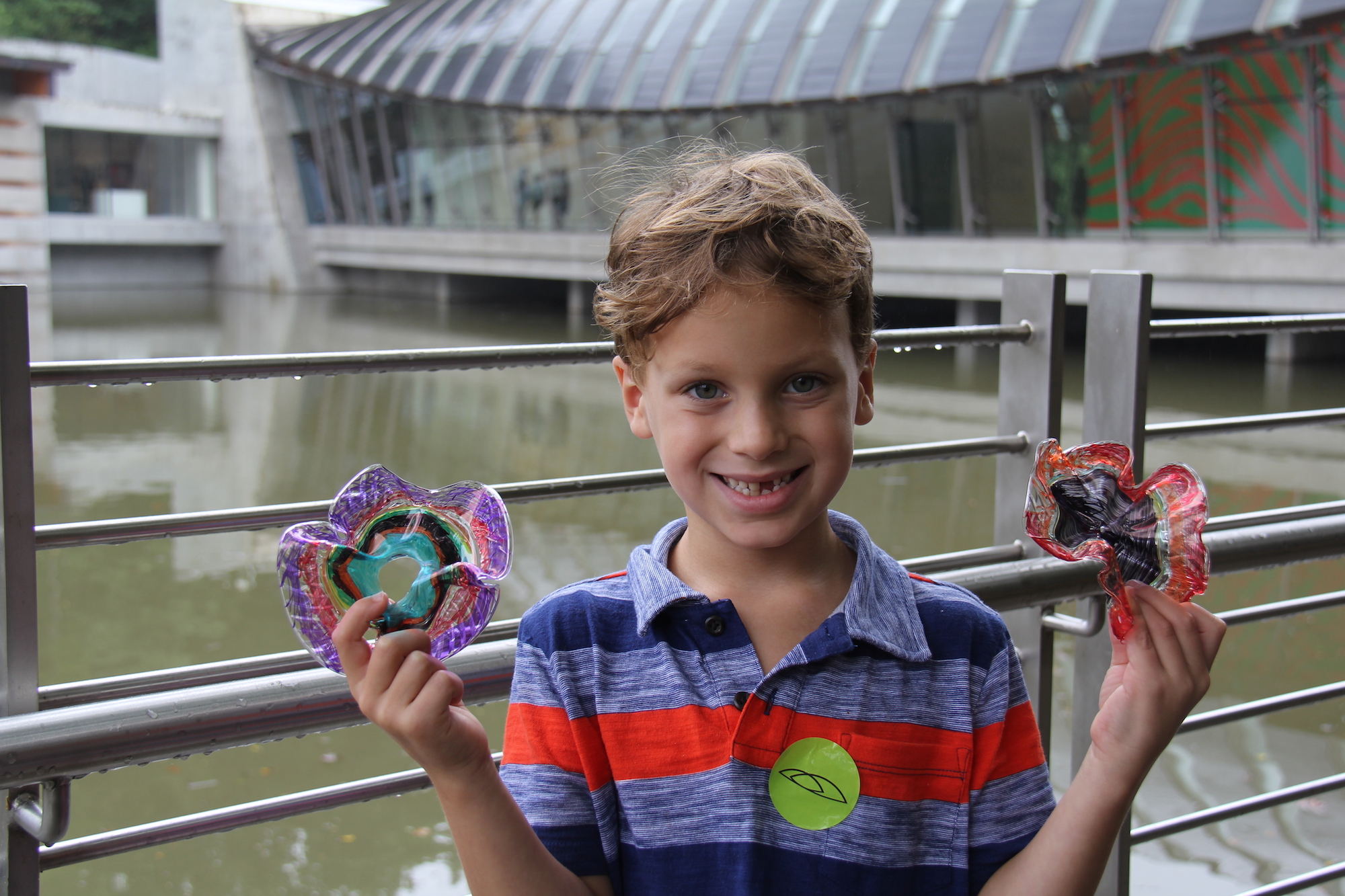 Chihuly-Inspired Craft for Kids (just in time for the long Thanksgiving break!)
MATERIALS NEEDED:
Clear Plastic Plates
Sharpie Markers
Heat Gun*
Pliers
Heat-resistant gloves (optional)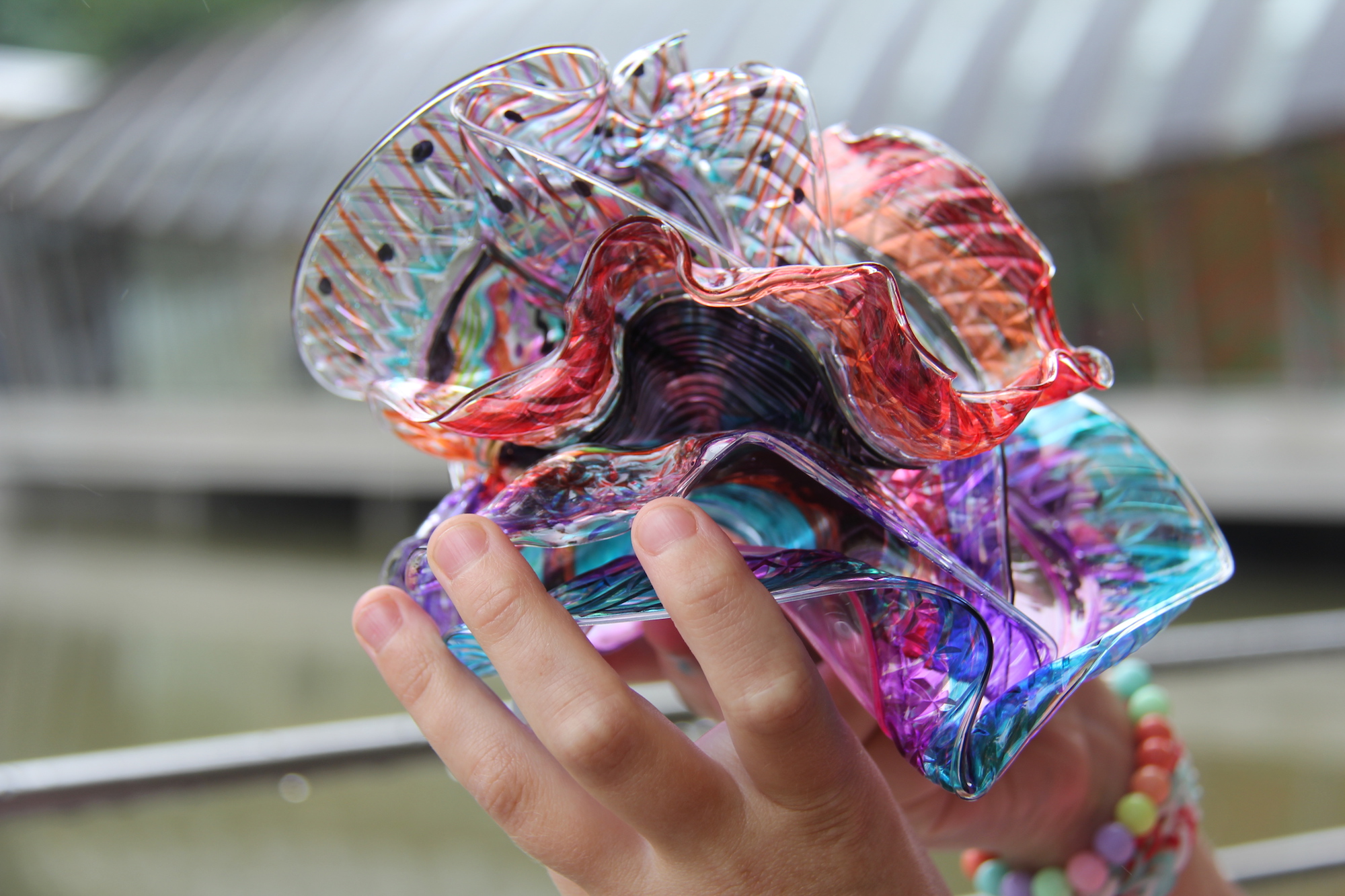 STEP 1: Color clear plastic plate with colorful sharpie markers in the design of your choice.
STEP 2: Hold plate by the edge with the pliers.
STEP 3. Heat areas of the plastic plate with your heat gun.
STEP 4. Rotate plate as you apply heat, carefully re-clamping pliers on the plate for even heat distribution.
STEP 5: Allow plate to cool on metal or concrete surface before handling.
STEP 6: Enjoy your Chihuly inspired art piece!
STEP 7: Repeat as often as you like or as long as your supplies last
*Parental supervision or handling required for heating element, depending on your artist's age!