As I sit in this hospital room I realize how truly loved we are. John has been in the hospital for 8 days. The ER, ICU, Neuro Room, & surgery. But let's start from the beginning.
Five years ago 10-30-2010 John and I got married! We were thrilled to also be expecting Ellie Claire. In December my Dad passed away. In January we bought our first house and then my mom developed breast cancer. In May, Ellie Claire was born. Needless to say we were stressed.
John started feeling like his boots were heavy. He fell a few times out of nowhere. We thought it was stress induced so we saw our psychiatrist. After his legs got worse even though he tried meds our family doctor ran tests. She did an MRI to rule out MS. The MRI came back clean. She referred us to UTSW in Dallas. We saw a movement disorder neurologist who then referred us to Dr. Benjamin Greenberg a neurologist at UTSW, John was using a cane at this point. He was falling in the middle of the street downtown going to work. The winter was hard on him.
Dr. Greenberg ordered every test you could think of. He had MRI's, CT's, PET scans, lumbar punctures, EMG's, nerve conduction studies. His arms started feeling a little different and he had to start using a walker. John has had an immune deficiency since he was 13 and has been getting IVIG therapy to help his immune system. Dr. Greenberg suspected the immune problem and this new neuro problem were connected. We stayed 13 days in Dallas at the hospital in the spring of 2012 to try plasmapheresis. It wasn't successful at slowing things down. We decided to go to the Mayo Clinic in the fall of 2012 to see if they could provide us with any answers. We love Dr. Greenberg and he encouraged us to seek more opinions. He told us he would never give up on John's case and to this day has kept that promise.
We went to Minnesota and spent nine days at the Mayo Clinic. They retested everything and even performed tests we hadn't tried. They did not have an exact diagnosis, but we did leave with a 'working diagnosis' of PLS (the brother disease of ALS, Primary Lateral Sclerosis). We headed home not knowing what to think and still wanting more answers. As time went on we continued testing and trying new ideas of treatment to slow the progression. We tried Apheresus without success and a high dose of chemo to stop the disease. By this time John's arms and hands were losing strength. He was still able to do most things just extra slowly.
Dr. Greenberg contacted a friend at the National Institute of Health in Bethesda, Maryland. We made to trips between the fall of 2012 and the spring of 2013 to get their opinion and were put on research studies. They were amazing!  They ran every test you could ever think of. Much to John's excitement, he had a bone marrow biopsy that did not reveal much. They too thought John's immune problems and neuro problems could be connected and joined in our search for answers.
In December of 2013 we had Mary Alice and were thrilled to complete our sweet family of four!  The winter was so hard on John.  We discovered the cold weather makes it harder for him to move.  He had to wear thermals, jeans, then ski pants on top just to get from the house to the car.  His legs would stiffen up and become straight as boards. Many times he would need help in the car from his brothers-in-law.   We also noticed he was having slight swallowing problems, nothing major but yet another change.
2014 was when we first noticed speech problems. He was also getting very slow. He has clonus in his legs and arms which is tightening and uncontrollable shaking.  If it was windy outside, cold, or he coughed, he would shake. This often caused falls that then resulted in several injuries and unfortunately these have included broken ribs, toes, bloody nose, and stitches in his head.  Everyone is always amazed at how steady he is, we say he falls over and it's like a tree trunk!  The main thing is he always gets up!
Over 2015 he lost his voice. He has some days were he can get a few words out but when he started having a lot of difficulty we began working with his speech therapist for alternative communication.  He also texts or types on his computer that's speaks for him (sometimes we choose different accents for him to try out-keep It fun). If his fingers are working he is able to type. If not, we play the guessing game. He hates losing the ability to communicate and our family game of guess what John is saying is getting more competitive as time goes on, (I always win!)   He needs help showering and getting dressed.  The thing he hates most is that he needs so much help-help to do the things that everyday so many of take for granted. He is barely able to step into our small 1950's shower and none of our bathrooms will accommodate his walker. We constantly play the hold on to the wall and don't fall game. Our two front steps are also a problem. He has fallen a few times maneuvering them. His body is slowly shutting down all his muscles. These daily activities will only get harder.
We went back to NIH in November. John stayed as an inpatient in their hospital for a week. We loved the doctors and staff. The neurologist are leaning towards ALS/PLS. But the infectious disease doctors are trying to rule out a connection to his immune deficiency since we had genetic testing done that wasn't conclusive. He will be staying another week at NIH at the end of January.
Over the Christmas break he had a cough. We had antibiotics called in but he couldn't kick it. On the 26th we came to the ER at Harris Methodist Hospital. He was admitted for pneumonia and kept in ICU. During the hospital stay he has been very weak. We realized he is not getting enough nutrition through eating to sustain him. It takes him sometimes an hour or two to eat. He gets exhausted and gives up. He decided a feeding tube was the best option. He had surgery this morning. He is having trouble breathing at night so he will need to wear a bi-pap machine and also have suction at home. We will have oxygen for the day of he feels like he needs it. Many changes happened over 8 days.
Through out this all we are still smiling and laughing. He cracks jokes and flips people the bird. The nurses think he is hilarious and come in often. I can't remember a day where we did not crack each other up. John will not stop moving. He told me long ago if his 100 year old grandmother crawled 50 feet with a broken hip to her house he would never give up. He still plays with the girls. Ellie Claire loves to sit and watch tv with him or pretend he is her horse and sit on his shoulders in his favorite chair. She snuggles with him at night. I know his heart melts when Mary Alice runs to his legs during the day and gives him a leg hug! Those are his two biggest reasons for forging forward. He wants them to know life may not be easy but you have to keep going and enjoy life!
John and I couldn't do this without our family! They have watched this disease take away lots of John's independence and are always there to help. They watch the girls when we go to the doctor. They fly with us all over the country. They cook meals. They grocery shop. They stop by for a visit.  They take take EC for weeks at a time to let her play with her cousins. They drive to Dallas to see him in the hospital or stay the night when I can't. They help him off the ground and hold his hand when he needs it. They let me vent and cry. They are our rocks. They throw the kids in the air when John can't and they love the girls like no one else could. We are forever grateful for our family.
At this point it is hard to imagine what the future holds. So we won't think about it too much. We will just enjoy now! Not tomorrow, but today. We have so much love in our crazy house and a whole lot of laughter.
So many friends and family ask for updates and want to check in on how we are.  I'm going to use this blog as a place to update everyone- the good, the bad, the ugly.  It may not be often, but check back if you want to follow out crazy journey and thanks in advance for your prayers and positive thoughts.  It means more than you know!
MN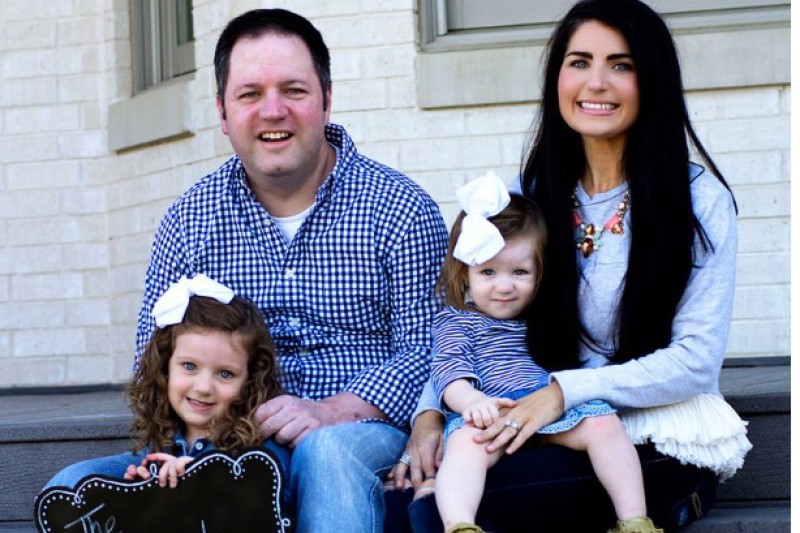 Martha Nell Spikes Kennedy with husband John and their children.