Dad
Give Dad a One-of-a-Kind Gift
I'm a dad. Been one for a while now, and it is a great job with indescribable benefits.
We get to see our kids grow and learn, figure out the little ins-and-outs of the world, and find their place in it. We get to shape and mold a new generation of society in the best hopes of making the world a better place for future generations. We get to see ourselves writ small and innocent, exploring the world for the first time and seeing wonders we take for granted through a fresh set of eyes. It's magical. It's transcendent. It is among the wonders that I have witnessed in my life.
Being a dad, I have received Father's Day gifts ranging from nothing to a gift card. Dads tend to get what they need to get along. The best gift you can get your dad is one that he would never, ever get for himself. Now is your chance.
Fort Worth's WestBend is celebrating Father's Day with a series of events where Fort Worth local and internationally-known artist Sunflowerman will illustrate a photo of a dad in your life for a stylish and unique Father's Day gift. Illustrations will be painted on vintage Sherlock Holmes book pages and completed while you watch the piece come to life. People will enjoy the unique experience of seeing a custom piece of art being illustrated live in as little as 15 minutes combined with the delight of taking home their piece to gift for Father's Day. The custom illustrations are available on a first come, first serve basis with a limited number of spots available via sign-up sheet. The sign-up sheet will be available at 12 pm inside the store for each event.
Sunflowerman will be creating these incredible, custom illustrations of the father figures in your life at Pax & Parker on Saturday, June 9, and at BONOBOS on Saturday, June 16. Present a pic of your dad, grandfather, or anyone that you feel deserves to be a work of art by the cutoff time (only 14 portraits will be made in the noon- to 5 pm period).
Gifts have special meaning if they are given with thought and emotion. Among the greatest gifts ever received was a sad dandelion clock handed to an exhausted man that had just finished working in the garden by his 2-year-old child. While the substance of the gift is transitory, the love and appreciation behind it is timeless. The illustrations that Sunflowerman creates embody feeling as well as perception. There is an elusive "happiness" that seems to flow from the art. These are, in my opinion, pieces that any father would be overjoyed to have. I feel confident in saying that even if a person could not secure one of the select spots at the event, arrangements could be made with the artist.
Even if you cannot attend this event and procure one of these incredible items, wish your dads a happy Father's Day. In person, e-mail, text, or just think it really often. Dads know.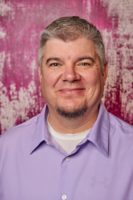 Originally from Oklahoma, David Geurkink is a recent transplant to Fort Worth. A former zookeeper with Fossil Rim and recently married to TWM's Lee Virden Geurkink, he is enjoying learning about all that his new city has to offer.