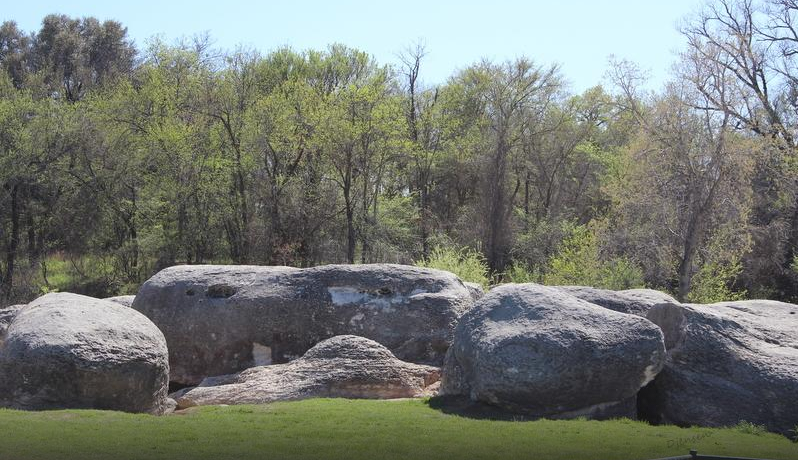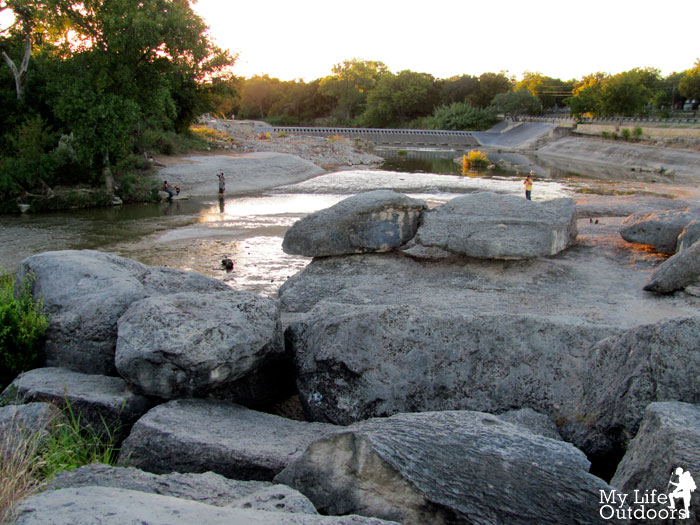 I seriously need to buy a camera. I snapped some pics of the kids from our day trip this weekend, but I did not capture any of the actual park, so above are a couple from My Life Outdoors.com
We woke up Saturday morning and like most weekend mornings we hadn't planned our day. This glorious Texas weather has thrown me for a loop and we needed to think of something quick that was close but outdoorsy that the kids would enjoy and that didn't cost a million dollars. My husband suggested Big Rocks since we have driven past it several times and the kids have always wanted to go.
Big Rocks is in Glen Rose, Texas, an hour drive from Fort Worth. We threw our kids and some snacks in the car and hopped on the Chisolm Trail Parkway. We arrived and there weren't that many people there, a few guys with some remote control trucks and a few families with their small children exploring the terrain.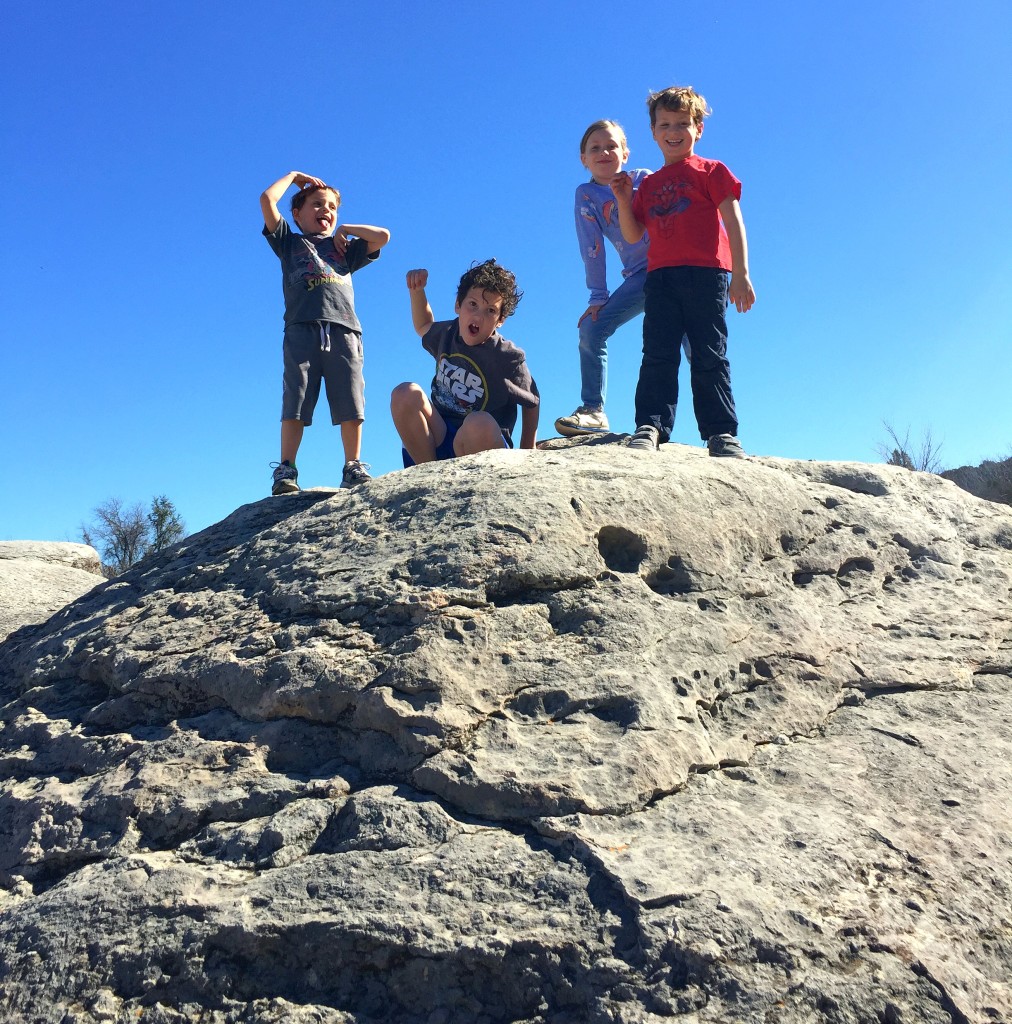 The kids jumped from rock to rock, climbed up and down and between the boulders, and followed some little pathways along the riverside. Just a couple scrapes and scratches but mostly from my daughter who was completely fearless in her attempt to leap like a frog from one rock to the next. One of my five-year-old twins thought it was fun to run from rock to rock, and there are some areas where the rocks are close enough together and it's completely possible to do that. There were some rocks that were a little too big for them to climb up  so we would just find another route.
We probably spent about an hour and a half there as well as by the river's edge skipping rocks.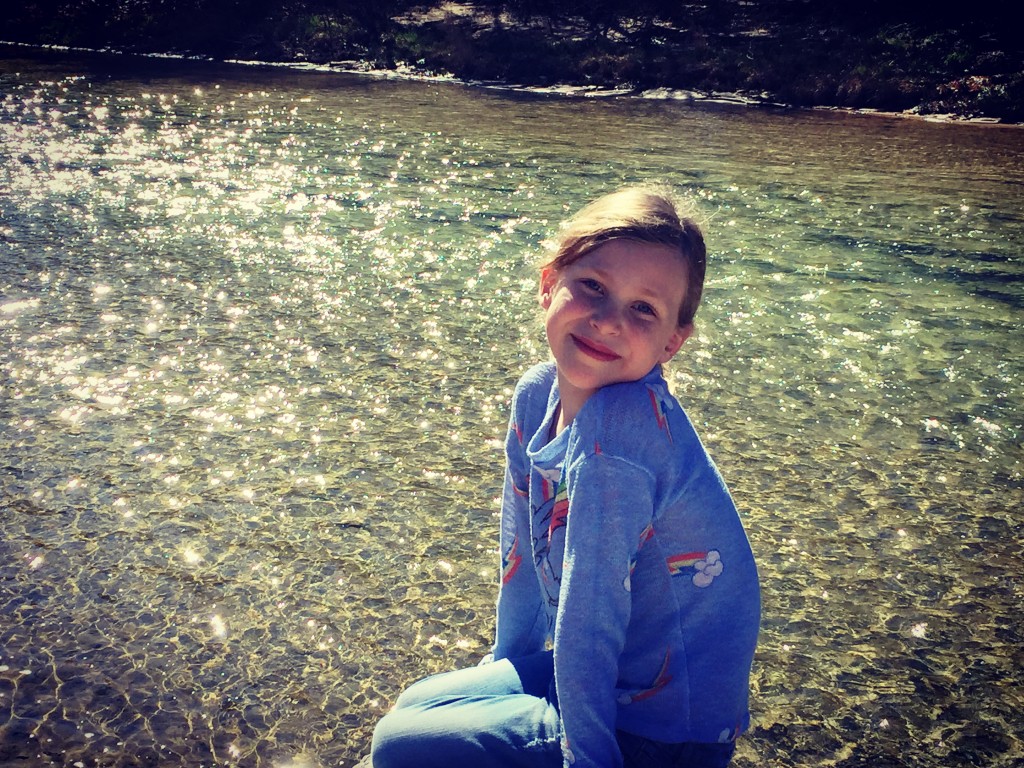 I grew up going on weekend day trips with my parents in Oklahoma, and those trips were just as memorable as the big vacations. We loved getting to spend time outdoors with our parents and I know my kids love doing the same. They've already asked to go back today, and we will soon.
I asked one of the other moms I saw at Big Rocks where a good place to eat with kids was, and she suggested Storiebook Cafe on SW Barnard Street, just a 1/2 mile from Big Rocks.
It was PERFECT. I will never understand why we don't have more kid-friendly restaurants like this in Fort Worth.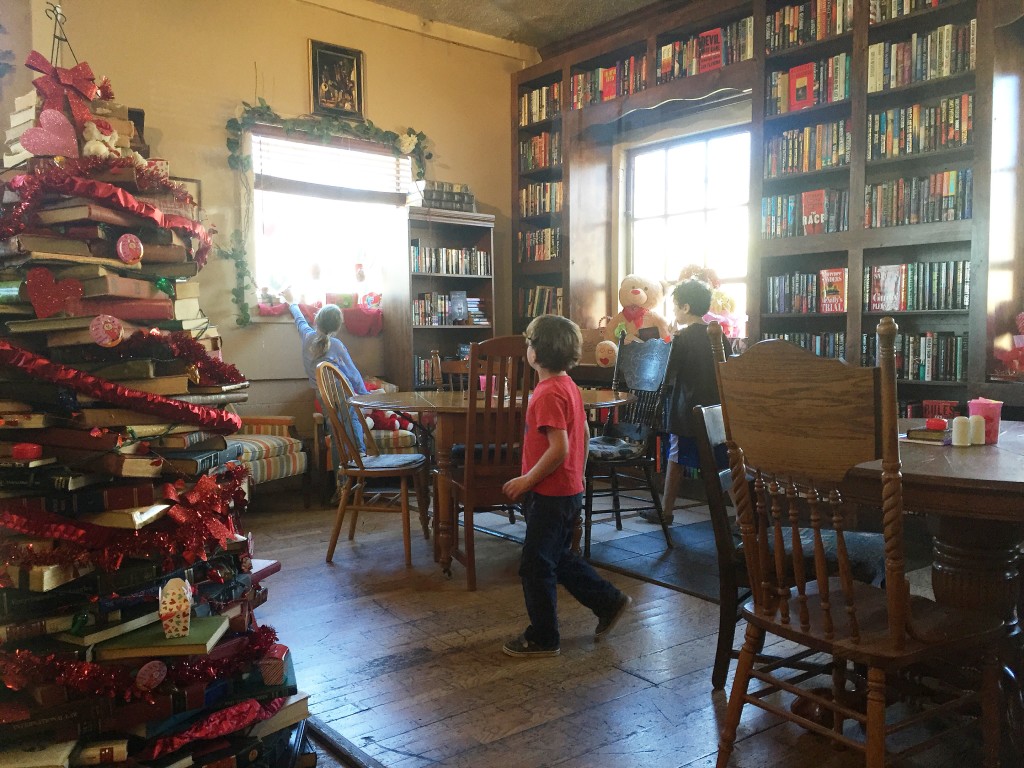 The walls are bookshelves covered from floor to ceiling in books. Each table has a little notebook to draw on, but the biggest win this place has going for it is an adjacent playroom.
My daughter quickly gravitated to the teapot collection and the twins immediately started putting on costumes.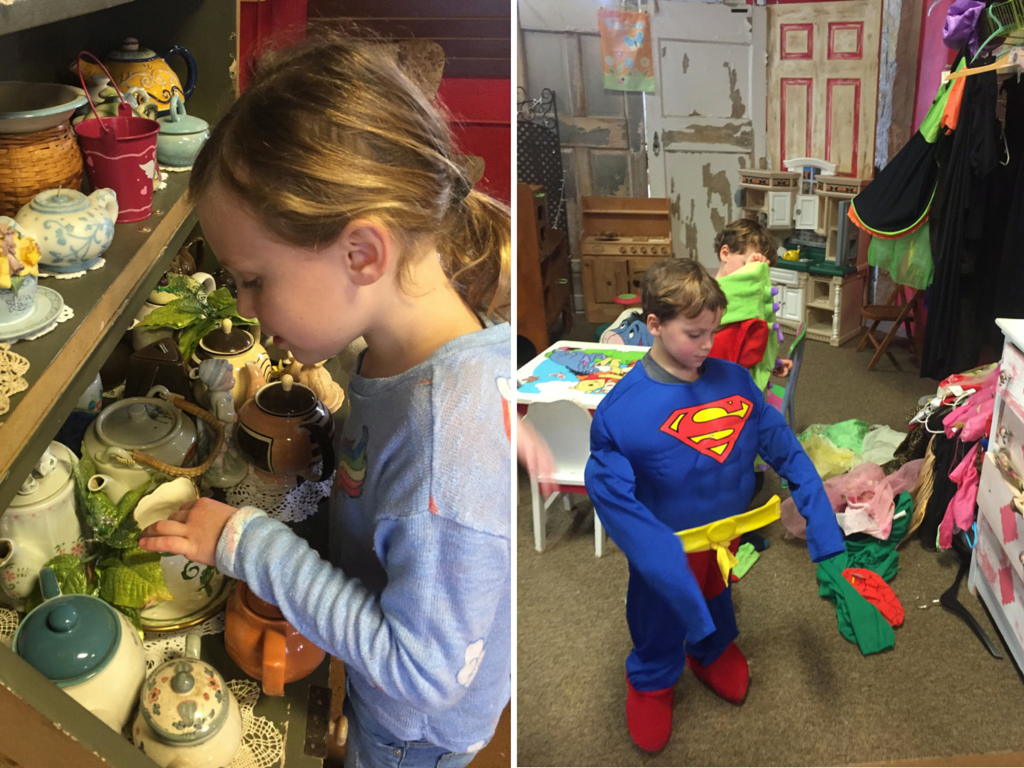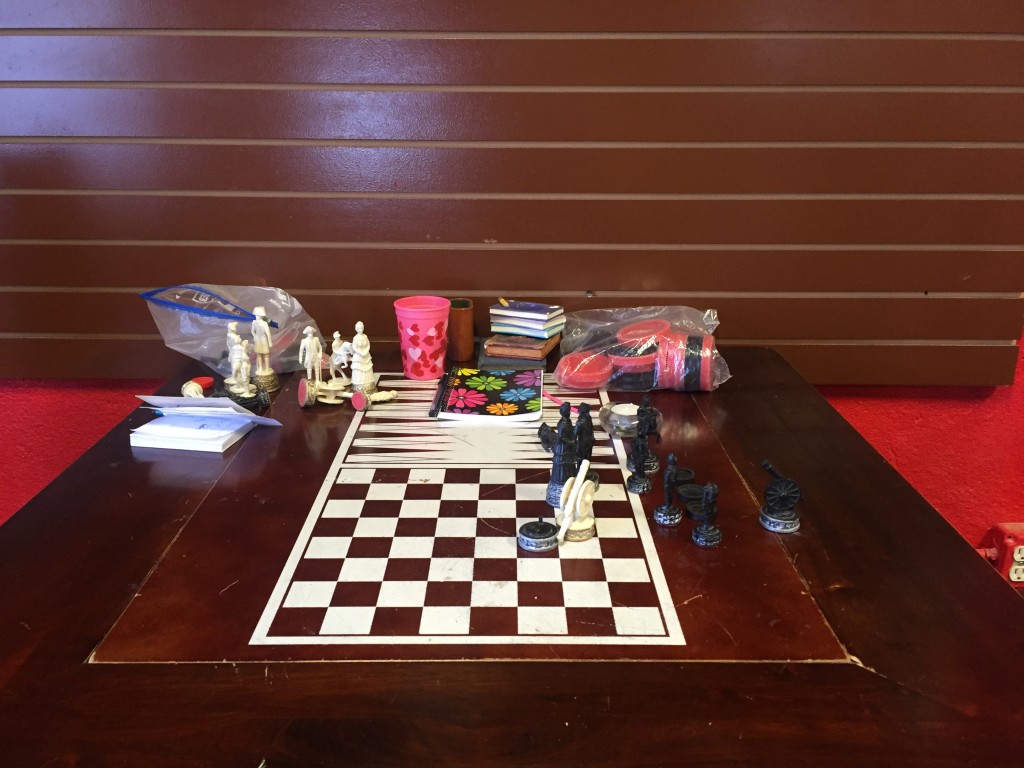 We ordered sandwiches for lunch, you can take a quick peek at the menu here.  I had the chicken salad and can certainly recommend it. Although I didn't taste the kid's or my husband's sandwiches, everyone finished their lunch, so that's definitely a good thing! We also indulged in a shared banana pudding. We split it because the kids had already eaten huge chocolate bars that their loving (and permissive) grandparents bought them. I try to be cognizant of how much sugar they consume, but I rarely turn down made from scratch banana pudding!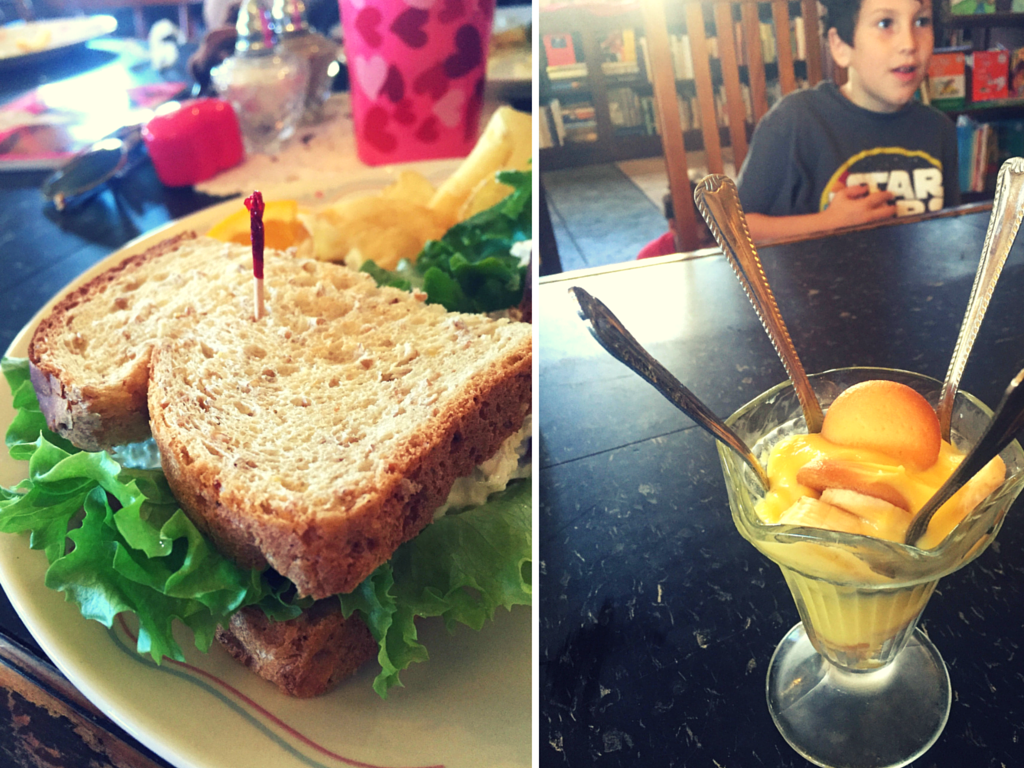 Some other suggestions are Riverhouse Grill, Hammond's BBQ, and of course Fossil Rim for exploring and feeding the animals.
Enjoy your day trip to Glen Rose, Texas! If you go there, be sure and tag @tanglewoodmoms on Instagram so we can see your fun pics.
xo, Victoria