Back in the Middle Ages when I was dating my husband, we got to know each other through a little something called AOL Instant Messenger. There were no Facebook profiles to stalk, no Instagram stories to ogle, and definitely no Google to scour for dirt. I would shut myself in the walk-in closet I shared with my roommates and talk to Gordon on the teeniest, tiniest little cell phone that required tweezers to open and felt very bewildered and angsty about "modern dating."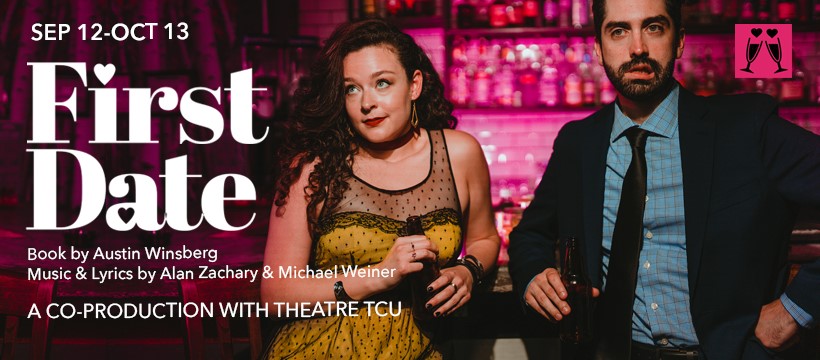 Enter 2019 and the supposedly new angst of today's dating scene with all the aforementioned internet wormholes. Yes, it's different. But has it really changed?
At this point, I COULD say, "And that is the question Stage West asks in its newest offering, First Date, now playing through next weekend." But the show doesn't pretend to ask questions like, say, A Doll's House or Oedipus Rex asks. Ha! Nope. And while it approaches themes such as Upbringing, Destiny, and Bad Boyfriends and how they have scarred or inhibited the present version of you now sitting across from a stranger, the play is really just a fun sitcom-on-stage to enjoy with girlfriends and a glass of pinot. If you happen to think of yourself as daring and ironic, you could even go on a first date to see First Date, but chances are it won't be as interesting as what happens on stage. Chances are neither are you if you already think yourself daring and ironic.
As bubbly as Veuve Clicquot, First Date features Seth Womack as Aaron, the buttoned-up investment banker who's trying to get over his old fiancée (Allison, played by a very good Mary Burchill who is featured in several roles throughout). Aaron has been set up on a blind date with Casey, played by a lovely Amber Marie Flores, a tough-exterior chick with a creative soul and zero time for B.S. The date commences in a nondescript bar/restaurant you might find on any Manhattan street corner, with excellent scenic design by Michelle Harvey that carves out good spaces for the show's band and for the various company members to occupy when they're not featured. (Yes, it's a musical! Raise your glass! And the sound design is great, BTW. Kudos Mark Howard. I love seeing — and performing — musicals in intimate spaces.)
First Date is a collaboration between Stage West and Theatre TCU, featuring direction by Harry Parker, Professor and Chair of the TCU Theatre department, and movement choreography by Penny Ayn Maas, Associate Prof of Theater, plus the talents of TCU students Mary Burchill, Lance Jewett and Collins Rush. This partnership is a creative use of, well, creative resources right here in our city that can serve both the university's educational goals and the theater's bottom line. Best news yet: everybody wins, including the audience. One of the many delights in the show is the fluid way each ensemble member morphs to portray the inner voices of Aaron and Casey, taunting them, reminding them of you-name-it: their romantic pasts, the expectations of family members, the fears that haunt the ideas of finding "the one" and, GASP, of marriage.
At one point, Aaron's dearly departed Jewish grandmother (Brett Warner — hilarious, versatile) appears to sing-slap some sense into him in a number called "The Girl for You." On the other side of the table, Casey is contending with the "bailout calls" her BFF — played by a hysterical Collins Rush — relentlessly makes throughout the evening, as well as with her overbearing, WASPy sister rocking a cardigan and an air of self-satisfaction (Brett Warner, again). Players Randy Pearlman and Lance Jewett each get delicious moments to shine and delight throughout. This is a show you'd actually WANT to be cast in as an ensemble member instead of as a lead, though both Womack and Flores were given a nice variety of emotional tasks to master — which they did — all within the comfortable boundaries of a Rom-Com, of course. And they had to eat actual food onstage. #respect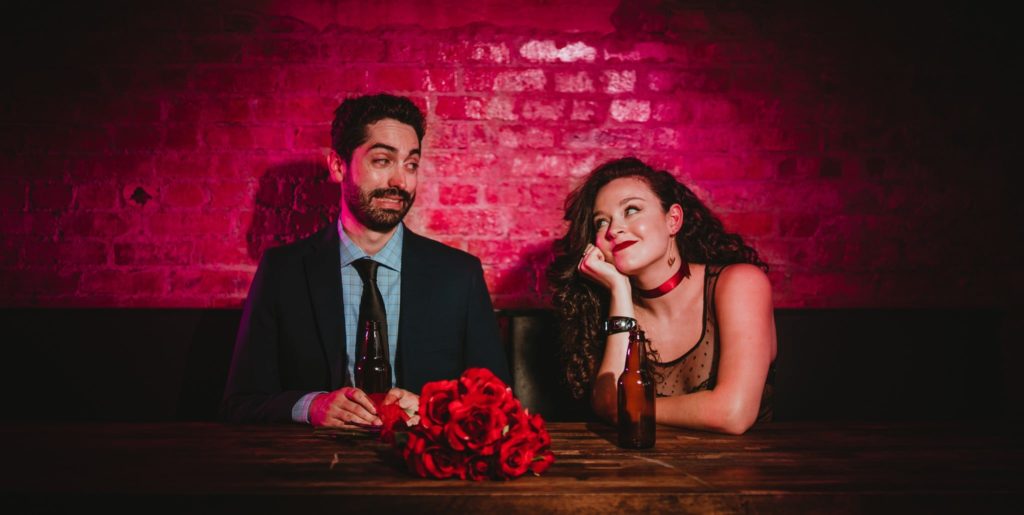 If you've got a BFF with a big, cackling laugh and maybe a fresh romantic wound to nurse, text her now and get your tickets for this weekend. Paired with a glass of chardonnay from the Stage West bar, the show will save her a therapy session. Or two!
First Date runs through October 13 at Stage West.
Julie Rhodes has performed on many metroplex stages, including Casa Manana, Amphibian Stage Productions, Dallas Children's Theater, Circle Theatre, Stolen Shakespeare Guild and Lyric Stage. She is married to Gordon and is mom to kids Drew (12), Madeline (9), and pug princess Eloise. Visit juliekrhodes.com.