On Saturday, November 2, my sister Alice and I got to see Casa Mañana's production of Annie, and it was AMAZING. It's full of songs that you're sure to recognize, and our mom was singing along. We were just glad she sang under her breath.
Even before Annie began, my sister Alice was picking out performers from the playbill that she had seen at Casa Mañana before. She found Jude Lewis, who plays Pepper and had played Winnie Foster in Tuck Everlasting. She found David Midkiff, who played Jesse Tuck in Tuck Everlasting and is a member of the ensemble in Annie. She also recognized Lamar Jefferson and James Chandler, too!
If you don't know about Annie, it's based on a comic strip called Little Orphan Annie, which followed the adventures of Annie, her dog Sandy, and her benefactor Oliver "Daddy" Warbucks. The musical tells about Annie's life in the orphanage, how she meets Sandy, and how she is adopted by Daddy Warbucks. It's full of songs you'll recognize like "Tomorrow," "It's a Hard Knock Life," and "You're Never Fully Dressed Without a Smile."
Casa Mañana's production is small but mighty. Mom said she didn't know how they "could do such a big show on such an intimate scale," but she says that like every other show at Casa Mañana, they knocked it out of the park. The sets go quickly and easily from the orphanage to a "Hooverville" (my sister and I had to look that up) to Daddy Warbuck's mansion to the White House! The ensemble does incredible quick changes so that they can play all sorts of characters. Mom said that the choreography and music make the cast seem as big as anything you would see on a Broadway stage. (I haven't seen anything on Broadway… yet.)
Mom asked us some questions about the show on the way home, and I've written down our answers here.
Mom What was your favorite song?
MC "Tomorrow," duh.
Alice All of them!
Mom Who was your favorite character?
Alice Annie and Sandy!
MC Annie, Molly, and Sandy
Mom Who were your favorite orphans?
MC Molly, she was amazing!
[Mom interruption here: The orphans were all amazing. As mentioned above, Jude Lewis was Pepper, and she absolutely knocked it out of the park. She was able to hold her own against Niesha Guilbot's Molly, and trust me, that's no mean feat – that little girl is an absolute powerhouse of an actor. Annie is played by Josie Todd. Her rendition of "Maybe" was beautifully wistful, while she made you believe that the sun really will come out "Tomorrow." Oh! I almost forgot! Macy was perfectly cast as Sandy. As a rescue dog herself, she brings a lot of depth and experience to the role. ]
Alice Molly and Pepper
Mom What was your favorite part?
Alice When Annie first met Sandy!
MC "The jig is up!" I loved the look on Rooster and Lily's faces!
Mom then asked about the older characters. I thought Kathy Fitzgerald's Miss Hannigan was really funny, and she can really sing! I also liked Mike McGowan as Oliver Warbucks. He's just like Daddy Warbucks should be, and he can really sing, too. Alice liked Bob Reed's President Roosevelt. He was really good, too!
Alice said, "The whole thing was amazing! The music makes me happy. I'm the 'Grumpy McGrumperson' of the house, but I left feeling really happy and I kept feeling happy all the next day!"
I'm the optimist in our house. I identified with Annie, especially when she was turning everyone's complaints into good things. I do this a lot with my friends at school, and it helps them through rough times. Annie just makes you feel good!
Annie is at Casa Mañana through November 10. For ticket information, click here or call the box office at 817-332-2272.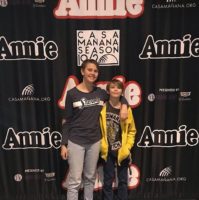 MC DuBose (left) and Alice DuBose (right) are the daughters of Tanglewood Moms' editor Lee Virden Geurkink. They inherited their love of theater and words from their mother and their love of numbers, math, and science from their father. MC is a sophomore STEM major at I. M. Terrell Academy for STEM and VPA, while Alice is a sixth grader at McLean 6th. They both were in the cast of McLean Middle School's production of Shrek Jr.