Fort Worth Arts
Erika Duque: "Breathe, Meditate and, Look." An Artist Profile
The sensation of alluring enchantment when faced amongst nature's intrinsic beauty has been captured in artist Erika Duque's paintings. Rather than recreate picturesque copies of landscapes, Fort Worth's emerging contemporary landscape artist seeks to weave her experiences and personality into her paintings.
"I want people to step into my world for a moment," says Duque "and breathe, meditate, then look."
Painting and creating art for Duque, like many artists, is not only a coping mechanism but a comforting way to view reality from a different perspective — an escape, if only for a moment. Duque often ties the soft fascination she feels in nature to the satisfaction she attains from creating art. Focusing heavily on nature, Duque's paintings depict scenes of lush green jungles, wild forests, and stupendous canyons that can leave the mind both contemplative yet peacefully still. Alternating between loose and distinct brushwork, muted and vivid color palettes, and dry and wet climates, Duque aspires to immerse her viewers into her own personal experiences when meditating in nature.
Despite Duque's inherent pull towards nature, she was born in an environment whose scenes juxtaposed that of her paintings. Born in Flushing Queens, New York City, Duque was impacted by an environment saturated with culture and art. Being a first-generation Colombian child, she was especially influenced by her family's culture and values.
Both of Duque's parents were drawn towards the art of self-expression. With her father making his living in architectural lighting design and her mother having an immense appreciation for art, Duque was consistently exposed to consuming and creating art.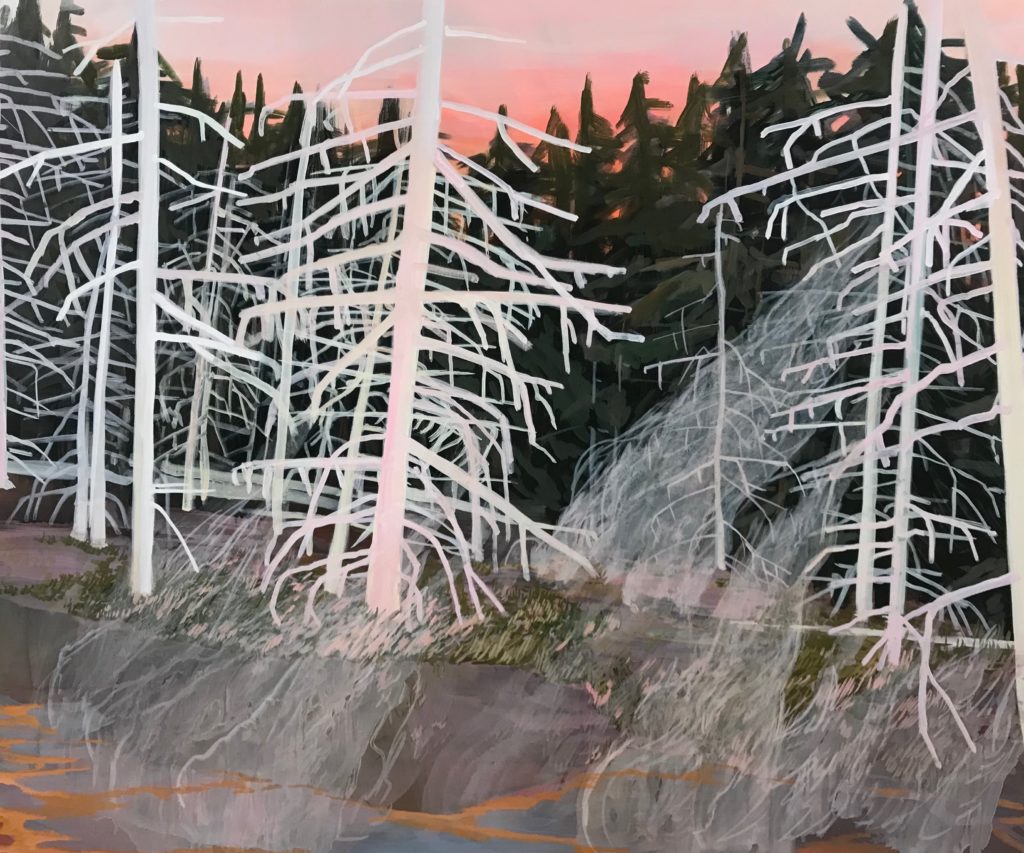 "Although my landscapes are void of people," says Duque, "they're heavily attached and influenced by my family."
Many landscape scenes Duque has painted were images taken from trips she went on with her family, and she attempts to paint the emotional experiences of her trips rather than paint a mere copy of her photographs.
Naturally taken by art from a young age on behalf of her family's influence, Duque participated in a myriad of art programs around New York City. When her family made the move from Flushing Queens, New York City to Fort Worth, Texas in 2006, Duque's passion for visual self-expression managed to persist.
Regardless of the rocky cultural shift from New York to Texas, Duque assimilated herself into Fort Worth's growing art community and finished graduate school at TCU. Participating in nearly 30 art shows and exhibitions, Duque kept herself busy both in the art scene and as a full-time student. After receiving her master's degree at TCU and graduating the previous May, Duque's busy schedule slowed down. She currently spends her time either painting or brainstorming new projects for future shows.
"I'm stepping into a transitional period of my life at the moment," states Duque, "and I'm using this time for both personal and artistic reflection."
Although Duque does not have any shows coming up at the moment, she has kept herself active in the art community in other ways. When Duque is not painting, she can be found teaching art at a variety of locations and programs around DFW. She is currently employed at TCU and teaches Drawing to students during the week. She also leads various art workshops for Oil and Cotton in Dallas and teaches an art program for children, "Drawing From The Collection," at the Modern Art Museum in Fort Worth. The multi-passionate Duque loves teaching because she enjoys "seeing people discover how to express themselves in ways they weren't aware of before."
Through teaching, Duque aspires to instill the same passion she feels for art and nature. Duque hopes to persuade her students (and viewers) to not only appreciate nature through art but to respect and seek to conserve it. In painting landscapes and images of nature, Duque strives to bring awareness toward the beauty that nature and life itself has to offer. Through her art, Duque shows that beauty can be found anywhere. One simply has to "Breathe, Meditate, and Look."
This article is part of a series of artist profiles made possible through a partnership between Tanglewood Moms and the artist-led nonprofit, Art Tooth.
Itzayana Bedolla is a full-time student at TCC. She is completing her Associates of Art and plans to pursue a master's degree in journalism and political science. When she is not writing or studying, she can be found doing readings of her poetry around DFW. As a first-generation Mexican, she feels a responsibility to give voice to persons of color. Bedolla is also one of Art Tooth's favorite interns.