Austin Fields is forging a career in glass art. Her circuitous path to glass sculpture began with studies in photography and printmaking at the University of Texas at Arlington. She still takes portfolio development courses at UTA, but now her time is focused on mastering the art of shaping glass into iridescent creations that play with light.
In her most recent line, Altered State Series, Fields mirrorizes her glassworks.
"I want [my works] to interact with the viewer," she said. "Upon seeing the pieces, it draws you into a moment of total infinite reflectivity. You're seeing a sort of distorted view of yourself and your surroundings."
Her previous series, Radiant Landscapes, sets grand scenes from Mother Nature into a mound of clear glass that radiate into life when lit.
"A lot of my work revolves around light and how it interacts, whether it's being diffused, reflected, or refracted," she said. "I like the optical nature of glass."
This is not all play. Glass isn't as brittle as one might think. It's a formidable foe that can only be tamed with massive amounts of heat, usually greater than 1,000 degrees worth. In the near future, Fields aims to blend glass with different media. On the commercial end, Fields is creating custom glassworks that function like lamps. The products may one day support her fine art ambitions.
"I've gotten to the point where I'm happy with my sculptural work and the direction my art is going," she said. "I'm receiving more opportunities for shows and more people are contacting me wanting commissions."
After several years studying two-dimensional art, glass has given Fields an outlet that matches her desire for an aesthetically desirable medium that allows room to grow.
"I finally found a material that I can express my ideas through," she said. "It is the most beautiful and challenging material I've worked with."
You can view and purchase Fields' works through the Tanglewood Moms/Madeworthy Marketplace. This article the first in a new monthly series of artist profiles made possible through a partnership between Tanglewood Moms and the artist-led nonprofit, Art Tooth.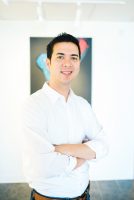 Edward Brown is a writing tutor and piano teacher. He is also an award-winning writer for the Fort Worth Weekly and volunteers for numerous Fort Worth nonprofits.