Fashionistas rejoice! Hemline is the perfect fit for the glamorous Goldilocks within. While cosmopolitan options abound in the Shops at Clearfork, in searching for a boutique that's "just right", look no further than Hemline. From Sofia to Show Me Your MuMu, Free People to French Connection, Spanx to Hudson Jeans, there's something for everyone at Fort Worth's hottest new boutique.
Diana Wilkinson brought the 26th location of the Hemline style empire to the Shops at Clearfork seeking to bring the company's classically stylish vibe with a uniquely Fort Worth feel. After 36 years in the fashion industry, today Diana enjoys being in the store each day with her dog, Scooby, to welcome customers into the Hemline family. And it truly is a family affair. Her daughter, Katie, works in the store and manages their stunning social media. She keeps followers up to date on the latest looks, new merchandise, and flash sales via the Hemline Fort Worth's Instagram feed. It all works beautifully, thanks in part to the fact that Diana is a third-generation merchandise maven. "My mom had a store growing up," recounts Diana, "and she'd talk to everyone, share recipes with customers, and have dinners." Evolving through her mother's legacy, Diana says, "I love creating relationships with women. It's all about the connectivity and satisfaction of every customer. I want to make friends and know you by name, "says Diana.
Hemline feels instantly cozy and familiar. With events on the horizon like Girl Gang Happy Hour and Kendra Scott partnerships, it can easily become a home away from home. This spring, between the live music and food trucks in Clearfork and the drinks, discounts, and light bites at Hemline, there's always an excuse to avoid the mall, grab your best girlfriends, and make a day of it.
Anything you can dream up, Diana or her secret weapon, Hemline founder Brigitte Holthausen, can bring to life. Realizing her talent to pull together an exotic assortment of products that set her apart from the other vendors, Brigitte started selling sandals, jewelry, and backpacks at the Historic French Market, a 200-year-old marketplace in the heart of New Orleans. That's the beauty of this gem of a store – it is an independent boutique with unique style, coupled with the support of a national network. Diana can get you an item from any Hemline store nationwide, and, while there's no shortage of frocks and accessories in the store, if a shopper can dream up something not seen in store, Brigitte can search at market to make the dream come true. The ladies of Hemline like to say they have lavender blood in their veins, a reference to the iconic Hemline bags you'll see toted around Clearfork. They're truly a phenomenal partnership that results in the ideal shopping experience.
Whether you're shopping for classic, staple pieces that will stand the test of time or searching for a prom look that is sure to turn heads, Hemline is the perfect intersection of Tanglewood and TCU, Cowtown and cosmopolitan, style and savings. Be sure to mention this blog post to get 20% off your first purchase at Hemline!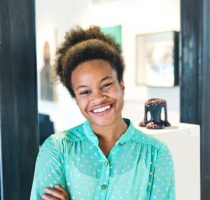 Kam Phillips-Sadler believes "you can only dream what you've seen". Upon realizing the unique outlook her experiences in areas such as rodeo and skiing provided, Kam, a first-generation college student, created Dream Outside the Box, which mobilizes collegiate volunteers to engage K-5 youth in "dream deserts". Kam is a Harry S. Truman Scholar from Fort Worth, Texas, and a proud alumna of the University of Missouri with a degree in Social Work. In her free moments, Kam can be found learning to code from her husband, Cameron, or working cattle with her family.