Disclaimer: Please know before reading this blog post that if you are a serious fashionista you will find (or may even already know) the trends that will find their way into your closets, but this blog post is intended to be a fun look at what's ahead with maybe a little humor.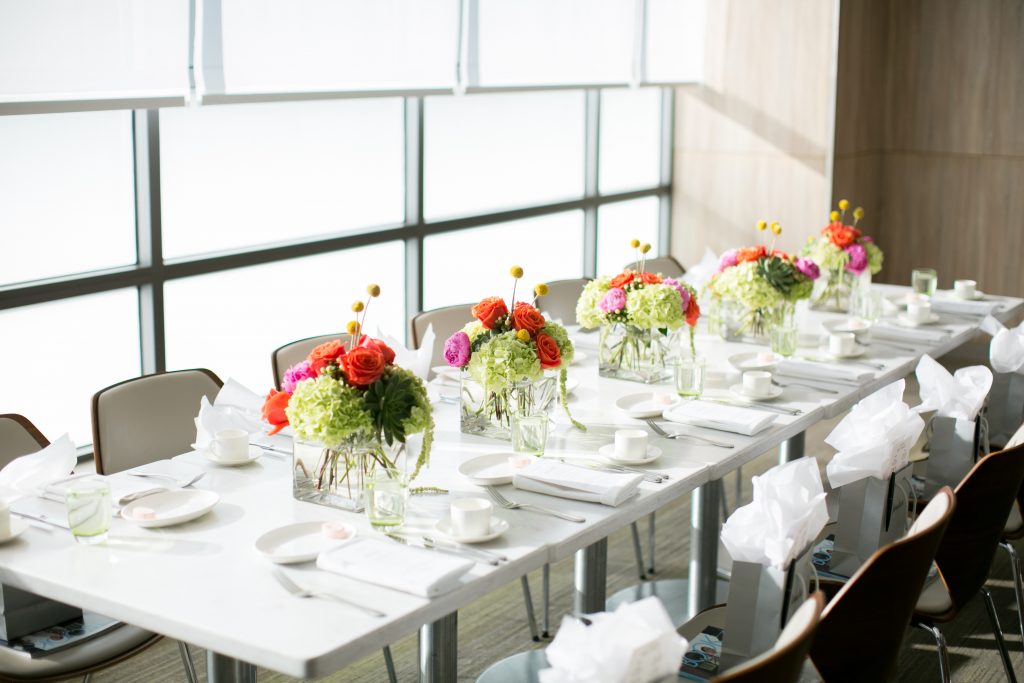 I've been away from fashion for too long. When we got the invitation to attend the Neiman Marcus Blogger event to preview their Spring 2018 Women's Must Haves, I knew I had to go. My wardrobe needs a refresh, and I was incredibly curious as to what emerging trends could be applicable for a mom's busy lifestyle. The answer is quite a bit.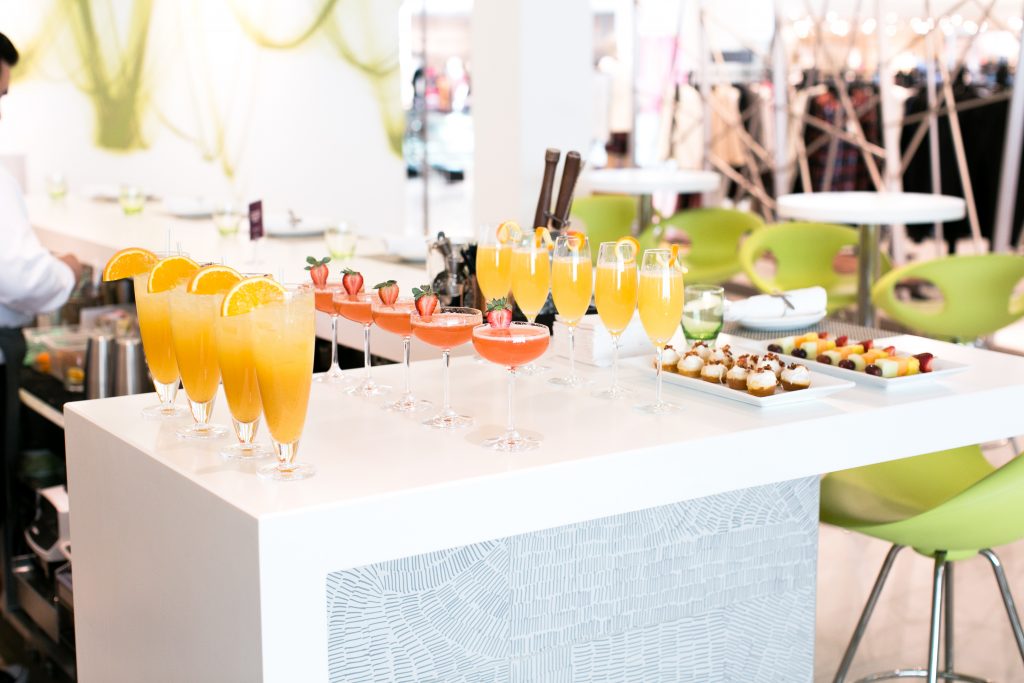 The preview started out with delicious bites, cocktails, and mocktails from their cafe which is the perfect outing for moms and daughters. Seriously, do yourself a favor, call your mom, and plan a time this week to have lunch together with your daughter. She wants to see you, and your daughter will feel like a princess surrounded by beautiful things. The food we sampled can also be ordered for your catering needs. Did you know that? Well, now you do.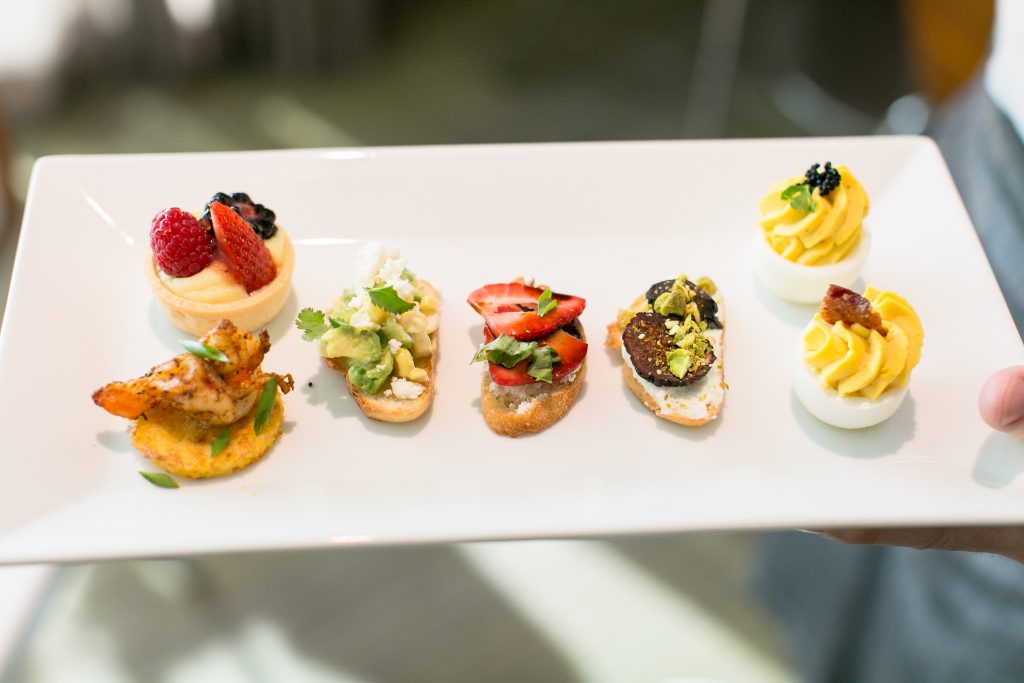 The deviled eggs were my absolute favorite, and the mix of savory and sweet delighted the senses! Okay, okay, on to the FASHION. This is, after all, why we are here.
The first few looks we viewed addressed some major fashion trends for this spring: STRIPES, FLORALS, and LOGO BAGS.
The repetition of patriotic stripes with the blouse and handbag gets my vote. See what I did there? I do think that every woman needs a crisp white outfit. It makes you feel pretty and "clean" (this isn't always synonymous with "mom"), which is why you need it in your life. Trust me. White works wonders. And ssshhhhh to all of you practical people out there. You need this.
This look above and below makes my heart leap. A pencil skirt, believe it or not, looks good on a lot of shapes. It elongates the figure and smooths out the area between your bottom and thigh. It also either accentuates a small waist, or creates one. It's magical, and this Lela Rose one is especially flattering with the pattern on both the top and skirt. The colors are fresh, and NM has perfectly accessorized it with the fringed earrings and shoes. The look can be mixed and matched to dress up or down. This is my personal favorite of all the looks that we saw the whole morning.
As you can see, the looks on the left and right appeal to a mom set just a bit more. They are polished, yet still youthful. They will function for work, play, and when you need something for a daytime ____event (fill in the blank – shower, church, luncheon, fundraiser).
The above look is for the young or young at heart. It has a Cher from Clueless vibe, and I dig that. This girl wears pieces stolen from her grandmother's closet (think 1980s) and with her tongue firmly planted in her cheek mixes them with logo'd or concert tees. She sets the trend. She can be you – I promise you can pull this off. I personally would edit out the pink fringe earrings, but the shoes they paired with this are nothing less than perfection, drawing from the spring trend of a POINTED TOE. Hooray for pointed toes again. They're feminine and classic, and despite shoe trends, I think they are always appropriate.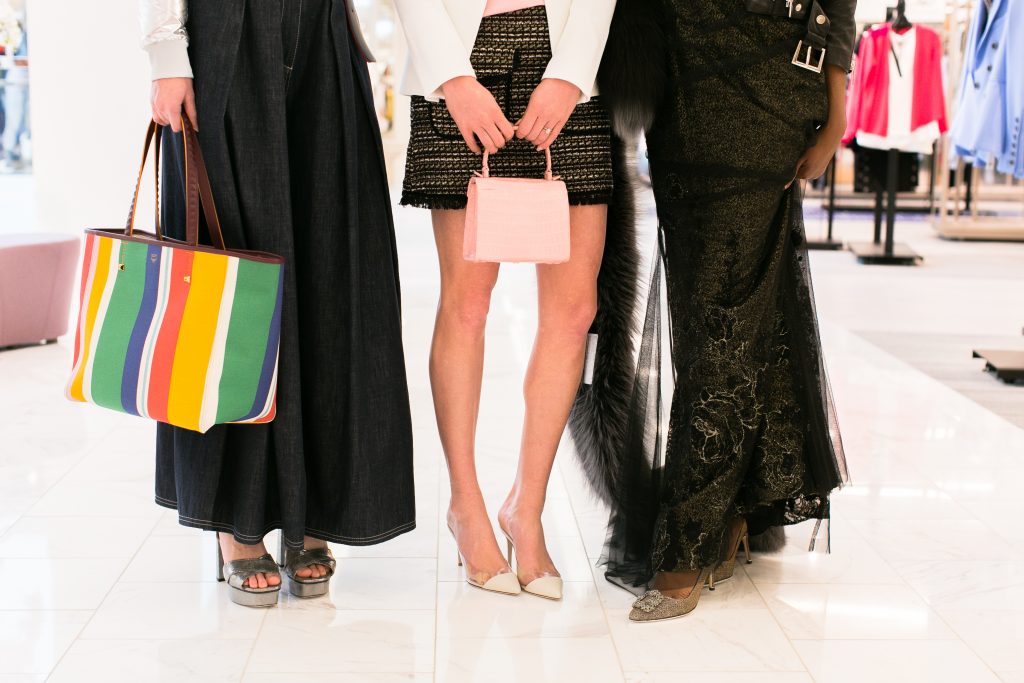 We are about to head into looks you need for special occasions.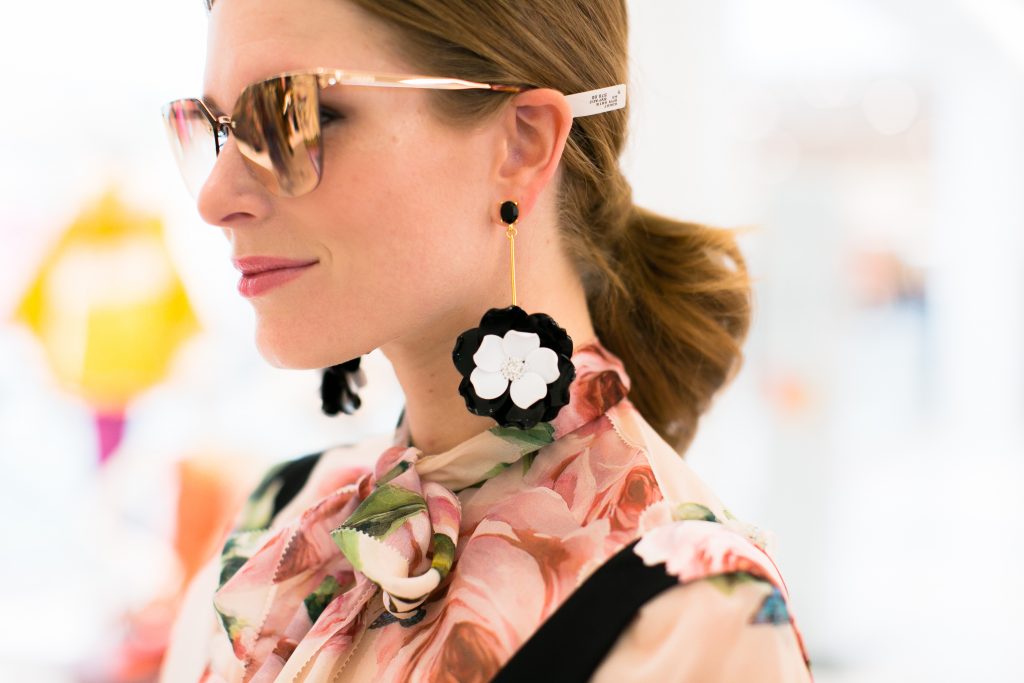 The trend you see above hits FLORAL, STRIPE, and the trend that really makes fashion fun, STATEMENT SLEEVES. Look at how gorgeous the print is on a sheer, flowy sleeve? Here is what a top like this does for a mom: 1. Hides the, ahem, bat wings 2. Makes your wrists look small 3. The high neckline with pussy bow covers your décolletage (which in my case has seen better days).
Here's the thing, ladies. if you're feeling a Gucci turban, you need to ROCK the Gucci turban. I have some serious bad hair days when the ugly 40-something gray hairs start rearing their heads, but I have not tried hiding under a turban. I just might, though. It's a crazy fashionable look, and if my mom could pull it off in the 1970s and '80s in small town America, I am certain I could too. I promise to add it to my Insta-stories if I do. Which reminds me! If you are not already following @TanglewoodMoms on Instagram – here is your formal invitation. Do it already!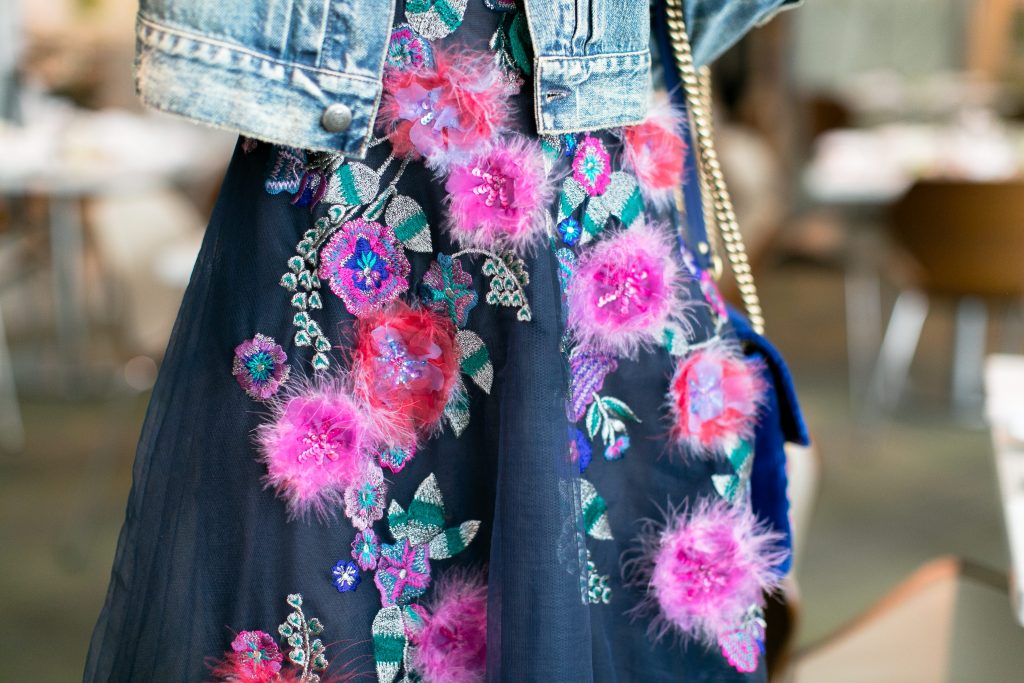 What I love about this look is that they took a formal gown and made it wearable for day with a Ralph Lauren denim jacket and peeptoe booties. I think I need those booties.
Yes, yes, yes. Must add them to wish list.
See… here I am adding them to my wish list.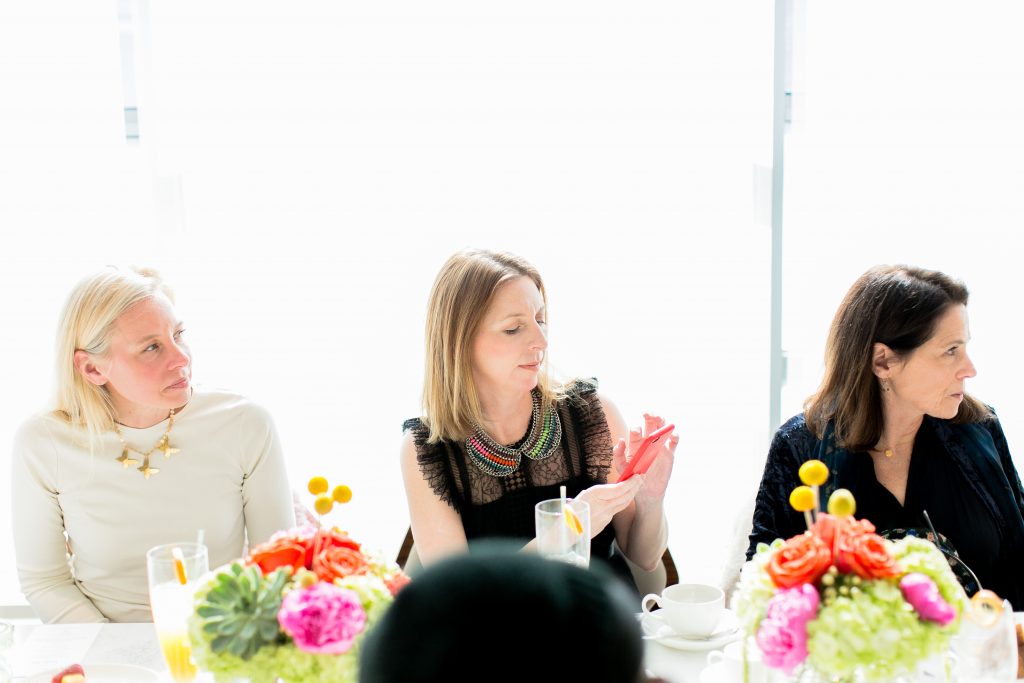 One of the trends that Ken Downing, SVP and Fashion Director of Neiman Marcus, pointed out was RAINBOW JEWELRY. Feast your eyes on a certain someone here wearing an on-trend rainbow necklace that I pull-out from time to time. This is why fashion is so fun. What comes around, goes around. Never throw out a great statement piece just because the trend went away. It will be back! As did this Peter Pan collar alá Dannijo.
That is exactly what will happen with all of these darling fringe earrings that have been trending for over a year. They are still hot now, and likely to stick around another year. Then you'll bring them back out in around 5 years when it's time for long fringe to trend again. And the best part about jewelry is that it always fits. It's a mom's best friend. Deck-out your jewelry closet, and you can make last season's basics rock again.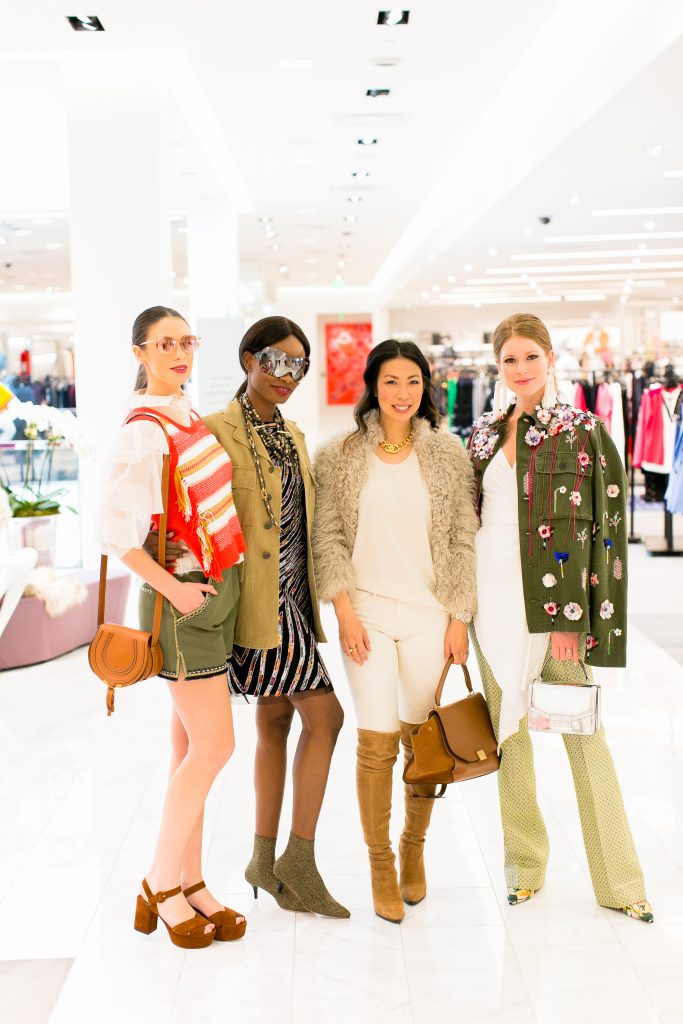 Can we just talk about the Libertine embellished military jacket? If I have a fairy godmother, I would want her to bring this to me. A woman who wears one is graceful and tough and over-the-top, as is all of Libertine. If you have fairy godmother – can you ask her to bring me something from Libertine? Mama want.
(Hey there, @StyleofSam. There's a mom who knows how to do it all. If you're not already following her, you should! She's a Fort Worth fashion blogger and pretty much the coolest person to know.)
So I leave you here with my second favorite look of the morning. The stunning Campbell runway model above mixes another military jacket with a zebra pattern metallic dress. I like to call it the zoo meets zoo keeper look. It's beyond gorge, and her Chanel sunglasses root her firmly in the future.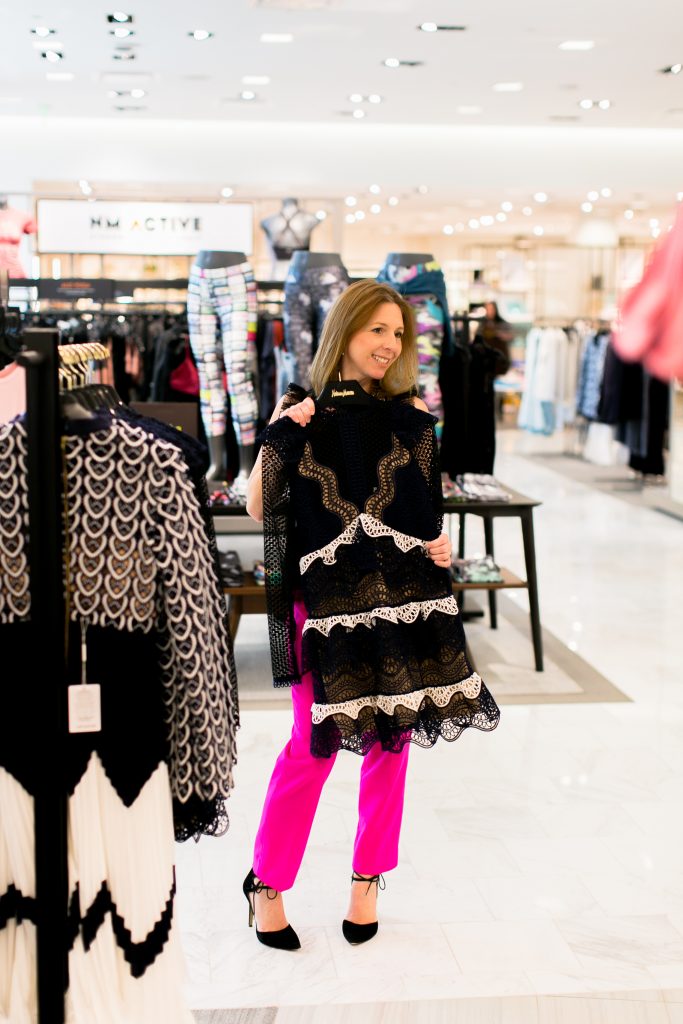 I hope all of you have a lovely spring. Make it a fashionable one! As Clairee Belcher in Steel Magnolia says, "The only thing that separates us from the animals is our ability to accessorize." I'm pretty sure it was Coco Chanel who originally said it, but when I can throw in a Steel Magnolias reference, I do.
xo,v