"So, would you want to live forever?"
Mom and I had just left Casa Mañana after seeing their production of Tuck Everlasting, part of the 2019-2020 Children's Theater series. The story, in case you haven't read Nathalie Babbitt's 1975 classic, is about Winnie Foster who runs away from her home and meets Jesse Tuck, a seemingly-17-year-old boy with a secret. As we were leaving the parking lot, Mom hit me with that question.

"Well, I don't know. I mean, that's kind of hard to answer. I have a minor fear of death which is really sort of a fear of the unknown. But then, I don't want to live forever, either."
Tuck Everlasting introduces us to the Tucks, a family who in the early part of the 19th century stumbled across a spring. After drinking from the spring, they slowly came to realize that the water gives eternal life to whoever drinks it. There's also a villain, whose grandmother told him stories of a magical spring and who only wants the spring to make money, and there's a constable and his son/deputy who are there to provide comic relief.
I really loved the interactions of the constable and his son/deputy, Hugo. Hugo is sort of dopey but very intelligent. He frequently interrupts the constable with questions and ideas and is told to be quiet. But then, the constable will ask the same question or say the same thing Hugo just said, just like some adults I know. The actor playing Hugo, Corbin Ross, is perfect – eager and clumsy and with a great singing voice.
Jude Lewis plays Winnie, a girl who longs for adventure and freedom. I really connect to that. I really felt what Winnie was feeling, that's how good Jude is! When she talks to a toad because she's so lonely, I almost wanted to cry. And she can really sing. She can carry a song by herself ("Good Girl, Winnie Foster") or stand up to grown up voices ("The Wheel").
But it is Jesse Tuck, played by David Midkiff, who is my favorite character. My favorite characters are always the happy-go-lucky type who might mess up (and mess up big!) but manage to fix it in the end. Jesse, unlike his big brother Miles (played perfectly by Ryan Friedman), likes living forever because it's always an adventure. When he sings "Top of the World," I wanted to go climb a tree or go on a hike or run through a meadow. He loves life, and he wants to show Winnie how great the world is.
The adults in the cast are all good, but I really liked how Sarah Gay, who plays Mrs. Tuck, connected with Winnie. She really likes being around a little girl after being around all those boys for 100 years! Ryan Friedman's Miles has a sad secret, and his experience with immortality made me think that maybe living forever isn't all good.
I really liked Tuck Everlasting. I think the musical is perfect for kids from age 10 on up. I don't think little kids will understand the power behind the question, "Would you want to live forever?" But I loved every bit of it, and I can't wait for my little sister to see it next week with her school class. My mom really liked it, too, so I think adults will enjoy it, as well.
Tuck Everlasting runs through October 20th at Casa Mañana. For tickets, follow this link or call the box office at 817-332-2272.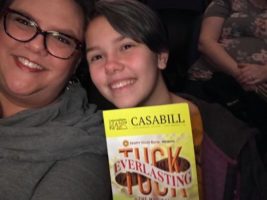 MC DuBose (seen here with her mom, Lee Virden Geurkink) is a sophomore STEM major at I. M. Terrell Academy for STEM and VPA. She is one of the presidents of the Terrell D&D Club, participates in Whiz Quiz, and is involved in the STEM Society. She loves learning and hopes to pursue a career in video game design/development and in teaching.