We all have our daily rituals and necessities. Wake up and attempt to gain functionality as the first few cups of coffee take hold. Ahhh, consciousness. Next, the kids need to join those of us with open eyes and working limbs. Breakfast is next with all the arguments about what is "gross" and what is "okay, I guess". While performing basic tasks for the offspring, we must also get ourselves ready for the day to come. Juggling the coffee cup while getting dressed and answering overnight e-mails at the same time. Everything comes together (more or less), and we head out into the world to continue our existence. Except… you forgot the cleaning. Panic ensues. Do you have time to rush home and get the cleaning? Even if you can make it home, will you have time to deal with the drop-off and the attendant traffic?
What if I told you that you would never have stress about dry cleaning again? Gunns Dry Cleaning and Laundry has your solution.
Since 2000, Gunns has provided service to the Fort Worth for dry cleaning, laundry, restoration, and most other textile maintenance needs. They provide all the basic dry-cleaning features as well as many custom services including alterations, shoe repair, and custom monogramming. All these options are available through the brick-and-mortar location, their home concierge option, or their brand-new app through Links that is available through the Apple store or Google store.
The new mobile app that has just launched coincides with a new face on the company website and offers the same features on a more mobile-friendly platform. A home concierge service has been available for quite a while now through email or phone and offers twice weekly pick up and drop off on a Monday/Wednesday or Tuesday/Thursday schedule. This service provides the necessary garment or laundry bags, making convenience a high priority. Now with the new Links-Gunns app, this same service can be arranged on a case by case basis through your mobile device, with billing rolled into the initial transaction. The Links-Gunns app also tracks usage and tallies "points" for discounts or services.
I had the opportunity to speak to several Gunns employees at their Fort Worth location and was very impressed by the enthusiasm they showed concerning the improved concierge service. The company has approximately 200 commercial clients, which has given them ample experience in the door-to-door linens service. They now offer the same amenities to residential customers. I spoke to Darrin Martin and Rod Oliver, and they made a tongue-in-cheek reference to the new Link-Gunns app as "the Uber of dry cleaning."
In the new app-driven society in which we live, this is a timely offering for the people of Fort Worth. On a more personal note, I have used the new Links-Gunns app service and could not be happier. It was no-muss, no-fuss, and exactly as described and promised. If arranging dry cleaning service is part of your routine, the expanded concierge service from Gunns is waiting for you.
Gunns is driven to provide the level of customer service and attention to detail that we here in Cowtown have come to expect. Big-city web and mobile options and performance with small-town attention to detail and personal service truly have a home at Gunns.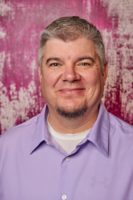 Originally from Oklahoma, David Geurkink is a recent transplant to Fort Worth. A former zookeeper with Fossil Rim, he is enjoying learning about all that his new city has to offer.