I can't think of a time in my life when I took a lick of ice cream and it made me sad, can you? Heck, sometimes when we are sad, we eat ice cream, right? It's cheap and delicious therapy! Now, I am not condoning eating ice cream every single time life gets rough. But stepping into an ice cream shop, especially one with such a happy vibe like our locally-owned Fort Worth ice cream shop, MELT Ice Creams, sure can help, at least for a moment!
The owner of MELT, Kari Crowe-Seher, believes "treats can change your day and your day can change the world." Before opening in 2014, Kari was a food photographer and shot photos for restaurants, chefs, commercial industries, and weddings. It was this very experience that led her to her love affair of the food industry, but she wasn't exactly sure in what realm that love affair would take place. The brilliant ice cream shop owner recognized that everybody likes ice cream and when you live in a place has hot as Texas, it's a community staple! Kari's husband and business partner Mark encouraged her to travel around the country to visit several ice cream shops in order to solidify her heart's desire and vision. And aren't we glad she did?
As I sat down with her in their newest location in Sundance Square, Kari shared her stories and experiences from her travels. It was so moving to hear her passion and desire to make MELT a relevant and meaningful business. For Kari, adventure into the ice cream world was not about being a rockstar status ice cream shop. She wanted this business to love people well and bring a smile to their face, ultimately, making a difference, as she puts it, "One scoop at a time". She recalled one story in particular that I loved (okay, I might have teared up). It was about an ice cream shop owner she had met along the way who told her, "I watch people come in here with the weight of the world on their shoulders, and when I would hand them an ice cream cone, it was as if all of that faded away."
"Wow," was my thought. This story she shared simply reminded me of how much we need community and each other. It's the human condition. I know, I'm getting deep here, but how cool is it that something as simple as ice cream can draw joy out of someone? How cool that Kari knew all along that is wasn't necessarily going to be about just the ice cream and toppings. It would be about something impactful. She decided to move forward in creating this happy place for all ages. She thought, "even if it's this brief respite from the world where we can help melt people's problems away for even a moment, then I think we can help achieve that through the way that we serve in our space, through our team members, and the way we serve and love our community."
Another way beyond ice cream Kari and her team are making a difference, is by donating a percentage of sales to go to a non-profit every year. This year, they chose The Center for Transforming Lives. The Center works to help lift women with children from poverty with safe homes, early childhood education and financial stability programs.
Kari also has a huge heart to help her employees have a great work experience. For several of them, this is their first job. Kari teaches what it's like to be a community partner and how to serve the community. "Many people might live in a bubble and not see all of the opportunities that our community needs," she told me. So true.
Here's a fun fact I gathered! Wanna know why MELT is committed to the color yellow in all of their locations and branding? Well, Kari was an art major and had studied color theory. Yellow is known as a "happy color", so it made perfect sense for her shops to be predominantly yellow!
Kari and her team now have three locations where they bring a smile to patrons on a daily basis. Two of those locations can be found in Fort Worth, and one in the Bishops Arts District in Dallas. All of them have the same happy vibe and delicious, made-from-scratch ice cream and toppings! Oh, the toppings! You MUST check them out! It's like you have this amazing ice cream scoop (or two) on a made-from-scratch waffle cone, and then the already decadent mound of flavorful joy is covered in something even sweeter to blow your mind! (don't say I didn't warn you!) Her team of culinary geniuses work hard to bring 4 creative seasonal flavors, known as "Sometimes Flavors" every six weeks. In addition, they offer a more consistent menu of six "Always Flavors." Non-dairy options are also available. Need some ice cream for a party? Kari offers several "on-the-go" options for getting your hands on their tasty creations: a Happy Cart that is usually located in the Sundance Square, a Happy Cooler, or Joy Ride, the food truck for catering. You can also call ahead and get a bag of several flavors to take home for your next dinner party. Yes, please! I'll take a cart-full of my favorite flavor, Cup of TX!
Guess what? You don't have to scream for ice cream anymore, friends. MELT is here! It's a happy ice cream place that believes in giving back to show people they aren't just here to make money, but they are here to help Fort Worth be better as a whole.
Happy Tasting!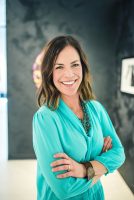 Jennifer Kieta is a native Texan, born and raised in Houston. She graduated from Texas Tech University and has lived in Fort Worth since 1996. After marrying her husband, Brian in 1998, Jennifer worked as a Child Life Specialist at Cook Children's Medical Center for 9 years before becoming a full-time mom to her two daughters. Her passion for helping people in healthcare transitioned into the fitness world in 2014. She now teaches spin and HIIT classes at Zyn22 and Pilates at Studio 180 in Pop's Gym. December of 2017, Jennifer was diagnosed with breast cancer. Her journey through a double-mastectomy and being able to call herself a Survivor and Overcomer has allowed her to have an even greater passion for helping people embrace every day and take care of themselves one day at a time.