Backstage at the greatest puppet show in the world, solo puppeteer Geppetto faces many challenges as he rehearses the legendary love story of Perseus and Andromeda. When broken limbs, three-headed dogs, and a missing scene partner threaten to cancel the show, he must perform the toughest role of his career.
This week, New York's Concrete Temple Theatre brings their Off-Broadway hit to Fort Worth's Amphibian Stage Productions for a limited engagement. Geppetto: Extraordinary Extremities is a charming and romantic play about how we improvise when all of the odds are against us. Here are four reasons you should get to the theater to see it this week.
Seeing live theater makes your kids smarter.
According to a case study on education reform from the University of Arkansas, watching plays increases knowledge comprehension, social tolerance, and the ability to understand what another person is thinking or feeling. Researchers found a significant gain in the aptitude of these three skills in students who saw plays over students who did not have access to live theater. Offer children fun entertainment, and they come out smarter, more patient and more understanding of your emotions? Can it really be this easy? Survey says: yes.
Solo performer Carlo Adinolfi is outstanding.
He's received rave reviews from The New York Times, The Independent, The New Yorker, Theatermania, and New York Theatre Review. Everyone agrees his performance is not to be missed! Watch the trailer for Geppetto: Extraordinary Extremities here.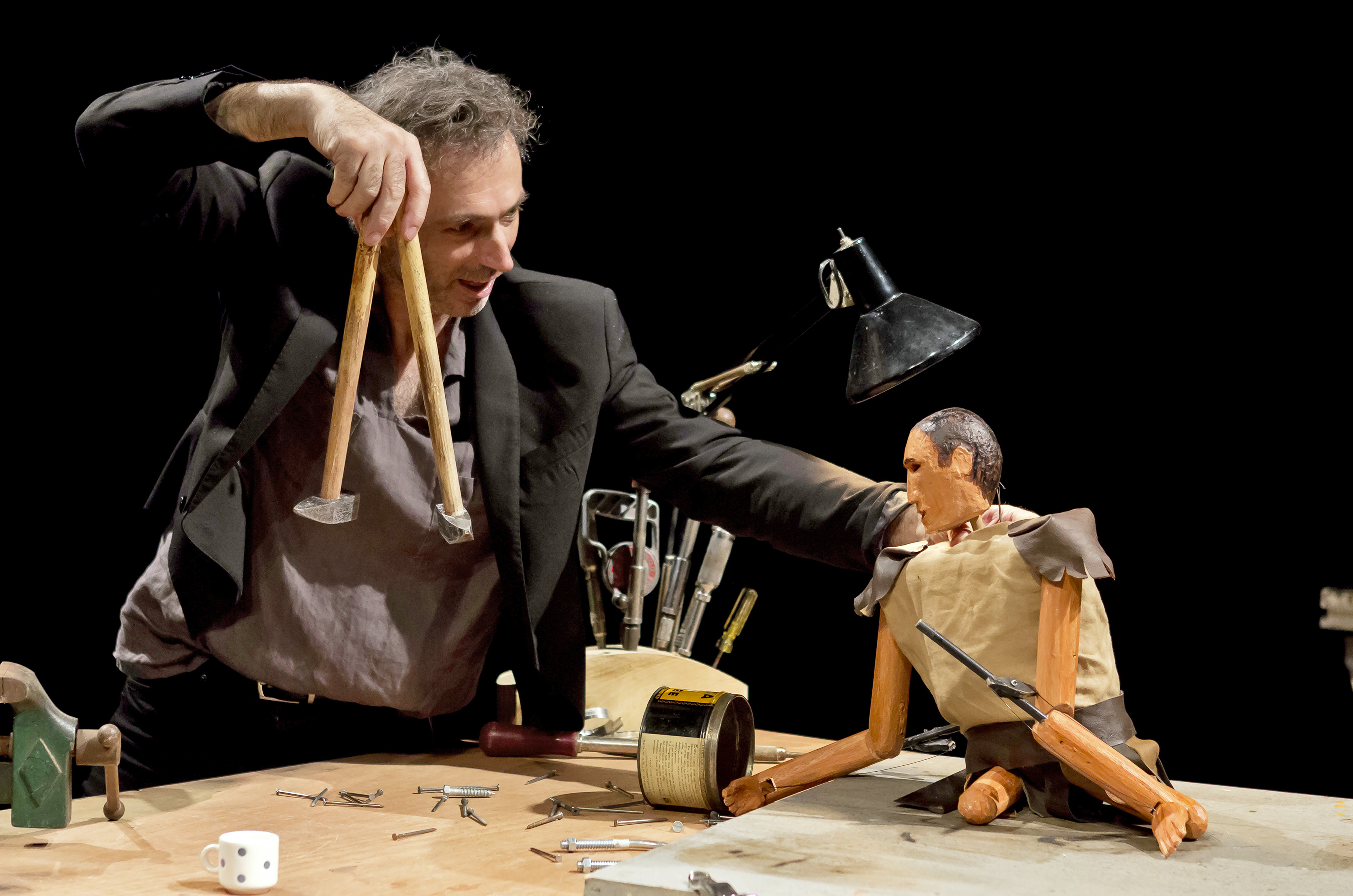 "Carlo Adinolfi has an infectious energy as he bounds around the stage manning multiple puppets at once." – New York Theatre Review
The story is inspired by the incredible Hugh Herr and his immortal legs.
Actor Carlo Adinolfi explains, "I am not physically disabled and have been a dancer for most of my life. The very idea of losing a limb was horrific to me, which is why I was totally awe struck when I heard Hugh Herr, a double amputee, say that he feels fortunate that he is very different from those of us with feet of flesh. His feet (he has 20 interchangeable pairs) can already do some tasks more efficiently than our flesh feet can… This to me is both mysterious and wonderful. Moreover, I was struck by his adaptability, how his loss made him a better person." Read more about Hugh here.
Tickets are cheap!
General admission is only $20, and Amphibian offers discounts for seniors (60 and older) and students from elementary to post-graduate.
Geppetto: Extraordinary Extremities by Renee Philippi plays March 17 – 20, 2016, at Amphibian Stage Productions. For more information on the play and how to purchase tickets, you can visit www.amphibianstage.com or call 817-923-3012.
Linsey Retcofsky

, Associate Producer, Amphibian Stage Productions

Linsey received her B.A. in Drama from Lee University in Cleveland, TN where she studied playwriting and directing. In 2010, she moved back to Fort Worth to attend graduate school in the Drama program at Texas Woman's University. In 2011, Linsey traveled with Texas Woman's University to the Edinburgh Festival Fringe as the stage manager for
The Panther's Scream and other Texas Tales.
Her master's thesis
The Impossible Dramaturgy of Genocide: Erik Ehn in Theory and Performance
 focused on playwright Erik Ehn's cycle of genocide plays from the perspective of her work as stage manager for his play
Diamond Dick: The Tulsa Race Riots of 1921.
This project was produced by Project X: Theatre in Dallas and performed as part of
Soulographie: our genocides
, a festival of Ehn's genocide plays produced at La Mama ETC in New York City in November 2012. Linsey is thrilled to be working with Amphibian Stage Productions where she is able to share her passion for theater with the Fort Worth community. Some of her favorite Amphibian productions include
Animals Out of Paper, Wittenberg, The True History of the Tragic Life and Triumphant Death of Julia Pastrana, the Ugliest Woman in the World,
and
Fiction.