Your heart skipped a beat every time the theme song began. You loved the drama, the romance, the comedy, the Dowager Dutchess' snippety one-liners. Oh, and the costumes! If only it was acceptable to wear a tiara to dinner (sigh). But alas, the fantasy finally came to an inevitable and satisfying (to everyone's relief) end. Folks, Downton Abbey is over, and now you find yourself in mourning over its loss. You've asked yourself 'Will anything ever fill this void?' I am here to answer you with a triumphant YES! Here are few suggestions to lighten your mood and pull you through this show hole.
Podcasts and Websites
Youmustrememberthispodcast.com is a podcast about old Hollywood secrets and history. You will love this if you are a movie buff, history buff, or just love a good juicy story.
Go to PBS.org and check out the Masterpiece Podcast and Book Club to listen to interviews with the cast and creator of Downton Abbey as well, as a lot of behind-the-scenes tidbits.
Visit edwardianpromenade.com to learn about everything having to do with Edwardian England. Learn about history, food, fashion, relationships and the list goes on. There's a whole section dedicated to Downton Abbey.
Downtonabbeyonline.com is a fun fan page that delves into details about the show I bet you never knew. Did you realize that Isis wasn't the family's first dog? Read the blog, drool over the fashion, and relive your favorite scenes of the show.
Social Media
If you need a little Downton Abbey fix how about joining a Facebook page? Join in on the fun and discussions at https://www.facebook.com/DowntonAbbey/?fref=ts
Or ask to join one of these closed groups https://www.facebook.com/groups/1447803362104534/
and https://www.facebook.com/groups/Downtongroup/
Books
Lady Almina and the Real Downton Abbey: The Lost Legacy of Highclere Castle is the biograpy of Lady Almina, the 5th Countess of Carnarvon, the real life heroine of Highclere Castle, which is where Downton Abbey was famously filmed.
Below Stairs: The Classic Kitchen Maid's Memoir That Inspired "Upstairs, Downstairs" and "Downton Abbey" is another non-fiction read. It's the memoirs of Margaret Powell, who served as a kitchen maid in the 1920s. It gives us insight on how the less glamorous half lived.
Snobs is the first novel published by Julian Fellowes, the creator of Downton Abbey. It's a witty story about English hierarchy and modern manners.
Jeeves and the Wedding Bells by Sebastian Faulks is, as it says on the book's cover, an homage to P.G. Wodehouse, who wrote the Jeeves and Wooster books. If you are looking for something funny taking place in the 1920s, check out both of these authors. You will fall out of your chair laughing.
Netflix
Call the Midwife is another PBS Masterpiece Theatre program. It's about a group of midwives and nuns that service a poverty stricken area of London in the 1950s and 60s. It's funny and heartwarming and always leaves you feeling good.
Parenthood is a modern, American series that is absolutely hilarious. It's a departure from the period English genre but the characters somehow become a part of your family. It's the story of four adult siblings, their children, and their parents and all of their D.R.A.M.A.
Pride and Prejudice and Mansfield Park are both adaptations of Jane Austen novels, so in my book you are required to love them. That's all.
North and South is an adaptation of a novel written by Elizabeth Gaskell. This Victorian miniseries chronicles the journey of a young woman who is uprooted from her country home to industrial Northern England. She finds friends, purpose, and of course romance. You must, must, must watch this.
Throw a Themed Party
If you really want to go a little 'bonkers', as Michelle Dockery likes to call the American fans of the show, how about throwing your own Downton Abby party or dinner? Here are some fun resources you might find useful. http://www.buzzfeed.com/arielknutson/how-to-throw-a-historically-accurate-downton-abbey#.cwL2EoGl2m
http://www.epicurious.com/archive/entertaining/partiesevents/tv-dinners-downton-abbey
While nothing will take our beloved Downton's place in our hearts, I hope you now have some ideas of how to survive life after Downton Abbey!
Share with us your favorite Downton memories in the comments below. Also, don't forget to invite me to your party!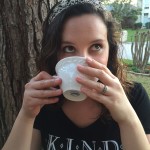 Christy Ortiz is a Fort Worth native and lover of Downton Abbey, and proud to say so.   She earned her bachelor's degree from UT Arlington in Interdisciplinary Studies.  She taught for FWISD for eight busy years before switching gears and staying home with her two small children.  Her hobbies are interior decorating for friends, photography, and flying kites with her kids.  Her South American roots and love for the Spanish language and Latin cultures add to the diverse voices of our group.