There is no time of year more uniquely and perfectly Fort Worth than the three weeks of the Fort Worth Stock Show & Rodeo. Cowboys, cowgirls, Cowtowners and out-of-towners descend upon the Cultural District for 36 dynamic rodeo performances, 200,000 square feet of shopping, 1,000 contestants competing for $700,000 in prize money, and six acres of fun on the midway. Does it get any more amazing than that?!? As a barrel racer, cattle rancher, and Fort Worth native, the Stock Show holds a special place in my heart, and with this year's jam-packed Buck, Sweat & Steers show, I'm certain it will for you, too. For the past few decades, I've gone behind the scenes for this legendary production, and I'm honored to give you the inside scoop about the greatest 23 days of the year.
BUCK
As you round-up your buckaroos, you'll find no better intersection of excitement and education than the Stock Show and Rodeo. Don't miss the best kept secret of the show: Kid's Gone Wild on January 21st. The cattle arena is filled with interactive, experiential learning opportunities with everything from an actual fishing tank for catch and release to booths with partners like Fossil Rim, beekeeping, and local herpetological societies. There's even archery and arts and crafts, all designed to connect wildlife and agriculture to our modern world. Everywhere you turn, there's something new to learn and explore, and when you're done there, you can mosey over to the museums for extended learning: the Fort Worth Museum of Science & History, the National Cowgirl Museum and the Cattleraiser's Museum are all included with the cost of admission!
SWEAT
No matter which day you go over the course of the Stock Show and Rodeo, you've got to attend at least one rodeo performance (although I prefer to attend no less than four!). Every event in rodeo is derived from historic ranching practices and has a practical history. For example, saddle bronc riding stems from the beginning phases of training a horse, and tie-down roping is done regularly on ranches when cowboys need to doctor their calves.
Whether it's your first rodeo or your 100th, there a few things to know. The athletes who are competing are passionate professionals, and when you hoot and holler, they can hear you cheering them on. The "roughstock" events – saddle bronc riding, bareback riding, and bull riding – are judged on a 100 point scale: 50 points for the horse and 50 points for the rider. They must stay on for 8 seconds, and the judges on the ground are evaluating every millisecond of their ride. In timed events, like tie-down roping and steer wrestling, you'll hear a term called "breaking the barrier". This is a 10-second speeding ticket given to cowboys whose animals don't get a fair shake at a head start. While the calves and steers appear to be small, they'll range in size from 175 to 900 pounds. And finally, the ladies in the barrel racing can go to either the left or right barrel first, can pick up a barrel to try to save it from the 5-second penalty caused by knocking one over, and, in addition to competing to see who has the fastest time, the most stylish cowgirls are eligible for the Jerry Ann Taylor Best Dressed Award, which is a $5,000 bonus!
STEERS
The most magical aspect of the Stock Show is that you could go everyday and see something new, every single time. The work the students and families put into rearing and loving their animals is worthy not only of admiration but also of the scholarship money earned through showing. As you stroll the barns, families are overwhelmingly willing to answer questions and share information about their noble beasts. For the young men and women showing cows, they may have purchased their animal with scholarship money from the Stock Show's own Calf Scramble. At the end of the show, individuals, corporations, and groups like Women Steering Business will come together to invest in the educations of these hard-working students at auction.
From the celebrity goat milking to llama shows to the miniature horse costume contest, there is something for everyone in every building. The absolute easiest way to make sure you don't miss any of the action is via the Fort Worth Stock Show official app. There you can create your own personal lineup and browse the schedule for everything from steers to shows like the Coors Light Roadhouse concerts for nights you have a sitter. The app also has a map, parking and food info, and more details on educational experiences.
This stunning stock show and rockin' rodeo just gets better year after year. It's true what they say: this thing is legendary. Enjoy!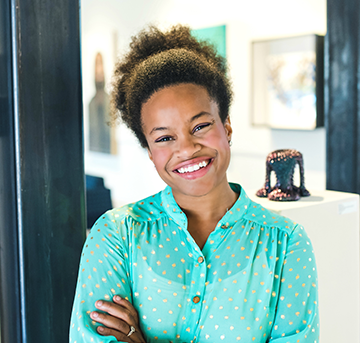 Kam Phillips-Sadler believes "you can only dream what you've seen". Upon realizing the unique outlook her experiences in areas such as rodeo and skiing provided, Kam created Dream Outside the Box (DOTB). DOTB mobilizes collegiate volunteers to engage K-5 youth in "dream deserts". These imaginative career and extracurricular experiences propel children towards positive pathways while developing leadership skills among college students. Kam is a Harry S. Truman Scholar from Fort Worth, Texas, and a proud alum of the University of Missouri with a degree in Social Work. In her free moments, Kam can be found learning to code from her husband, Cameron, or working cattle with her family.