Lychees and soursop and quince, oh my! Guava and sapote and plantains, oh my!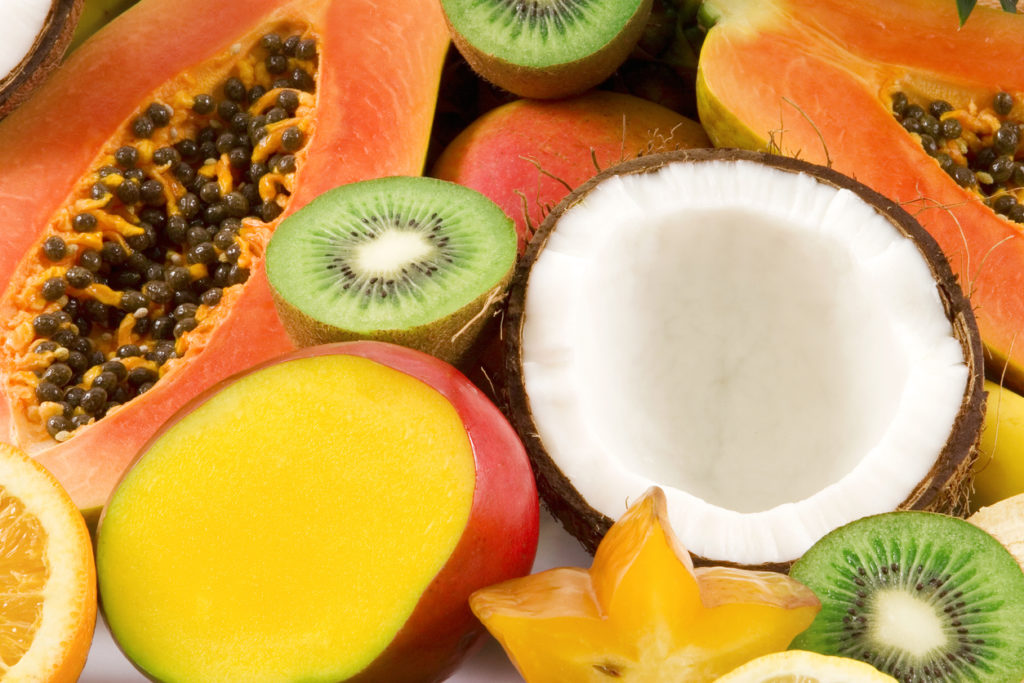 Yes, my friends, it's time to break out the flip flops and sunscreen because Central Market wants you to Taste the Tropics. With exotic tastes in every department, you cannot help but feel like you're on vacation, even if you aren't going anywhere for Spring Break!
Usually, I come up with several recipes for whatever Central Market is celebrating, but this month, there are so many good things in the store that I just couldn't decide what to do. Instead, here are a couple of recipes straight from the chefs at Central Market. I've tested them, and they are GOOD!
PINEAPPLE BLACKENED SHRIMP BOATS
Prep20 mins
Cook20 mins
Total40 mins
Yield2 shrimp boats
Ingredients
2/3 lbs shrimp, peeled & deveined
1 pineapple, split & hollowed out; save pineapple flesh
1/2 cup corn; fresh or frozen
1/4 cup diced red pepper
1/2 cup diced onion
1 cup diced pineapple
3 cups cooked rice
2 tbs finely chopped cilantro for garnish
2 tbs butter
2 tbs cooking oil
2 tbs sliced scallions for garnish
3 tbs cajun seasoning
salt and pepper to taste
Instructions
Split pineapple down the middle, cutting through the stalk and pineapple
Remove flesh and core from pineapple by carefully cutting the edges

Try to avoid puncturing the skin of the pineapple

Set usable pineapple chunks aside, discard core

You will have more pineapple than you need for this dish

Cook rice according to directions
Sauté pineapple, corn, onion, and peppers in butter until onion is cooked through, about 5-7 minutes. Set aside.
Pat dry shrimp and coat in cajun seasoning to blacken shrimp

If cajun is too spicy, use old bay or paprika for color

Blacken shrimp in oiled pan over medium-high heat until fully cooked
Mix cooked rice with pineapple mixture and shrimp
Fill pineapple halves with shrimp and rice mixture
Garnish with cilantro and scallions
Enjoy!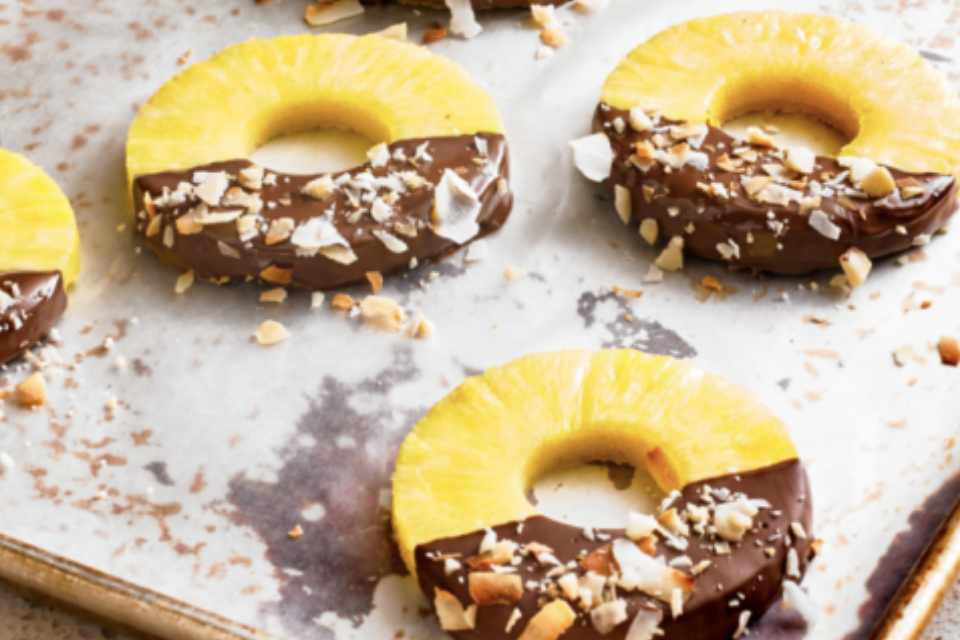 CHOCOLATE DIPPED PINEAPPLE WITH COCONUT & MACADAMIA NUTS
Prep20 mins
Total20 mins
Ingredients
1 Pineapple, peeled and cored
12 oz. dark chocolate, melted
1/2 cup coconut flakes, toasted
1/2 cup macadamia nuts, toasted
Instructions
Line baking sheet with parchment paper
Slice peeled and cored pineapple into large circles
Melt dark chocolate over low heat, stirring occasionally until melted thoroughly
Dip pineapple circles in melted chocolate and place on tray
Sprinkle with toasted coconut and macadamia nuts
Let cool until chocolate hardens
The best part (in my opinion) of shopping at Central Market is that the people there know what they're talking about. If you want to know how to make barbeque jackfruit (a GREAT meat substitute for vegans!), they will tell you. What to know how long you can store a dragon fruit? They know. And if you don't have time to ask how to prepare jackfruit, Central Market's website had step-by-step instructions!
One more thing. On Friday, March 8, Central Market is hosting a luau and tasting event from 5 to 8 pm! After strolling through the store to taste all sorts of exotic goodies, hang out on the patio for a while to enjoy live music, cold draft beer, and in-house-made gelato. No reservations are needed! So get over to Central Market and indulge in the flavors of the equator. Just don't forget your sunscreen!