Welcome to my 2nd annual ULTIMATE and BEST Christmas Events and Activities in DFW 2016! My wildly popular ULTIMATE and BEST Christmas Lights became so long that it was time to give these activities and events their very own proper place. I've spent over 40 hours cultivating this list below. I hope you enjoy building precious memories with some of these events and activities below! Stay tuned for my ULTIMATE and BEST Christmas Light Displays post next week. And on a side note, I did not include any plays or performances on this list below, but for 2017, they will have their very own special post!
Plus, be on the lookout for several AMAZING holiday giveaways on my SoFortWorthIt Facebook page!
FORT WORTH
A Candlelight Christmas in Ryan Place: 2401 College Ave 76110
Kick off your holiday season with the 33rd annual Candlelight Christmas in Ryan Place Home Tour. The tour will focus on six beautiful homes that blend new and old in structure, form and family. Each will showcase a different aspect of architecture and a unique take on tradition in the Historic Ryan Place Neighborhood. TICKETS
December 3, NOON-9PM & December 4, NOON-5PM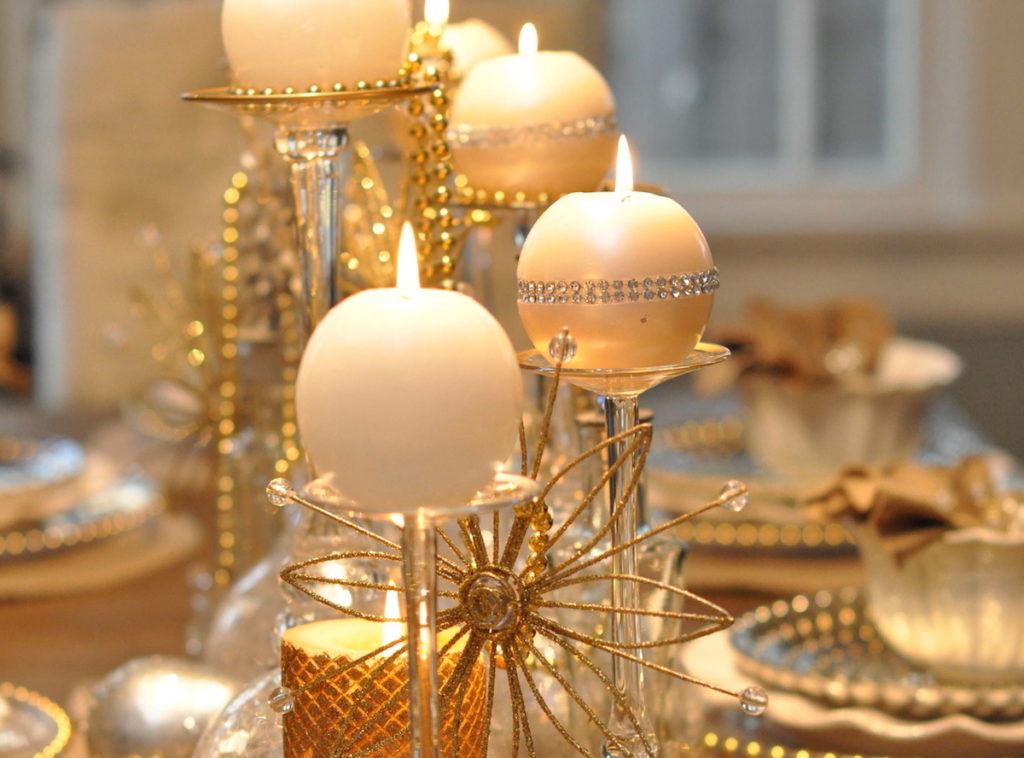 Birds Christmas Tree: Fort Worth Botanic Garden 76107
Since 1935, this holiday event draws area children into the Garden to share a little holiday gift-giving with the feathered friends.  Bring homemade, biodegradable bird feeders to hang in the trees of the Botanic Garden's "Grove."  Santa and Mrs. Claus, penguins, B.G. Squirrel, Cardinal and Smokey the Bear will be on hand to welcome children of all ages.  Local students and talent will provide musical entertainment. (Children, BRING treats to the Garden rather than make them on site…recipes HERE)
December 3, 11-12PM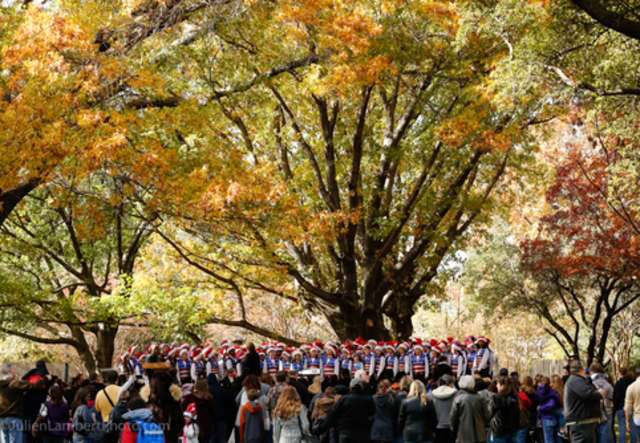 Christmas in the Stockyards: Stockyards Station 76164
The Fort Worth Stockyards National Historic District will hosts its annual Christmas in the Stockyards event on the lawn of the Historical Livestock Exchange Building. Western heritage activities that the entire family can enjoy include caroling, face painting, cookie decorating, coloring station and photos with Santa. Christmas parade begins at 4:00pm.
December 3, NOON-5PM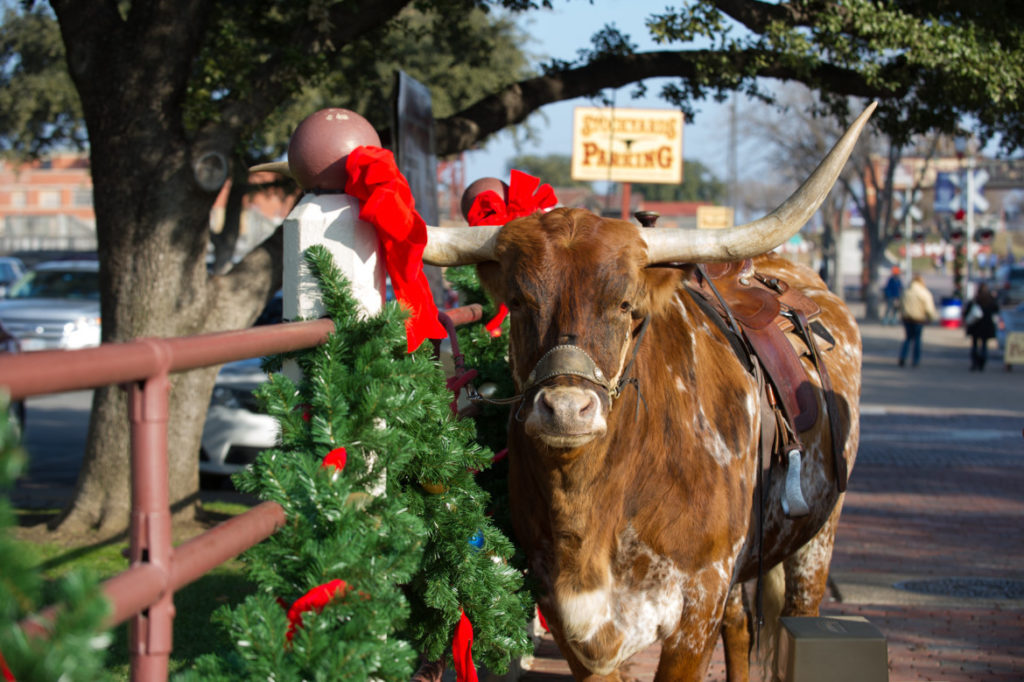 Christmas Wine Trains: Historic Stockyards
@130 E. Exchange Ave 76164
Hop aboard this favorite seasonal and festive grown-up Christmas event. Hors d'oeuvres will be served with two complimentary glasses of wine. Additional wine will be available for purchase on the train. Riders must be 21 years of age or older.
December 1- Departs from the Fort Worth Stockyards @ 7PM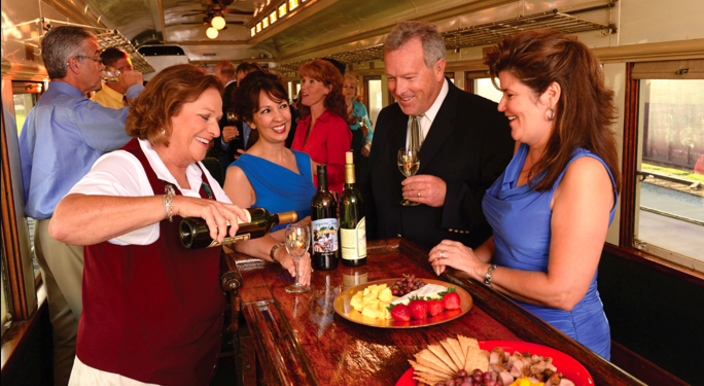 Holidays at the Hearth: Log Cabin Village 76109
Enjoy holiday music, string popcorn, spin the dreidel and more!  You can even have your digital photo taken with historic St. Nick.
December 3, 1-4PM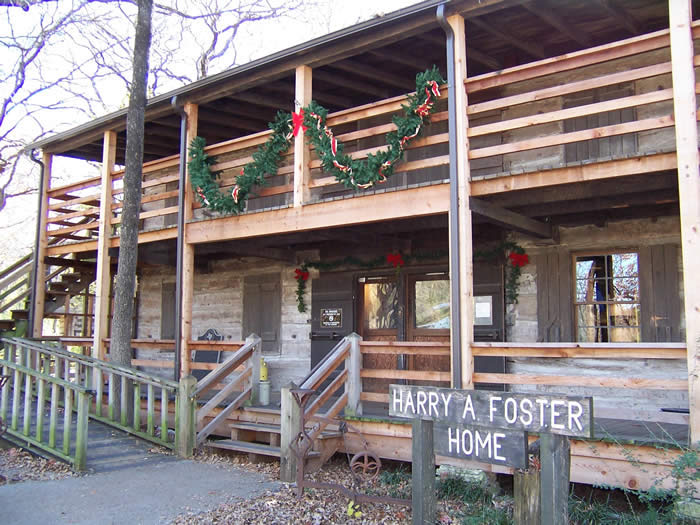 Panther Island Ice: Coyote Drive-In 76164
Sharpen your skates! Fort Worth's only outdoor skating rink will once again be located at Coyote Drive-In, but a movie ticket will not be required to skate. Seasonal food and beverages will be available for purchase in addition to the full menu at the Coyote Canteen.
November 18 – January 16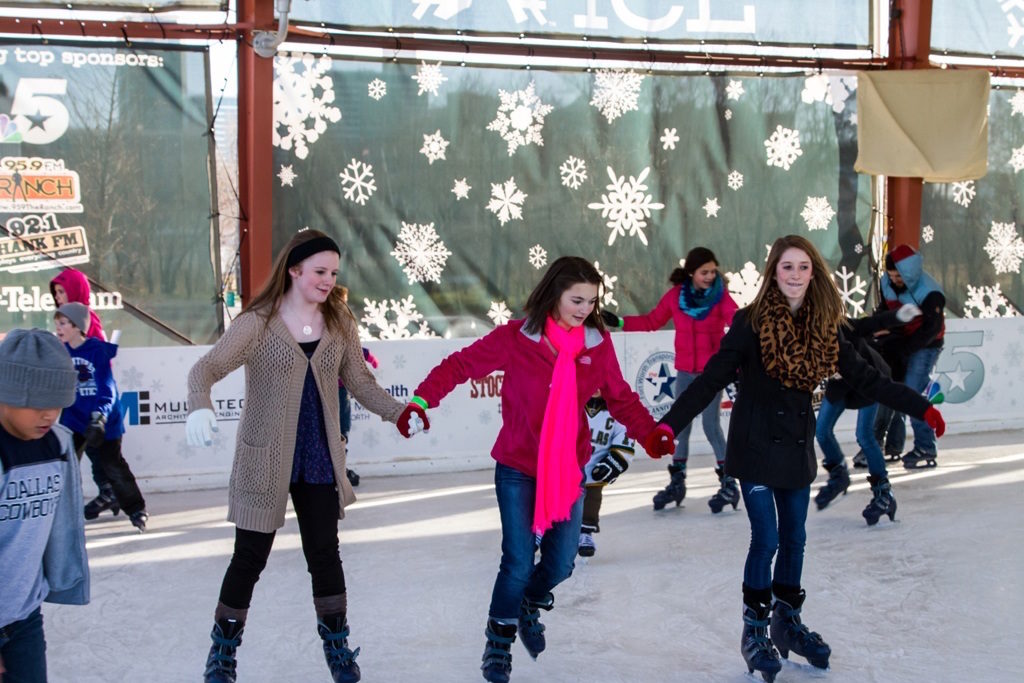 Polar Pajama Party: Fort Worth Museum of Science and History 76107
Start a new morning or evening family tradition and come and enjoy hot chocolate, wintry hands-on activities and photos with Dynamo in his holiday attire! A showing of The Polar Express IMAX film will immediately follow the Polar Pajama Party.
Mornings of November 26, December 3 & 10 @ 9AM
Evenings of December 2, 9 & 10 @ 5:45PM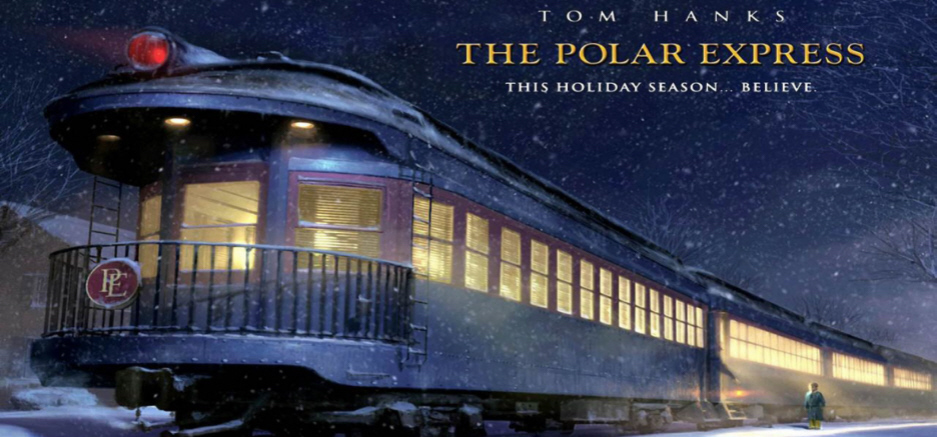 Starlight Symphony West 7th Street: Crockett @ Currie 76107
Kick off the season with Starlight Symphony at West 7th. This rousing music and light show features animated holiday stars and other seasonal sparkle, all synchronized to spirited versions of your favorite holiday tunes. The 5-minute show on Crockett St. plays nightly on the hour from 6-10PM and carolers sing from 6-8PM. FREE horse and carriage rides every Friday & Saturday.
November 23 – December 31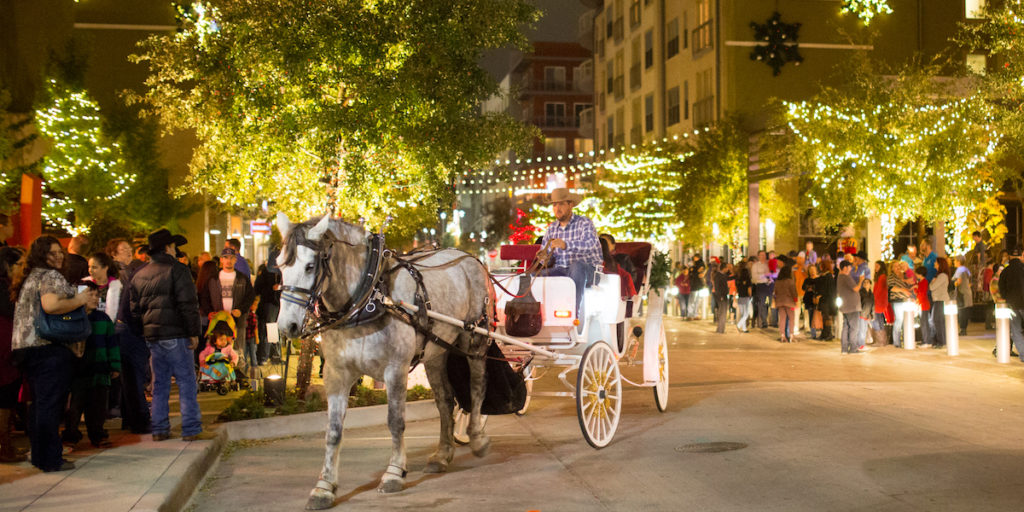 Brunch with Santa – Rafain Brazilian Steakhouse. Buffet breakfast for kids of all ages, including photos with Santa, non-alcoholic beverage and 4×6 photo printed on-site. Call 817-862-9800 for reservations before 11/29/16.
Saturday, December 3
Sundance Square Plaza: 201 Main St. 76102
See the beautifully lit 57 ft live Blue Spruce tree, decorative water fountains that feature ever-changing waterfalls and cascades, and the four giant umbrellas covering more than 6,400 sq ft, which provide gorgeous lighting displays at night. Plus don't miss many FREE special events, including holiday choir performances, concerts and Santa in Sundance too!
Now through December 31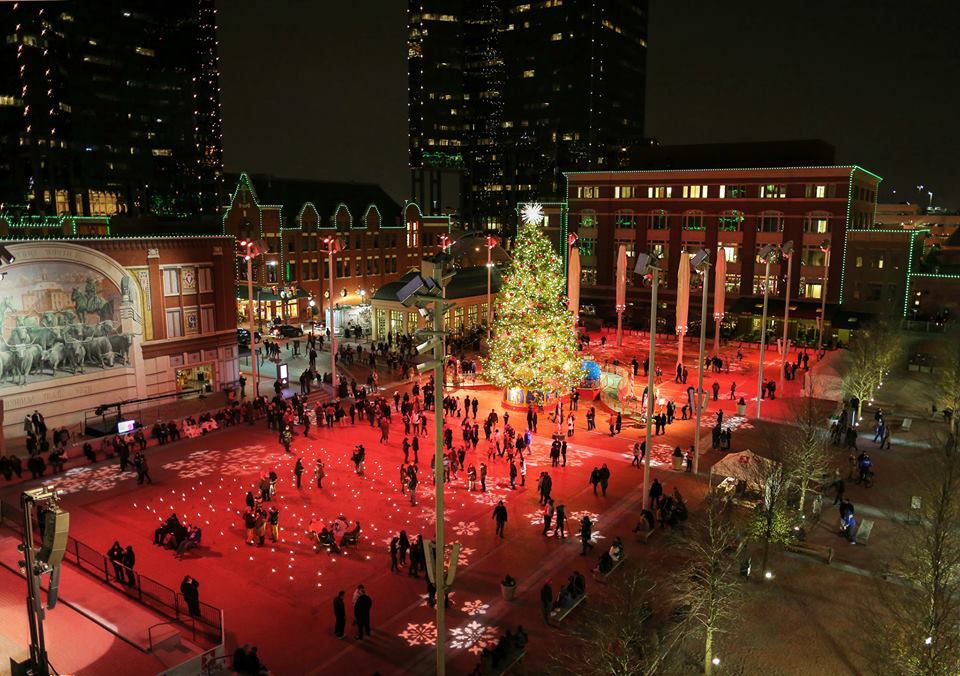 XTO Energy Parade of Lights: Downtown Fort Worth 76102
Start your day early and head to downtown for a day of activities, food and holiday shopping before the parade. Immediately following the one hour, 100+ floats parade, the 57 foot-tall Sundance Square Christmas Tree will come to life! Santa will move from the parade to the tree, and bring to life this incredible Downtown icon. RESERVED SEATING November 20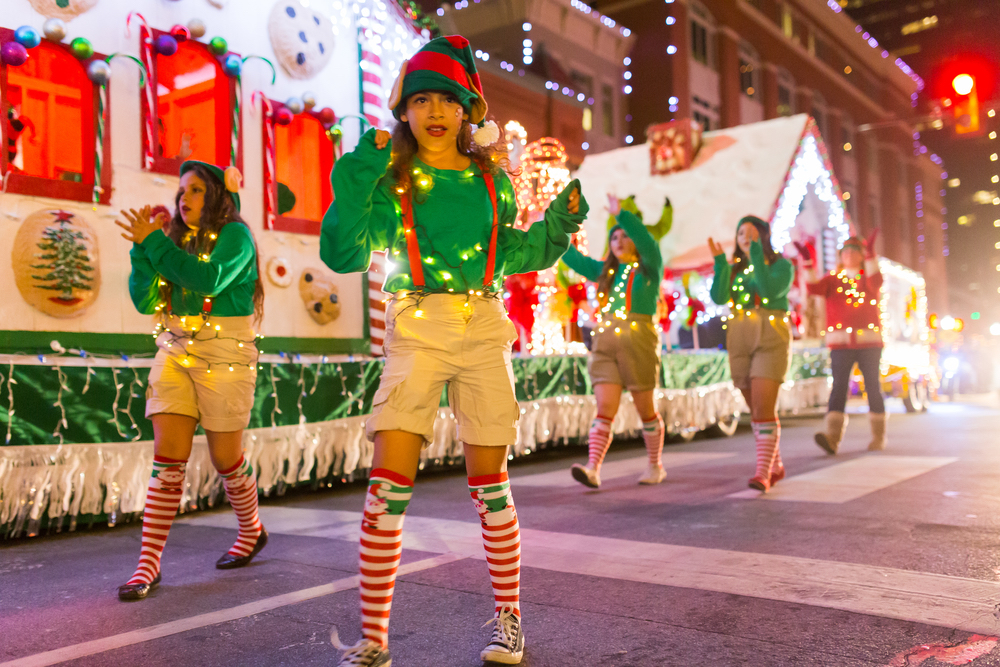 ADDISON
Vitruvian Lights: Vitruvian Park 75001
This wonderful residential park with a spring-fed creek on 19 acres of lush grass and walking paths has over 550 trees lit up with 21,000 light strands which equals 1.5 million LED bulbs. An insider told me that Vitruvian Park spends 2 months wrapping the trees, and 1 month testing the lights before the formal tree lighting. Don't miss out on the special events they are hosting this month with live bands, food trucks, delicious desserts, beer and wine, FREE photos with Santa, holiday characters, an Elf balloon artist, a Holiday Shopping Village and 106.1 Kiss FM.
November 25, December 3, 10 & 17, 6-10PM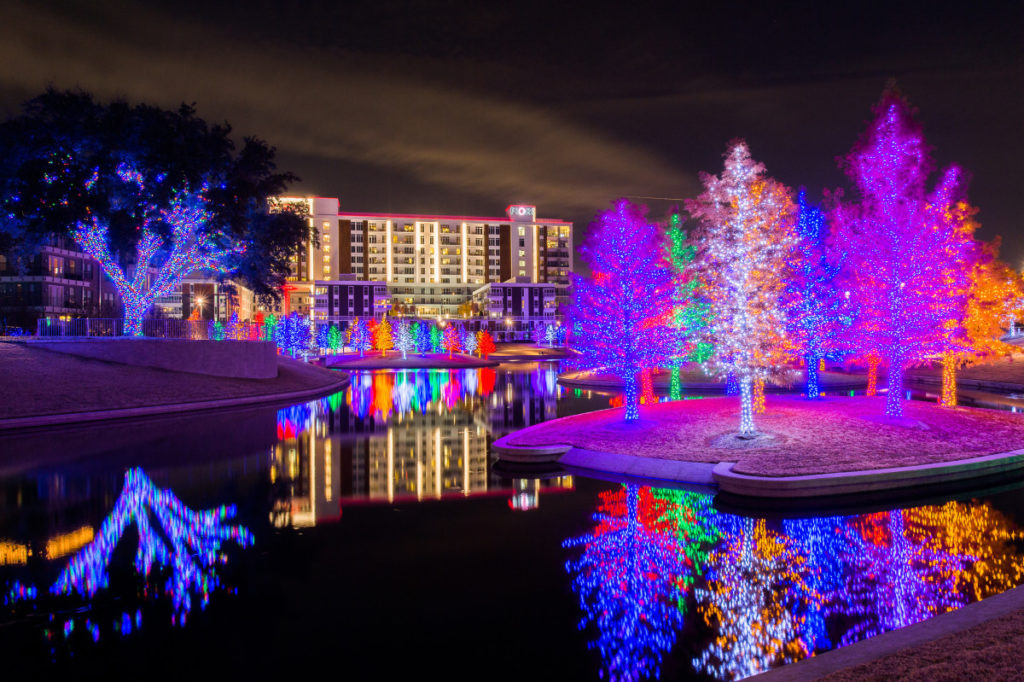 ARLINGTON
Adventure to Santa: The Parks Mall in Arlington 76015
Join Po and his Kung Fu Panda friends on a magical, interactive adventure to find Santa at the North Pole. During your adventure you will explore Santa's home, take a thrilling sleigh ride and meet Santa to pose for a photo.
Now through December 24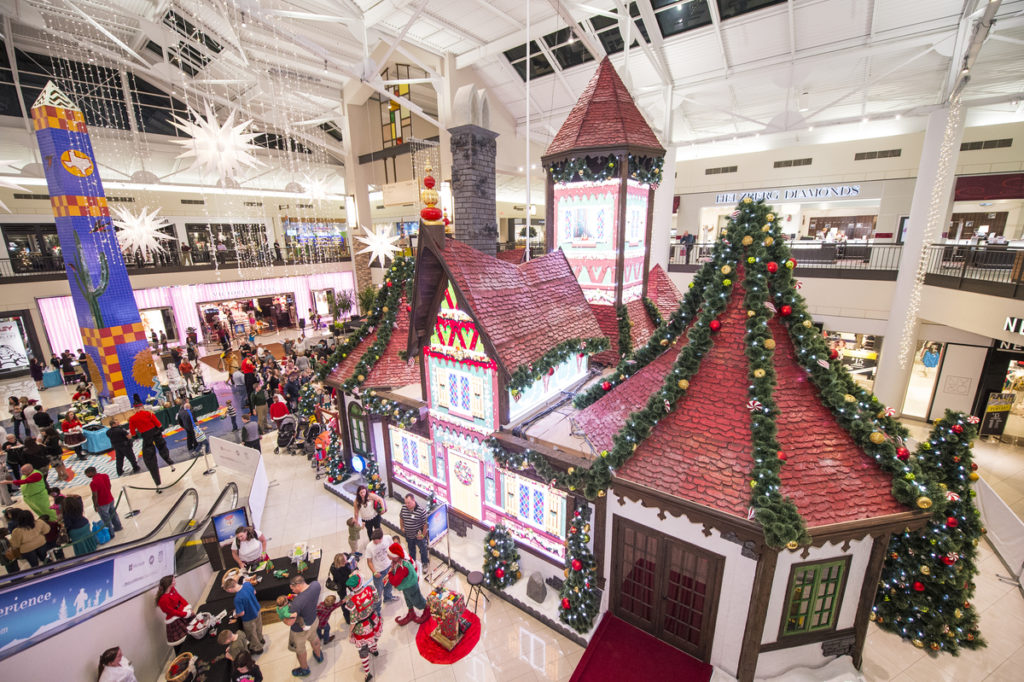 Arlington Holiday Lights Parade: Downtown Arlington @ corner of Main and Center Streets 76010
Bring friends and family to the Downtown/University District and enjoy the celebrations and pageantry, which ends with the lighting of the Christmas tree on the steps of City Hall. Don't forget to bring your camera and take a picture with Santa after the parade. There's an incredible line up of pre-parade activities including a performance from Hannah Kirby, finalist from NBC's The Voice.
Saturday, Dec 3 from 2-8PM, parade from 6-7PM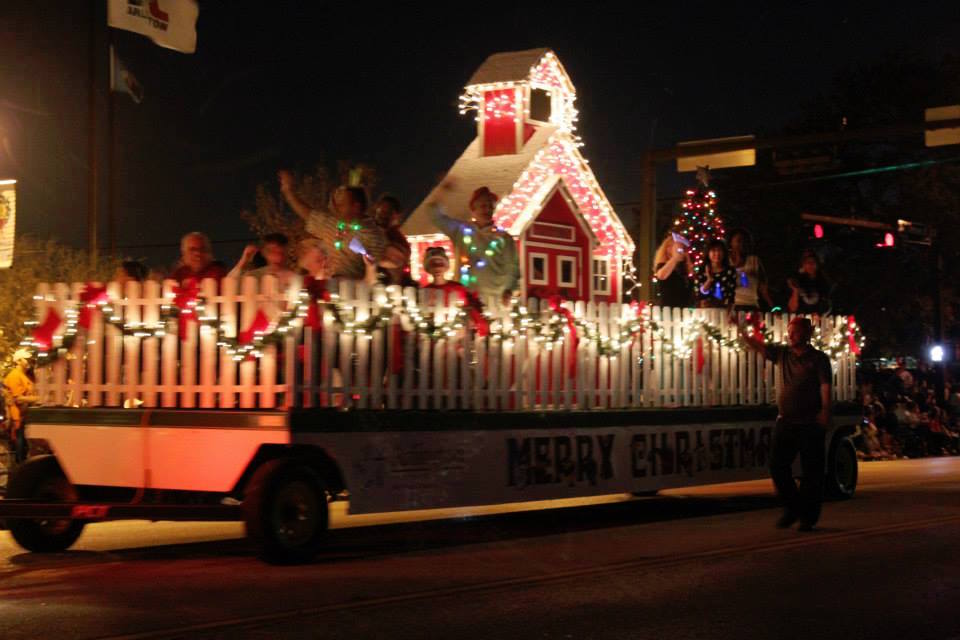 Christmas at the Cabins: Knapp Heritage Park @ 201 West Front St. 76011
Experience pioneer life in this tiny log cabin village with an appearance by Santa and Mrs. Claus, live blacksmith demonstrations and tree lighting with refreshments. AISD school choirs will provide holiday music while children decorate the Christmas tree. Horse drawn carriage rides will available for a fee.
December 2, 6-8PM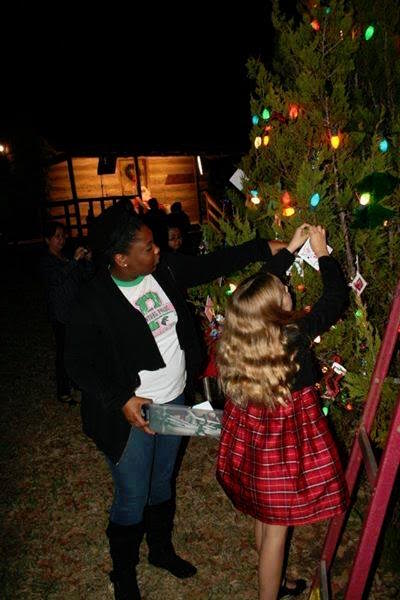 Holiday in the Park: Six Flags 76011
This breathtaking wonderland is perfect for the whole family, so gather your loved ones to enjoy sparkling lights, glamorous decorations, festive scents and seasonal treats, playful activities, hair-raising rides and heartwarming shows….with over a million lights and a real snow-packed Frosty Snowhill! A holiday must for the young and the young at heart. You can't go wrong with this standard Metroplex favorite.
Now through January 2, 2016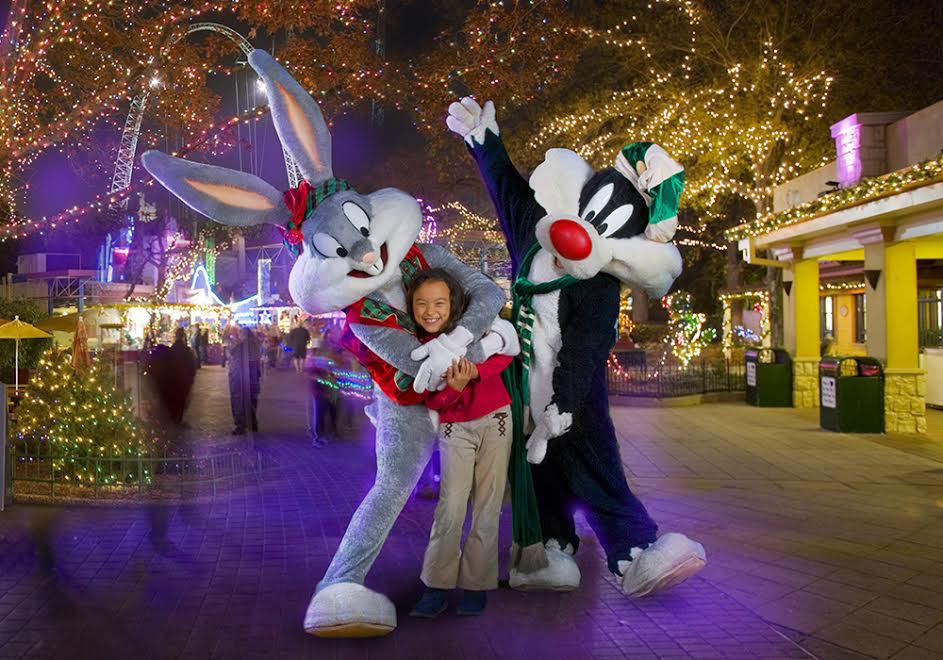 Texas Christkindl Market: Globe Life Park @ 1000 Ballpark Way 76011
As you know, Arlington is legendary for being a BIG HITTER for fun events, especially during the holidays! This FREE authentic, open-air German market offers shopping, food and lots of fun with professional photos with St. Nick. New this year is the 200ft long Artic Blast Tubing Run and Peppermint Park, which will feature children activities, winter carnival games, kid crafts, puppet shows and a holiday themed train ride. Full schedule of events HERE.
Special events not to be missed:
December 7 @ 7PM Children's Lantern Parade
Special Kids Week, Dec. 18-23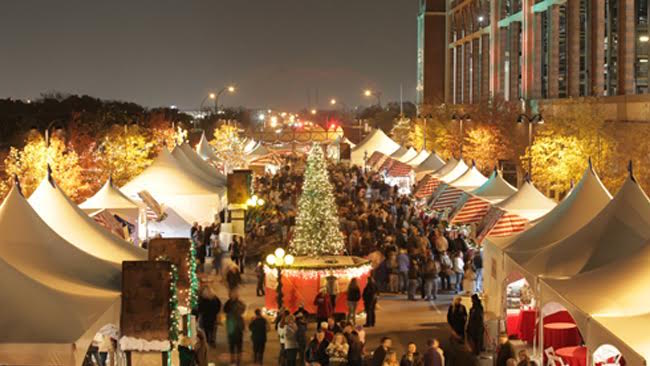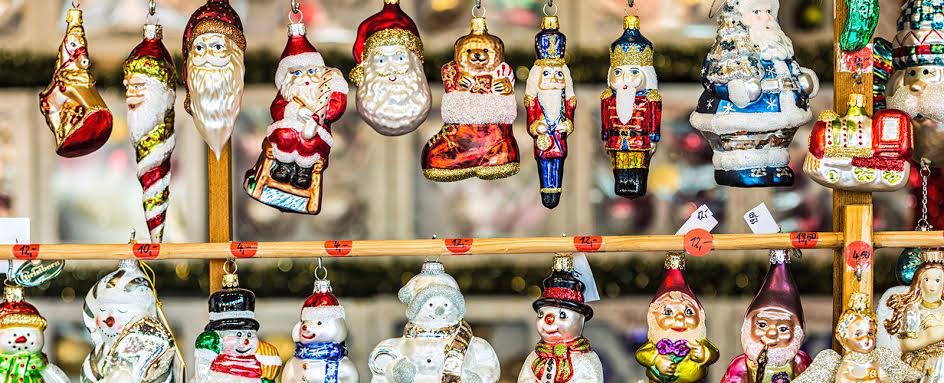 BEDFORD
NightSCARE Before Christmas: Moxley Manor Haunted House @ 510 Harwood Rd 76021
This holiday season has a new twist with Nightscare Before Christmas, transforming this Halloween Haunted House into a Christmas event you will never forget. This December, Moxley Manor has been overrun by Zombie Elves and Evil Krampus.
December 3, 10, 8-11PM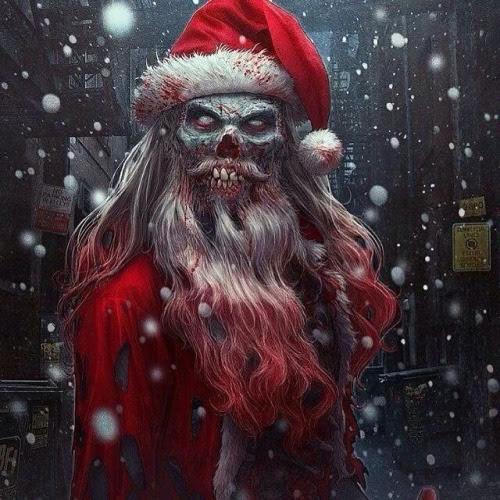 CARROLLTON
Old-Fashioned Christmas: A.W. Perry Homestead Museum 75006
Bring the whole family to this popular celebration! Victorian carolers and Santa Claus will be spreading holiday cheer. Enjoy cookies, ornament making, and even a petting zoo at their annual event to welcome the season! Walk through the historic 1909 home to see its festive decorations. See full schedule for more activities HERE!
December 2 from 6-8:30PM
DALLAS
The primary fundraiser for the Armstrong Bradfield Preschool Association is the Homes for the Holidays home tour, which highlights 4 to 5 of the most spectacular homes in the Highland Park/University Park area that you have ever stepped foot in. All proceeds from this fundraiser go to the school.
December 2
Candlelight: Dallas Heritage Village 75215
For over 40 years, Candlelight has been a tradition among families. With 13 acres of decorated buildings, flickering candles lining the paths, strolling carolers, and crafts for those young and young at heart, Candlelight captures the holiday spirit for all.
December 10-11, 3-9PM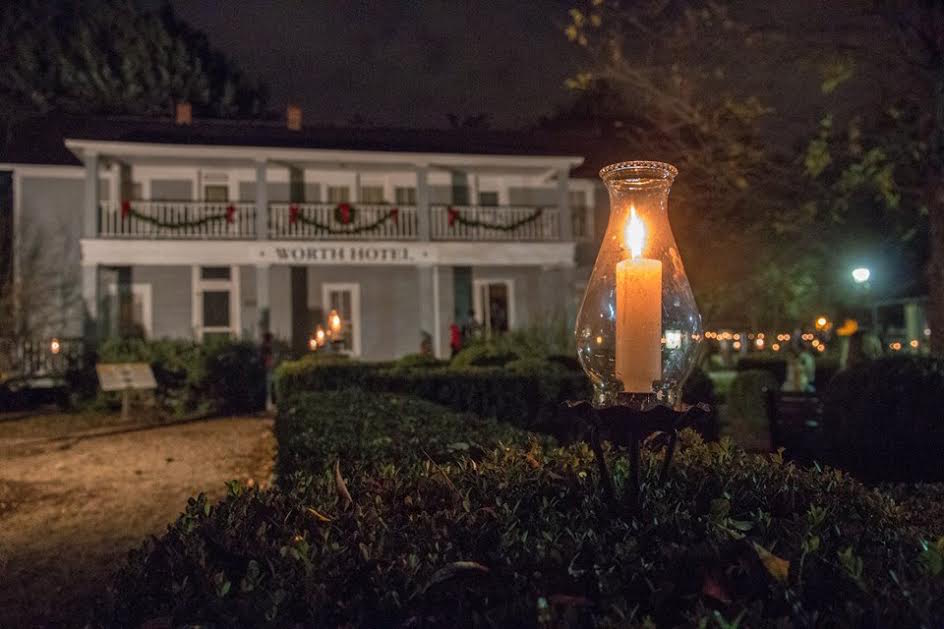 Celebrate the Holidays: Klyde Warren Park 75201
Bring the family out for a day of winter fun with lots of FREE family activities! Photos with Santa and Mrs. Claus, live reindeer, holiday kids' crafts, face painting, food trucks, activities and demonstrations from Dallas arts and cultural friends and neighbors. Holiday music entertainment and the celebration culminates with the tree lighting around 5:30PM! Following the tree lighting, Santa and Mrs. Claus will lead the crowd to the AT&T Performing Arts Center.
December 3, 12:00-6:00pm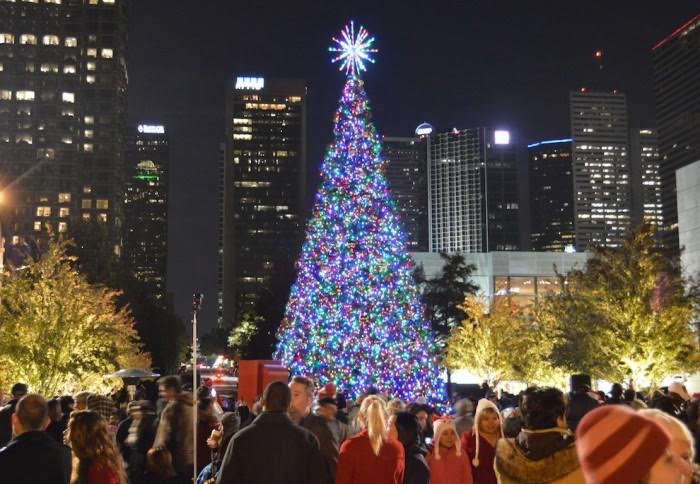 Celebration of Lights: SMU Campus at Dallas Hall  75205
My alma mater and the surrounding communities will gather to watch the famous D Hall light up with thousands of lights in all its wonder. Hot cocoa and cider accompanied by warm cookies and caroling students will comfort everyone amidst the cold night of Dallas. SMU's President, R. Gerald Turner, reads a Christmas Story from his own family Bible! Upon the conclusion of the Christmas Story, Silent Night ends the program with the lighting of SMU's stunning Dallas Hall and its trees.
November 28, 7PM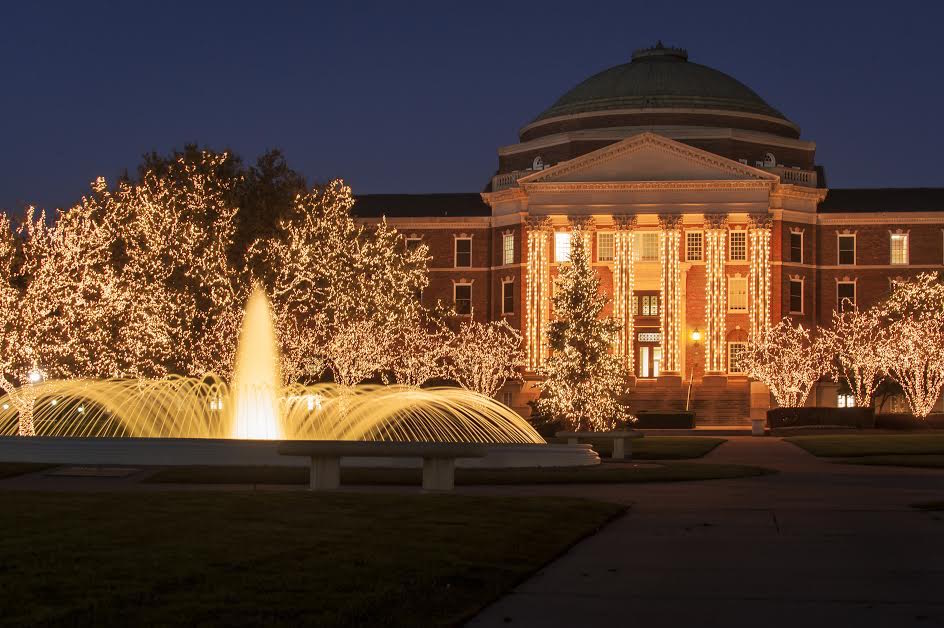 Children's Health Holiday Parade: Downtown Dallas 75202
Come out early to grab a good seat and enjoy FREE family activities in Main Street Garden, Belo Garden and City Hall Plaza. PARADE ROUTE & VIP TICKETS
Breakfast with Santa: Festivities include photographs with Santa Claus, face painting, balloon artists, clowns, magicians and more. Purchase tickets HERE.
December 3, 8-10AM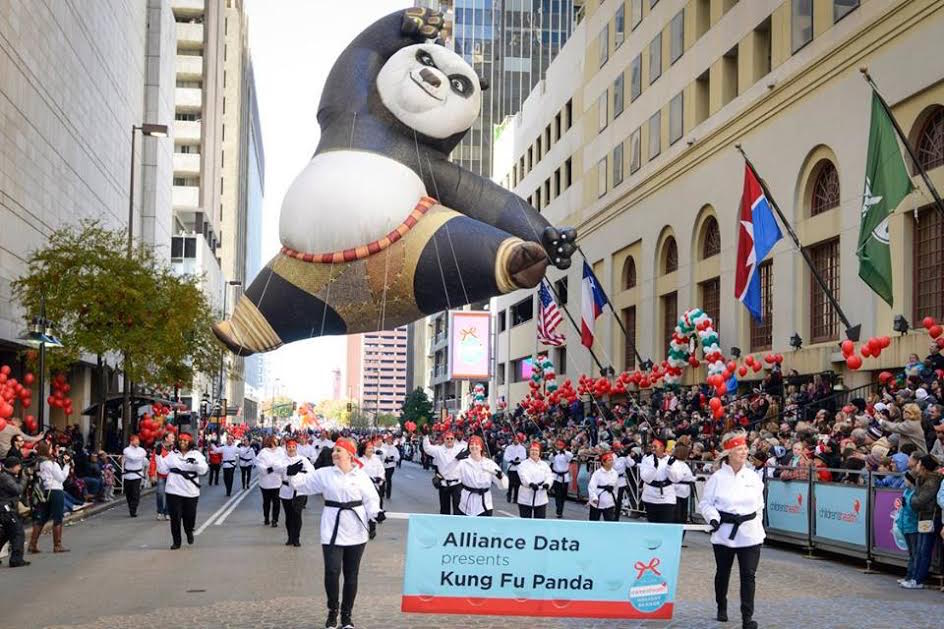 Christmas at the Anatole: Anatole Hotel 75207
The fun moves indoors to the Anatole where the temps are around 70 degrees. Expect plenty of festive favorites including breakfast with Santa, holiday movie nights, gingerbread cookie decorating, seasonal scavenger hunts and Geppetto's Winter Wonderland featuring a cast of over 60 hand-carved marionettes. Make it a staycation for the ULTIMATE family event!
Now through December 22.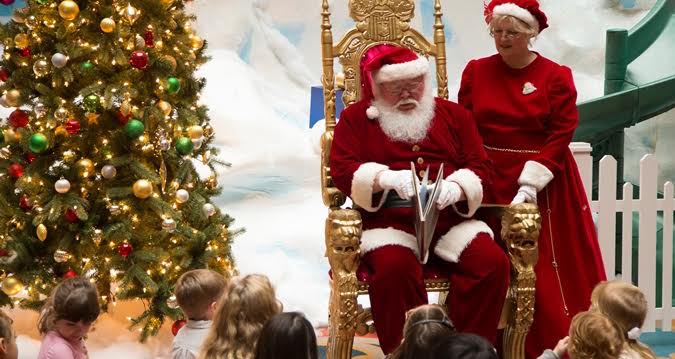 Christmas at The White House: George W. Bush Presidential Center 75205
In 2004, Mrs. Bush selected "A Season of Merriment and Melody" as the White House holiday theme, weaving holiday music and traditional Christmas carols throughout the White House décor. This year is the fourth in an annual series of holiday museum exhibits. The Bush Center invites you to step into the story, experiencing the holiday magic at their special exhibit.
November 17-January 8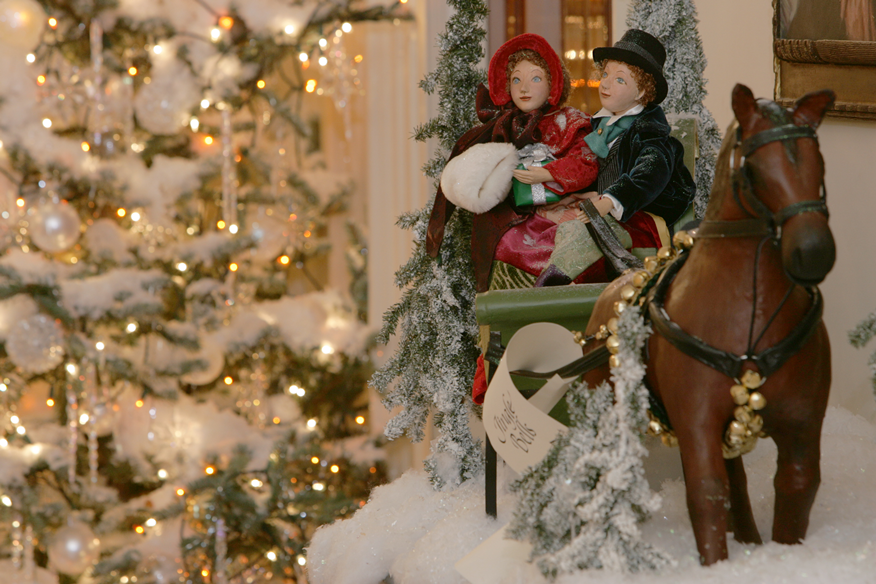 Galleria Dallas: 13350 Dallas Parkway 75240
Celebrate the 35th holiday season with a full schedule of events including Macy's Grand Tree Lighting Celebration, Illumination Celebration, Slappy's Holiday Circus, visit Santa Claus in his village and so much more. Not to be missed are the Holiday Teas and Breakfasts with Santa at American Girl.
Full schedule HERE.
December 1-24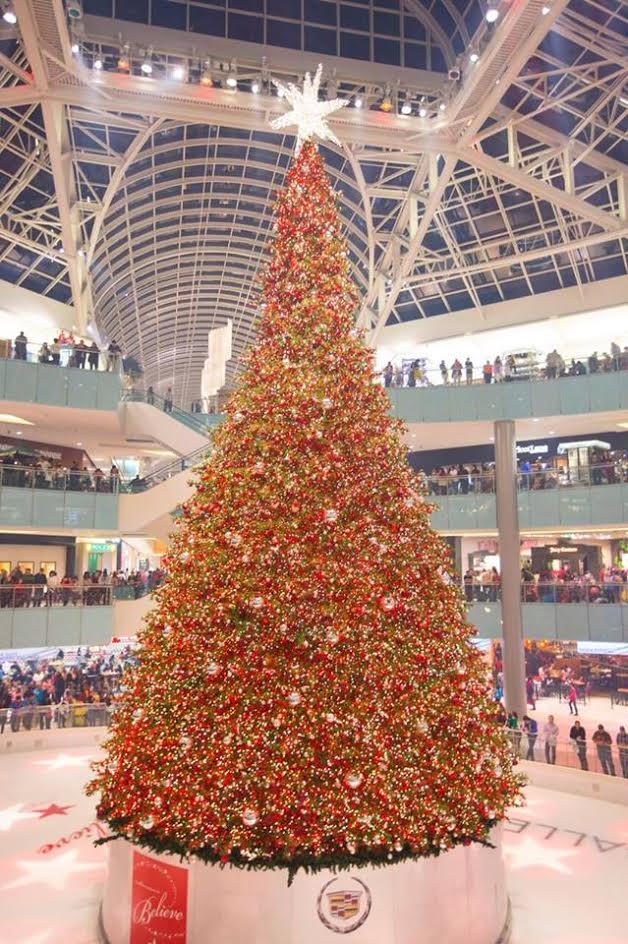 Highland Park Christmas Tree Lighting Ceremony: Armstrong Parkway (just West of Preston Rd.) 75205
Since 1927, the town of Highland Park has held the annual lighting of the Big Pecan Tree, which has over 5,000 red, blue, green and orange Christmas bulbs. Activities include caroling, a live reindeer, face painting, Christmas treats, a photo bus and a special North Pole mailbox to get letters to Santa quickly, who will also be in attendance.
December 1, 6-8PM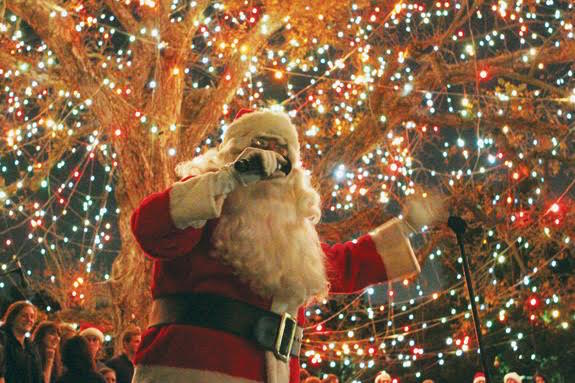 Highland Park Village: Highland Park Village 75205
Join Santa & Mrs. Claus in Highland Park Village for their Annual Holiday Celebration with face painting, balloon artists, holiday cookies, hot chocolate and professional photos with the jolly man himself.
December 17, 8:30AM-1PM
Holiday at the Arboretum: Dallas Arboretum 75218
12 Days of Christmas Celebrate the holidays like never before with an elaborate collection of  Victorian gazebos filled with charming costumed characters and whimsical animals made famous by the beloved Christmas carol. Each gazebo will be encased in glass and extravagantly decorated on all sides to provide a dramatic, three-dimensional experience featuring mechanical parts and festive music that will assist in bringing the characters to an even more life-like state.
November 27 – January 3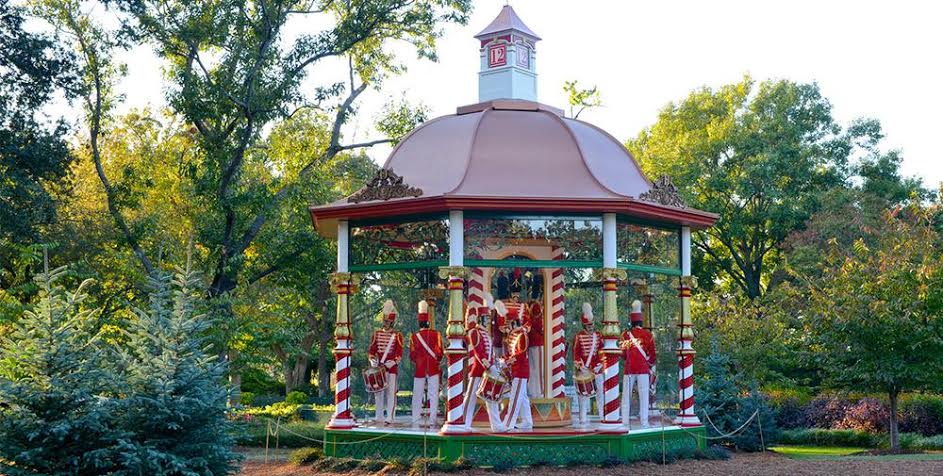 12 Days at Night During the evening, the garden remains open for extended hours for The 12 Days at Night displaying the illuminated gazebos for magical nighttime viewing. New this year is the addition of 500,000 lights throughout the garden, trimming the architecture of the historic homes and lighting the canopies overhead, including a 30ft tall tree.
November 9 – December 30 (Wednesday – Sunday evenings), PLUS Nov. 21 & 22 and Dec 26 & 27, 6-9PM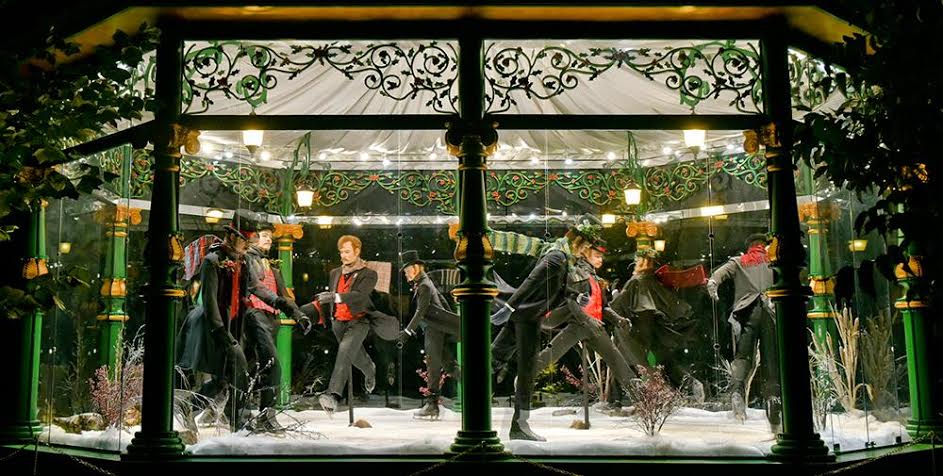 Holiday Events & Exhibits High tea, three course dinners, Santa sightings, a live reindeer and a sleigh full of too many special activities to list, will round out your visit to the Dallas Arboretum.
RESERVATIONS ARE A MUST for these activities!
Holiday Delights at Fair Park: Fair Park 75226
This FREE holiday festival and market marks the beginning of a full season of holiday events at Fair Park. Enjoy the lighting of the tree, carolers, arts & crafts, carriage & train rides, a reindeer petting area and photos with Santa. Schedule of events HERE and HERE.
December 6, 5PM
Crafts with the Clauses: Enjoy FREE crafts with Santa and Mrs. Clause as they delight kids with holiday music, movies, photos with Santa's Elves & cookies!
December 13, 9:30PM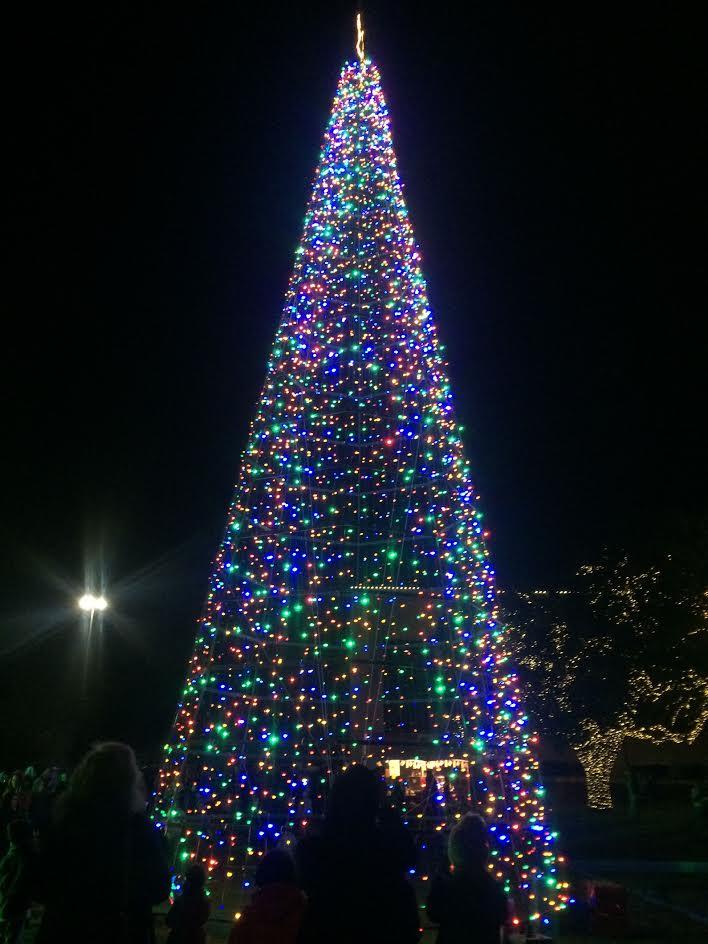 Light Up Lee Park: Arlington Hall 75219
Watch Arlington Hall come alive with the spirit of the season on The Great Lawn of Lee Park. Free to the public. Enjoy complimentary hot chocolate while listing to nostalgic holiday tunes.
November 29, 5:30-7:30PM. Lighting starts at 7:15PM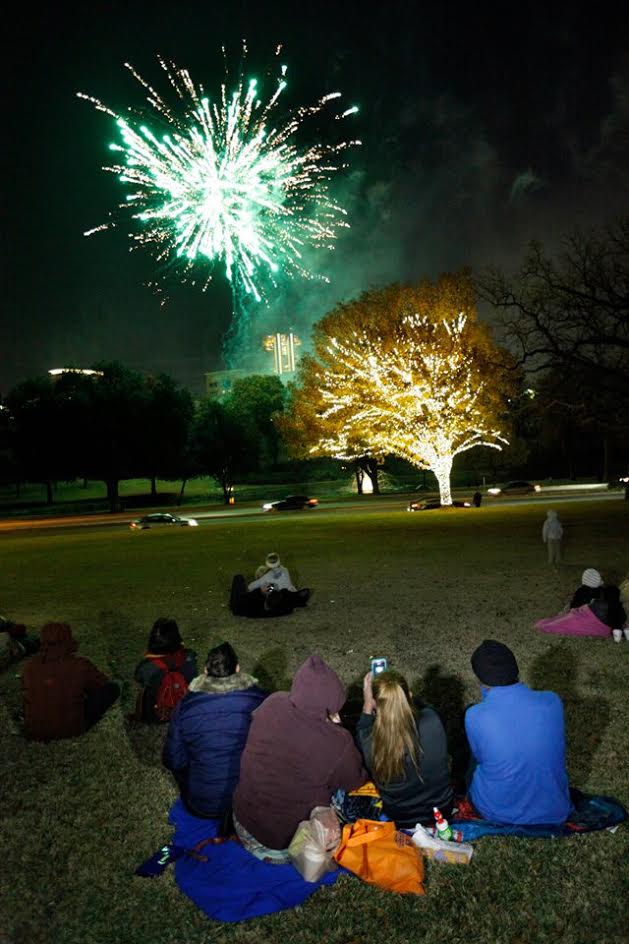 Reliant Lights Your Holidays: AT&T Performing Arts Center 75201
Bring your entire family for an evening of holiday magic and illumination of the Center's campus with dazzling LED lights. This FREE festival includes a gigantic fireworks show and Holiday concert featuring A.B. Quintanilla y Elektro Kumbia, Country superstar RaeLynn, and a special appearance by Miss America 2017, Savvy Shields.
December 3, 5:30-8:30PM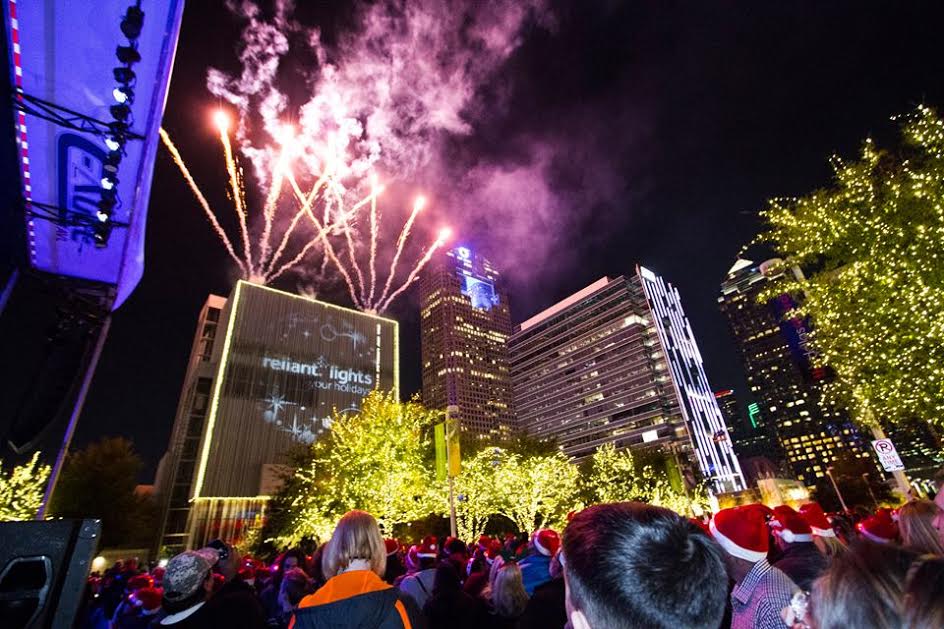 Santa at Reunion Tower: GeO-Deck @ 300 Reunion Blvd. E. 75207
'Tis the season to be jolly atop Reunion Tower's GeO-Deck.  Santa and his elves are making weekly stops 470 feet in the air at Reunion Tower! Guests can enjoy photos with Santa, a balloon artist and tasty treats from Cloud Nine Café while taking in 360 degree views of the beautiful Dallas Skyline.
November 26, December 3, 10, 17 & 24, NOON-3PM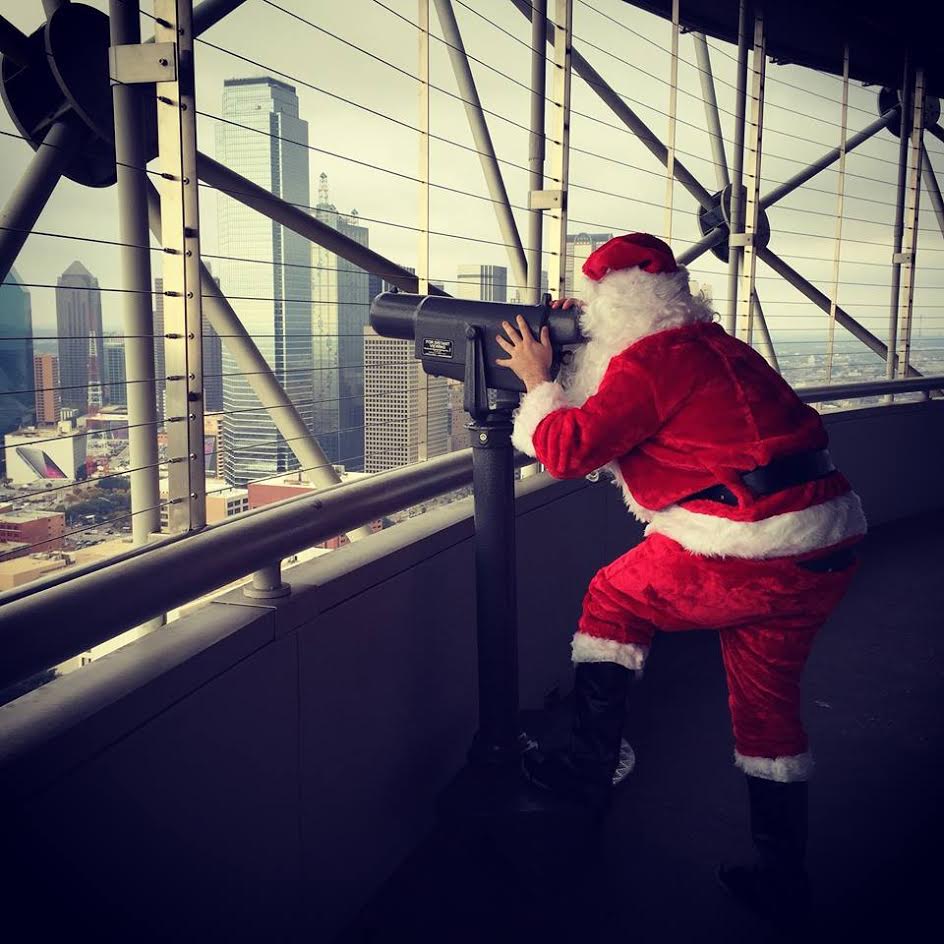 The Trains at North Park: North Park 2nd level next to Nordstrom's 75225
Celebrating its 18th year, The Trains at North Park is the most elaborate toy trains exhibit in Texas, which includes trains rolling across 1,600 feet of track on a journey across America. Cityscapes include downtown Dallas, with the beautiful Margaret Hunt Hill Bridge, the State Fair of Texas and the Cotton Bowl; New York City's Times Square and Grand Central Terminal; Washington, D.C. with The White House; New England's fall foliage; the Grand Canyon, Route 66, San Francisco's Golden Gate Bridge and various other highlights. The exhibit encompasses more than 4,000 square feet of train themed environments.
November 19 – January 8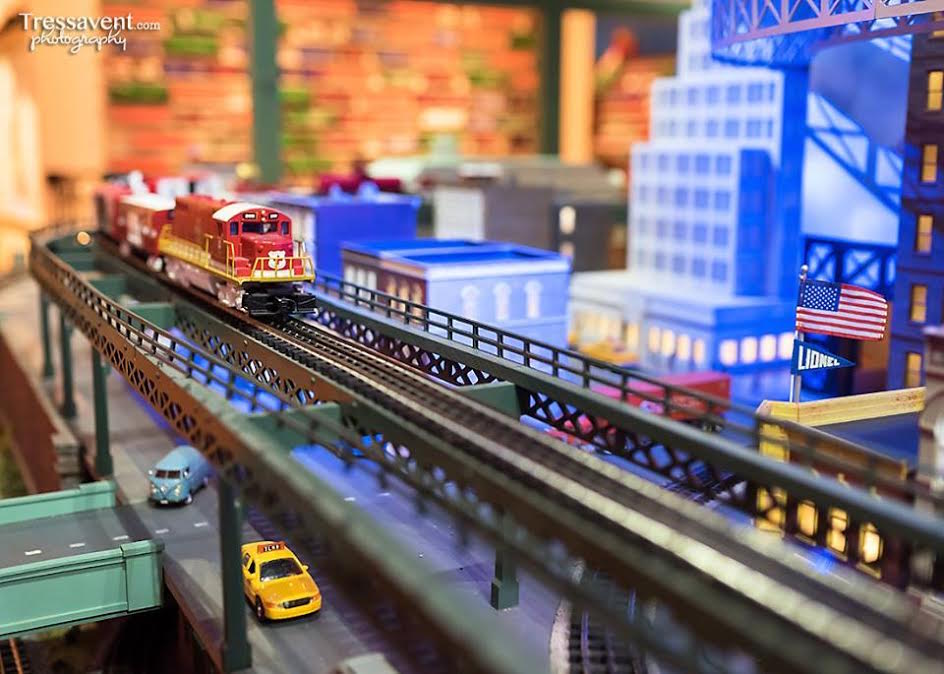 Wanderland Downtown: Downtown Dallas @ Main St. 75202
This multi-faceted holiday experience offers a variety of ways to eat, drink, shop, and be merry for the entire season. Enjoy season-long programming that includes shopping, entertainment and family-friendly activities, all set to live music, movie screenings, photos with Santa and more! See the full schedule HERE!
December 1-3, 8-10, 15-17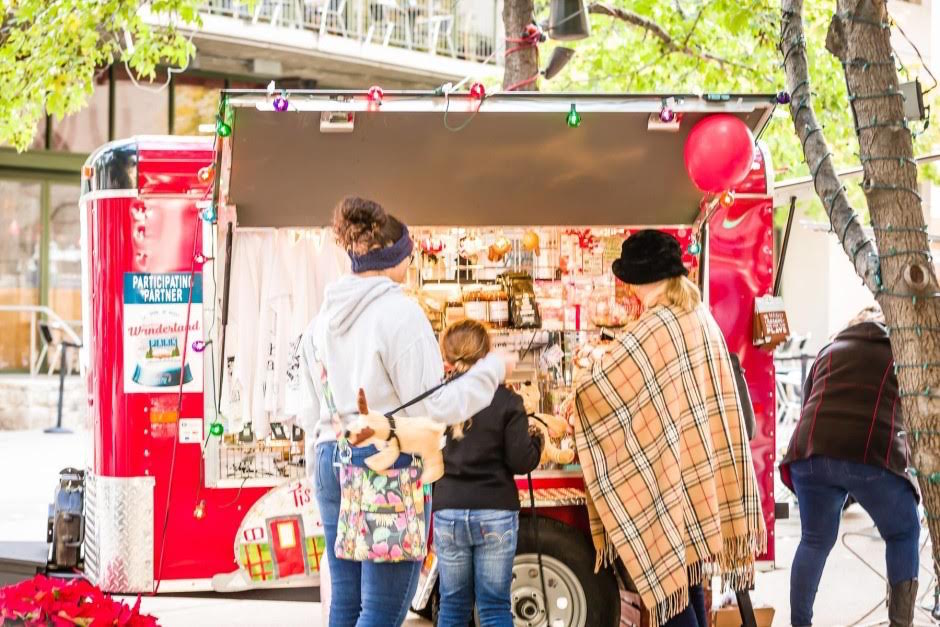 FARMERS BRANCH
Tour of Lights: Historical Park 75234
The 2016 edition of this animated light show will return bigger than ever! The Tour of Lights drive-thru, with over half a million flashing lights, is one of North Texas' longest animated shows with festive holiday music and the grand finale is an animated show with Santa Claus himself. The driving tour begins at I-35E and Valley View, continuing east on Valley View but now turning south onto Denton Drive and ending at the Farmers Branch Historical Park.
November 25 – December 30, 6:30-9:30PM
Christmas Tree Lighting in Historical Park: Countdown the official lighting of the Farmers Branch Christmas Tree, and then witness a great firework show! This night also includes a visit from Santa, a snow hill for tubing, a FREE Kidzone, an opportunity to write a letter to Santa, holiday treats for everyone and much, much more!
Saturday, December 3, 4-8PM.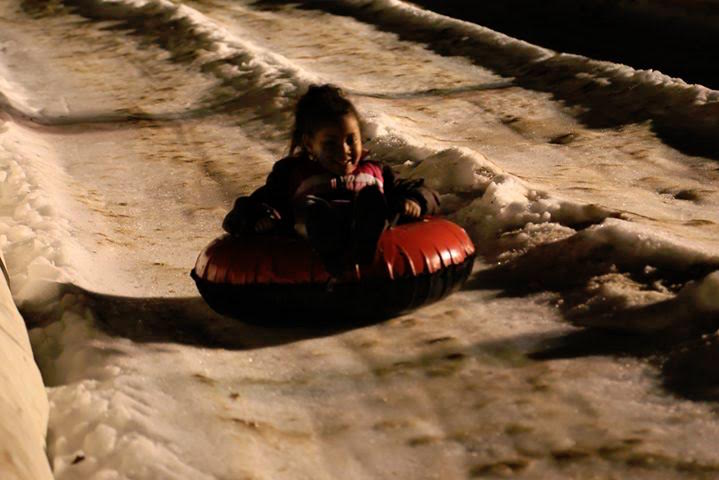 FRISCO
Christmas in the Square: 6101 Frisco Square Blvd. 75034
In it's 12th year, the city of Frisco has the largest choreographed holiday light and music show in North Texas with over 175,000 lights, 11.5 miles of wiring, and 8 miles of extension cords. They have SNOW too…the same snow machines used by Disney will create a "Winter Wonderland" on the sidewalks of the square. Experience 'snow flurries' every 15 minutes on Fridays and Saturdays. Plus don't miss the ice rink, carriage rides and so much more. SPECIAL EVENT NIGHT December 17, 5-10PM
November 25- January 1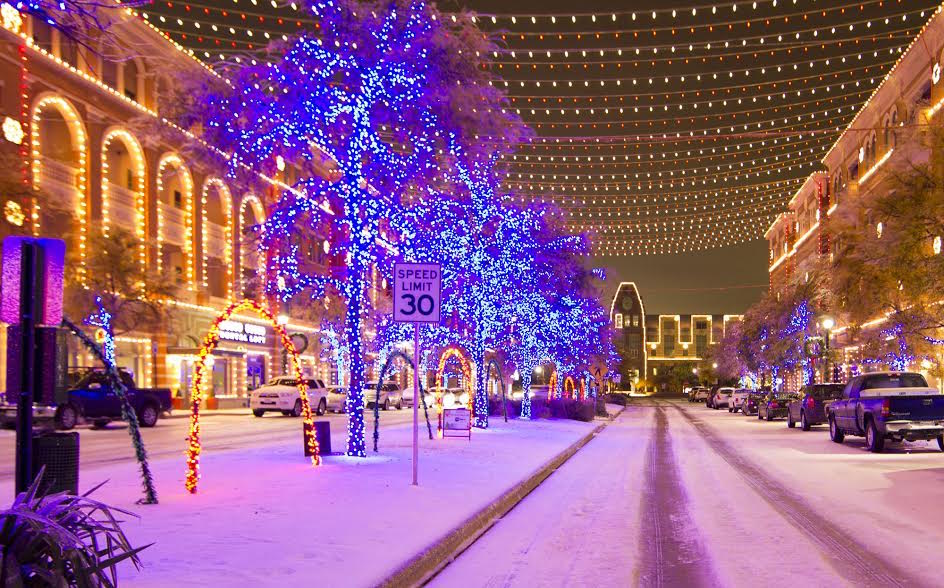 GRAPEVINE
The Christmas Capital of Texas: 200 South Main St. 76051
With over 1400 events and activities for the whole family, you just might need to get a hotel for the weekend to see it all.  Start your stay off right at Christmas on Main Street and branch out from there.  Shopping, dining and entertainment, all in a day's worth of fun!  Staycation, anyone?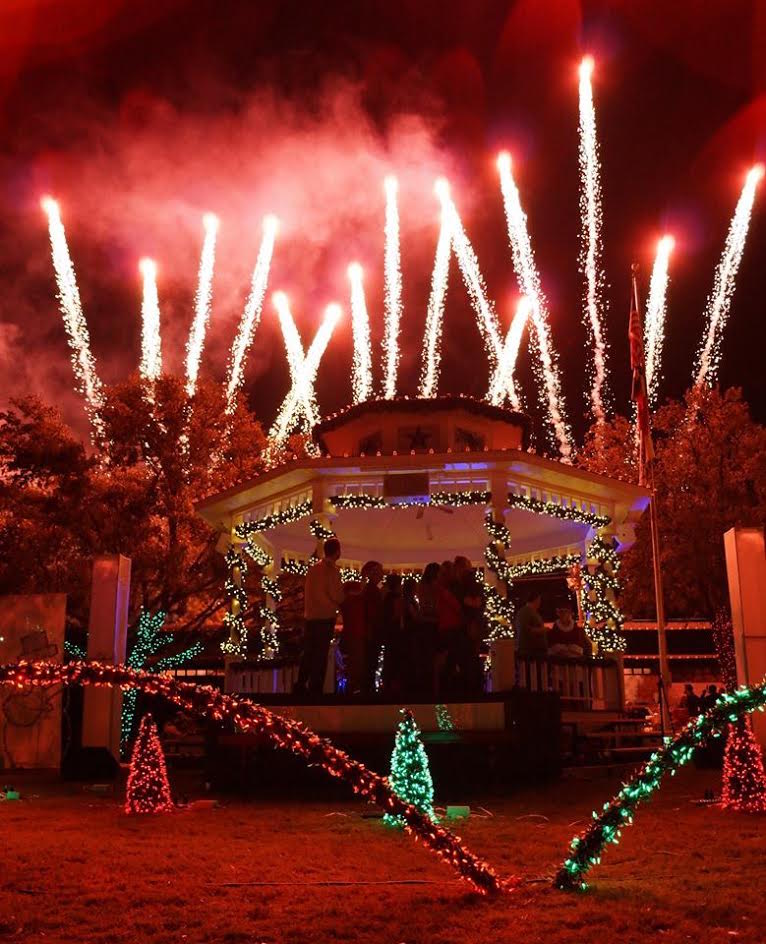 Christmas Wine Trains: Grapevine Depot
 76051
Hop aboard this favorite seasonal and festive grown-up Christmas event. Hors d'ouevres will be served with two complimentary glasses of wine. Additional wine will be available for purchase on the train. All train excursions depart at 7PM. Riders must be 21 years of age or older.
December 8 & 15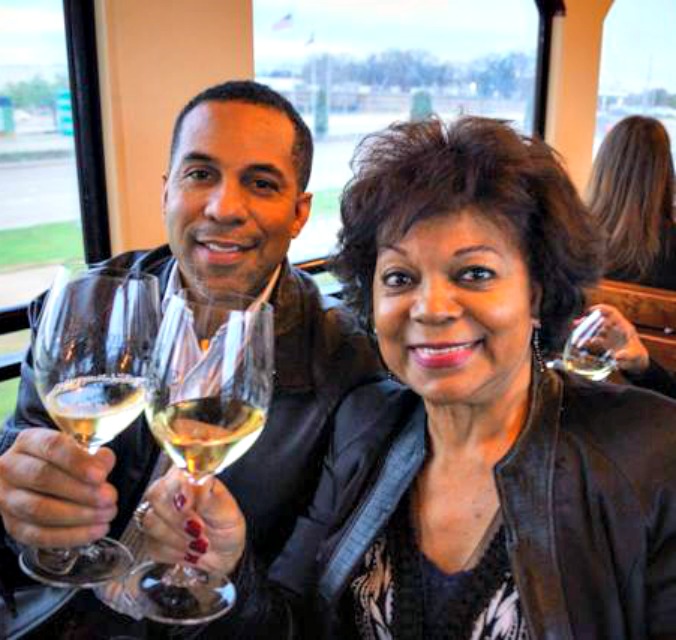 ICE! & Lone Star Christmas: Gaylord Texan Resort
 76051
Christmas is back and better than ever with 2 million twinkling lights, 15,000 ornaments, a 54-foot-tall Christmas tree, a 8-foot-tall gingerbread house, Santa's Wild Workshop Snow Tubing, Cookies and Milk with Mrs. Claus and ICE! carved from more than 2 million pounds of ice. Check out the special bonus area – a LIVE ice carving zone. Watch a masterful ice carver create amazing sculptures before your eyes.
November 10 – January 1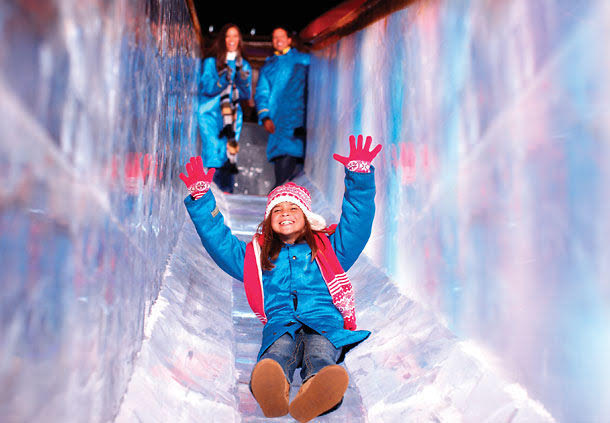 North Pole Express: Cotton Belt Depot 76051
All Aboard! As the train departs and the anticipation of arriving at the North Pole builds, Elves will welcome guests and sing traditional Christmas music aboard the beautifully decorated Victorian Rail coaches. Mrs. Claus makes a special appearance to give each child a "We Believe" silver Santa bell. Guests then arrive at the North Pole and walk along a snowy Christmas Tree trail, where, as they wait for an appearance by Santa, guests are entertained with songs and magical Christmas moments. Finally, Santa arrives! Santa wishes everyone a Merry Christmas and then shares his Frosty Chocolate Snow Milk served in a memory mug to all the boys and girls.
November 25 – December 23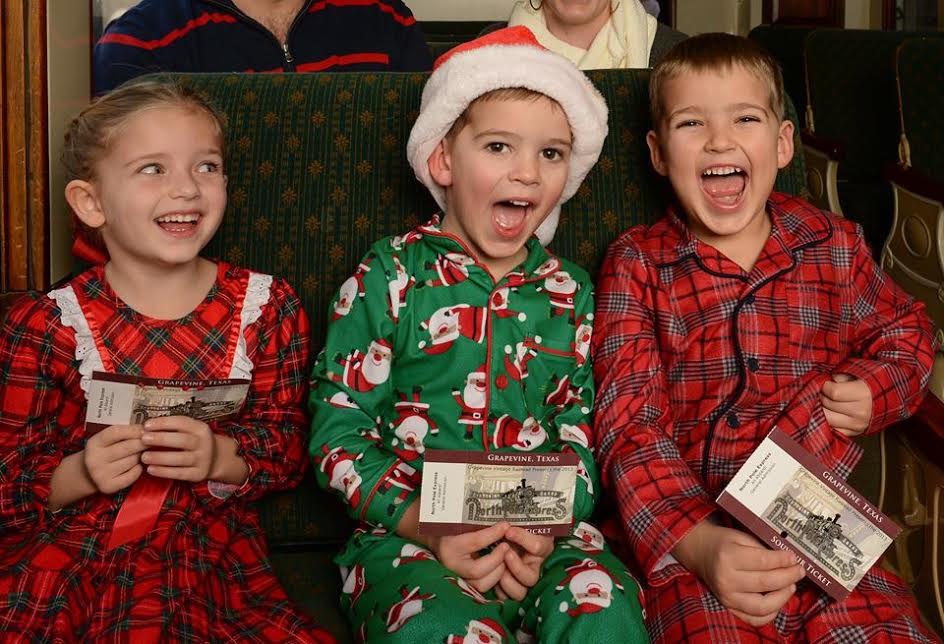 Santa's Wonderland: Bass Pro Shop 76051
Santa's Wonderland is more than 3,500 square feet of holiday magic and fun! With old-time model trains, arcades, carousel and free crafts every week. Get a free 4×6 photo with Santa during the following times in November: M-F 5-8PM, Sat 10-8PM, Sun 12-5PM and December 5 – 24: M-S 10-8PM, Sun 10-5PM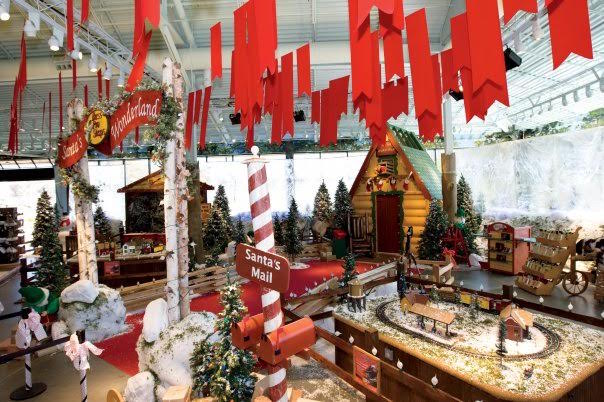 Snowland!: Great Wolf Lodge 76051
Enjoy the magic of the season with a visit to the North Woods. During Snowland!, guests at this family-friendly resort will experience an 84-degree indoor waterpark along with special visits from Santa, North Pole University activities, holiday carol sing-alongs, a life-size Gingerbread House, Santa's Letter-writing Depot, daily Polar Wolf Walk, Great Clock Tower holiday show and a nightly Snowland! Story Time…all this and more with an indoor snowfall – right in the lobby.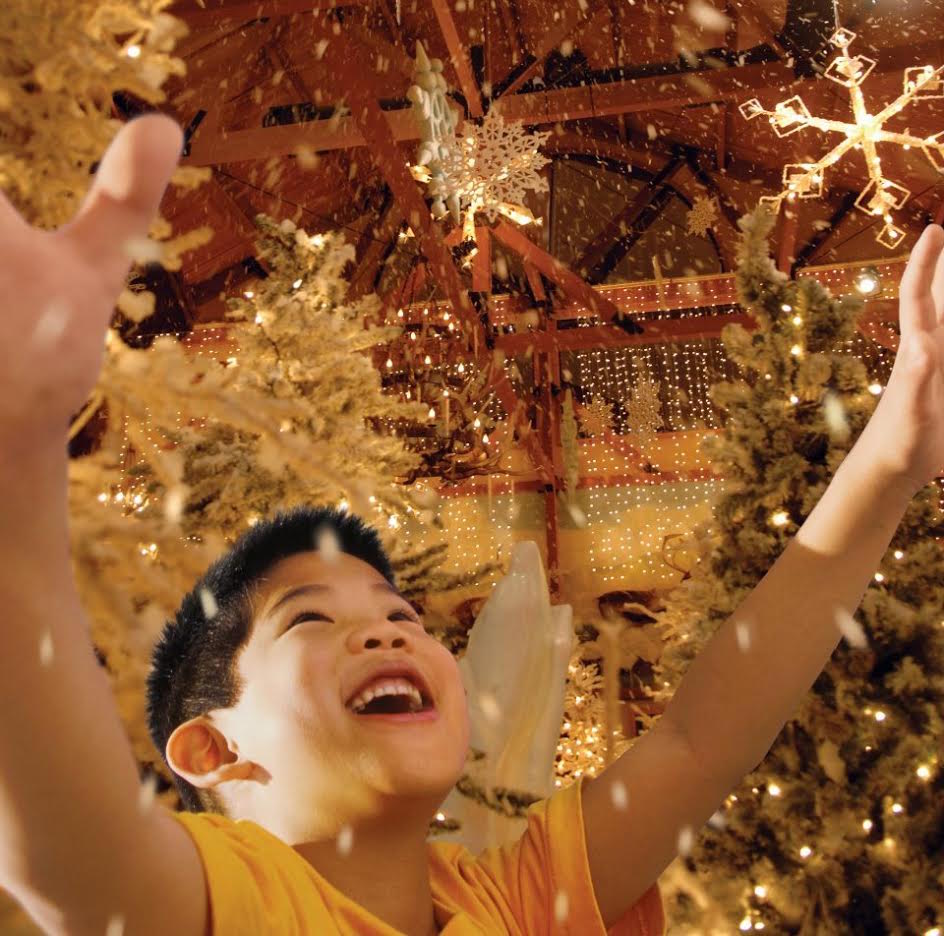 Victorian Christmas: Nash Farms 76051
Experience how the Nash family celebrated in Victorian times and learn about the roots of many Christmas traditions. Cider and cookies will be available while you make a Victorian ornament to decorate for your own tree. Registration is required.
December 3, 3-6PM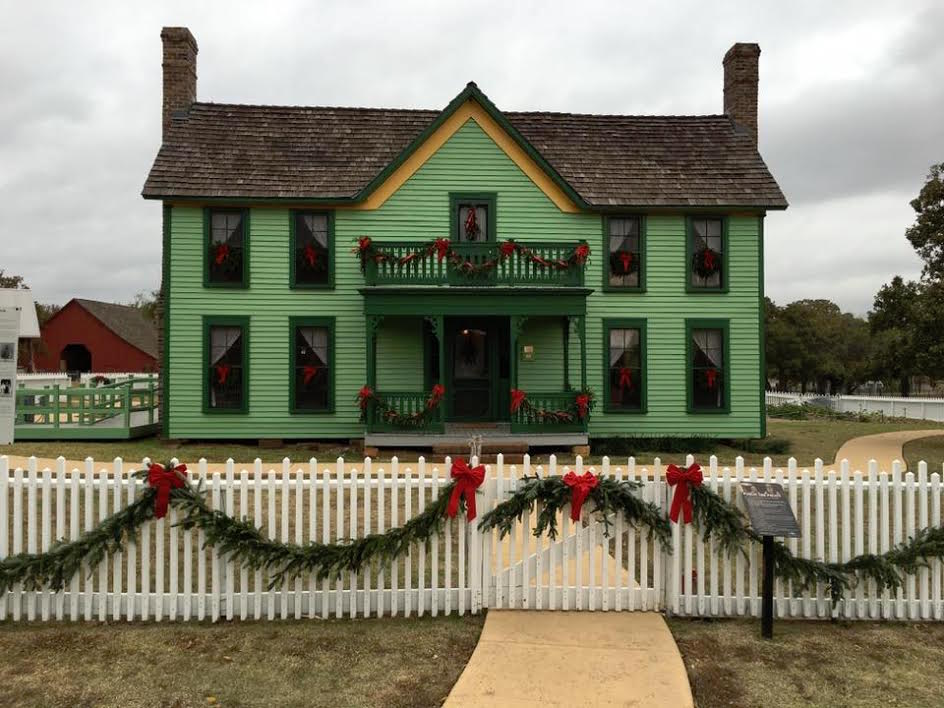 After Christmas Trains: Stockyards & Grapevine Depot
Just because you didn't purchase your tickets way back in July for all the train ride fun at Christmas time, doesn't mean you've completely missed out on the excitement. Still looking for something fun to do during your holiday break? Hop aboard the train with daily train excursions to the Fort Worth Stockyards. These tickets are NOT SOLD OUT!
December 26-30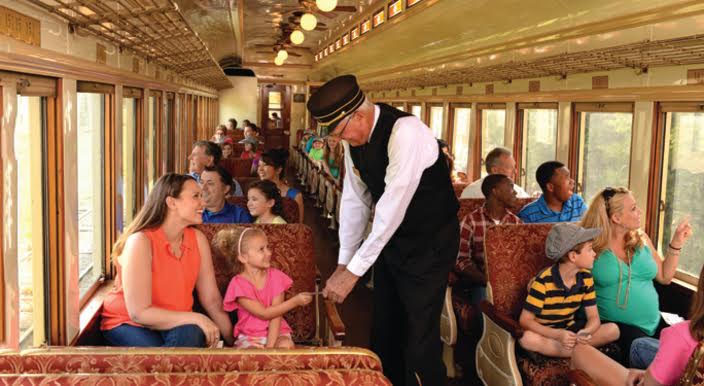 LEWISVILLE
 Old Town Holiday Stroll: Old Town @ Main St. 75057
Head over to historic Old Town for a full day of family events and excitement, including a parade, community performances, holiday activities, photos with Santa, interactive children's games, Santa Paws Village and the Lewisville Lights! New this year is the Holiday Stroll Farmers Market and don't miss the annual Motorcycle Toy Run. As many as 1,000 bikes are expected to participate and to collect more than 1,000 toys for local children's charities.
December 3, 8AM-8PM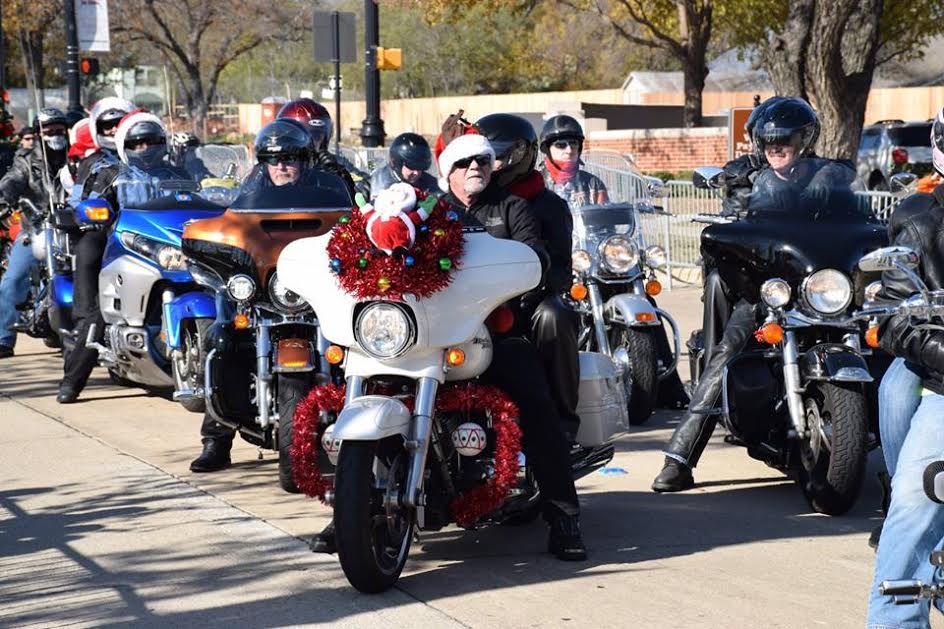 McKINNEY
Home for the Holidays: Downtown McKinney @ 111 N. Tennessee St 75069
Home for the Holidays…A McKinney Christmas is the best way to start your Christmas celebration. The weekend after Thanksgiving in Historic Downtown McKinney will feature non-stop family activities, entertainment, food galore, a chance to finish your shopping and much more. Start (or finish) your Christmas shopping with Candlelight Shopping at all the unique stores on the square. Candlelight Shopping will continue periodically throughout the holiday season. Tree lighting November 26 @ 6:15PM.
November 25-27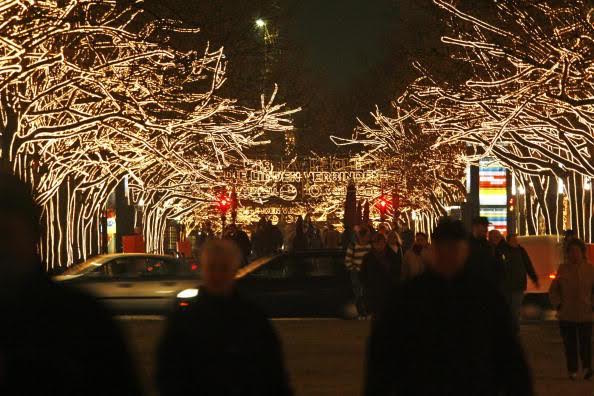 Photo credit: AXEL SCHMIDT/AFP/Getty Images
RICHARDSON
Santa's Village: City Hall 75080
For 25 years, Santa's Village has delighted children of all ages as they travel from one tiny house to another to experience holiday crafts, treats and activities, culminating with a visit with St. Nick himself. The tiny town has become an annual tradition for families from across the region, and many people who visited Santa's Village in its earliest days are now bringing their own children to experience the holiday magic. Schedule HERE.
December 3-4, 8-11 and 15-18 @ 6PM
December 3 @ 6PM – Opening & Tree Lighting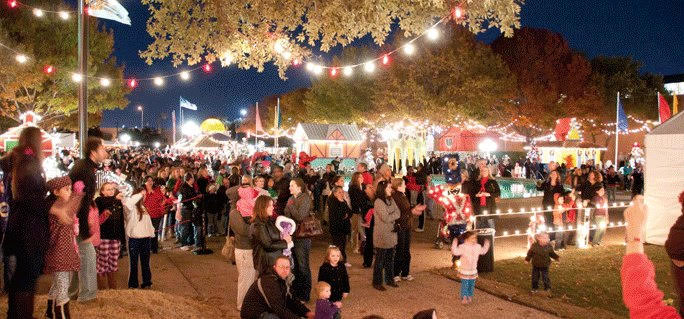 ROCKWALL
 Hometown Christmas: Downtown Rockwall 75087
Celebrate the holiday season in Historic Downtown when favorite community events are combined for a day of family celebration. Start with the annual Kiwanis Christmas parade, followed by photos with Santa at the Historic Courthouse. Train rides, bounce houses, live entertainment, face painting, scavenger hunt and more are offered throughout the day on the downtown square, along with the tree lighting ceremony in the evening.
December 3, 9AM-8PM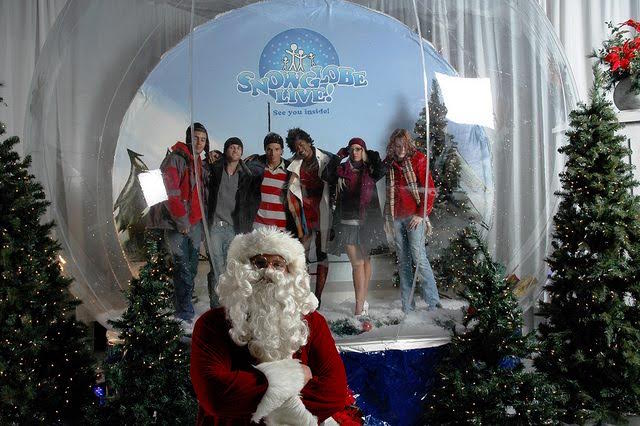 THE COLONY
Holiday in the Park: Perryman Park 75056
This annual event will make its way through town with a bang. Enjoy all-day activities in and around town with Santa at the library and a lightshow at the fire station. The Parade of Lights will end at the park and feature festive holiday music, performances, holiday carnival games and rides and a holiday baking contest.
December 3, 2PM for Santa & 5:45PM for Parade of Lights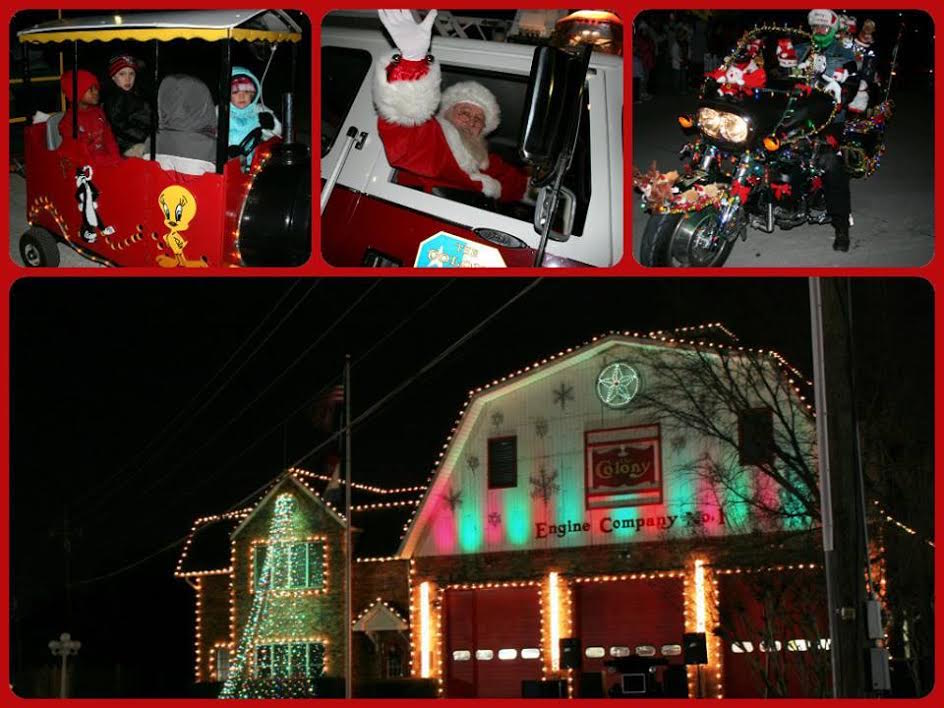 If you feel like I missed something on this list, please mention your suggestion in the comment section below. But don't forget, I have another list being published about Christmas Light Displays coming next week.  I love reading what people have to say. Have a very Merry Christmas, Happy Hanukkah, and fabulous Holiday Season!!!!
Ho, Ho, Ho and don't forget to SUBSCRIBE to my website so you NEVER miss a fabulous GIVEAWAY or blog post.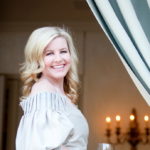 Christy Dunaway Smith is a lifestyle expert and lover of all things fun and fabulous who is passionate about entertaining, design and, of course, Fort Worth, Texas.
With a Bachelor of Arts in art history and studio art from Southern Methodist University, Christy has a keen eye for design and style. On her popular lifestyle blog, SoFortWorthIt, she features expert entertaining tips, luxe home décor inspiration, fabulous social events, fashion & beauty must-haves and more.
She has collaborated with numerous brands and media outlets, including co-hosting many exclusive events for the likes of Fort Worth, Texas Magazine, Neiman Marcus, Central Market, Riedel, The Container Store. She has even appeared on Bravo's Real Housewives of Dallas!
Christy is dedicated to giving back as an enthusiastic supporter for many nonprofits; under her leadership, she has raised millions of dollars for DFW-area organizations. Additionally, she has served on more than two dozen nonprofit committees & boards and co-chaired many events for charitable organizations.
In her free time, Christy enjoys spending time with family, her girlfriends and traveling.