5 Summertime Slow Cooker Recipes
We all love the crock pot, right? We all love it for the fact that it's a set-it-and-forget-it meal prep method; it's easy. Let's face it though, the crock pot just feels like a winter thing because we mostly use it to make chili and stew; both considered winter foods. When it's 8000 degrees outside eating a big bowl of chili is not tops on your list. That's not to say the crock pot isn't great for summer too, for the simple fact it puts off less heat than the oven or cook-top. I hate generating a bunch of extra heat that our air conditioner has to combat. So I've compiled a list of five easy summertime crock pot recipes that are super yummy and will help you save time and help you keep your cool!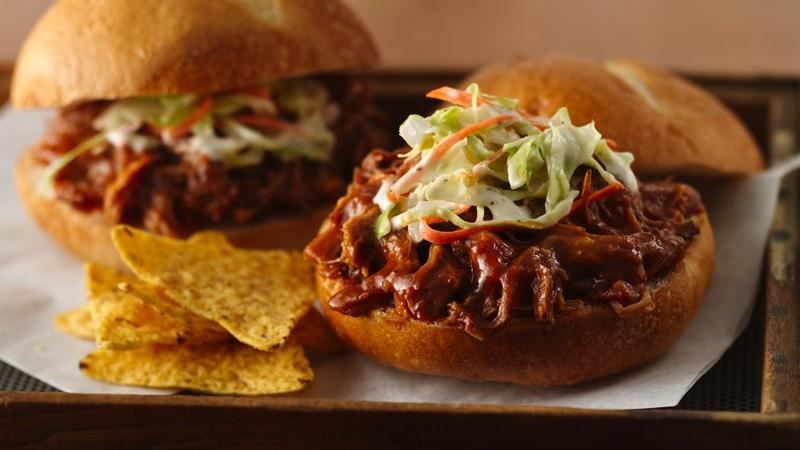 Coca-Cola Pulled Pork Sandwiches: This recipe is about as easy as it gets and it's a delicious crowd pleaser.
Ingredients:
5- 6 pounds boneless pork shoulder
1 tablespoon chili powder
1 cup Coca-Cola
Hamburger buns, pickle, potato chips and barbecue sauce
Directions:
1. Rub the pork shoulder with the chile powder. Place in a large slow cooker. Pour the cola around the pork. Cover and cook on low heat until the meat is fork-tender and cooked through, about 8 hours.
2. Transfer the pork to a cutting board and let cool slightly. Using two large forks, shred the meat.
3. Pour the cooking liquid into a large bowl or 1-qt. measuring cup and let stand for 10 minutes. Skim the fat from the surface and discard.
4. Return the meat to the cooker and warm over low heat, mixing in some of the cooking liquid to moisten.
5. To serve, pile the pulled pork onto the bun and top with cole slaw or pickles or both. Drizzle with your favorite barbecue sauce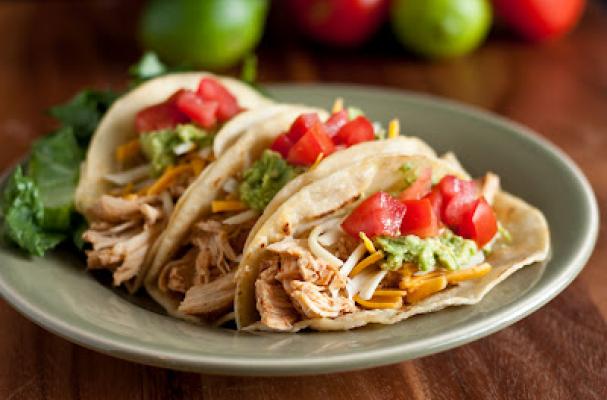 Shredded Chicken Tacos: This one is always a winner at our house and it just doesn't get easier.
Ingredients:
4 – 5 chicken breasts
2 cans of Ro-tel
1 package taco seasoning
Taco shells or tortillas
Directions:
1. Place chicken breasts in crock pot
2. Mix the Ro-tel and taco seasoning together and pour over the chicken breasts
3. Cook on low for 6 – 8 hours.
4. Transfer the chicken to a cutting board and let cool slightly. Using two large forks shred
the meat.
5. To serve, pile the shredded chicken into taco shells or tortillas and top with your favorite
taco toppers.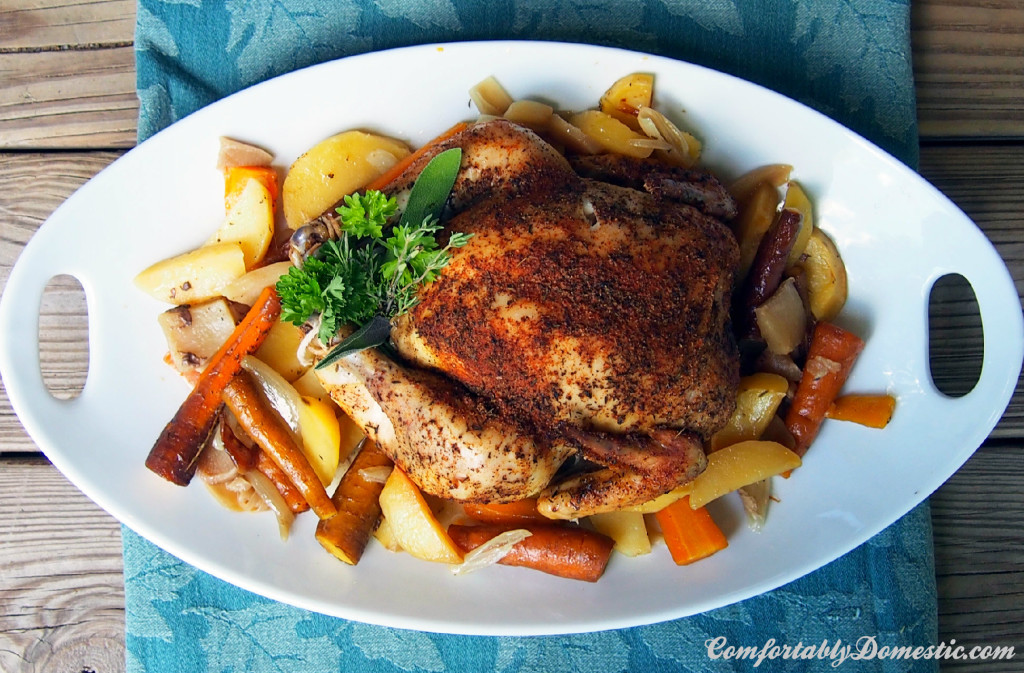 Crock Pot Whole Chicken: Even better than the roast chickens from the grocery store that your family devours. Original post: Here
Ingredients:
1 (4lb) whole chicken, insides removed and washed/patted dry
1/2  TB of paprika
2 TB all purpose seasoning (I like Frontier brand)
1/2 TB garlic powder
1 tsp salt
2 large potatoes
1/2 pound of carrots
Directions:
1. Mix together all of your dry ingredients in a bowl
2. Rub the chicken inside and out with your seasoning mix
3. Slice your potatoes in thick slices and
4. Line the bottom of the crock pot with carrots and potato slices
5. Place the whole chicken on top of the carrots and potatoes
6. Cover crock pot and cook on HIGH for 4 – 4.5 hours or on LOW for 6.5 to 8 hours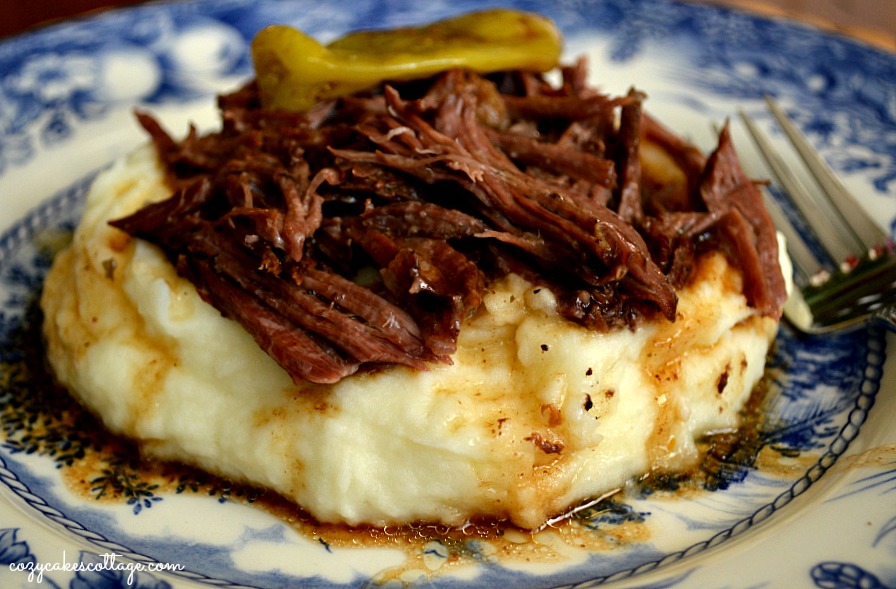 Mississippi Pot Roast: I don't know why this is called Mississippi Pot Roast but around our house you can call it gone. This is my hubby's favorite and the kids hammer it. Serve atop some mashed potatoes for full effect. Original post: Here
Ingredients:
4 – 6 pound beef roast
1 Package Hidden Valley Ranch Dressing mix
1 Package McCormick
1/2 TB garlic powder au jus mix
1 stick butter
5 – 6 pepperoncini peppers
Directions:
1. Place roast in crock pot
2. Sprinkle Hidden Valley Ranch Dressing mix and McCormick Au jus mix on top of roast
3. Place stick of butter and pepperoncini peppers on top of roast
4. Cook on LOW 7 – 8 hours ( Do Not Add Water)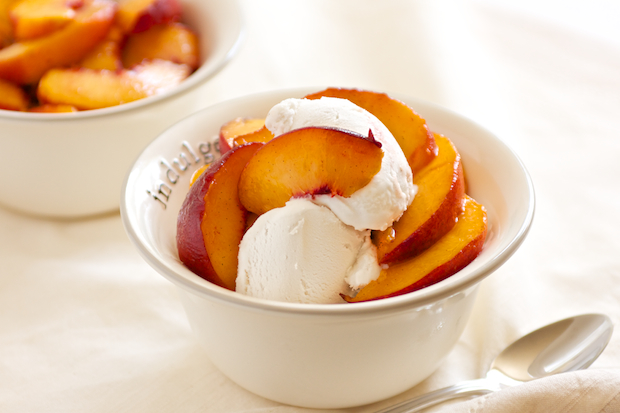 Scalloped Peaches: You knew there had to be a dessert recipe in here, right? And summer is peach time round here. This is really the perfect summer fruit dessert. It's not heavy like a pie or cobbler, but it still ahs all the yummy flavors. Add a scoop of vanilla ice cream to this and you are golden.
Ingredients:
8 peaches, sliced
1 cup sugar
1/2 teaspoon ground cinnamon
1/2 teaspoon ground cloves
1/4 cup butter, sliced
Vanilla ice cream, for serving
Directions:
1. In a bowl combine the peaches, sugar, cinnamon, cloves and butter
2. Toss lightly to coat peaches
3. Cover and cook on low for 1 1/2 to 2 hours
4. Serve warm with a scoop of vanilla ice cream
If you usually don't see your crock pot between April and October, you have my permission to dust it off and set it and forget it! These easy recipes are all delicious and won't make your kitchen tiles melt. If you have any easy summertime crock pot recipes, please share them with us in the comments section. And if you make any of the above recipes be sure tag us in your Instagram pics! @TanglewoodMoms
xo, Victoria