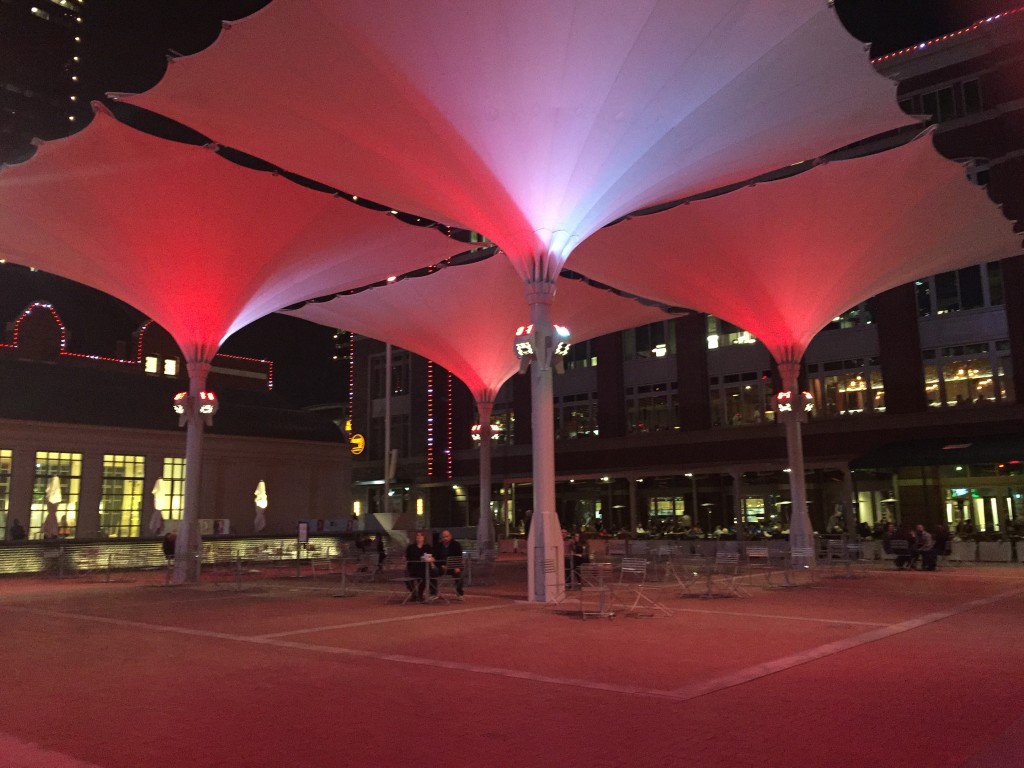 Last night the MIL offered to take the kids for a sleepover so my husband and I could go out for Valentine's Day and our 9th anniversary. We got married downtown so it was fitting to celebrate there although I have to admit NONE of what we did was planned. We actually got in a "discussion" about what we were going to do this weekend and I couldn't make any decisions about what to do. I was even taking screenshots of what some local restaurants were promoting for their Valentine's menus but SO many places only offer pre-fixe menus and I'm kind of a pain in the you know where with my shellfish allergy. I don't know what it is about Valentine's Day but it seems they always want to serve crab, shrimp or lobster and waaaaahhh…I can't have it. 🙁
I was still full from our lunch at The Original so after we hightailed it from my MIL's house we headed for Thompson's Bar on 900 Houston Street. It's actually been there almost a year but I just found out about it this week. Apparently that means I need to go out more!
We arrived and instantly fell in love. Here's a few pics of the place…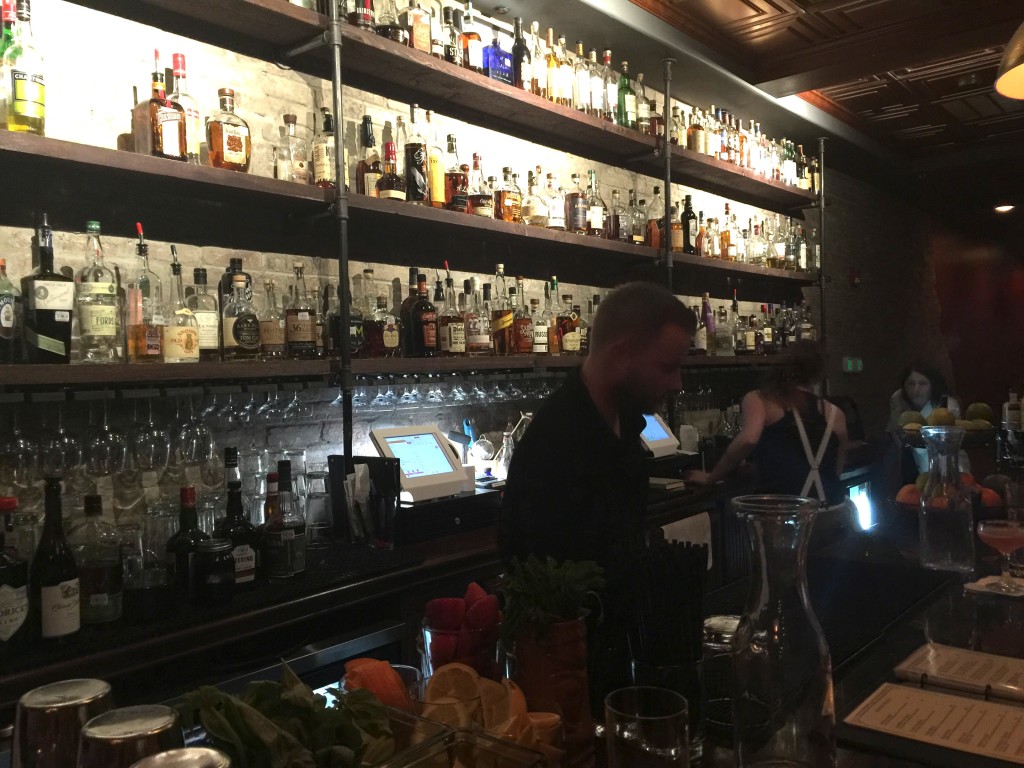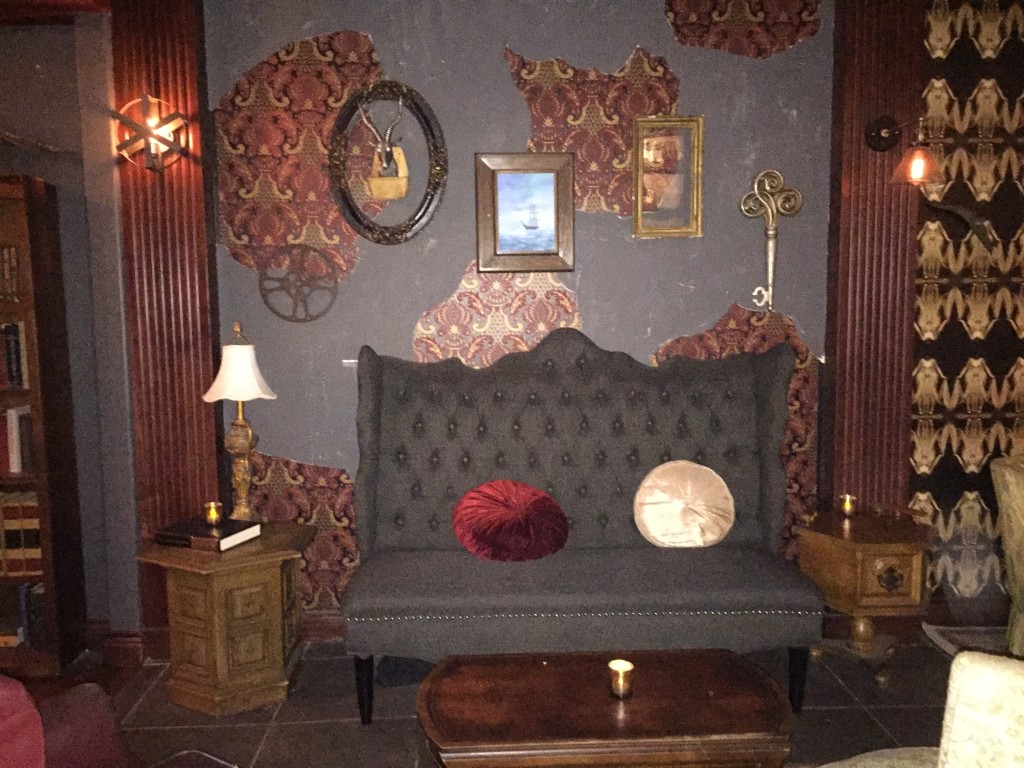 There were cozy seating options throughout the space, but I wanted to be as close to the action as possible so we sat front and center by Mark the bartender. Maybe he has a more sophisticated title and rightly deserves it because we left knowing more about craft cocktails and specific whiskeys gins and the history that goes with them than I ever thought possible in a hour's worth of time.
I first ordered the "The Mysterious Stranger" made with Cutty Sark Prohibition, Angostura Bitters, Snap Liqueur, fresh lemon juice and simple syrup. My husband started with a Sazerac made with Bulleit Rye Whiskey, Absinthe, Peychaud's Bitters and a sugar cube. Both were superbly made with the utmost care given to the blend of ingredients and flavors. I noticed the bartender grabbed a new straw to dab and taste each and every cocktail before serving it to its lucky recipient.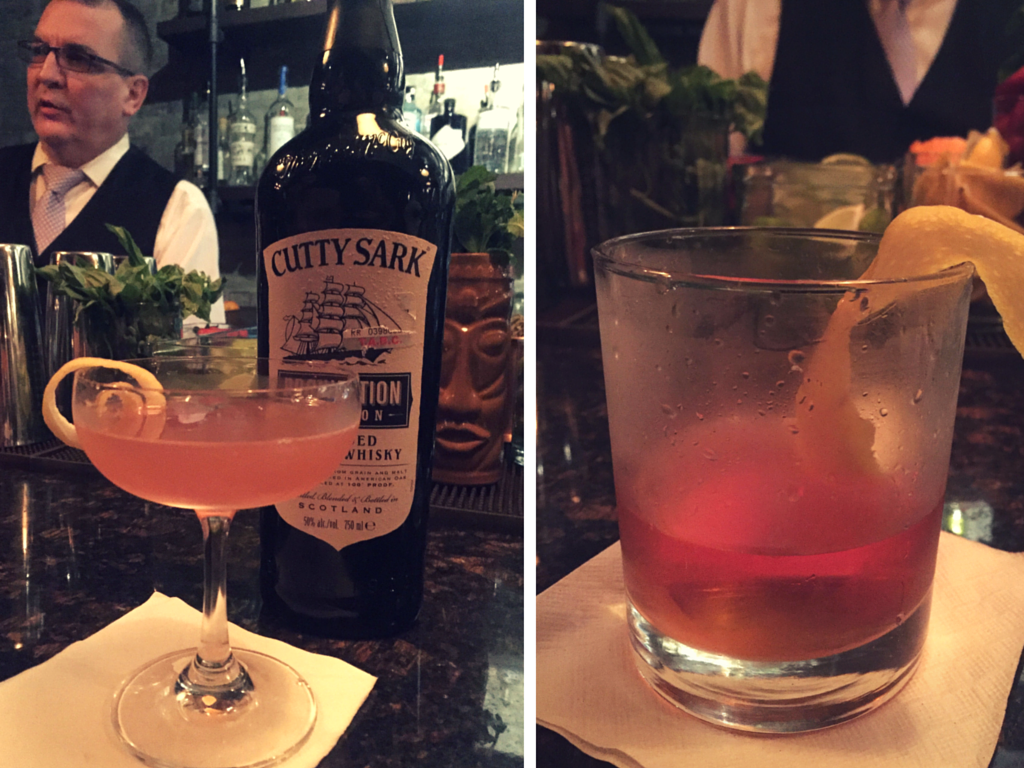 Full disclosure here, these cocktails cost as much as a normal dinner entree so go prepared to drop as much as you would on a night out at your favorite restaurant, but I promise you it will be worth every penny. My mysterious stranger went down entirely too smoothly (yikes that sounds bad, but you get what I am saying). Too many times I get a drink I sort of have to choke down, this was not the case here. For those of you who know me, know that I have a 2 drink limit so by golly they better be good ones! Billy Bob enjoyed his Sazerac and described it as alcohol forward like a martini and very delicious.
Next two drinks. Wait. First let me give you some back story. My husband is infatuated with the Ramo's Gin Fizz. Most bartenders don't know how to make it or flat out refuse. This has actually happened on a number of occasions and he often asks to the help the bartender prepare the concoction by shaking it until it yields a frothy texture. BUT not only was it printed in the menu as an option, Mark scoffed at the offer to help. This was clearly his turf and you could tell he takes pride in creating it exactly as he intends it. I ordered "The Bees Knees" because it sounded cute.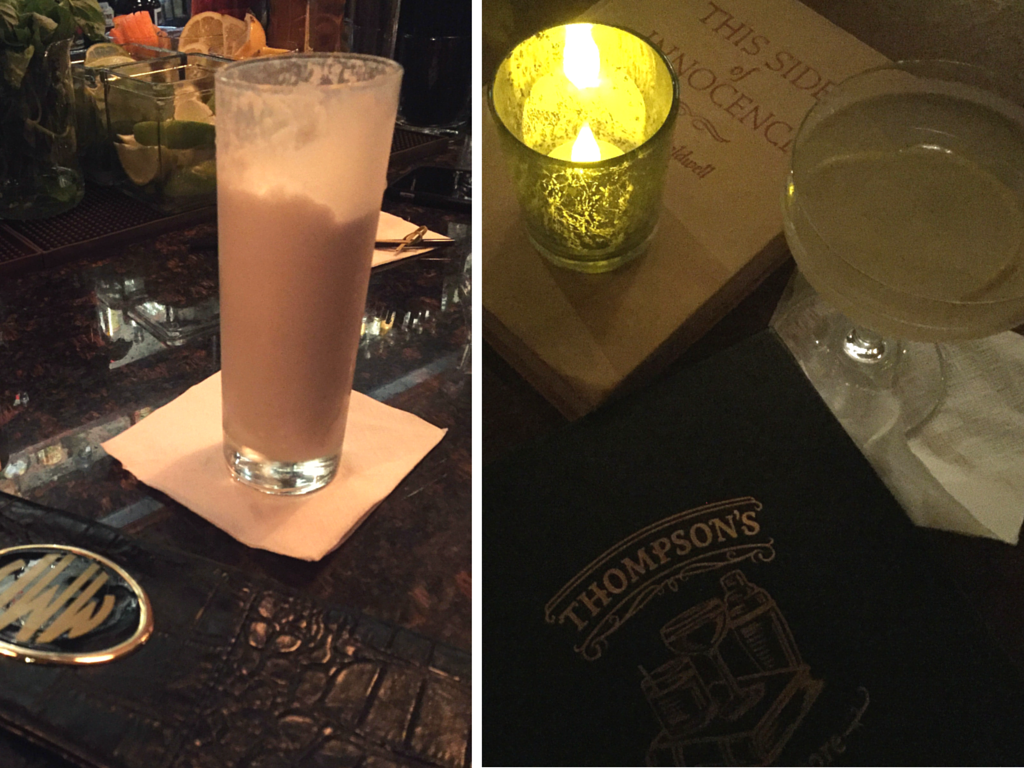 He broke the cardinal rule and took a sip of his drink before I could snap a pic. It was filled to the rim and I am not exaggerating when I say it was THE BEST DRINK I'VE EVER HAD. All caps best. No kidding, I wished I had ordered it because the Bee's Knees is good, but not Ramo's Gin Fizz good. We will definitely be back and that's what I am ordering. For those of you not familiar, here's what's in it: gin, lemon and lime juice, simple syrup, egg white, cream, and orange flower water.
If you want to order the most popular drink and what "keeps the lights on" try The Grapes of Wrath cocktail. All the drinks are cleverly named after books and if you have a few hours to spend I would suggest ordering one or all of these while digesting a classic such as For Whom The Bell Tolls, The Sound and The Fury or Moby Dick. For lighter reading, try Harper's Bazaar or Us Weekly ;P
Note it takes over 3 and a half minutes for him to expertly craft this gorgeous cocktail, I missed the pour because I ran out of memory–sorry! Just go and check it out for yourself.
We played around Sundance Square for a bit still with no definite plan in place and ended up at Piranha Killer Sushi. Again fitting because when Billy Bob and I were dating we would eat at Piranha in Arlington before they had their downtown location. We hadn't been there in years and sushi sounded good to both of us.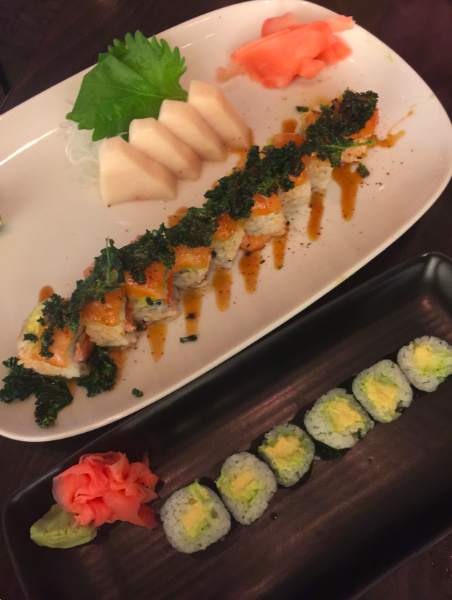 We started with fresh white tuna sashimi and the Valentine's special that had roasted kale and fresh salmon. We also ordered an avocado roll and the chicken spring rolls, all delicious. Like I said before we were still pretty full from our heavy Mexican lunch, so this light dinner was perfect.
I wish I could say we tore it up downtown until late, but we were home by 9:30 which felt luxurious with no kids there. Maybe next time we'll dance and party it up. Haha, just kidding, we won't. 😉
Hope you enjoy your next night out Downtown Fort Worth!
xo, Victoria