Joe T. Garcia's Mexican Restaurant co-owner Lanny Lancarte will celebrate his 70th birthday on October 16, 2019. He began helping in the restaurant as a young child, took over management in 1982, and with his brother David is the visionary behind the popular hacienda patio.
Lancarte is the grandson of Jessie and Joe T. Garcia, the original founders who opened the restaurant in 1935. Born in 1949, he is the firstborn son of their daughter Esperanza "Hope" Garcia. Now owned by Hope's six children, Joe T. Garcia's has been at the center of Lancarte's life for almost seven decades.
By the age of 7, Lancarte was clearing dishes in the dining room and soon began to load drinks and wash beans. He picked up produce downtown, pinned tacos, and cooked the rice and beans before he was a teenager – and began running the stove while a student at Northside High School.
In 1970, Lancarte married Anna Jo (Jody) Bjork. The couple has eaten breakfast together every weekday for 40 years at local restaurants including The Swanky Shack, Paris Coffee Shop, Vickery Street Café, and River Oaks Café. Today they often meet at Righteous Foods, which is owned by their son.
Lanny and Jody have six grandchildren, whom Lanny takes for dinner every Monday. He began this "Dinner Club" over 20 years ago to share discussions on life. Whether he eats with all of his grandchildren or just one, this tradition is an essential component of Lanny's week.
At the restaurant every morning by 5:00 a.m., Lanny works seven days per week (only taking off Monday and Tuesday evenings). He exercises five days per week and practices yoga three or four days per week, also fitting in a passion for gardening and charity work with Lena Pope Home, HOPE Farm, The Net FW, and The Worthy Co.
Now celebrating his 70th birthday, Lanny Lancarte continues the traditions of his grandparents and is as much of a Fort Worth institution as Joe T. Garcia's Mexican Restaurant itself.
"Lanny always seemed to be very low key and humble…but you can rest assured that all customers are being taken care of! They are being taken care of because of that man's ability to convey the importance of taking care of his customers, family, and employees in a respectful manner. It's a true art." ~ Scott Fricks, Waiter at Joe T. Garcia's
"Lanny Lancarte is a 'True Gentleman.' I owe him a debt of gratitude that I can never repay. He has been one of the greatest influences on how I have lived my life, raised my family, ran my business." ~ CO, Employee at Joe T. Garcia's
"I remember most how calm, consistent and detailed Lanny was as a boss…I am now 54 and have worked for many people and a number of companies. As I reflect back…I can say, without a doubt, Lanny was the best." ~ Davis Butler, Employee at Joe T. Garcia's
Happy birthday from all of us at Tanglewood Moms/Madeworthy!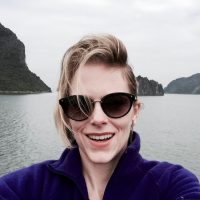 Raised in the Fort Worth area, Shilo Urban moved to Austin, Maine, Paris, Seattle, New Zealand, and Los Angeles before finding her way home a few years ago. Along the way, she has had over three dozen different jobs, including high school French teacher, record label manager, and farmhand for endangered livestock breeds. She's traveled to more than 50 countries and always has the next trip planned. Shilo has been a freelance writer for over a decade and has published in Fort Worth Magazine, Fort Worth Weekly, and Afar. Her interests include lost civilizations, jalapeño peppers, and Game of Thrones. She is currently writing a thriller and lives in Fort Worth with her two wiener dogs, Steve and Lenny.