In February of 2016, the Volmert family experienced the unimaginable: the death of their daughter, Sammie. A malfunctioning heater had sent temperatures in their upstairs soaring above 100°, and because infants and little children cannot thermoregulate, 17-month-old Sammie died of hyperthermia.  
Two years ago, I interviewed Keri Volmert to talk about her family's loss and their brave decision to share Sammie's story to highlight the dangers of hyperthermia (A Mother's Worst Nightmare).  
I wanted to revisit the Volmerts today to see how they have grown as a family.  
Penelope looks a lot like the big sister she will never know. The squirmy nine month old is fair-skinned with blonde hair and beautiful blue eyes. She smiles when I smile at her, and her eyes sparkle just like her mama's. Women coo at her as they walk past our table at McKinley's Bakery and Café, where I met with Keri, Penelope, and big brother Jackson to talk about life after the death of a child.  
"So much has happened since then," said Keri Volmert. "It's been a struggle and sometimes we still wake up and ask, 'Is this real?' We've learned a lot and grown as a family and tried to make the best out of a horrible situation." 
Sammie died in her crib sometime during the night of February 28, 2016. It was a normal evening, but the thermostat inside her upstairs bedroom was broken. Keri and her husband, Larry, didn't know it was getting dangerously hot in their baby's room.  
The parents woke up the next morning to the worst scene imaginable: a quiet and perfectly still child with her eyes permanently closed.  
Children under the age of five can't regulate their body temperature, which makes a broken thermostat a deadly situation. In fact, doctors told Keri that Jackson, now an outgoing six year old, would have probably died as well if he'd been sleeping in his bed upstairs that night.  
A tragedy as overwhelming as the loss of a child has a lasting and, all too often, a detrimental affect on couples. For Keri and Larry, however, the heartache and pain brought them closer together, showing them new strengths and depths that they had not known they possessed.  
"It was a horrific first couple of years," Keri said. "My husband and I learned more about each other. We are the only two people who truly understand the depth of what we've been through; we have grown stronger, and I don't think that always happens." 
At McKinley's, Jackson is sitting beside me playing on his mom's phone. He's wearing a blue Patagonia baseball hat that matches his eyes. He talks about his baseball team and tries to peek over my laptop to see what I'm typing. His mom says he still talks about Sammie often.  
"I want a brother," he told me matter-of-factly after I asked Keri about having more children. 
The couple is thinking about adoption or trying to have another baby. Keri is 42 now, and we lament the fact that our biological clocks make it harder to have children later in life. "Time kind of sneaks up on you," she said. "The past two years have flown by. It seems like a different lifetime; it's all gone by so fast."  
But no matter how much time passes, Sammie will always be a large part of the Volmert's life.  
"We still think about her all the time," said Keri. "The first thing is the grief and the second thing is that it's constantly on your mind. The absence in every little and big thing that 'should' be going on — that's the common denominator among people who have lost children." 
To keep her memory alive, the family celebrates Sammie's birthday and Christmas each year by giving back to others in her name. This past year, the family donated toys to The Warm Place, a local nonprofit that provides grief support to children and young adults who have lost a loved one. In the future, they want to refine the mission of their charity, Sweet Acts for Sammie, and expand their work around Fort Worth. 
If you ever have the pleasure of meeting Keri and her family, you'll notice a gold necklace around Keri's neck. I've never seen her without it. It spells out her daughter's name: Sammie. It's a constant reminder of a love that will never fade and a grief that she lives with every day.  
"Some days are still a struggle," said Keri. But their loss has taught the Volmerts something. "We are both more empathetic to people who have gone through tragedy and realize that we never really know what a stranger is going through."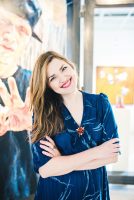 For more than a decade, Sarah Angle has worked as a Texas-based writer. She began her career as a daily newspaper reporter and photographer, and now splits her time between journalism and marketing communications. Since starting her own freelance writing business, Sarah has worked for brands such as: Frito-Lay, RadioShack, Dairy Queen, Honda, Sid Richardson Art Museum, Samsung, and Pizza Inn. As a journalist, her work has been published in the Washington Post, Boys' Life magazine, Texas Observer, Fort Worth Weekly, The Dallas Morning News, and 360 West magazine. Currently, she teaches in the School of Strategic Communication at TCU. Sarah lives in Fort Worth with her darling daughter and a house full of books and mid-century modern décor.