By the time I was old enough to form long-lasting memories of Thanksgiving and Christmas, my mother was well-adapted to traditions of turkey, piles of presents, and Christmas trees. My mom, now a U.S. citizen, immigrated to the United States from Korea in 1975 at the age of 15 with her parents and two brothers. Her name, MiWon, means "beautiful garden."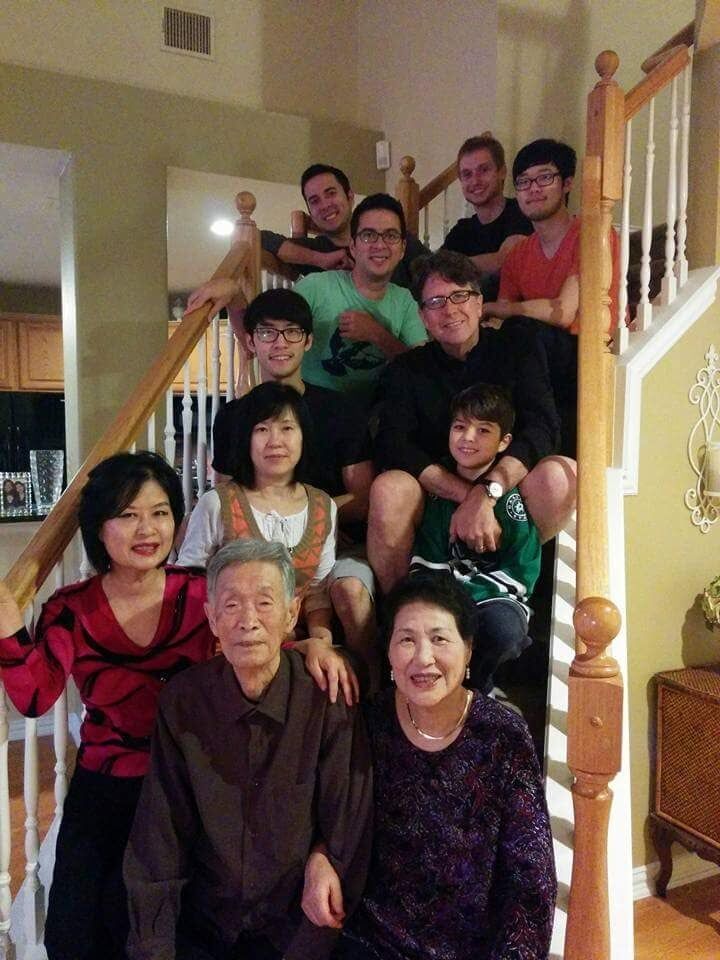 As I interviewed her over the phone for this story, I realized that we had never really talked about her early years in this country. I regretted waiting so long but was eager to make up for lost time. I wanted to get a feel for what holidays were like in her native country, so I started by asking about Korean Christmases in the 1960s and early '70s.
"Christmas was experienced mostly in church where we would make ornaments and hear choir programs," she said. "This idea of giving presents was not [familiar to us]. Korea was economically [poor] at that time. It's nothing like it is today."
Thanksgiving in America took her by surprise. Shortly after her family settled in Philadelphia, my mom went out for a late-night walk with a friend who was also from Korea. It was November and was freezingly cold. She passed several well-lit dining rooms as she strolled through her row house neighborhood. Each window appeared like a glimpse into paradise to my newly-arrived mom. Not only were these people warm, cozy, and (largely) smiling, every table was overflowing with giant roasted birds, piles of mashed potatoes, and dishes my mom had never seen before. She laughingly described how she probably looked like a Dickensian orphan peering into those windows in the dead of winter.
"I kept seeing these families having feasts," she recalled. "I didn't know what was happening. Later, my friend explained that it was what people do in America on Thanksgiving Day. I never forgot that."
Her parents, Jasun and Induck Choi, never developed a taste for turkey. Personally, I don't blame them. The choice of turkey meat as the central dish of a major holiday is hard to justify, in my opinion, when there is an international trove of culinary treasures to choose from. The Choi side of my family is represented in the piles of grilled Korean-styled cuts of beef and pork that are a staple of our family's blended Thanksgiving Day feasts. There's always oyster dressing, gifted in spirit from my late Midwestern grandmother, Lucille Brown, and "never-canned" cranberry dressing. Yes, there is always a turkey at our table. My mom adopted (some would say finally gave into) the tradition back in 1983. She has long mastered the fowl art of basting and roasting a whole turkey, but there were a few missteps along the way.
The first year's turkey came with the biggest surprise. The nicely-packed bird came with a paper bag of giblets that was tucked deep inside the bird's abdomen. My mom didn't question the oven-readiness of the turkey and tossed it into the oven, bag and all.
"As I was serving dinner, I put my hand in there and found this bag of giblets and gizzards," she said with a laugh. "The bag came out, and I didn't know what it was."
The next Thanksgiving brought new lessons. After taking the word "stuffing" literally, my mom thought the bready filling needed to be "stuffed" tightly inside the bird. When the turkey was unveiled, the cornbread filling had baked hard as a rock. We ate our centerpiece turkey sans stuffing that evening.
"Thanksgiving is my favorite holiday, even more than Christmas," she told me. "It's uniquely American. It's sort of the prelude to the holiday season. The idea of having family and sharing a meal in gratitude makes it the most wonderful holiday of all."
We often invite friends and extended family to the Brown Thanksgiving dinners. We've had as many as 25 guests at our home, many of them from South America and East Asia.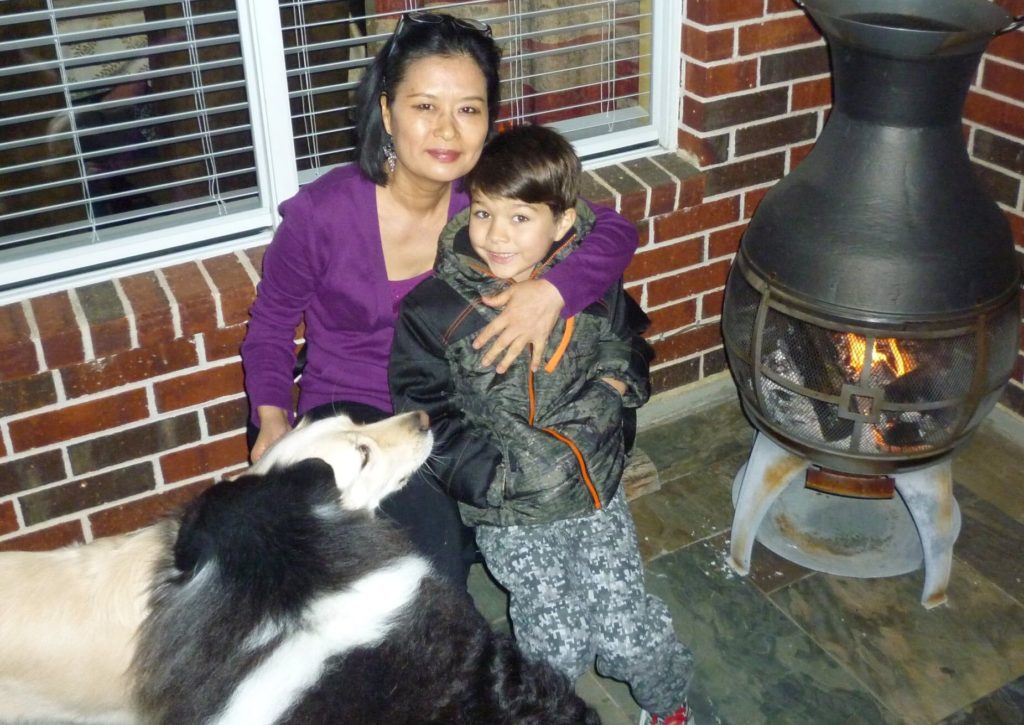 "It has become even more joyful after having a grandson, Isaac," she added. "It's a great memory building experience for Isaac because Thanksgivings here are a combined cultural experience. The holiday is a chance for me to express the gratitude I have at being able to come here, be educated, and have my children grow up here. I feel a profound sense of gratitude and privilege."
It speaks to the universality of this country's founding values that dozens of men and women from several countries and different belief systems can so seamlessly gather together to celebrate this great American holiday. A focus on friends, family, and gratitude are at the core of this holiday, as my mother has taught me. The food and sides? Well, that's just gravy.
Christmas brought new learning opportunities for my mom. Gift giving wasn't part of the culture in Korea when my mom was little. Santa Claus was only a vague concept. American pop culture hadn't quite reached Korea's shores. The gifting of Christmas cards and celebrations at church were the only commonalities my mother saw between her childhood experiences of Christmas and her first memories in this country. Even during her first few years in Philadelphia, her parents weren't quick to adapt to Christmas trees and wrapped gifts. They were too busy putting in overtime to support their recently transplanted family. My mother recounted a funny story about her first Christmas gift, which she received from my father, Timothy Brown.
"You guys were not even a year old," she told me, referring to my twin brother and me.
"We were living in Denton. Your father and his friend Jeff Calhoun decided they would go out and buy gifts for their wives. You dad put his gifts on the closet shelf. I had never been given a gift for Christmas, and I was dying to see what my gift was. I couldn't stand it. When he was gone, I opened it. Guess what I found: a pair of large rubber gardening gloves. I never garden, and my hands are small. I was very offended."
When she confronted my dad, he just laughed. He had given my mom's gift to Jeff, knowing that my mother was likely to spoil the surprise. My dad had likewise hidden his friend's gift in the closet.
Around this same time, the Brown family's most notorious holiday story occurred. I was too young to remember the details, but I do remember the moment our family television left the confines of the entertainment center and flew onto our front yard with a resounding crash.
It was New Year's Day in the mid '80s. My dad was in full holiday vacation mode, meaning he had no real plans other than watching football games all day. This time-honored American tradition did not impress my mother. To her, the first day of January set the tone for the year so should not be spent watching football. When hours of nagging and prodding failed to extricate my pop from bed, my mom grabbed our only television and unceremoniously threw it onto the front yard where it broke. Her father bought us a new TV soon after, but the incident taught us all to take MiWon's warnings more seriously.
I hope readers can relate to these stories. Both my parents teach piano, as do I, and I see an interesting analogy to the merging of holiday traditions in classical music. The idea of two different personalities meeting, developing together, then emerging as one is exemplified in the centuries-old sonata form that formed the basis for piano and orchestral writing beginning in the late 18th century and continuing to this day. Sonatas begin by introducing two themes, which then undergo a "development" that often sounds like upheaval or strife. After the turbulent middle sections, both themes arise again in the recapitulation, but this time, they are played in the same key. The great composers were keen to use structures and forms that tapped into universal experiences. The often-rosy endings are perfunctory at best. It's the conflicting development that fuels the sonata form. The process of blending holiday traditions, whether from divergent cultures or religions, similarly includes a few hiccups along the way.
Most of my Christmas memories center around waking up early to tear through mountains of gifts. And that was the idea. Christmases became about my brother Tim and me. While the turkeys sometimes came with giblet bag surprises and the early attempts at gift giving had missteps, in my parents' eyes, my brother and I represented the harmonious blending of two cultures.
Now, our Christmas holidays revolve around my son, Isaac. He loves playing the role of waiter at our holiday dinners. He's at ease bringing plates of turkey with kimchi side dishes to guests. Our family traditions will enrich his life, but what I hope he takes away from those moments is what matters in a more universal sense — that our family takes time to express gratitude for the opportunities we've been afforded by our elders, this country, and a loving God. On behalf of the Brown/Choi family, we wish everyone peace, joy, and no broken televisions this holiday season.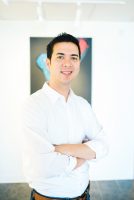 Edward Brown is a writing tutor and piano teacher. He is also an award-winning writer for the Fort Worth Weekly and volunteers for numerous Fort Worth nonprofits.