The first time I met him, he was covered in sweat in the Texas heat. In his hands, he carried a large box of treats. He was delivering donuts to Texas Christian University – some covered in Fruity Pebbles, and others flavored with "sriracha bacon."
I was working at TCU that summer. We were planning an event, and Melvin Roberson came to give us a taste test from his up-and-coming donut food truck. When he opened the boxes, we stared in awe at the gorgeous donuts and with unique flavors. I thought of all the sweets lovers I knew and took a picture to send to my family.
Since then, Melvin's Fort Worth's Dough Boy Donuts truck has delivered unique donut creations across town. In August of 2018, his dreams came true when the he opened Dough Boy Donut's store front on Camp Bowie.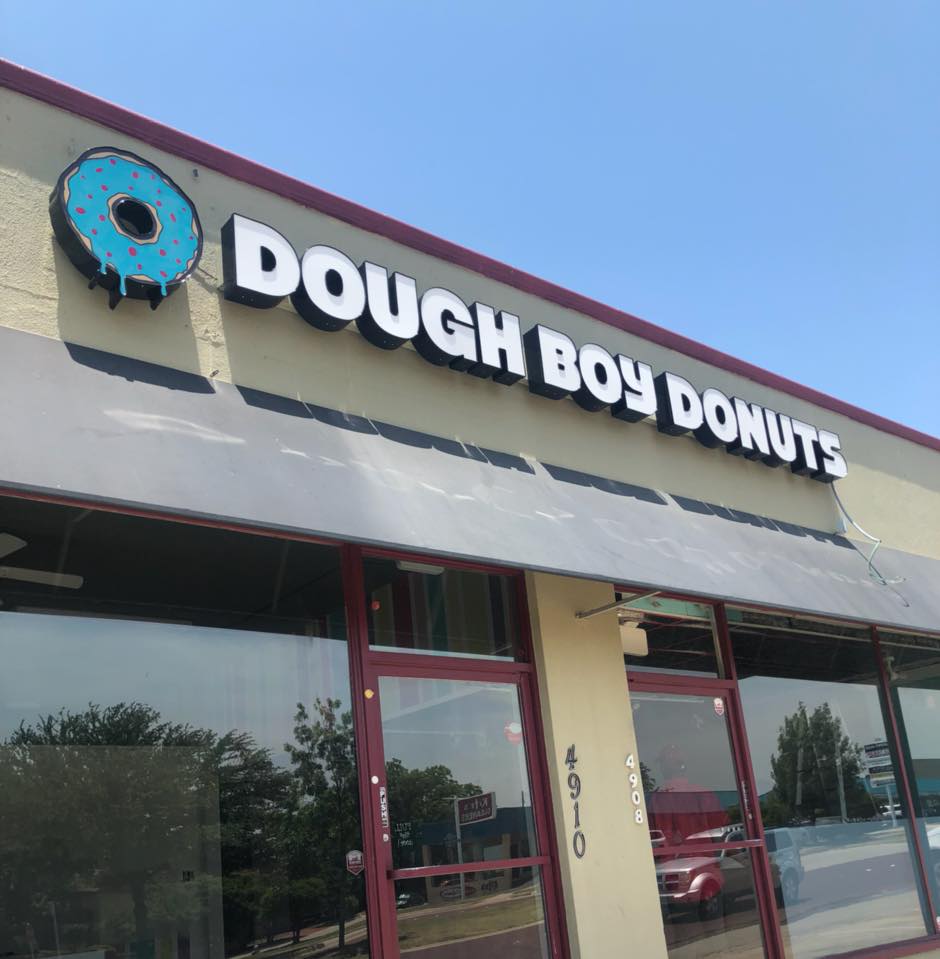 I saw Melvin again about a month after the opening on a rainy Saturday as the shop buzzed with chatting customers. He peered at me through the cutout window of the kitchen where he rolls and shapes dough. He waved and welcomed me to his shop. I ordered a Lemon Poppy donut and a CinnaBun donut and felt as if I were a part of the cozy morning community there.
Melvin's experience with restaurants and food has been a major part of his life.
"I've been in the industry my entire life," he said. When a gourmet donut account on social media caught his eye, he did some research and decided to make something similar. "I was still working at my full-time job," he said. However, he made his decision, and Dough Boy Donuts began. "I had to take that leap," Melvin said.
His unique creations come from a place of research paired with creativity. "There's a million different flavors and pairings that people don't necessarily think would be on a donut that we're doing." Whether they choose cereal toppings, crushed candy, or a daring combination of spicy and sweet, any food lover is sure to find their fix at Dough Boy Donuts. Melvin says many people initially play it safe and order a plain glaze, but after they take a bite, they come back, ready for adventure. "There's something for everybody," Melvin said.
Inside his shop, I sat and watched a crowd gather at the counter. A young couple and their small daughter walked into the shop, dripping from the pouring rain. The woman behind the counter smiled and waved at the little girl, her raincoat decorated with cupcakes. She called the little girl by name and asked, "How're you doing this morning?"
Multiple families sat inside, some with young kids, some with teenagers. The restaurant is a place where people come to stay a while. On-the-go customers bought donuts to bring to their sleeping families. When I picked up my order from the counter, each bite of both donuts was light and warm.
The shop is modern, a detail Melvin made sure to point out, and the modern feel perfectly complements its coziness. People come in for meetings, bring their kids, or stop by to have a visit with friends. "It's cool to have a space where people can enjoy themselves," Melvin said.
Even though the shop officially opened in August, Dough Boy Donuts has already become a favorite weekend stop for people in Fort Worth.
"People are waiting on us before we open," Melvin said. "There are times when you'll look up, and the whole dining room is full."
During his journey from food truck to storefront, Melvin's family has been supportive of his dream. His mother quit her job to help and father spends his retirement helping Melvin's business; he says he could not be more grateful. He made a point to thank his wife.
"She was very patient with me for a very long time," he said. The couple has three children together, and Melvin says they have fun coming to the shop. On the mantle in the shop sits a small painting of the Dough Boy Donuts truck.
"My daughter actually painted that donut truck a few years ago," he told me, pointing to the small canvas. "She didn't know it was here, and so when she saw it, she was really excited."
After years of hard work, supportive friends and family, and dozens of donuts, Melvin says it is an amazing feeling to be in his own shop
"There are no regrets; it's all been great."
This article was the result of a collaboration between Madeworthy and Sarah Angle's Featured Writing students at TCU. The students chose a local restaurant to write an article about, with social media copy. This article is the first-place winner and is the work of Polley Poer, a senior Strategic Communication and Writing double major from Fort Worth.