Madeworthy
Madeworthy's Fort Worthies for January/February
With the launch of Madeworthy, we wanted to have a page dedicated to local people, places, and events that add to our city. Originally called "Be Seen," this page was renamed "Fort Worthies" in our first anniversary issue. Here are the Fort Worthies we featured in our January/February issue.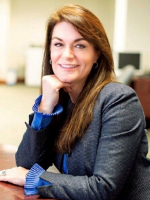 In November, Lena Pope announced the selection of Ashley Lind, PhD, as the agency's new chief executive officer. Lind comes to Lena Pope with both clinical expertise and nonprofit leadership experience. Lind will oversee the agency's evidence-based, research-tested programs, focusing on prevention and early intervention services that support child development. She previously served as chief executive officer of Promise House, an agency leading the charge to end youth homelessness in North Texas. "I am honored to be granted the privilege of leading Lena Pope," Lind said. "I am beyond enthusiastic about what the future at Lena Pope holds."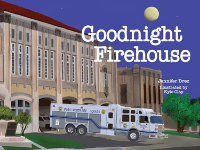 As the sun sets on a neighborhood firehouse at the end of the day, it's time to say "goodnight" to fireproof suits, boots, and breathing masks; goodnight to hydrants, hoses, and water; goodnight to brave firefighters who protect us every day and every night. Author Jennifer Drez (Goodnight Cowtown, Goodnight Dallas) salutes firefighting heroes everywhere as she leads young readers through the comforting bedtime routine of saying "goodnight" to the equipment fire crews use to do their jobs. Illustrator Kyle Clay, a real-life firefighter, brings to life all the firehouse essentials, lights, sounds, and activities with vibrant original art.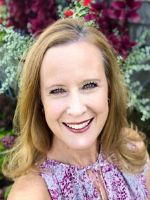 North Texas Community Foundation has appointed Laura Q. McWhorter, CFRE, as the Community Foundation's first chief philanthropy officer. This comes as the Community Foundation implements a five-year strategic plan, expanding its reach and enhancing its services to effect positive changes in our community. McWhorter comes from the Texas Health Resources Foundation, where she has served since 1997. She was named a "Great Woman of Texas" in 2011 by the Fort Worth Business Press, as well as a "Forty Under Forty" recipient.  Community Foundation Board Chair Al Saenz said, "Our community deserves only the best. I'm proud… that we are building the team to deliver on that promise."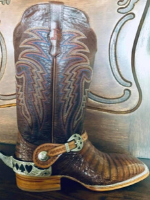 Randy Watson has officially launched R. Watson Boots. As a native Texan, this isn't Watson's first rodeo as a "boot man." For 40 years, Watson has been instrumental in building some of the largest boot brands in the business. Customers will appreciate the old-world craftmanship, highest-quality materials, quality construction, and classic designs that go into every pair of R. Watson Boots. "I love the western lifestyle and the people who understand it. R. Watson Boots is a collaboration of folks who appreciate and believe in making authentic, beautiful western footwear," Watson said.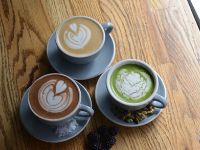 Vegan coffee lovers, rejoice! Roots Coffeehouse has opened in the heart of South Main Village and is serving up vegan and gluten-free goodies. Co-owner Janice Townsend said, "It's a coffee house with vegans in mind." But don't worry if you're not a vegan or following a plant-based diet, Roots has something for the carnivores and omnivores, too, serving a full menu of delicious drinks and locally sourced foods to delight all palates. More than anything, Townsend wants Roots to be a gathering place for creatives, families, and friends. "When people get together with coffee, relationships and community come to life.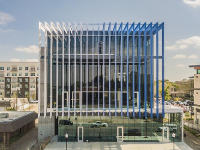 On 8th Avenue stands a unique building with blue fins. Just as unique as the building it inhabits, The Merch is a revolutionary community of local artisans bridging the gap between e-commerce and direct consumer sales. The Merch takes the load off the shoulders of local boutique or direct-to-consumer brands that need a brick-and-mortar location but cannot afford a dedicated storefront, with all its attendant costs. By creating a "plug and play" environment, The Merch helps vendors on a quicker path to profitability based on the culture and spirit of the community marketplace which has stood the test of time.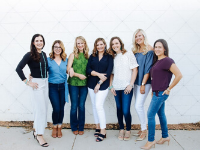 Vivi Women's Health is a new female-led obstetrician/gynecologist provider at Baylor Scott & White All Saints. Doctors Jamie Erwin, Lindsay Breedlove, Kathleen Cammack, Jennifer McLeland, Rebecca Rogers, Emily Maas, and Danielle Burkett empower their patients to become partners in their healthcare and live vivaciously. "The foundation of our care is that we're patients, too," said McLeland. "As mothers ourselves, we make sure our practices are not only safe… but [are] discussed in a two-way conversation. This is a partnership." In addition to All Saints, they have locations on South Hulen, in Haltom City, and in Willow Park.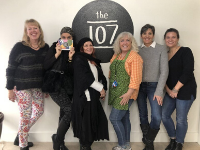 The ladies of 76107 Collective are dreamers. They're artists and therapists, entrepreneurs and visionaries. In addition to a web design and hosting company, a soap maker, a holistic massage studio, a nutritionist, a truly unique retail shop, and two artists in residence, 76107 collective offers co-working space. It is the perfect work space and haven for a diverse range of people to come together, share ideas and impart wisdom, all while getting inspired work done.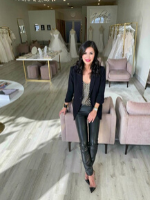 There's a new boutique in town! Located in the former De Ma Fille spot off Park Hill and just a mile down from the TCU campus, I Dream is a bride-centered wedding dress boutique located right in the heart of Fort Worth.  Upon entering the boutique, you will feel as though you have stepped straight into a New York City bridal shop. The renovated store feels modern, fresh and clean. Owner Cecilia Chu grew up in Paris and has had a lifelong love of fashion. She moved to Texas at 9 years old and is now here in the Fort ready to find brides their perfect dress!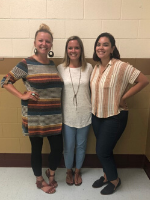 Third grade teachers Krysta Kick and Anna Adams, along with second grade teacher Angela Rolon have started the Lily B Broadcast Team at Lily B. Clayton Elementary School. This video production team is a group of fourth and fifth graders who share the daily announcements in a different medium. Krysta Kick said, "We wanted to provide a space for students to utilize real work skills and student-led creativity to share with everyone on our campus."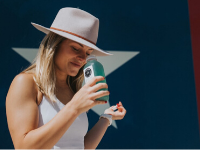 Pressed Juicery, the leading cold-pressed juice and plant-based beverage brand dedicated to making high nutrition a realistic option for all people, has opened its third Dallas-Fort Worth location in WestBend. They carry cold-pressed juices, functional shots, plant-based milks, and plant based vegan soft serve Freeze topped with decadent gluten free and vegan toppings.  "Fort Worth has been on our radar…" said Blaine LaBron, Vice-President of Marketing Technology at Pressed Juicery. "We love the energy of the center and can't wait to get to know the Fort Worth community…"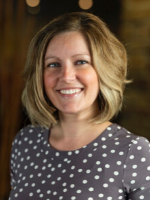 WholeLife Authentic Care is pleased to announce that Melissa Weidert, MD, will be joining the clinic as an obstetrician and gynecologist. A graduate of the University of Wisconsin School of Medicine and Public Health, Weidert comes to Fort Worth from Green Bay. Nicole Havrilla, President of WholeLife Authentic Care said, "We are excited and grateful to have Dr. Weidert on our team… her expertise and knowledge will allow us to offer comprehensive care to women and families across North Texas." Striving to treat the whole person, Dr. Weidert said, "I feel very blessed to be joining WholeLife and the Dallas-Fort Worth community."  
If you or someone you know has done something wonderful, please contact our editor at lee@madeworthymedia.com.