You've been pinning and planning, you've been crowdsourcing and reading, and the time is finally here. Your big trip with the family, significant other, or girlfriends is just around the corner, and you need some serious inspiration for what to pack.
Spring and summer travel means fun, bright colors that put you in a carefree state of mind. We learned from our visit with stylists from Neiman Marcus Fort Worth that the big trends this year include floral dresses, stripes, statement sleeves, rainbow jewelry, and a pointed-toe shoe. That sounds lovely, but how can you pack all of that?
Our fashion contributor, Nicole Shaffer, happens to be the perfect spokesperson for great travel fashion. Her day job includes spotting the hottest trends and incorporating them into the modern woman's wardrobe, all while traveling. Her style is always timeless, yet never boring. This issue's assignment took her to Meacham Airport, where the redesigned administration building with a balcony overlooking the tarmac was the perfect backdrop for an inspiring view of private travel. You may not be boarding your private Learjet to the south of France or flying off to the Caribbean this season, but these looks that Nicole pulled together will make you feel like you are!

1. You're planning your dream vacation somewhere warm and tropical. What are must haves?
Gucci, Illesteva, or Givenchy sunglasses, good sunscreen, and of course, hats. Luna makes the most beautiful wide brim hat. I love Solid and Striped one-piece swimsuits and O'Neill's solid bikinis. They will take you from wake boarding to lazing with a drink. I love a Lisa Marie Fernandez swimsuit, and Rebecca De Ravenel's pieces are so tropical! Go for a woven bag this season. Top handles are very chic; a STAUD bucket is the season's "It" bag, Cult Gaia (pictured) is a favorite, too. '70s dresses and caftans from vintage/resale shops with a Greek strappy sandal top my list for date nights. Breezy Luna dresses and tunics with white denim are my daytime must-haves.
2. You're taking a quick weekend trip and only want to take a carryon. What pieces do you bring?
Pack layers! A colorful scarf, a pashmina, and lightweight dresses are your friend. Sacrifice shoes to have a few extra accessories to make an outfit. I just did a quick weekend in Carmel, and two pairs of strappy sandals, a Gucci scarf, a black tuxedo romper, a few lightweight dresses, one pair of jeans, and a Talbots blazer were perfect for a weekend with multiple events. Take only toiletries that are essential and use what your hotel has to offer. I'm obsessed with a travel line called Paravel. It's affordable with all the essentials to pack in cubes to stay organized! I have my eye on a monogrammed leather pouch from The Daily Edited (tde.).
3. How do you look professional, yet fashionable and comfortable for a work conference?
Layers, always! I travel weekly, and I don't board a flight without a Talbots blazer, colorful suede driving mocs, and a pashmina. I typically fly in pants. I love a light-weight, raw silk "Genie pant". You're dressed up while essentially in pjs. I also love a silk blouse. While pointy toe heels are my work go-to, save your feet in the airport. Wear your mocs and change to heels at your destination.

4. You said "yes" to Disneyworld. How do you not overpack for the family?
You can't wear more than one outfit a day. T-shirts and comfy shoes. If you're going during winter, pack layers that you can fold into a backpack. For kids, Zara and Gap have cute Disney apparel. Moms, grab your favorite sneakers and wear these the entire time. Jeans, shorts, light-weight knits, and a boyfriend cardigan for when it cools down. Plan your days based on the park you're visiting, and pack one outfit per day. Adults should carry a backpack or crossbody. Think utilitarian when planning your Disney trip, and you will have the time of your life!
5. You have a Girls' Trip planned for a SF or NYC. What are your go-to items for touring and nightlife?
San Francisco can be chilly, so again, pack layers. Mules are in and are ideal for walking miles. A pair of high-waisted denim pants; Gap has some fabulous options. Easy knits, blazers, and a cardigan, as well as a dress for a fancy evening. A silk romper can be worn a blazer for daytime then transformed with strappy sandals and a scarf for evening. Fun earrings or chunky gold hoops complete the look. Bring a hat: wool for fall/winter and straw for spring/summer. A hat will protect your skin, and as a bonus, you look chic and don't have to worry about your hair!

6. You're traveling internationally. How do you not look "touristy"?
Sensible shoes: mules or Superga sneakers, knit dresses, a beautiful scarf, and a few solid pashminas. While I adore prints, you don't want lots of luggage, so pack solid knit dresses and keep your accessories colorful. Again, a pair of sunglasses, hats, and SPF are essential!

7. You book an overnight flight. How can you look rested, even if you aren't?
I spritz myself with rosewater. Pack a heavier moisturizer for face and hands. Flights are dehydrating! Fly sans makeup, if possible. Drink water and nix salt to avoid feeling puffy. Flights are typically freezing, so an easy swing cardigan, Madewell t-shirt, and flowing pants with sandals or sneakers are perfect. Or try a sweater, scarf, comfy jeans, and mules. Regardless the destination, always pack layers!
This article originally appeared in Madeworthy magazine's May/June issue.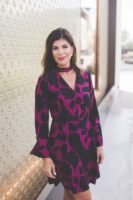 Nicole Shaffer is a district manager at Talbots and the proud mother of two elementary school-aged children. She writes about fashion for Madeworthy.