When Martine and Ginny dreamed up Gill Children's Services around the dining room table in 1979, they never knew that their efforts would impact thousands of children for decades to come.
It all started with a legacy. When local couple, Smith and Nina Gill, passed away within months of each other, they left an incredible note of grace. With no children of their own, they simply instructed that their $1,000,000 estate be left to the "needy children of Tarrant County". Those given charge with the estate began to wonder where the funds should go.
Martine Ginsburg and Ginny Richards were tasked with finding a local cause to benefit from the Gill estate. After talking with local experts and friends, they made a startling discovery. While there are many wonderful nonprofit organizations and programs in Tarrant County, hundreds of children were falling through the cracks of the network. Whether due to citizenship, age, income level, or simply a long waiting list, children were going unserved. Martine and Ginny proposed a solution to the Gill Trust: they would create an agency of last resort to provide a safety net for Tarrant County children. By providing last resort financial assistance, they could assist children when no one else could. Just like that, Gill Children's Services was founded in 1979 and began funding children's needs that very year. The mission of Gill Children's Services is to be a funding source of last resort that provides a safety net for Tarrant County children whose medical, dental, physical, social, psychological, and educational needs have not been met by other community resources.
Although the Gill Trust made its last distribution in 1988, Martine and Ginny's legacy continues with support from our caring community. Since its founding, Gill Children's Services has fulfilled over 57,000 unmet needs.  Last year alone, Gill allocated $337,571 for 1,631 last-resort services for 1,294 local children.
Children turn to Gill with a variety of needs, from diapers and hearing aids to root canals and summer school tuition. There is no typical child or family that we serve; each is unique and specific. However, they each have one thing in common – they cannot find resources anywhere else.
Seven-year-old Letycia was one such child. Letycia was eager for her first day of third grade. She was excited to meet her new teacher, her new classmates, and begin a new year. However, Letycia couldn't enroll in school.
Letycia suffers from multiple anaphylactic allergies and must carry an epinephrine auto-injector (EpiPen) with her at all times to avoid a life-threatening reaction. Her EpiPen was due to expire four days after the start of school. To start school on time, Letycia would need a pen with at least three months remaining on its expiration date. However, her family's insurance benefits would not take effect for another three weeks. Without benefits, her EpiPen would cost over $700. "With the cost of clothes and school supplies for Letycia and her two siblings, we could not get together enough funds on short notice," said her mother, Bethany.
While at the pharmacy, Bethany voiced her concerns to the Walgreens staff. They recommended she seek out Gill Children's Services for assistance. "Gill's staff was very compassionate," Bethany said. "They were happy to help and were very prompt." Gill provided payment for Letycia's EpiPen the same day, allowing her to enroll in school with her classmates.
Letycia is now eight years old and in the fourth grade. She joined cheer leading, participates in an after-school program, and won both the school art and science fairs. "My prayers were answered when she received help from Gill Children's Services for her EpiPen," Bethany explains, "because any interaction with one of her many anaphylactic allergies could cause death and an unbearable loss for our family."
Gill also stepped in for Gael. When Jacqueline welcomed her first child, Gael, into the world last summer, she was overwhelmed with joy to become a mother. Her son was a happy, growing baby until his first birthday, when he began having problems feeding. Jacqueline did not know where to turn. The staff at Cook Children's Medical Center fitted Gael with a feeding tube to ensure he receives all the nutrients he needs. With the help of the feeding tube, he has gained more weight, has more energy, and is more alert. However, the tube and tape are very uncomfortable for Gael, and he has pulled out the tube twice. "Replacing the tube is very stressful. He gets scared and cries," says Jacqueline. To make feeding easier, the hospital has recommended Gael get a gastrostomy button, or "G-Button". This device would help him get the nutrition and medicines he needs without the hassle of a restrictive tube. Before his doctor could surgically place the G-Button, however, the hospital had to run two tests.
Jacqueline works part-time and is not eligible for insurance through her employer. Although her application with CHIP and Medicaid was pending, her son needed treatment urgently. Without insurance benefits, the testing would have been too expensive for Jacqueline to afford. She shared her concerns with the staff at Cook Children's Medical Center who referred Jacqueline to Gill Children's Services for help. Because of support from people like you, Gill Children's Services was able to pay for Gael's two tests.
Jacqueline is relieved that her baby can begin treatment. She says, "He is much better. He is ready to have his surgery done." Having the G-Button will allow Gael to develop and grow during these critical months. "Hopefully when he gets his G-Button, he will get better and better each day," says Jacqueline.
Gill is a safety net for children like Letycia and Gael every day, and we need your help to continue the legacy left by Mr. and Mrs. Gill, Martine, and Ginny. One simple way to support the mission is to host a diaper and baby wipes drive. A recent study by Huggies showed that one in three mothers have had to choose between buying diapers and buying basic goods like food. Gill supplied 259 packs of diapers and wipes to local infants last year. You can simply drop off diapers (sizes 1-6) at the Gill Children's Services office.
You may also invest in the mission with a financial gift. Here is how your donation would be put to work:
• $46 Provides birth certificates for 2 children to enroll in school, health care, or housing.
• $180 Allows one middle or high school student to attend summer school.
• $300 Pays for a prescription for an ill child whose family cannot afford this expense.
• $400 Pays for a dental exam, two fillings, and a stainless-steel crown for a child in pain.
Gill Children's Services, Inc.
555 Hemphill Street, Suite 200
Fort Worth, Texas 76104
P (817) 332-5070
F (817) 332-6445
Office Hours: 8:30AM – 3:30PM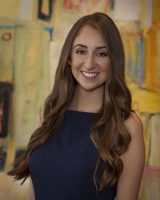 Peyton Salavarria is a proud graduate of the University of Oklahoma (OU) where she earned a Bachelor of Business Administration degree in marketing in 2012. Her passion for charitable organizations began as an intern at Lena Pope in Fort Worth. She also served in development at Communities In Schools of Greater Tarrant County. Peyton has served as the Executive Director at Gill Children's Services since 2014. Her love for her community extends beyond her "day job". She serves on the Children's Oral Health Coalition, the Save a Smile Community Advisory Committee, and the board of the Association of Fundraising Professionals Fort Worth-Metro Chapter. She is a graduate of Leadership Fort Worth's LeadingEdge program and the SteerFW Keyholders 2017 cohort. Peyton also serves on the board of the Fort Worth Pi Beta Phi Alumnae Association and as an Alumnae Advisor for the TCU chapter.