Located deep in the heart of Bosque County, Camp John Marc has inspired confidence for life for children, teens, and families who have a chronic medical condition or physical challenge through high-quality camping programs since 1991.
Year-round programs take place at a specialized camp facility that is uniquely designed in partnership with Dallas-Fort Worth area pediatric hospitals, community volunteers, and health organizations who are dedicated to serving these campers.
From its humble beginning in which nearly 500 campers were served over eight weeks of camp that first summer, Camp John Marc now serves 3,000 campers a year through 11 week-long and 28 weekend camping programs. Campers come from all corners of Texas, but the majority are treated at one of the partnering pediatric hospitals that include Cook Children's Medical Center in Fort Worth, Children's Health in Dallas, and Texas Scottish Rite Hospital in Dallas.
Camp John Marc is named after John Marc Myers, a young boy, who after a diagnosis of osteogenic sarcoma (bone cancer), enjoyed spending time at his family's ranch in the Texas Hill country to help recuperate after treatments. Sadly, John Marc lost his battle with cancer at the age of 9, but inspired by his love of the outdoors, his parents (Jan and Marc Myers) donated 135 acres of their family ranch to help jump-start the efforts of a camp for children experiencing various medical challenges. This gift helped create a place where all kids, regardless of their diagnosis, could enjoy the outdoors and experience nature just as their son had.
Each summer, a special group of children board buses for a couple-hour drive down to Camp's iconic stone front gate. When they arrive, they are greeted by staff and volunteers who ensure a fun and safe week. At Camp, children experience fishing, canoeing, climbing a 40-foot rock wall and the joy of zip-ling down! There are opportunities to learn how to play the guitar, how to shoot a basketball, or how to ride a horse. Activities are adapted to ensure every child that attends has an opportunity to participate fully. From the action-packed activities, to the quiet moments of finding a new friend, campers gain confidence and learn that they are not alone, even when faced with challenges.
For Camp John Marc's campers (and parents) there is much joy in packing for a week of camp! Through careful planning and much excitement, campers pack up their flashlight for night hikes, their favorite stuffed animal, and their closed-toe shoes for hiking around camp. Sometimes, in the excitement of packing or in the nerves of leaving home, some things can be forgotten or left behind. And for some, there are not spare items to take – an extra set of twin sheets or a tube of toothpaste that isn't also being used by their siblings at home for example. Because the campers of Camp John Marc sometimes do not arrive with all the items they need for their time at Camp, a closet, known as the "Necessary Closet" has been created to provide campers with the items they might have forgotten or do not have.
Camp is always in need of travel sized shampoos, deodorant, toothpaste, and toothbrushes. Other items, such as underwear (sizes 6-18), socks (all sizes), and swimsuits (size 6+), as well as twin sized sheets and sleeping bags help too! Through the kindness of donations to the "Necessary Closet," Camp John Marc is able to provide this valuable service, which helps ensure the campers can place their focus on their camp experience.
Necessary Closet Wish List:
Travel sized toothpaste
Travel sized shampoos
Toothbrushes
Deodorant
Hair brushes
Hair ties
Hand Sanitizer
Swimsuits (size 6+)
Shoes (new or gently used – all sizes)
Underwear (6+)
Socks (all sizes)
Twin Sheets (both fitted and flat)
Sleeping Bags
Bug Spray
Sunscreen
Pillows
Pillow cases
You can read more about Camp John Marc through The Greatest Gift Catalog Ever. Visit www.TGGCE.org to learn about lots of charitable projects in Tarrant County.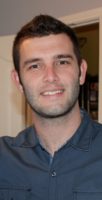 Kevin Randles is the Executive Director of Camp John Marc. His involvement with Camp began in 1992 as a camper at Camp Esperanza, one of Camp John Marc's week-long summer camps for children/teenagers with cancer. After spending his summers in college as an activity leader, Kevin spent time as Assistant Camp Director and Camp Director prior to his role as Executive Director. He and his wife Katelyn have a one-year old daughter; Adeline.