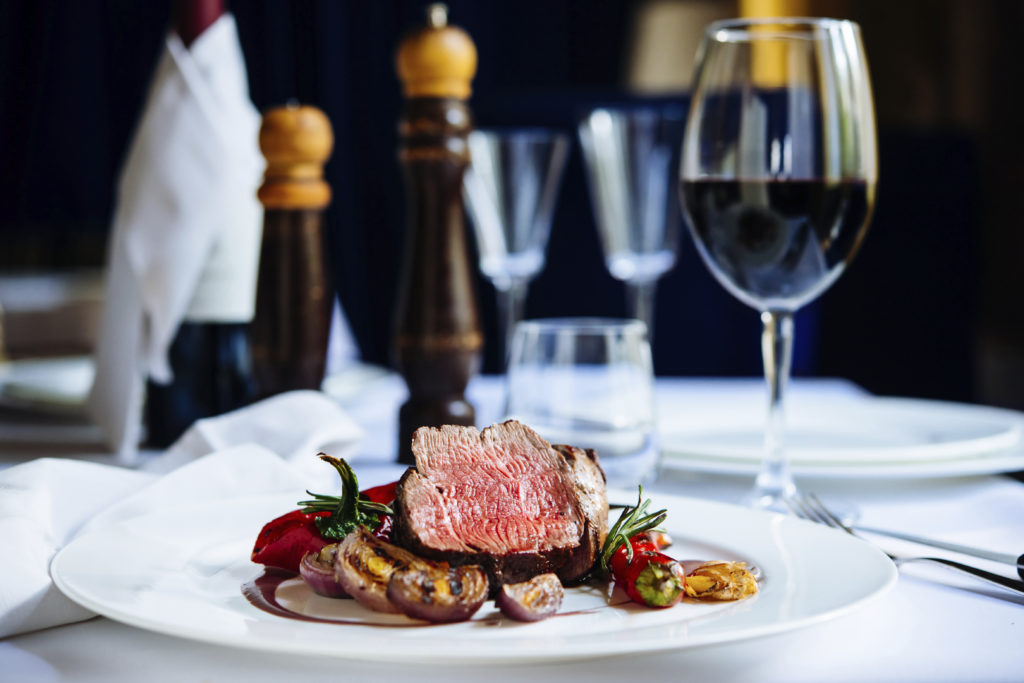 This being Cowtown it's not hard to find a great steak. In fact, you can hardly swing a five-weight calf without hitting an upscale steakhouse. I'm not complaining. Trust me when I tell there's not much in this world I love more than a steakhouse. The dark wood, the polished brass, the massive martinis, and steak for days… Be still my beating heart.
However, sometimes you find yourself at a decidedly non-steakhouse restaurant with a strong craving for a good steak. Or you might want to go out for a steak without having to get dressed to impress and drop three hundred bucks. Fear not I have a few suggestions for you.
St. Emilion is our go-to anniversary and special occasion place for the simple fact that the food is amazing. I don't get too many arguments when I opine that St. Emilion has the best food in Fort Worth. The service is impeccable and atmosphere is cozy and friendly so it's always a fantastic dining experience.
Usually when we go I try to order the Frenchiest French food on offer, often opting for beef bourguignon or duck confit after foie gras and escargot. What could possibly be more French than that? Steak au poivre, that's what.  What's steak au poivre, you ask. Only a dry aged New York strip topped with a divine peppercorn and cognac sauce invented by the most famous French chef of all time, Auguste Escoffier. I had this steak last time we were there and I will put it up against anything you can get at any steakhouse in town. I've had steak au poivre elsewhere but this is the best execution I've had the pleasure of trying.
So, if you're heading out for what will assuredly be an inspired dinner at the best eatery in town but you just really want a steak, have no fear; French steaks are awesome.
If, on the other hand, you are going to a concert at Billy Bob's and don't want to shift your clothes between a fine dining experience and boot-scooting have I got the place for you. M&M Steakhouse is one of my absolute favorite spots in Fort Worth. Housed in what I will kindly describe as a windowless cinder-block cube, M&M has been serving massive garlic topped steaks and giant schooners of ice cold beer since the 1970's, though I only learned about it 20 years ago.
This is the place to go for a darn good steak that won't break the bank. The waitress will call you honey, sweetie or some combination thereof. You will get a baked potato and some green beans with your steak. You will also get an iceberg lettuce salad with ranch dressing. If you don't like ranch, too bad for you. Upon ordering your steak you will be asked if you want garlic. Don't worry about what exactly this means. Trust me, you want the garlic so just say yes. If you're like me and you believe there is no such thing as too much garlic, you can even ask for double garlic. Do not expect your significant other to get too close to you for a couple days if you do this, but depending on how long you've been together you might be secure enough in your relationship to indulge in the extra goodness.
A couple more things: Did I mention the beer? M&M has the coldest beer in town. Huge beer icebergs will be floating in your ice-covered schooner as sheets of ice slide off of it onto the table. Its really a sight to behold. Finally, bring a stack of quarters for the jukebox, especially if you like Patsy Cline, Willie Nelson, Merle Haggard and the like. If you're going to M&M let me know. I'll probably join you because you are about to have a great time and a great steak.
When people ask me what my favorite Mexican restaurants are I try to categorize them. I've got a place for enchiladas, a place for traditional Mexican food, a place for Mexican seafood, a chile relleno place, a queso place, a childhood memories place, and of course THE patio place. But Uncle Julio's is my place for grilled Mexican food. Some chips, salsa, and queso, some delicious fresh tortillas, a couple of swirls (don't judge me), and a carne asada and I'm a happy daddy.
I'm not entirely sure what Uncle Julio does with his grill but I like it. I started out as most people do, sampling the fajitas and being muy impressed, but soon I wanted the biggest slab of that beef fajita I could get. That's when I learned the two most important words in the Spanish language after cerveza and baño; Carne Asada. I'm not sure of the exact translation but I suspect its something like "meat of the gods". Basically it's a skirt steak marinated in something heavenly, given a heavy dose of mesquite smoke, and doused in melted butter. How can you go wrong with that?
I think most people go to a Mexican restaurant and focus on the more traditional sounding stuff on the menu like tacos, enchiladas, fajitas and they don't think of trying to track down a steak on that menu. Well, if you don't order the carne asada next time you're at Uncle Julio's you're doing yourself a great disservice and you're probably angering the gods. You should also have the second swirl. You know, as an offering of atonement for all the other times you've been there and didn't get the steak.