As with every beauty trend, there are things that come and go. In my personal and professional opinion, brows are back in full force, and I hope that they are here to stay! A well-enhanced brow will literally frame your face and compliment your natural beauty.  Brows can assist in making you appear more youthful and awake, and who doesn't want that? I tell all my clients that no brow should be left untouched – even the thickest and most naturally beautiful brows need a little help. There are a ton of brow products on the market: pomades, gels, pencils – but which one is for you? If you're a brow newbie or if the thought of adding another step into your makeup routine gives you a headache, have no fear! In just a few super simple steps, I will show you a user-friendly, quick and easy way to enhance your brows.
The simplest, most forgiving product for use on your brows is definitely a brow powder. You can purchase a powder made specifically for brows or fake it and experiment with a soft, natural eyeshadow color. For an effortlessly natural looking brow, the trick here is to make sure you're choosing a shade that is somewhere between the hair on your head and your natural brow color. Anything outside of that range will be too dramatic and could result in severe, angry brows. The goal is not for people to notice that your brows are very "done" looking, just that you look great!
Here's what you'll need to create the perfect, easy brow
-eyeshadow primer (my favorite is MAC Pro Longwear Paint Pot in shades Painterly or Soft Ochre for fair skinned ladies and shade Layin' Low for darker skin tones).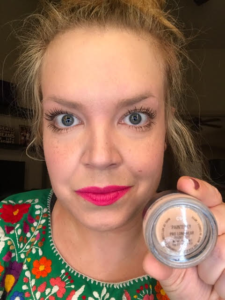 -a firm bristled angled brush (bonus if theres a spoolie (mascara wand) on the other end! this will come in handy for any errors.)
My brush of choice is the Brow Tamer from LimeLight by Alcone (
www.limelightbyalcone.com/karidoesmakeup
)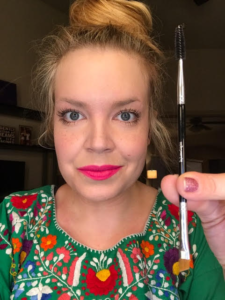 -brow powder or natural toned eyeshadow in your color of choice (I'm using Anastasia Beverly Hills brow powder duo in shade Soft Brown).
-Optional: clear or tinted brow gel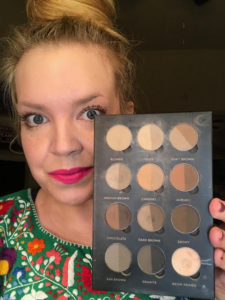 Fear not, you definitely don't need all these shades! This is the entire range of colors in the Anastasia Beverly Hills Pro Palette. Seeing the range of colors available can be helpful though in determining what would be best for you! I chose the 'Soft Brown' Duo (top far right duo) as its the perfect middle ground between my blonde hair and slightly darker brows.
Step 1:
Apply the eye shadow primer directly onto your eyebrow hair. This will give the brow powder something to stick to! When I'm doing makeup on clients I always use a brush to apply the primer but at home I simply use my fingers.
Pro Tip: try using your ring finger (your weakest finger pressure-wise for the delicate eye area!) and gently pat on some of the Painterly Paint Pot.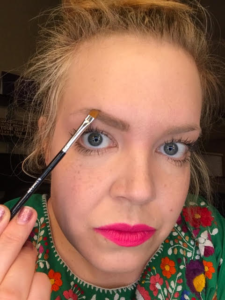 I usually begin at the base of my eyelashes and work upwards, patting product through the brow hair. Any shadow primer will work, but my favorite thing about the Paint Pots is that they will neutralize any unevenness in tone on your eyelids, adding to the overall fabulous look we're going for. Veins or splotchy tones on those eyelids are gone and you're left with a clean canvas for your brows to be the star! Some brow powders will come with a wax that you can use as primer but frankly they aren't my favorite. To each their own — use what YOU like!
Step 2: 
Using your angled brush, dip into your powder shade of choice. It's definitely easier to add product or build drama than it is to tone it down. Start off gently! There is going to be a learning curve for how much shadow to use.
I prefer to use short, light-handed strokes with the brush to begin filling in the entire brow. I work with the shape of the angled brush in the direction of my arch to make the job even simpler!
If you position your brush as I have mine, it makes enhancing that arch easy!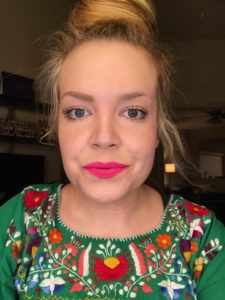 One brow down! See how it's soft and natural yet noticeable in comparison to my bare brow?
On to brow #2! Notice the positioning of the brush, I'm once again working with the angle of the bristles and the angle of my arch!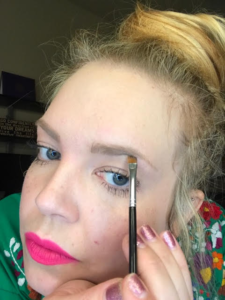 Pro Tip: one of my favorite quotes is "Brows are sisters, not twins" because it's SO true! Very few people have completely symmetrical faces and naturally your brows will reflect that. If you attempt to make your brows cookie cutter twins, you might end up looking a little unnatural (aka crazy). Work with the shape you have, not against it!
Pro Tip: It's also incredibly important to take a step back from the mirror! Focusing closely on an isolated area of your face for too long will warp your perspective! Take a few steps back from the mirror. Assess what you've done. You can always add more brow powder!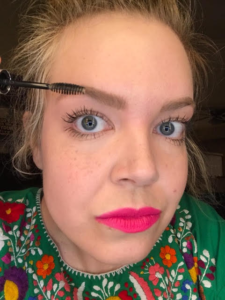 Pro Tip: if you feel like you've gotten too heavy handed, hold the spoolie (mascara wand end of the brow brush!) horizontally and move it left to right a few times. The back and forth motion will grab some of the brow powder and instantly soften any harsh lines or dark spots. You can also graze the area lightly with a cotton swab, but I swear by the spoolie as an 'eraser' tip!
Step 3 (Optional): An optional extra step is to top off your completed brows with a clear or tinted brow gel. I use the clear brow gel from Anastasia Beverly Hills and it simply helps keep any stray brow hairs in place and can further lock on the powder you've used.