Forget pumpkin spice. At the end of fall, it's open season for boot hunting. I'm looking for heeled, wedged, riding, moto, and peep-toe styles to get me through the winter; ones that keep my feet feeling cozy warm, that won't fall apart in a week, and that won't hurt.
If this sounds like an impossibly tall order to you, let me introduce you to "The Sole Man," better known to Fort Worthians as Stanley Eisenman, and his beautiful bride of 45 years, Barbi Eisenman. With two locations off of Camp Bowie Blvd. and Hulen St., the Eisenmans have been in the business of fine shoes and accessories for over 50 years. The Hulen location opened in 1999 and became the go-to store for Tanglewood moms not long after opening. The husband-and-wife team stock their displays with shoes Tanglewood Moms want because they listen closely when their customers make suggestions. "Since we're locally owned," said Stanley. "We strive to assort our merchandise to please our local clientele. Additionally, we have a large assortment of designer as well as popular-priced shoes."
Of course, when I step foot into the store, I'm immediately distracted by a bright red pump by Pedro Garcia just before noticing they carry a nude Alice+Olivia pump topped with espadrille ribbons. Why aren't these part of my life life already?
I meet Barbi and she whisks me off to the Aquatalia section at the back of the store, telling me about this sleek line of weather-proofed boots and booties she likes to wear to Colorado. In case another Iceapocalypse hits Fort Worth this year, I'm definitely going to need these Aquatalia boots, too.
The decision is made until I notice one of my all-time favorite brands just below the Aquatalias. Do I spy a Frye Boot? Yep! I'm crossing that crowded Neiman Marcus excursion off my to-do list.
My search continues as I notice a gorgeously woven black bootie by André Assous leaning against a matching black woven side-body bag. And then I notice designs by AGL, Arche, Robert Zur, and I thank my stars I'm not in a crowded, tight shoe store fighting to find a seat to sit or a mirror to catwalk in front of without the judgment of strangers.
The entire time I'm kept in good company by the objective and honest opinions of the store manager, Lacy Cantrell and Amy Schumacher, who chat with other customers they know by name.
"We have so many repeat customers," said Barbi. "Women of every age and walk of life have been coming to us for years."
The ladies of Eisenmans light up with excitement when they start to tell me about the shoe they all own: the "Madison" by Trask. What could this Trask bootie have that the other booties I've owned don't? Answer: Everything, which includes a microfiber lining, a Memory foam-cushioned insole, and the most flattering cut on my ankle. Amy grabbed me a size that fit like a glove and then I went walking around the store like I was tip-toeing around on pillows.
Long before I made my way to the back of the store to traipse around in what I now call "The Wonder Shoes," I passed by some slinky soft-looking cashmere ponchos and wraps made by White + Warren Collection with way too much glitter and gold for me to pass up. "We carry Catherine Page Jewelry," said Barbi. "She's based out of Frisco and her work is so artistic and so unlike anything else you see in stores." She showed me a Catherine Page bracelet she wears almost every day, explaining that her bracelet is one of many bracelets and necklaces featuring a vintage Chanel pendant the artist saved and incorporated into newer pieces. I can't help but wonder: "Could Catherine Page be the next Kendra Scott?" And then I wonder: "How am I going to afford all of this?" One of the best aspects of Stanley Eisenman's Fine Shoes is that all the prices are really reasonable, especially because all of the merchandise in stock is of a higher quality than what I'd find at a run-of-the-mill department store.
Ready for the good news? Mention that you read about Stanley Eisenman Shoes on TanglewoodMoms.com and you'll receive a 10% discount on your next purchase. Cha-ching!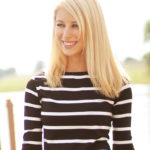 Jackie Hoermann-Elliott is the Assistant Director of TCU's New Media Writing Studio, where she teaches digital composing to Horned Frogs needing to create videos, infographics, blogs, and much more. She wrote for newspapers and magazines around the Midwest before settling down in the Lonestar state. Since she moved here in 2013, she's written for The Fort Worth Star-Telegram, Indulge, K Magazine, The Dallas Morning News, and GuideLive. Currently, she writes for those fun guys running The Fort Worth Weekly and the dynamic team of moms and dads at Tanglewood Moms.
When she's not writing, she's procrasti-cleaning to avoid her dissertation or reading up on new trends in health and psychology research. For fun, she cheers on her husband, Mansfield ISD football coach Buck Elliot, she studies yoga at Yogali off E. Lancaster, or practices poses with her amazing bonus daughter, "E."