This article originally appeared in Madeworthy magazine.
Several years ago, I met Samantha Stewart, and the adage, "To know her is to love her," is certainly true. Her warmth, parenting skills, keen intelligence, and incredible fashion sense will give you an instant girl crush. She is a pharmacist-turned-fashion blogger, and I'm thrilled that she turned her passion project into an incredible resource. Her blog, Style of Sam, is now my go-to reference for staying current with timeless, age-appropriate trends. She knows my "needs" for each season.
I am a working mama of two elementary age children and have been committed to the retail industry for nearly twenty years. My work is bi-coastal, and with my intense travel schedule, I've grown increasingly appreciative of resources like fashion blogs and online interest groups to help me stay informed and up-to-date and to find what I'm looking for quickly. It is my job to look current and put-together. When traveling, my in-flight ritual includes checking my iPhone for the happenings in my industry, the latest Harper's Bazaar, Time, or Porter magazine, and digging through the "Like to Know It" reference emails I received from Sam's fabulous Instagram page.
All women, whether working in or out of the home, will appreciate a polished, put-together look from someone who is as beautiful outside as she is within. Samantha nails the fashion trends for Fort Worth, so we chose to celebrate her style for fall with our Madeworthy readers.
Question: How are you planning to update your fall wardrobe? What are the key items for a fall wardrobe?

Answer: 1) Florals are pretty major this season, and I'm LOVING it! You'll see "couch florals" and dramatic florals – think flowers on a darker background.
2) I'm always late in the game, but I finally got an army green anorak / field jacket. The sequin and patch embellishments on it take it up a notch, and it literally goes with everything!
3) A good pair of booties is so versatile because you can wear them with jeans and dresses. I found a great pair of studded black booties that will give my outfit a little more edge.

Question: What are the Fall 2017 top colors?
Answer: 1) Shades of yellow (mustard and golden) – Normally, I'm not a huge fan of those colors, but it looks very luxe in velvet.
2) Blush pink – This is one of my favorites, and it's hard for me not to buy everything right now! 3) Pantone released their TEN Fall 2017 colors from NYFW
here: https://www.pantone.com/fashion-color-report-fall-2017
Question: Which designers got it right this fall?
Answer: J Crew continues to kill it every year during the Fall Season! They manage to mix normal pieces in different ways so effortlessly. And I'm currently VERY OBSESSED with everything Alessandro Michele puts out for Gucci. The pieces are beautiful with opulent florals, embroidery, and eclectic graphic prints.
Question: What is happening with denim?
Answer: The denim world is so exciting right now! You are seeing all kinds of washes, including two-tone washes, and hem lines (front-split, side-splits, ruffles, asymmetrical). It elevates your everyday jeans!
Question: So many options for footwear. What are your favorite fall finds?
Answer: The latest Fall Trend are white booties! I got a pair of Vince white booties with a block heel (so good for being a mom) during the Nordstrom Anniversary Sale, and I'm excited to wear an all winter white outfit.
Question: What splurge item should we consider for fall?
Answer: If you know me personally, then you wouldn't be surprised if I told you to splurge on a handbag! There are some fabulous leather or velvet bags options out right now. Our Texas weather is so unpredictable that you may or may not need a coat or over-the-knee boots, but you can wear a handbag all Fall/Winter season!
Question: What was the last thing you Googled?
Answer: I can't remember if it was "How to Wean Your Baby off a Bottle" or a recipe for oven-roasted halibut!
Question: I stay in shape by…?

Answer: At the moment, my exercise is chasing the kids and using the stairs at work! I'm trying to make more time for intentional exercise, but that may happen in another year or two.
Question: What's the best thing about being a mom?
Answer: That's such a hard question because there are so many things! I guess the best thing would be seeing the pure joy on their faces when they realize that they did something new on their own. It's a mix of being proud and excited by themselves.
Question: What's your guilty pleasure?
Answer: I've been eating Tate's Bake Shop GF Double Chocolate Chip cookies like they are going out of style! Can you say #stresseating five times fast?
Question: Where do you like to have dinner with your spouse in Fort Worth?
Answer: That's such a luxury! When we do have a chance, then our usual favorite is Fireside Pies. I love a good pizza and glass of wine!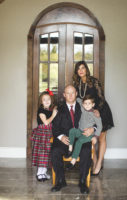 Nicole Shaffer is a district manager at Talbots and the proud mother of two elementary school-aged children. She writes about fashion for Madeworthy.