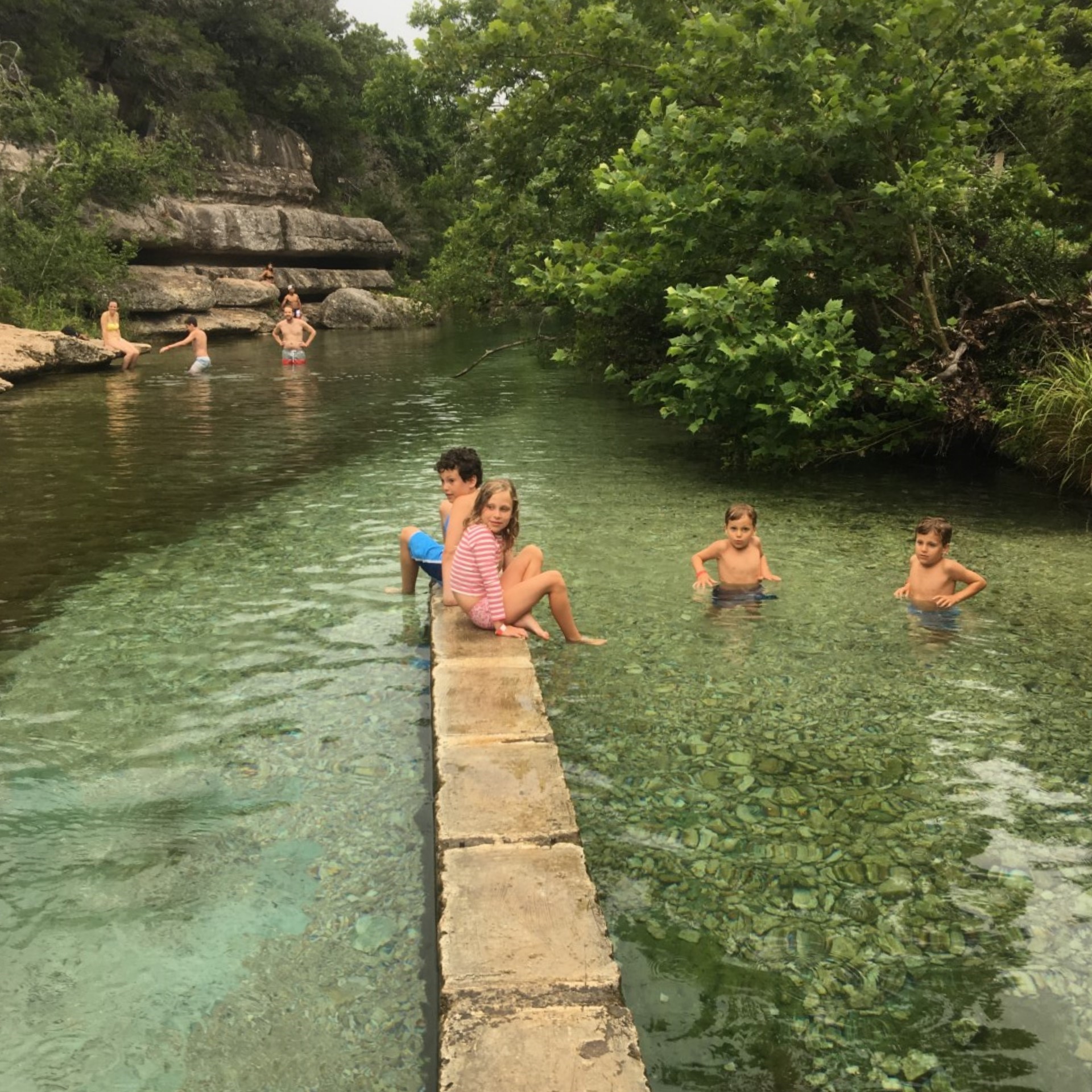 We'd been talking about a weekend family getaway to the Hill Country for a while and had casually looked for places on VRBO and Airbnb but hadn't seen anything that was both reasonably priced and spacious enough for our traveling circus. As Wednesday drew to a close, and we still hadn't formulated a plan, I thought we'd have to push it to yet another weekend.  Then late Wednesday afternoon, I saw some friends had posted on Facebook that they were having fun at their house on Lake McQueeney. I figured they might know a good place to stay for the weekend, so I texted and sure enough they recommended Newk's. Newk's? WTH is Newk's. Nevermind, I thought, so I called them, and they had a 2-bedroom condo that would comfortably accommodate all of us at a very nice price. So I called them Thursday morning and booked it. More about Newk's in a minute.
When Friday morning arrived, we threw our stuff in the car and headed south with an invitation from our friends to join them for an afternoon on Lake McQueeney. We got there right about lunch time, and after some quick sandwiches, we slapped on the sunscreen and split the rest of the day between boat and sundeck. If you've never been to Lake McQueeney, you should definitely check it out. Shaped like a racetrack with an island in the middle, it's basically a wide spot in the Guadalupe River about 15 minutes southeast of New Braunfels. Known as The Waterskiing Capital of Texas, it is a smallish lake that is surrounded by tall trees. These trees serve to block the strong winds that sometimes make other lakes difficult to enjoy. Lake McQueeney is almost always calm enough to ski or wakeboard. If you want to spend some time on Lake McQueeney there are tons of rental properties, and you can hire a ski instructor with boat for $100 per hour. Contact Lake Breeze Ski Lodge for details.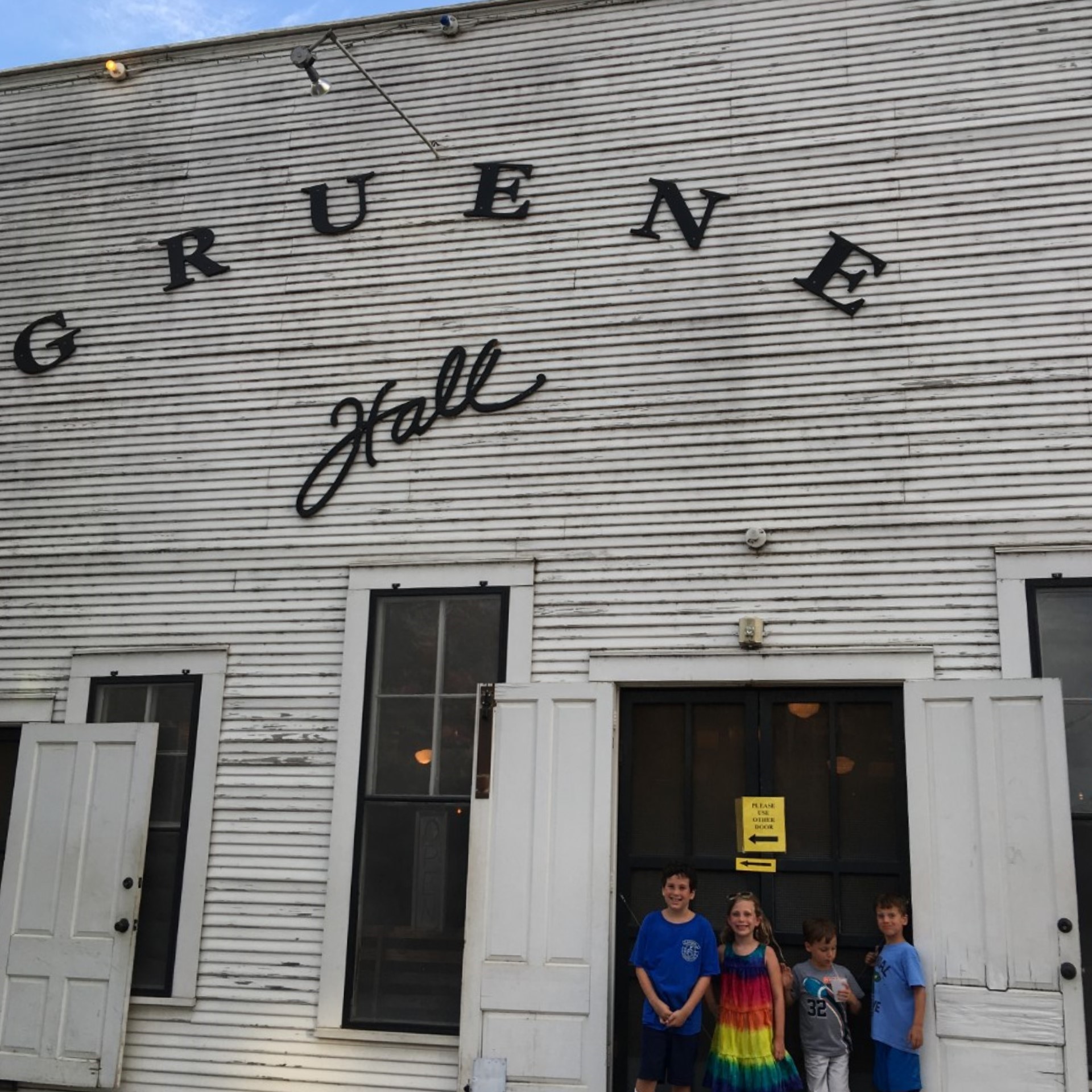 As evening approached, we decided we would head into the iconic Hill Country town of Gruene and have dinner at the iconic Gristmill River Restaurant and Bar. The Gristmill is a destination restaurant that is built on the east bank of the Guadalupe River right behind Gruene Hall. There are great views from almost everywhere, something for everyone on their extensive menu, and plenty of beer, wine and margaritas. The Gristmill reminds me a lot of Joe T's in that you will likely have to wait for a table, but you can enjoy a drink while you do, and the wait is always worth it. It's one of those places where its impossible not to have a great time because of the ambience and the setting. It's just a fun place to be. (PSA – On Friday nights, Gruene starts hopping pretty early and parking can be a challenge. The city has done a great job of accommodating everyone who wants to come visit, but if you have little ones just be prepared to walk a bit.)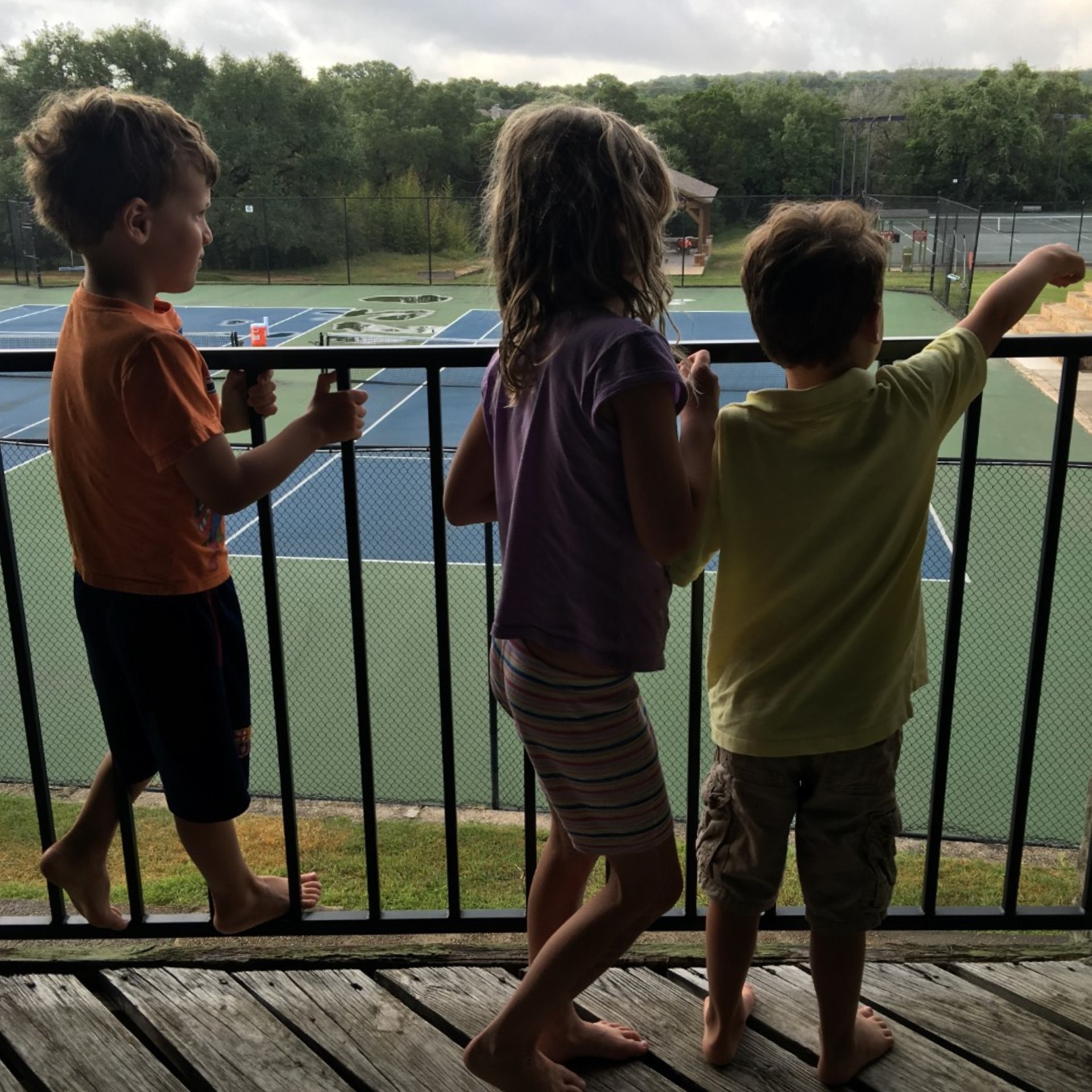 After dinner, we were all pretty wiped out, and so we headed to Newk's, which is just outside New Braunfels. We had no idea what we were in for staying at Newk's. We hadn't read any reviews; we hadn't talked to anyone who had stayed there; we just booked the rooms they had available. It was a complete unknown. When we got there, we quickly realized Newk's is all about the tennis. They have tennis camps for kids, tennis weekends for adults and families with meals included or, like us, you can just rent accommodations. There's also a decidedly Australian undertone to Newk's, which I thought was sort of weird until I realized Newk's is owned by the famous Australian tennis player John Newcombe. Pretty cool.
After we checked in, we made our way to our courtside condo. Two bedrooms, two bathrooms, a loft, a kitchen, washer and dryer, and a huge deck greeted us. Tending a bit toward the rustic, Newk's lodgings were clean, cool, and comfortable with everything you need and nothing you don't. It's a place built for people to come play tennis or explore the Hill Country. We did little more than sleep there, but I highly recommend Newk's and would stay there again in a heartbeat. Its location alone is perfect for Hill Country day trips.
In case you haven't realized it yet, we are kind of fly-by-the-seat-of-our-pants people rather than "planners". That said, we didn't really know what we were going to do with the rest of our time, but a little internet sleuthing helped us pull together a loose idea of how we would spend Saturday. After a comfortable night's sleep, we rolled out of bed, ate a bit of breakfast, and hit the road. First stop: Natural Bridge Caverns. The pictures looked amazing. It was close by. Why not? Well, for me there was a feeling of foreboding and trepidation. You see, I'm more than just a little claustrophobic, and the idea of going deep into underground caves made my palms sweat and my heart beat a little faster. But, I kept my feelings to myself and soldiered on. For about 5 minutes.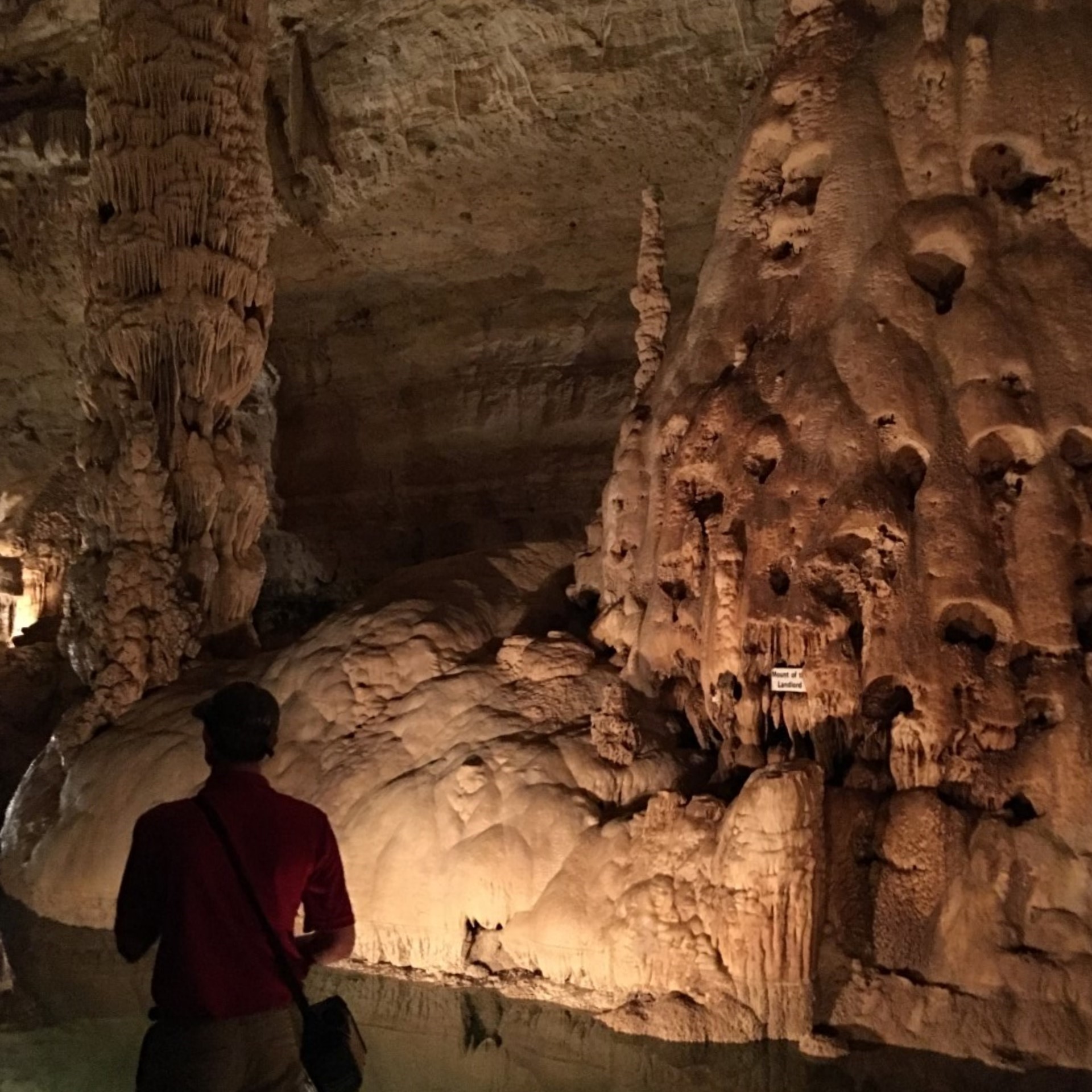 Natural Bridge Caverns is an awesome place. It's a wonder of the natural world with massive, ethereal underground cathedrals of towering stalagmites, soaring stalactites, and fathomless pools of impossibly blue water. Millions of years of living-rock evolution that is awe inspiring. So I am told. The fact is, I couldn't do it. I made it into the first couple of little rooms that were in themselves fairly impressive, but when confronted by a long, very narrow, sloping hallway packed with 20 other people 90 feet underground, I panicked. My heart rate spiked, my breath became very short, and my vision went dark around the edges. Without so much as a word to my poor, long-suffering wife, I headed as quickly for the surface as my wobbly legs would carry me and spent the next hour waiting in shame for my family to emerge from the depths. They will tell you it's one of the most incredible, amazing, and beautiful things they have ever seen. They loved it, and I'm sure you will, too, as long as claustrophobia isn't on your list of shortcomings.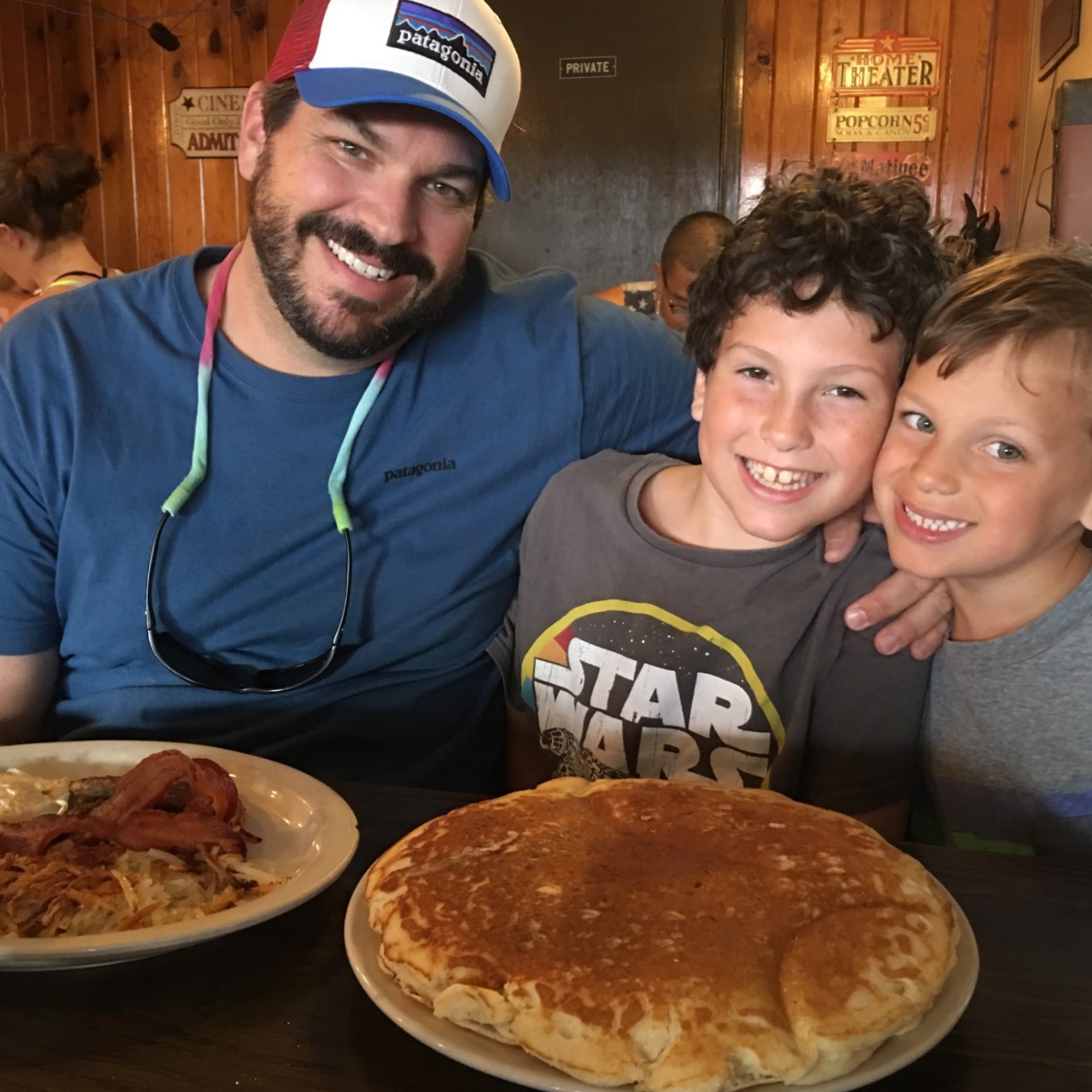 After making lame excuses to my kids for my vanishing act in the caves, we hopped in the car and headed out to grab a bite to eat. We were headed towards Wimberley and decided we'd grab lunch somewhere along the beautiful 40-minute drive. On the southern shores of Canyon Lake, we spotted Granny D's with its jam-packed parking lot and pulled in. We had to wait a few minutes for a table because every person in the county who had floated the river that morning was there to fuel up. Again it was worth the wait because not only does Granny serve breakfast all day, she also makes the world's biggest and best pancakes. We ordered a ton of food including eggs, bacon, sausage, ham, hash browns, biscuits, gravy, waffles, and catfish. It was all good, but the pancakes were the pièce de résistance. With the approximate circumference of a bass drum and almost as thick, they remained miraculously light and fluffy. Granny knows her way around a pancake griddle.
While we were devouring enough food to feed a small nation state, dark, menacing clouds began stacking up over Canyon Lake, and it wasn't long before the heavens opened up with with a symphony of lightening, thunder, and lots and lots of rain. We had initially headed towards Wimberley with the idea that we'd try to spend the afternoon at the Wimberley Blue Hole, an idyllic spring-fed natural swimming hole right in the middle of an old growth cypress grove. Unfortunately, when we arrived they were closing the park due to inclement weather. Well, crud. What to do now? How about Jacob's Well?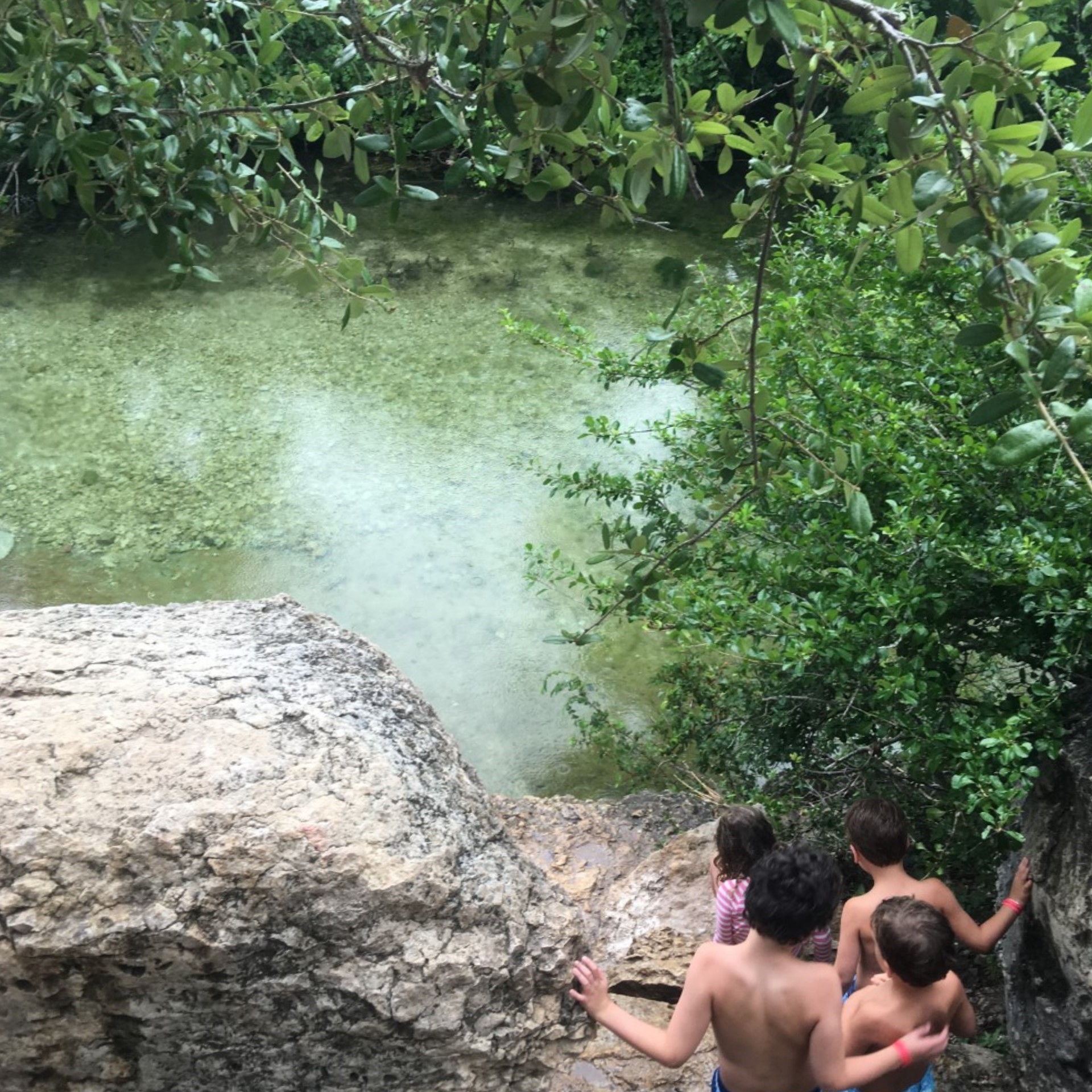 I had seen pictures of Jacob's Well online and had always wanted to go there. It's a beautifully captivating, 30-foot-deep spring-fed hole in the bottom of Cypress Creek. Actually, the part you can see from above is 30 feet deep. Apparently, there is a much deeper cave that angles off from the main chamber. I want nothing to do with that bit, of course, but the main part you can leap into from the rocks above has been calling my name for years now.  So from the parking lot of the lamentably closed Wimberley Blue Hole, I pulled up the Hays County website to see if I could get a status update on whether Jacob's Well was open or not, only to realize you need a reservation to go swim there. In order to preserve the unique natural beauty of Jacob's Well, they limit the number of swimmers to 300 per day with no more than 60 swimmers at a time, in two hour shifts. While I think it's a great idea, we didn't know this beforehand and were a little discouraged. However, we decided to go anyway and take our chances, not knowing if we would even get in.
As we drove up to the gate at Jacob's Well, it was still raining a bit, and we saw several people leaving. I told the park ranger we didn't have reservations but that we'd really like to swim if possible. He said that due to the weather there weren't very many people, and they could accommodate us. Needless to say, we were very excited. The parking lot is maybe a quarter of a mile from the swimming hole, but it's an easy walk. As you get closer to the creek, you enter a forested riverine area with log steps placed into the hillside to ease the way. The creek itself presents a lovely sight from the hillside above, and everyone starts to get excited. The first glimpse of Jacob's Well from the boulders high above is exhilarating. The climb down to the swimming hole is through a narrow passage between two huge boulders, and once you're down there, the water is gin-clear and rather chilly. In fact, one park ranger told us the water temperature is 68 degrees. Brrrrr!
At first, the kids didn't want to get in because 68 degrees is bracing. Undeterred, I climbed up to the middle-level boulder, took a deep breath, and jumped the eight feet down to the mesmerizing hole in the creek bed. The water was cold. It took my breath away, but what a cool thing to do! Standing above that bizarre geological formation full of the clearest water I've ever seen and jumping off into it was one of my favorite things I've ever done. I don't know why it grabbed me the way it did, but I loved it. Then I got the kids to jump too. The oldest jumped from the middle height boulder, and the younger kids all jumped from the lower level, which is about 4 feet above the water surface. They loved it too. Victoria is not a fan of falling or cold water, so she abstained, but she claims she would have gone for it had the sun been burning bright enough to warm her up. Maybe next time.
There are a couple of higher level spots to jump from that are probably 12 to 15 feet above the water, but they require a longer jump outward, and the boulders were slick with rain, so I didn't chance it, but I might under the right circumstances. The couple of guys we saw do it looked like they were having a good time. As for me, I couldn't get enough. I climbed up and jumped down probably a dozen times. I even helped a few adventurous older ladies climb up on the boulder to take their leaps. All in all, Jacob's Well is big fun for all ages and one of my favorite places on Earth, and I was sad to leave.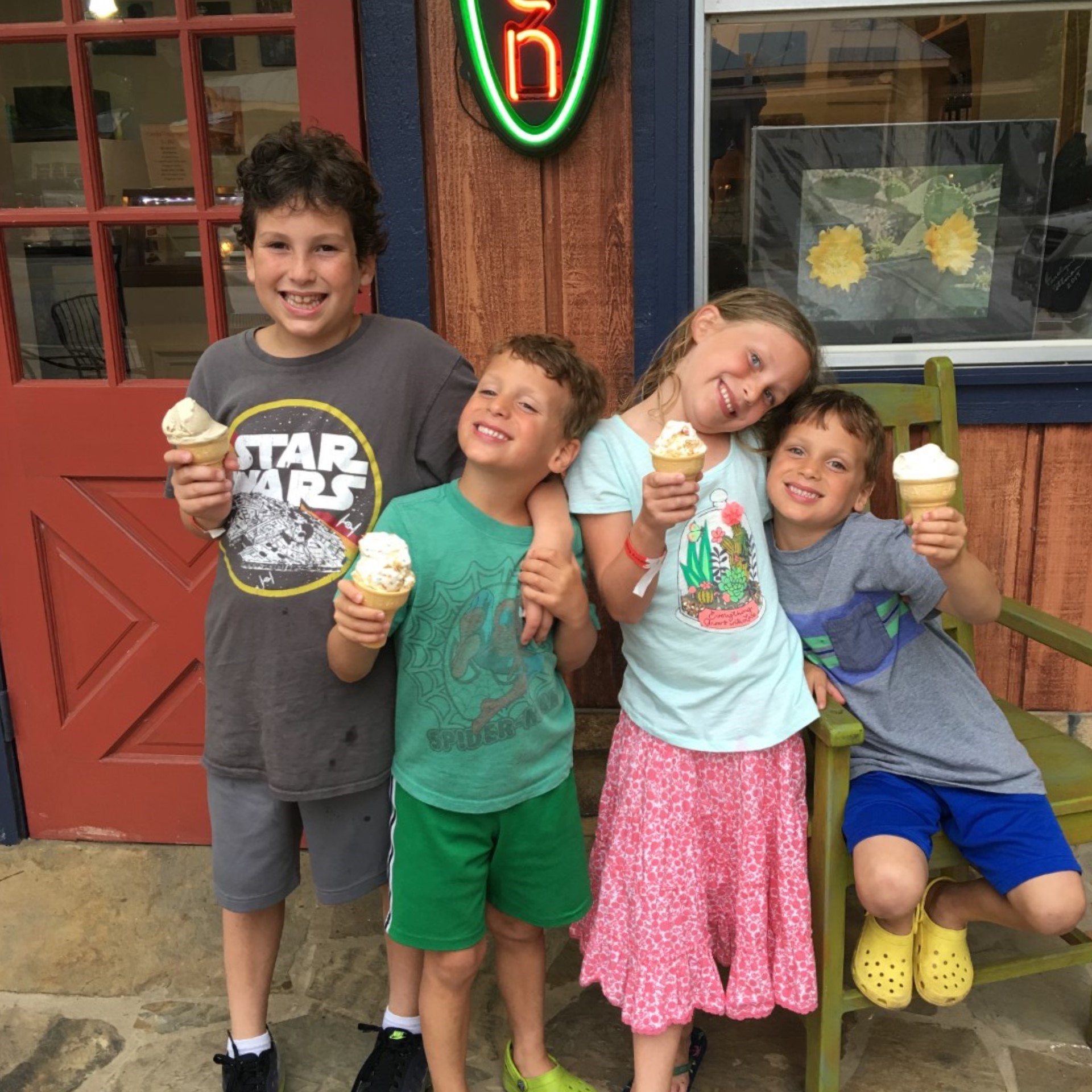 Having worked up a bit of an appetite, we stopped at a great little shop/ice cream parlor called The Wimberley Way that serves Amy's Ice Cream out of Austin. Amy's Ice Cream is delicious and collectively our favorite flavor was Irish Coffee. (It has a tinge of Jameson Irish Whiskey in it, so that must explain its popularity). After that, everyone napped in the car on the way back to Newk's where we changed clothes and headed out to dinner at a great little place called Huisache Grill.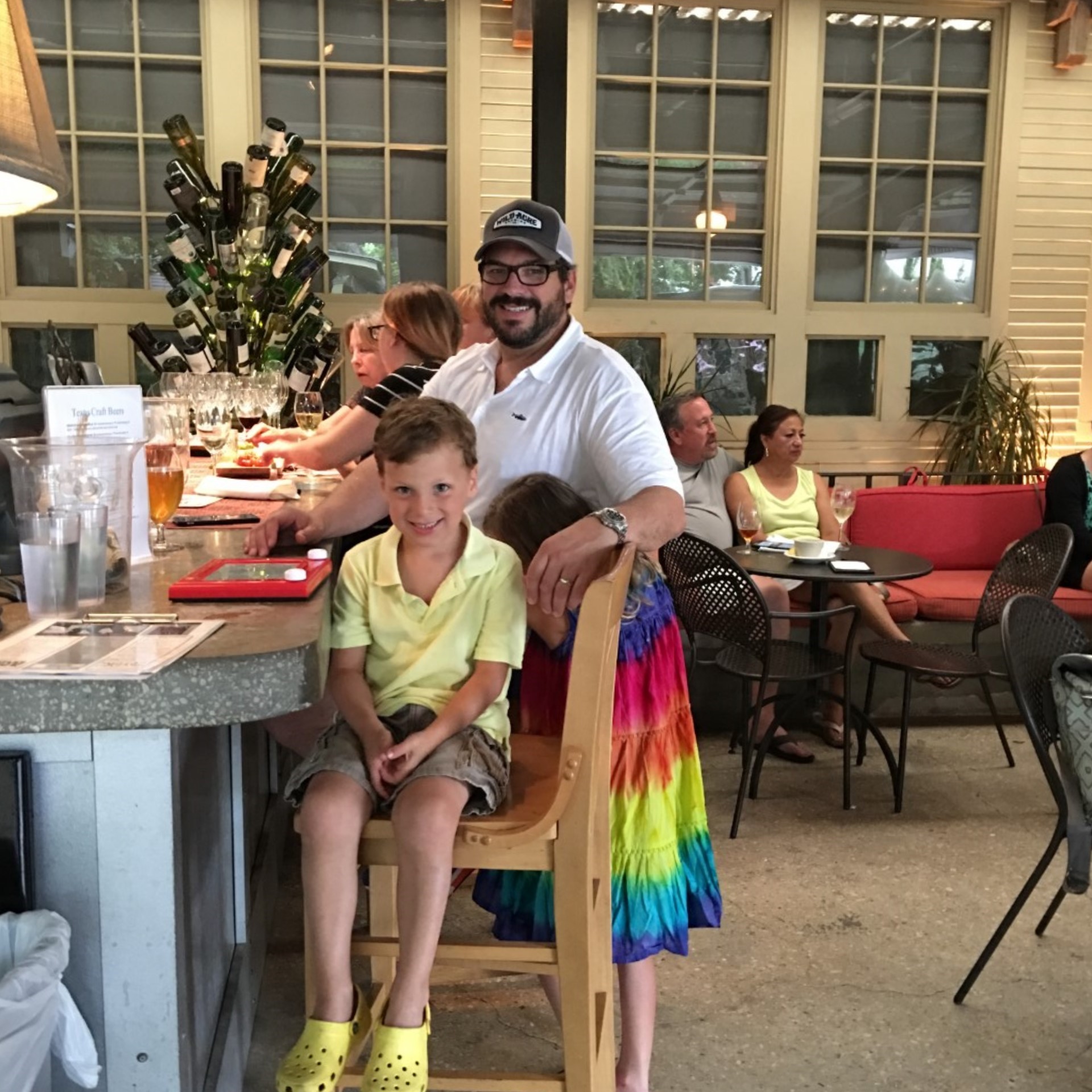 Huisache is now on my list of favorite restaurants. Set in a very cool old building slightly off the beaten path in downtown New Braunfels, Huisache serves up fantastic steaks and seafood. The coolest thing about this hip restaurant, though, is its setting. If you park in back, which you will likely need to do, you approach the restaurant's gorgeous patio and outdoor wine bar through a tree covered lawn that's shared by several great little shops. While you wait for your table, you can get a glass of wine from Huisache's extensive and eclectic wine menu and wander the shops for clothes, antiques, and nicely curated home goods. This is an upscale but kid friendly place with excellent food and even better service. Victoria and I had perfectly prepared steaks, and the kids all opted for grilled shrimp that was amazing. I cannot recommend this restaurant highly enough. It verges on perfect and was the perfect way to end a nearly perfect day.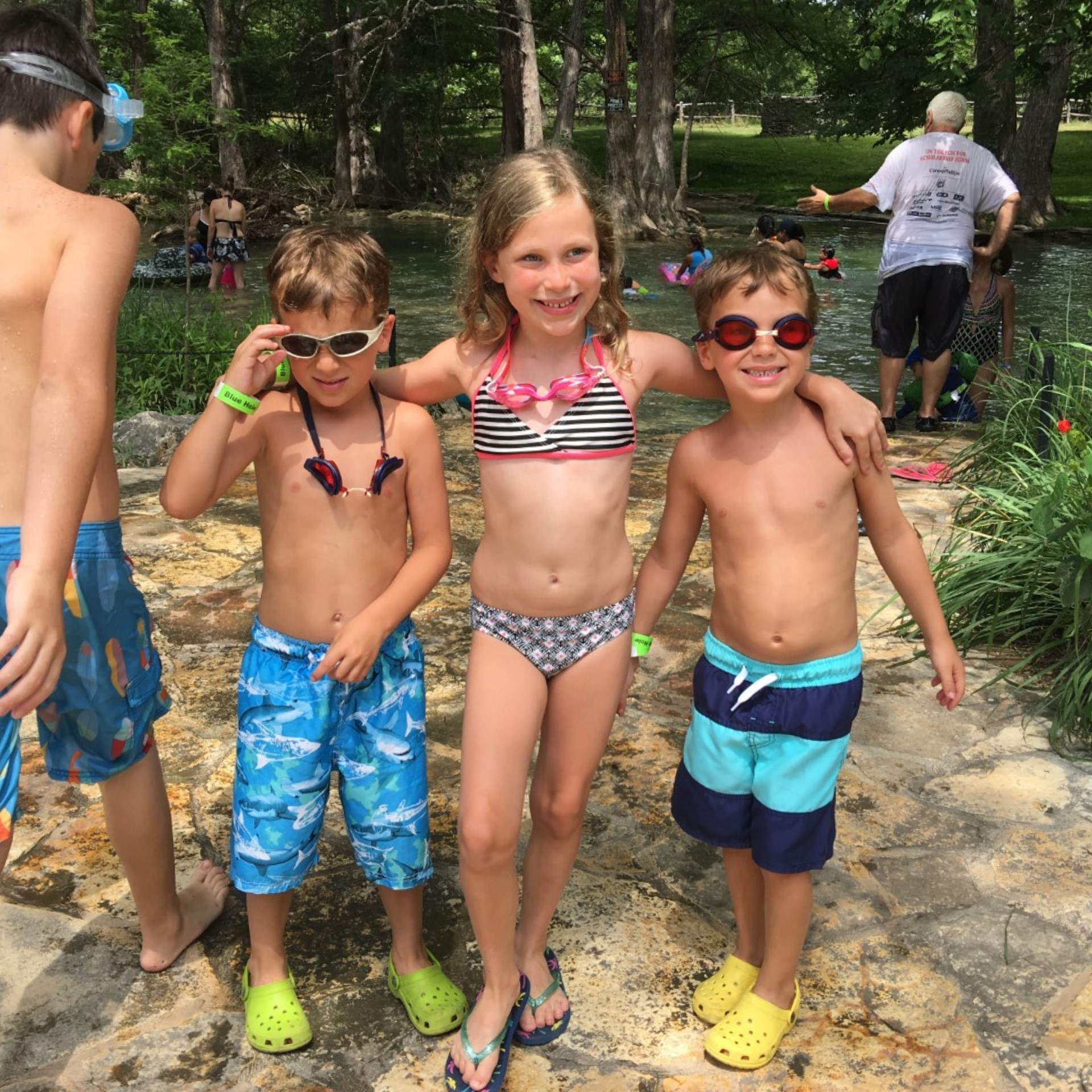 Sunday morning, we woke up a little late and decided we'd try our luck at the Wimberley Blue Hole again. So, we loaded up the car, checked out of Newk's, and headed back towards Wimberley. We pulled up at the Blue Hole a little before lunch time and were the last group they let in. Like Jacob's Well, the Blue Hole has a capacity limit, and when the park is full, they shut down all entry until someone leaves. As it was, the park was full but didn't feel crowded. There's a huge grass lawn adjacent to the swimming area, and people spread blankets and pop open coolers, play soccer and Frisbee, and frolic in the cool spring water under the stunning cypress canopy.
The water at Blue Hole is just as clear and almost as chilly as that of Jacob's Well, but once you've been in a while (and especially if you can find a patch of sunlight), you get used to it. The water ranges in depth from ankle deep to can't-touch-the-bottom. There are a couple of rope swings you can use to fling yourself out into the middle of the creek, a few platforms and ladders for access and egress, and a few dozen very happy people. The Blue Hole is a magical place that seems a bit otherworldly. I suspect if you were there alone and sat quietly it would verge on the mystical. As it is, you will likely be sharing the place with lots of other like-minded adventure seekers, and you'll have a very good time. Our kids spent the better part of two hours chasing little fish, skipping stones, and looking for the perfect rock to take home as a souvenir. When it was time to go, we walked past a line of folks 50 deep waiting their turn to take part in the wonder that is The Blue Hole. Based on that alone, I suggest you get there early, bring a cooler with food and drink, and plan on staying a while.
The kids all wanted to go back to The Wimberley Way for ice cream, but we forced lunch upon them first. We randomly chose a little pizzeria called Marco's in downtown Wimberley and were very happy with the quick service and delicious pizzas. Then after another Irish Coffee ice cream cone, we hopped in the car and headed home.
Then, the most amazing thing that can happen to a dad driving his family on a road trip actually happened. We drove all the way from Wimberley to Fort Worth without stopping once! I didn't even think that was possible, but it made the idea of going back for another weekend adventure even more exciting. Get ready Hill Country, we'll be back very soon.
BB

Hill Country Adventure Itinerary:
Friday Morning – Depart Fort Worth
Friday Afternoon – Play at Lake McQueeney
Friday Evening – Dinner at The Gristmill River Restaurant & Bar
Saturday Morning – Natural Bridge Caverns
Saturday Lunch – Granny D's in Canyon Lake
Saturday Afternoon – Jacob's Well, Ice Cream at Wimberley Way
Saturday Dinner – Huisache Grill in New Braunfels
Sunday Morning – Wimberley Blue Hole
Sunday Lunch – Marco's in Wimberley, Ice Cream at Wimberley Way
Sunday Evening – Arrive Fort Worth