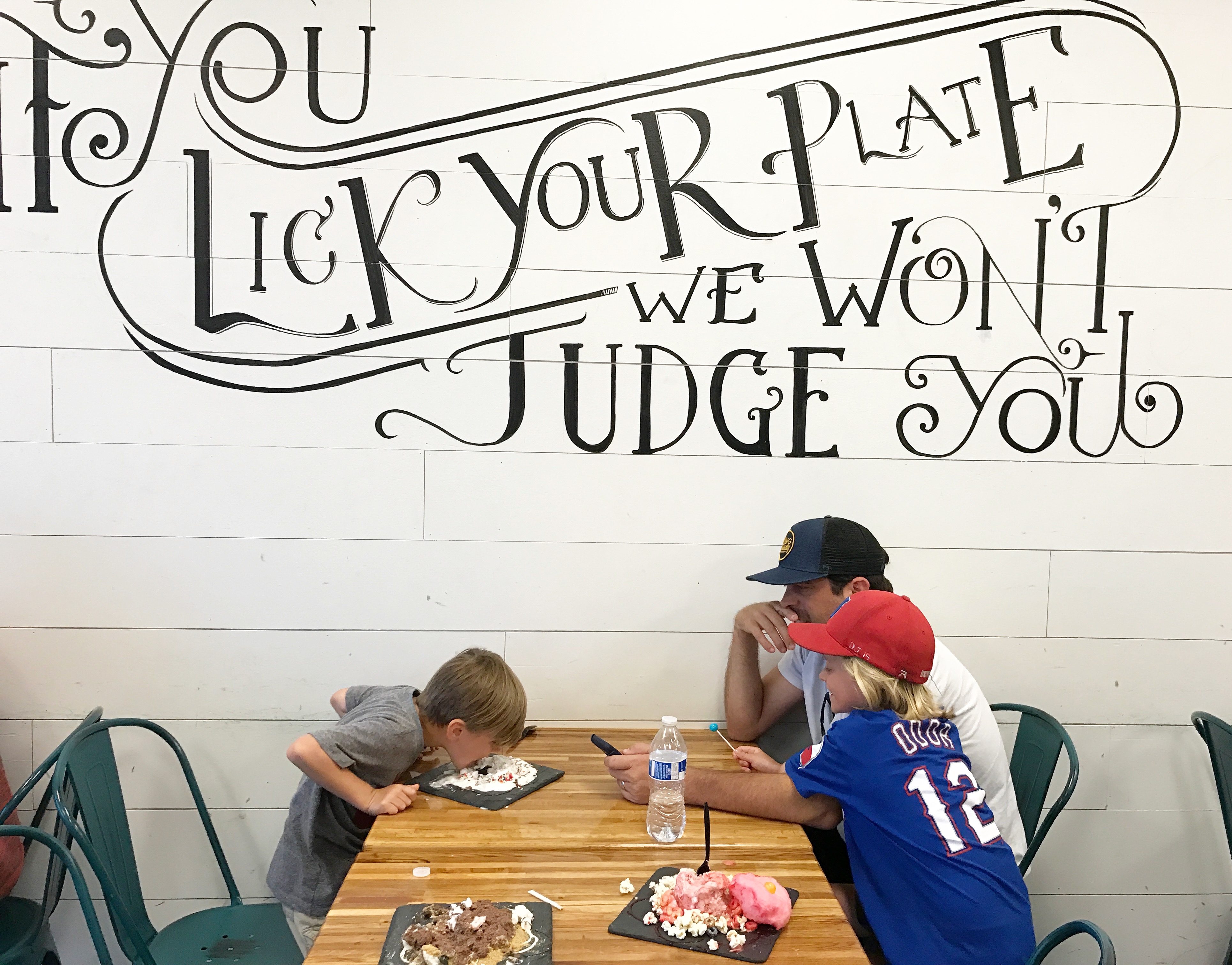 TanglewoodMoms.com is so excited to welcome Angela Weaver as a new writer!
If you feel like a little bit of a drive, my five- and seven-year-old boys and I just recently ventured out to the Dessert Promised Land known as Lumi Snow. It is located off of Beach Street in Fort Worth, and in my opinion, is totally worth the drive. This adorable little sweet spot, found hidden in a shopping center, features some of the most whimsical and fun desserts around. It is still unclear if the magical mountain of sugar is ice cream or a snow cone, but whatever it is, I can tell you it is delicious. You can order one of their featured concoctions or make up your own. My kids went with the Circus – strawberry snow, topped with cotton candy, popcorn, and circus animal cookies (yes, the frosted ones that bring you straight back to your childhood) and Birthday Cake – birthday cake snow, whipped cream, lollipops, sprinkles, and chocolate syrup. I opted for the Campfire Classic – think s'mores except frozen.  We will definitely be going back and I know my boys won't complain one bit.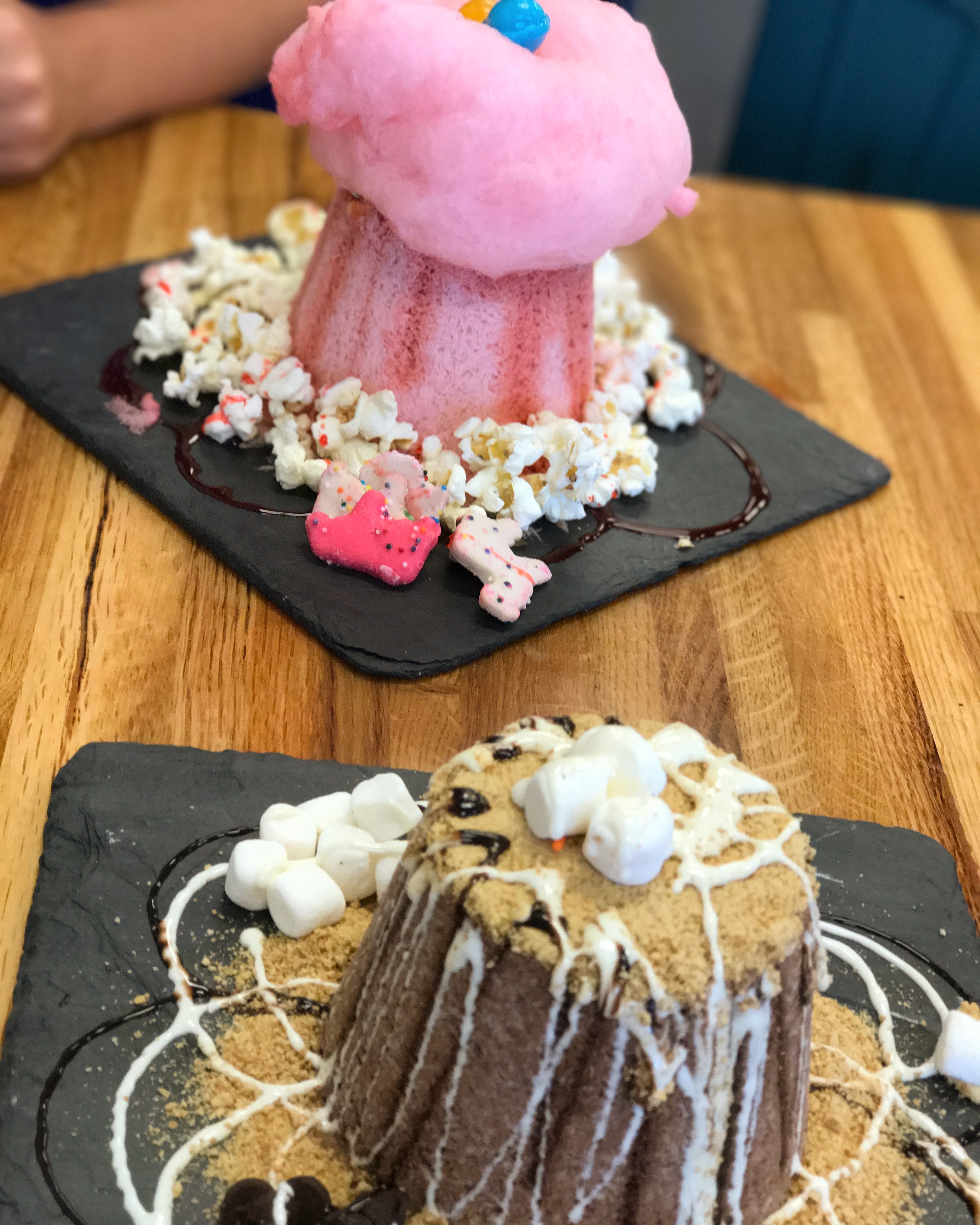 Lumi Snow is a family-owned business. The owners, Lia and Cody Carta are originally from California and moved to Fort Worth about 3 years ago. They stumbled across a Taiwanese dessert that was shaved snow. They fell in love with the concept and knew the Fort Worth area was the perfect place to open a shop. They really wanted a dessert destination that was family-friendly.
Here is what Lia has to say about how they started their business:
"We got married when I was 19 and Cody was 23, and have been married for almost 13 years. We have three kiddos (yes, we have a presidential theme!) Lincoln (4.5), Kennedy (2), and Reagan (3 weeks). I own my own business as a National Sales Director with Mary Kay, and Cody actually retired from his job when he was 26, which allowed him the flexibility this past year to open Lumi. We run our business as a family – there were many nights in the beginning where the kids would be with us in the restaurant strapped to my back in an Ergo carrier or helping us bus tables (as best as a 2 year old can do that is! LOL) . It was so important to us that they had ownership in our family business.
"… Cody actually went to New York to go to Ice Cream University (yes, it's a real thing!). Even though our snow is primarily dairy free, he needed to learn everything he could about the frozen dessert process. For about 8 months every night when our kids would go to bed, we would spend hours coming up with our recipes. Then, after we felt like we had it, we decided to take a plunge and open our restaurant! When we do get a bad review it's because of our lack of seating. I wish people would understand that we had NO IDEA Lumi would take off like it did. When we originally were looking for space to rent, we just compared it to your average mom and pop ice cream store. Within 4 months of opening, we had standing room only on some nights and knew we had to do something. We decided to get a second location in North Richland Hills to accommodate a production kitchen, another new dessert (still top secret but being unveiled soon!), and of course more seating. It was a long process with permits, negotiations, etc that we worked on daily since March. We finally got the keys last week and hope to open in the fall."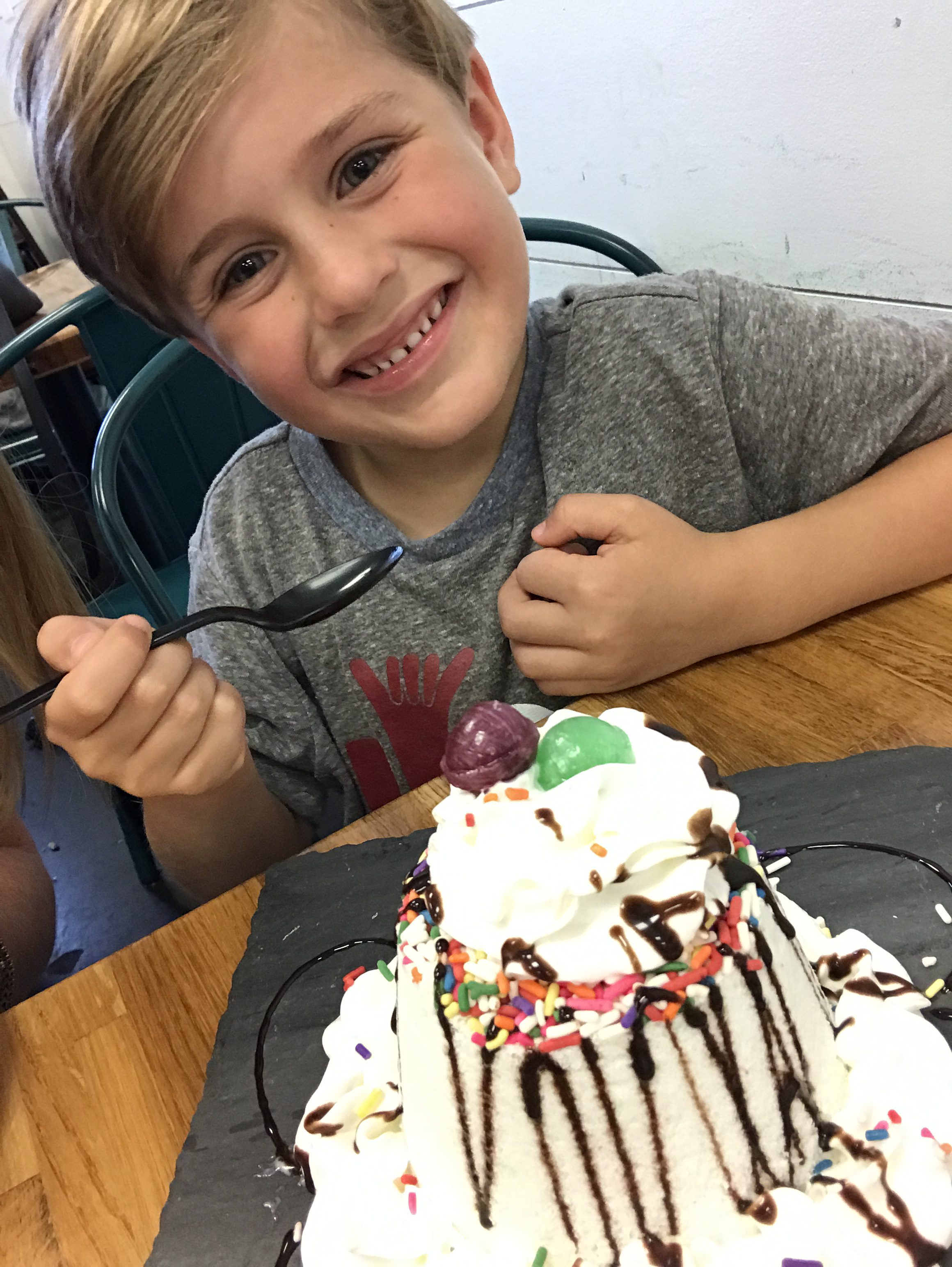 With all this said, Lumi Snow is a treasure, and we are all so lucky to have this close by. I know my boys and I will be first in line to try out the top secret new menu item when they open their new location this fall.
Lumi Snow is open seven days a week from 1:00pm to 10:00pm.
7355 North Beach Street
Suite 141
Fort Worth, Texas 76137
Angela Weaver is a native Texan, raised in Keller, but she got to Fort Worth as soon as she could.  At 17, she joined the Marine Corps and served four years active duty. After her military service ended, she went to work for a hedge fund and then a whiskey distillery, both in Fort Worth. Her most important role started in 2009 when she became a mom. She lives with her husband and two boys in Fort Worth and spends as much time as possible on fun adventures with her kids. She loves to spend her time with her boys outdoors getting the full Boy Mom experience, even if that means being covered in dirt, catching fish, or shooting BB guns.  She loves the sense of community she has found in Fort Worth and can't wait share that with our readers.