It's the most wonderful time of the year! No, Christmas hasn't come early (although holiday things should start appearing in stores right… about… NOW). It's time for Hatch chiles from New Mexico and for Central Market's Hatch-a-Palooza, which runs from August 10 to August 23!
Hatch chiles are New Mexican chiles that come from the Hatch Valley in southern New Mexico, where the hot days and cool nights combine with the sandy soil to produce truly exceptional peppers. Hatch chiles come in both mild and hot varieties, but the amount of heat depends entirely on the whims of Mother Nature – rain levels and temperatures affect the amount of capsaicin (the compound responsible for the heat in chiles), and each year's crop is different.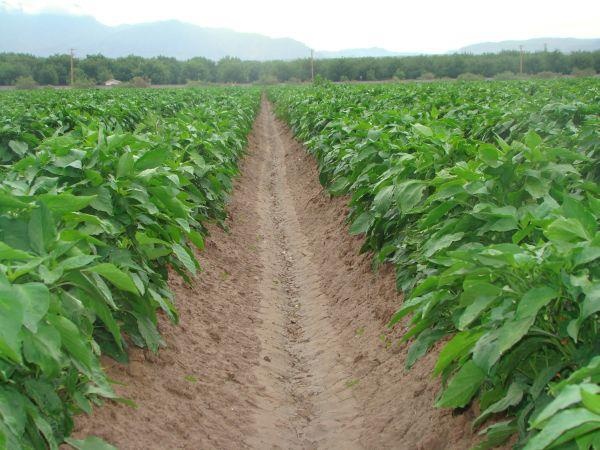 Central Market was the first to bring Hatch chiles to a wider Texas audience, and their yearly celebration of Hatch chiles makes my mouth burn, my lips tingle, and my heart sing! You can buy fresh or roasted chiles at Central Market, and to sit in the shade on their patio with a cool drink, dreaming up recipes while their expert chile roasters roast bushels of chiles is one of my favorite August activities!
Here are some tips for choosing and storing your Hatch chiles, direct from the chile experts at Central Market:
To pick the perfect pepper, look for a bright green color – the brighter, the better! Ideally, the pepper should be symmetrical. The skin should be smooth, not wrinkled, the flesh should be firm, and the pepper should feel heavy for its size. Unlike people and fine wine, Hatch chiles do not improve with great age!

Now that you've picked a peck of perfect peppers (sorry, had to be done), you need to figure out what to do with them. If you don't use them immediately, you can freeze them, but fresh peppers really don't freeze well. They get soggy. The best way to ensure that you have Hatch chiles for months to come is to roast a bushel or two on your own, or get as many as you can fit in your shopping buggy from Central Market! To freeze, I put a sheet of parchment paper on a baking sheet, put a layer of peeled and seeded peppers on it, and freeze. I then put the frozen peppers in a freezer zippered plastic bag and store for months. Not that they'll last that long…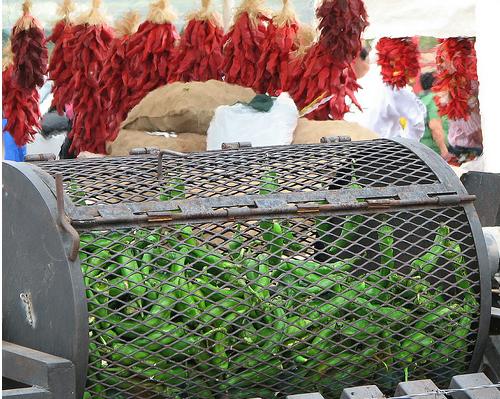 So now, without further ado – or without much more ado – I present you with three Hatch chile recipes that I make every year to celebrate the sublimity that is the Hatch chile!
(All of the following recipes take advantage of the roasted Hatch chiles that you can get by the pound at Central Market. I usually use a combination of mild and hot chiles, but I highly suggest tasting them both before deciding!)
Hatch Chile and Goat Cheese Quiche
Serves 4 to 6
Ingredients
1 frozen deep dish pie shell – you really need a deep dish pie shell for quiches; you can get more of the yummy stuff in them!

4 whole eggs

1 cup half and half – you can, if you feel it necessary, use fat free half and half, but I won't guarantee the results

½ shallot, finely diced

Salt and pepper to taste

4 or 5 roasted Hatch chiles, diced

4 oz fresh goat cheese, also called chèvre, crumbled
Directions
Preheat the oven to 400° and line a baking sheet with either parchment paper or foil. Combine the eggs, half and half, shallot, and salt and pepper in a mixing bowl and beat well. Layer the Hatch chiles and the crumbled chèvre in the pie shell and gently pour the egg mixture over the top, taking care not to over-fill. (If I have chiles, chèvre, and eggs left over, I bung them into a few ramekins that I've sprayed with a nonstick cooking spray and cook them long with the pie.) Place the quiche and ramekins on the lined baking sheet and bake until a knife inserted into the center of the quiche comes out clean, about 35 to 45 minutes. (If you've got some ramekins of crustless quiche baking along with the big quiche, remove them after about 20 minutes.) Let the quiche stand for about 10 minutes before serving. This is good hot or at room temperature. Great for breakfast, brunch, lunch, snack, or dinner.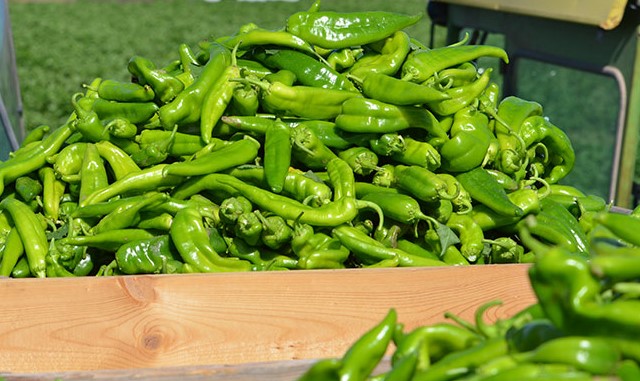 Hatch Chile Pozole Verde
Pozole, or posole, meaning "hominy", is a stew/soup originally from Mexico that is very popular in New Mexico. There are as many variations as there are cooks who make it, but this is mine!
Serves 8 to 10
Ingredients
1 pound pork shoulder or loin, cut into 1 inch cubes (although I frequently make this with leftover Thanksgiving turkey and the Hatch chiles that I froze back in August!),

2 tablespoons canola or grapeseed oil

1 small yellow or while onion, diced

2 to 4 cloves garlic, peeled and roughly chopped

1 pound fresh tomatillos, husked

1 pound roasted Hatch chiles, diced

1 teaspoon ground cumin

½ teaspoon ground coriander

3 cups stock – pork, turkey, chicken, or vegetable

Salt and pepper to taste

3 14-ounce cans hominy, drained

Garnishes – diced onions, chopped cilantro, cubed ripe avocados, slice radishes, crumbled tortilla chips or chicharróns (fried pork skins), sour cream, lime wedges
Directions
Heat the oil in a large stock pot over medium high heat. Season the pork with salt and pepper and brown in the hot oil. Don't overcrowd the pork into the pot; it's better to brown the pork in batches. If you are using leftover turkey, chop it up and add it toward the end of cooking. Set the browned pork aside.
While the pork is browning, place the tomatillos in a saucepan and add enough water to cover by 1 inch. Add a pinch of salt and bring to a simmer. Simmer until the tomatillos are tender, about 10 minutes. Drain the tomatillos. Place the tomatillos in a blender, blend well (be careful when blending hot food – put a folded tea towel over the top of the blender!), and set aside.
Once the pork is browned, add the onions to the pot in which you browned the pork. Sauté until translucent, about 4 to 5 minutes. Add the garlic and sauté until you can smell the garlic, about a minute. Add the pureed tomatillos, Hatch chiles, ground cumin, ground coriander, stock, drained hominy, and reserved pork. Bring to a simmer and cook for about an hour to an hour and a half, stirring frequently, until the stew is slightly thickened. If you are using leftover turkey, add it in now and heat through for about 10 minutes.  Taste and add salt and pepper as needed. Serve in large bowls and let the diners garnish as wished. Like all stews, this tastes better the longer it sits, and it freezes beautifully!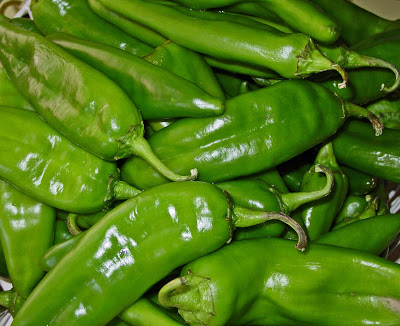 Hatch Chile Creamed Corn
Serves 4 as a side, although I have been known to eat this by itself!
Ingredients
4 ears of corn, husks removed and kernels cut off the cob

3 to 4 fresh or roasted Hatch chiles, diced

1 8-ounce block cream cheese – do not use light or fat free cream cheese to cook with, as bad things happen when you heat them!

¼ to ½ cup stock stock (chicken or vegetable) or beer (I like using Sidewinder Pale Ale, but you can use any lighter beer), more or less

½ teaspoon ground cumin, if desired

Salt and pepper to taste
Directions
In a large skillet or pot, combine all ingredients. Heat slowly over medium low heat, gently stirring frequently until the cream cheese is melted, and all is creamy and delicious. If it is too thick, thin with more stock or beer. This is a wonderful side with grilled chicken, pork, steaks, salmon, tuna… you get the idea. It's also wonderful as a bed for grilled or seared scallops or shrimp. It's ridiculously versatile!
I hope you enjoy the recipes. Now, please excuse me. I have several bushels of Hatch chiles to roast!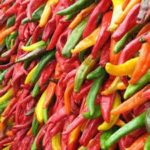 Lee Virden DuBose is a jack of all trades, master of none. She has been a bank teller, a chef and caterer (both in restaurants and in private service), a bookkeeper, a trainer, a legal assistant, and a writer. She has spent a lot of time in New Mexico and gets ridiculously excited in August because August can only mean Hatch chiles! Most importantly, Lee is the proud single mother of two absolutely amazing girls, to whom she refers in social media as the Girlchildren and who are learning to love chiles.