So many events coming up and I am holding a spot just for you! I am extremely appreciative of everyone that has made one of the events in September and this month. There are still so many more coming up, and I would LOVE for you to join in on the community we are experiencing.
In order we have Event #1
Fort Worth Talks Series with Brian Dixon, MD and John Langston.

Join us for a free joint talk featuring John Langston, founder of Panther Capital Group and Brian J. Dixon, MD with Progressive Psychiatry on Wednesday, October 28 at 6pm at 604 Roaring Springs Road, Fort Worth. Please respond as soon as you can to tanglewoodmoms@gmail.com to reserve your spot!
Both gentlemen will discuss their respective fields and answer any questions you may have. Mr. Langston is a wealth manager and operates his own mutual fund, Panther Small Cap Fund (PCGSX). Dr. Dixon specializes in treating children and adolescents and minimizes medications by building an individualized treatment plan. You can find out more about each of these gentlemen on TanglewoodMoms.com or email me for more info! Event sponsored by John Zimmerman, Briggs Freeman Sotheby's International.
Event #2
Holiday Gifts Open House & Book Signing with Kimberly Schlegel Whitman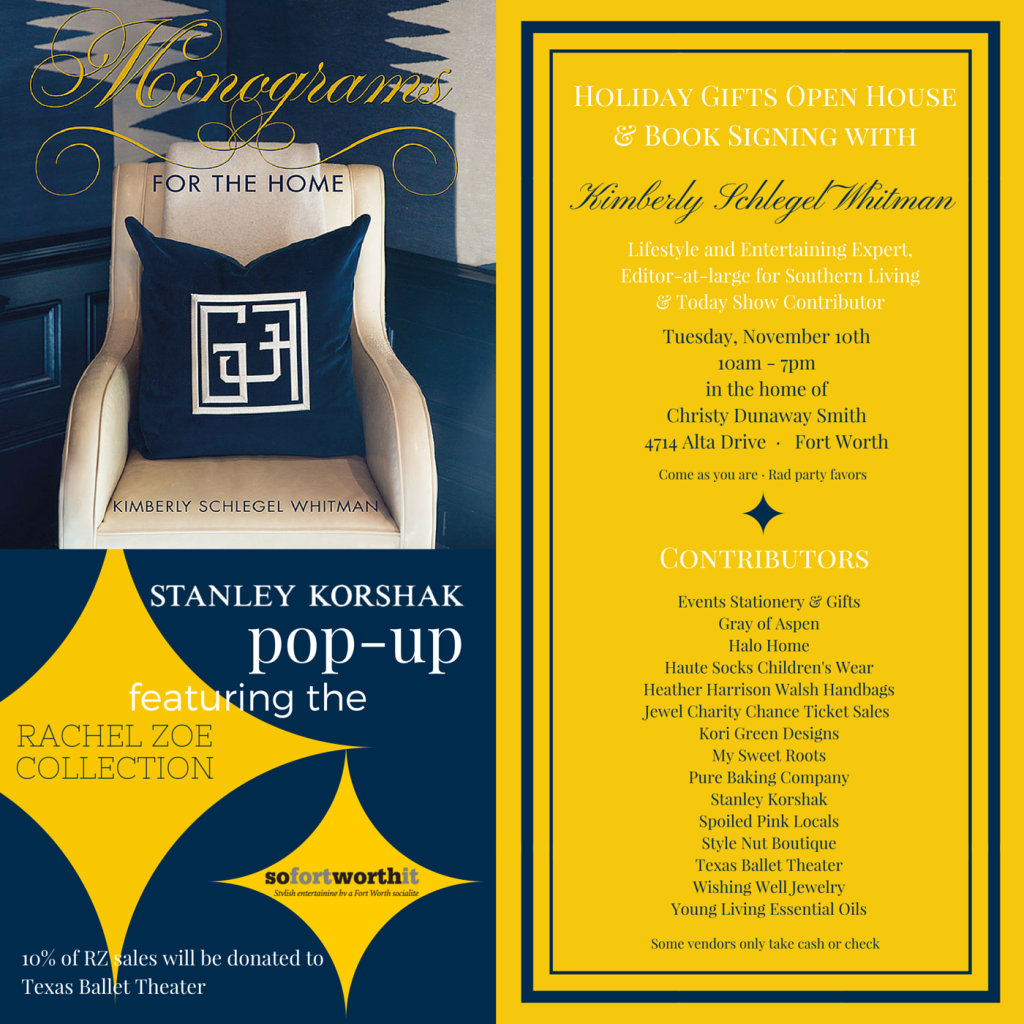 This event hosted by Christy Dunaway Smith will feature a Stanley Korshak Pop-Up with 10% of Rachel Zoe sales donated to Texas Ballet Theater. Several other fabulous contributors including Gray of Aspen, Kori Green Designs, Pure Baking Company, and Wishing Well. Please join us Tuesday, November 10th from 10am to 7pm at 4714 Alta Drive, don't forget to notice the "rad party favors" — I'm personally excited about that one.
Event #3
Celebrate Moms Free Car Wash Day!!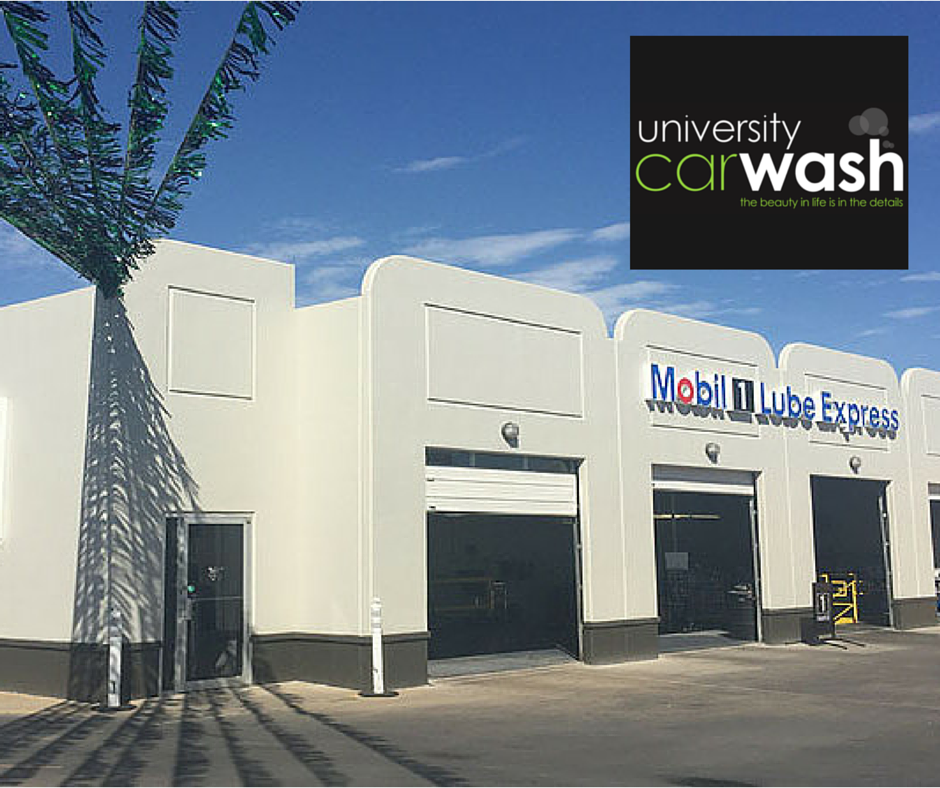 With Featured Collaborator: SUPERFUN YOGA PANTS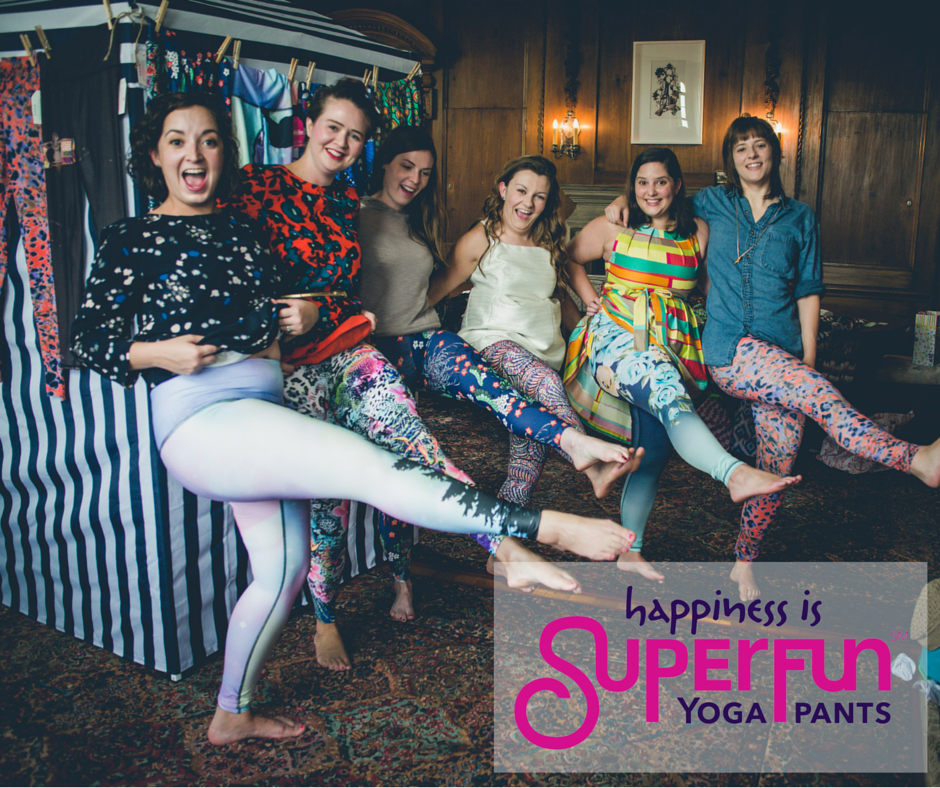 Join us Tuesday, November 17th from 10am-5pm at University Car Wash for a free express exterior wash or you can take $6 off any wash package. There are 2 REALLY SUPER, REALLY FUN things about this event. 1. If you are a mompreneur, you are welcome to participate at the event. Just email me to let me know. 2. 20% of gift shop sales and a portion of the SuperFun Yoga pants sales will be donated to the Center for Transforming Lives (formerly the YWCA). In case you haven't made it by the newly remodeled car wash, which has been described as spa-like, you must come by get your free car wash, throw on some super fun yoga pants, and buy a hilarious card for your bestie in the gift shop. You will be supporting local in so many ways. It's going to be awesome.
and finally Event #4
Please save the date for the next SoFortWorthIt x TanglewoodMoms.com Mommy Mixer at Central Market!  DATE CHANGE!! Please notice, it is now on Dec 8th!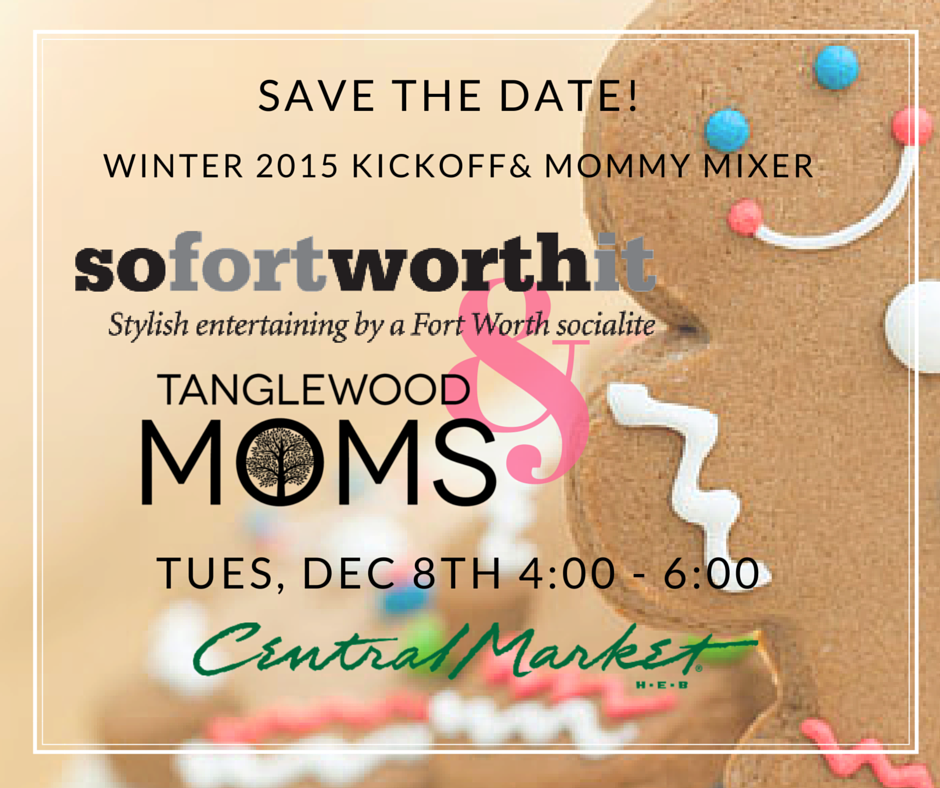 Another amazing mommy mixer where you can bring the kids for free cookie decorating and winter holiday entertaining ideas. More to come on the blog soon, just be sure to tell your friends to meet you there!
xo,
Victoria