Like all moms, I sometimes find myself completely and utterly overwhelmed by the shear volume of work it takes to simply make it through the day.  Between the office, the housekeeping, the child rearing, and the general hustle and bustle of daily life, Jane Austen had it so right when she said, "Life seems to be but a quick succession of busy nothings."  Although it may be true that those dishes won't wash themselves or that looming mountain of laundry is sure to spontaneously double in size over night, might I suggest to you, Mom, that you take a little time to care for yourself?  It's so easy to get lost in the daily grind of "busy nothings" and totally forget that your body and mind need to be cared for as well.
I recently took a field trip to Trinity Vista Dermatology where my good friend Julie works (Hi, girlfriend!), and my eyes were opened.  Let me be brutally honest, I had NEVER been to the dermatologist before.  First of all, I hate going to the doctor's office, period.  I find doctors sometimes insensitive, only interested in the dollars I represent.  Also, I'm just plain scared to talk to a stranger about intimate concerns I have about my body.  And I hate to say it, but I always viewed dermatology as something for either those who have a very severe skin condition or that are (sorry to say) a little vain.
My trip to Trinity Vista made me realize I was so very wrong.  From the moment I walked in, it was clear to me that the very top priority of the doctors and staff there is patient well-being and comfort.  I also was surprised at the vast spectrum of services and procedures they offer. They do so much, from cosmetic services that help people have younger, healthier-looking skin, to dermatopathology services that treat often debilitating skin conditions.  Treatments in both types of dermatology can be absolutely life-changing for many patients.  I got a chance to personally talk to two of the three excellent board certified dermatologists that practice there and ask them a few questions.  Allison Readinger, MD, has quite a reputation in our city, having been named one of Fort Worth Magazine's "Doctors Worth Knowing".   I asked her what she likes so much about her profession:
"I love it when my patients see a change in their skin that can give them new confidence in their lives.  This happens every day with acne, psoriasis, hyperhidrosis (excess sweating), and many more skin conditions.  When we can take the worries away from people about how they look and feel, we are helping people to live their best lives. I also enjoy educating people about healthy skin behavior and how to prevent skin cancer, since this is so important for lifelong skin health."
I also got a chance to chat with Catherine Harrell, MD, who left her private practice in Houston to join Trinity Vista.  She has a very long list of experience and accomplishments, but my favorite is that she is a new mom! (Welcome to the club, Dr. Harrell!) I asked her what sets Trinity Vista apart from other practices:
"We strive to be a comprehensive practice, and I think we uniquely truly enjoy the full scope of dermatology from treating the patient with the medically complex skin condition or skin cancer to giving our patients a more youthful appearance. Dermatology is a broad and ever-evolving field, and we do our best to stay up-to-date and provide our patients with the most current treatment options available."
She also expressed specifically how important it is to her, and all the doctors at Trinity Vista to form a relationship with, and really listen to the concerns of each patient.  Their entire focus is to address and treat them to satisfaction in order that they may walk out of the doctor's office, both healthier and more confident in themselves.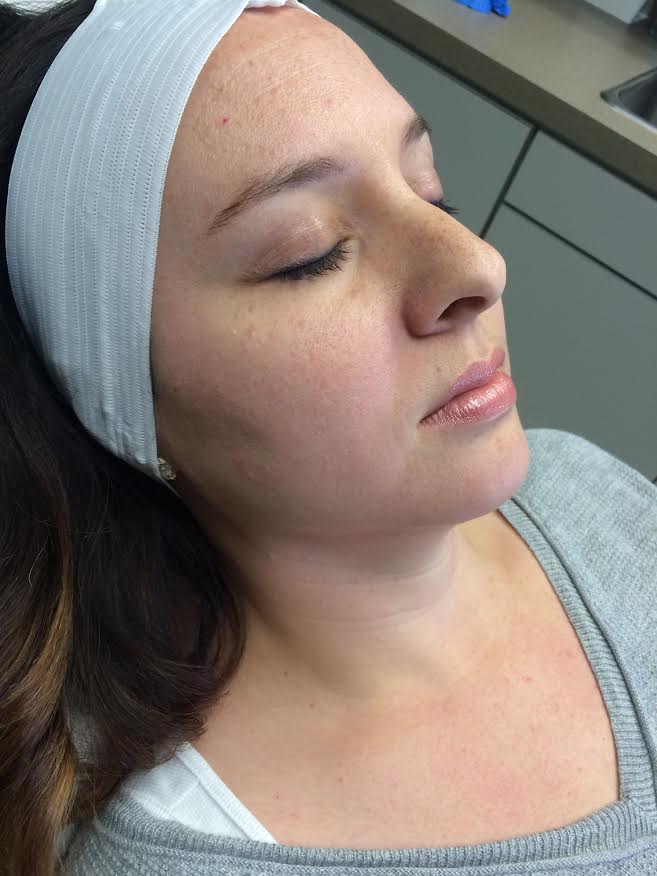 My visit was capped off with my very first Photo Facial!  It's a quick procedure that uses a light that gently heats the upper layers of your skin, promoting the regeneration of new collagen.  It's used for the treatment of freckles, age spots, small blood vessels, acne, uneven skin texture, and unwanted hair.  Our main focus that day was to treat my freckles.  As you can see in the photo above and the left photo below, I've got a mask of them growing around my eyes.  I've always had some freckles but in the last ten years, sun damage and general neglect of my skin has made them considerably more pronounced.  The procedure was relatively short, about 15 minutes, and pretty much pain free.  It feels like a warm rubber band flicking your skin.  Sensitive areas of my face, such as under my eyes felt the heat more intensely than other areas.  The majority of the discomfort came afterwards; there was some redness, and it felt like a sunburn, a sensation that was gone in about an hour.  The first photo shows me about a half an hour after the procedure.  As you can see, my spots and freckles actually appear darker and will continue to do so for a period of time as they are brought up to the surface.  Then they will eventually slough off with the natural shedding of my skin.  I had no problem covering up the darkened areas with make up; however, if you are treating very dark spots on your face, you might want to consider this when scheduling a Photo Facial right before an important event or portraits where you want to look your best.  The second photo is a week and a half after the Photo Facial (I have no makeup on my skin), and you can see quite a difference in the right photo below!  I'm very happy with my current results, and I'm looking forward to seeing the full benefits of my procedure soon.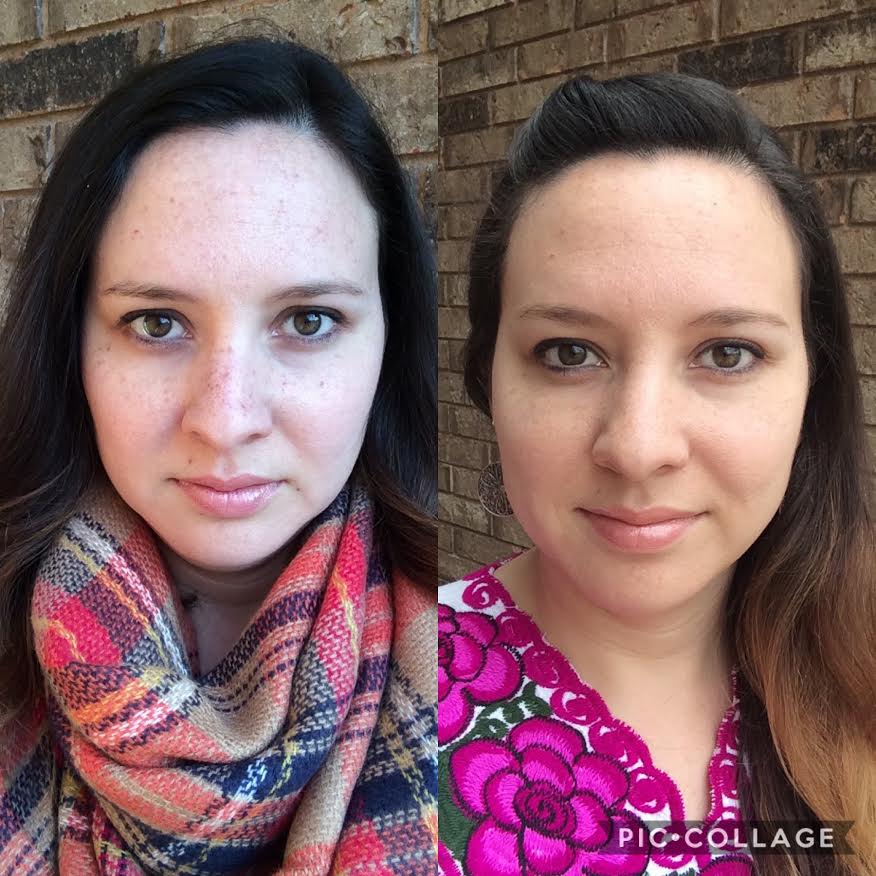 Trinity Vista Dermatology has so much to offer you: knowledgeable and compassionate professionals who have your best interest at heart combined with state-of-the-art technology, some of which is not available in any other dermatologist's office in Fort Worth.  It was my pleasure to go give something new a try and give you a tiny glimpse into this fascinating field.  If you've been thinking about taking that step towards more youthful looking skin, or perhaps you've been living with a very personal, sometimes embarrassing condition that has been affecting your quality of life, I want to encourage you to check out their website and make an appointment for yourself.
To give you that little extra push, the doctors over at Trinity Vista Dermatology want to gift one very lucky Tanglewood Moms reader a generous $250 gift certificate towards any service!  Please comment below here on the blog and tell us in a few words about your favorite skincare ritual in order to be entered into our drawing.  Entries will be open until 7 pm on Monday, February 20, with the winner being announced at 8 pm that same evening.  Go ahead and enter!  You deserve it!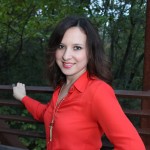 Christy Ortiz is a Fort Worth native, and proud to say so.   She earned her bachelor's degree from UT Arlington in Interdisciplinary Studies.  She taught for FWISD for eight busy years before switching gears and staying home with her two small children.  Her hobbies are interior decorating for friends, photography, and flying kites with her kids.  Her South American roots and love for the Spanish language and Latin cultures add to the diverse voices of our group.